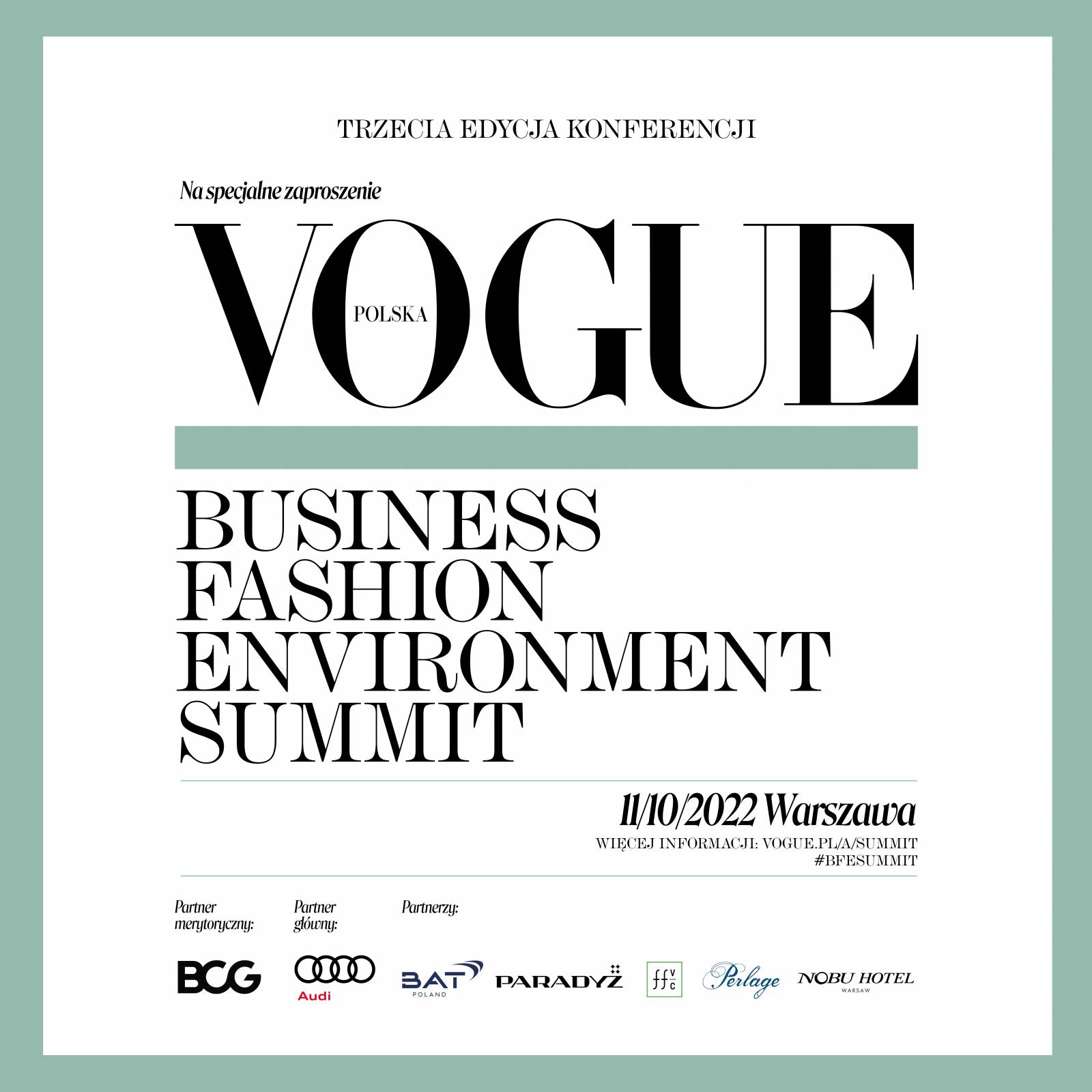 Fashioning New Realities is the title of this year's Business Fashion Environment Summit (#BFES2022), the leading conference on sustainability in Central and Eastern Europe, organized by Vogue Poland and the Boston Consulting Group. On October 11, 2022, industry experts, business leaders, changemakers and creatives from around the world will gather in Warsaw to discuss how digital transformation is redefining the future of fashion and its impact on sustainability. Amongst many great speakers are Stella McCartney, Dana Thomas, Julie Pelipas and more!
Oftentimes we forget that the word fashion is an active verb and as such has a transformative potential for change. To fashion means to dream up and devise something bigger and better, always adapting and shapeshifting. Faced with global challenges of the looming climate crisis, fashion - being one of the major culprits - has a responsibility to act, and to act fast. The 2022 Business Fashion Environment Summit will call into question some of the absolute truths of sustainability we have come to praise over the years, reviewing the past, present and future solutions.
In the opening segment, Julie Pelipas - long-time head of the fashion department of the Ukrainian Vogue and founder of the sustainable brand Bettter, known for its loose upcycling suits - will speak to Ina Lekiewicz, Editor-in-Chief of Vogue Poland, on what is next for the Ukrainian fashion industry and how has the war in her home country affected sustainability goals. In the aftermath of Russia's invasion of Ukraine, Pelipas has set up Bettter.Community, a digital platform that enables the global fashion industry to connect with Ukrainian designers, photographers and artists.
The following panel discussion will feature Dana Thomas, author of the bestselling book "Fashionopolis: The Price of Fast Fashion and the Future of Clothes," who was recently appointed the European Sustainability Editor for British Vogue, in conversation with Federica Bertolani, Nanushka's Head of Sustainability and Tetyana Solovey, sustainable jewelry expert and former Sustainability Editor of Vogue Ukraine. What they all have in common is "sustainability" in their job title - what is the role of sustainability officers and do we need to create separate positions to ensure brands and magazines follow on their green commitments?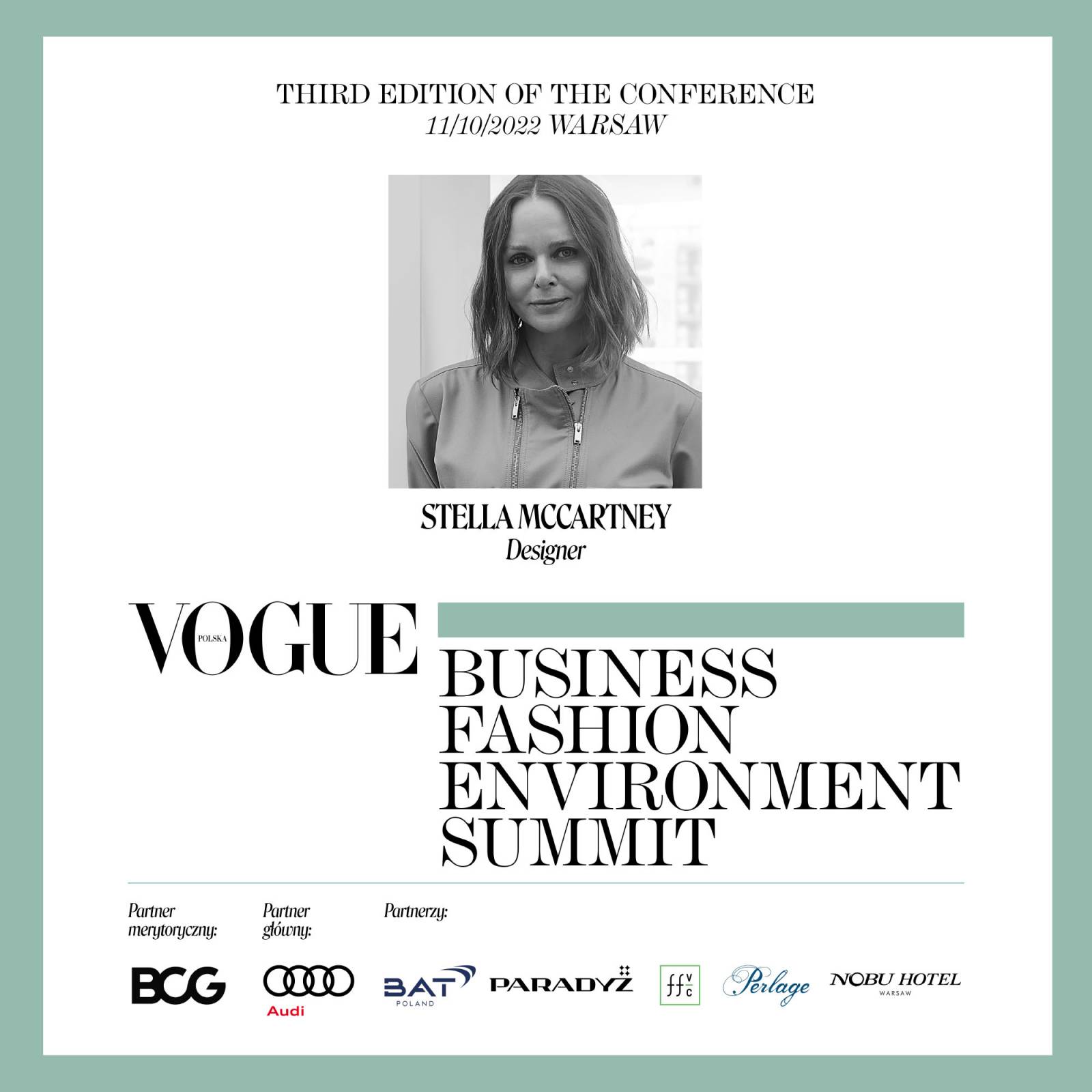 Fashion is still trying to greenwash away its problems with fast fashion brands tapping influencers whose lifestyle has little to do with sustainability - discussing whether hollow statements can be followed by genuine actions will be Vassili Verrecchia, Co-Founder of V&P, creative company that partners with artists and influencers, and Jordane Salomez, Sustainability Director at DLX, consulting agency that helps fashion brands build on their values.
Discussing whether closing the loop on the circular economy is enough to stop the climate catastrophe, will be Marilyn Martinez, Project Manager of Make Fashion Circular initiative at the Ellen MacArthur Foundation, Pascal Brun, Global Sustainability Manager at H&M, founder and designer behind the KSENIASCHNAIDER Ukrainian brand known for upcycled denim, and Bettina Heller, Programme Officer of Consumption and Production Unit at the United Nations Environment Programme. The conversation will be moderated by Ewelina Antonowicz, Chairwoman of Fashion Revolution Poland and co-founder of Sustainable Fashion Institute.
There is a pressing demand for systemic change to create a more ethical and inclusive fashion industry. Re-imagining the future of fashion will be Ngozi Okaro, founder of Custom Collaborative, which helps low-income migrant women launch their businesses in a sustainable fashion, Beata Wilczek, Founder of Unfolding Strategies and Head of Impact at The Dematerialised, educator and advocate for digital transformation, Sinead Bovell, tech-entrepreneur, model and founder of WAYE, Rachel Arthur, advocacy lead for sustainable fashion at UNEP, and Zuzanna Krzątała, Sustainability Project Manager at Vogue Poland.
Next there will be a series of pitches by sustainable start-ups, who were selected as part of the BFES Vogue Polska start-up contest powered by ffVC. It is a one-of-a-kind initiative which helps start-ups in East-Central Europe to source investors and, consequently, gain real financial support. The main prize is up to 250 thousand dollars of investment as well as content-related and operational support in further development of the chosen business. Following the pitches, Asli Ertonguc, General Manager of Poland & Baltics BAT, will speak on developing sustainable business strategy.
Speaking on the role of design and innovation in sustainability will be Stella McCartney, designer who has been committed to cutting-edge materials and circularity ever since the launch of her brand in 2001, in conversation with Henrik Wenders, Chief Marketing Officer at AUDI AG, and Ina Lekiewicz, Editor-in-Chief of Vogue Poland.
- The future of fashion is virtual, say Cattytay and Leanne Elliott Young, founders of the Institute of Digital Fashion, who will give a closing speech on forming identity in the digital world. The founders of IoDF aim to reframe the system by taking digital to new realms and lead the industry towards an inclusive and sustainable future. Eliminating waste, digital fashion can fight excessive consumption, but will it help to reduce demand and thus production of material clothes? The comprehensive annual report by the Boston Consulting Group and Vogue Poland, which will be revealed during the conference by the head of BCG Poland, Oktawian Zając, will address both challenges and opportunities created by the metaverse.
Demystifying the metaverse and its impact on fashion beyond the hype will be Cathy Hackl, tech-futurist dubbed the Godmother of the metaverse. Hackl is the CEO of the Futures Intelligence Group, a leading metaverse consultancy working with the world's top brands on metaverse growth strategies, NFTs, gaming, virtual fashion and how to extend their brands into virtual worlds.
Addressing the future of digital fashion will be creators who design fashion for the metaverse. This panel will feature Giovanna Graziosi Casimiro, founder of Decentraland Fashion Week, Małgorzata Kudła & Adrian Hołota, Founders of Nueno, the first Polish digital fashion brand, James Gaubert, Founder of Republiqe clothing, Scarlett Yang, digital fashion designer, and Mishi McDuff, CEO of Blueberry Entertainment.
Fourteen years after the publication of The Greenwash Guide, Lucy Shea, the CEO of the creative agency Futerra, will unveil at our conference the latest version of the guide, updated by the so-called metawashing. In her presentation on influencer marketing and the metaverse, Lucy will show how to create credible communications that drive change. For more than 20 years, Futerra has specialized in building sustainable branding, strategies and consumer campaigns, with its roster of clients including UN Climate Action, Google and Tommy Hilfiger.
Daria Shapovalova and Natalia Modenova, the pioneers of virtual fashion behind DressX, the first content platform that brings digital fashion to consumers, will speak on creating real value in the virtual world and digital ownership.
Fashion has been looking at the NFTs, web3 and blockchain for the last year as ways of solidifying trust from customers, growing new customer bases and engaging in new product and marketing categories. Tareq Nazlawy, President of Science Magic Studios and former Senior Director of Digital Growth at Adidas together with Łukasz Trojan, Senior Associate at ff Venture Capital and Zofia Zwieglinska, a writer for Glossy reporting on sustainability and technology will discuss the rise and fall of NFT – whether the bubble has burst or is it still worthwhile for brands to invest in Web3?
The BFES 2022 will be livestreamed on Vogue Polska's FB and IG accounts.