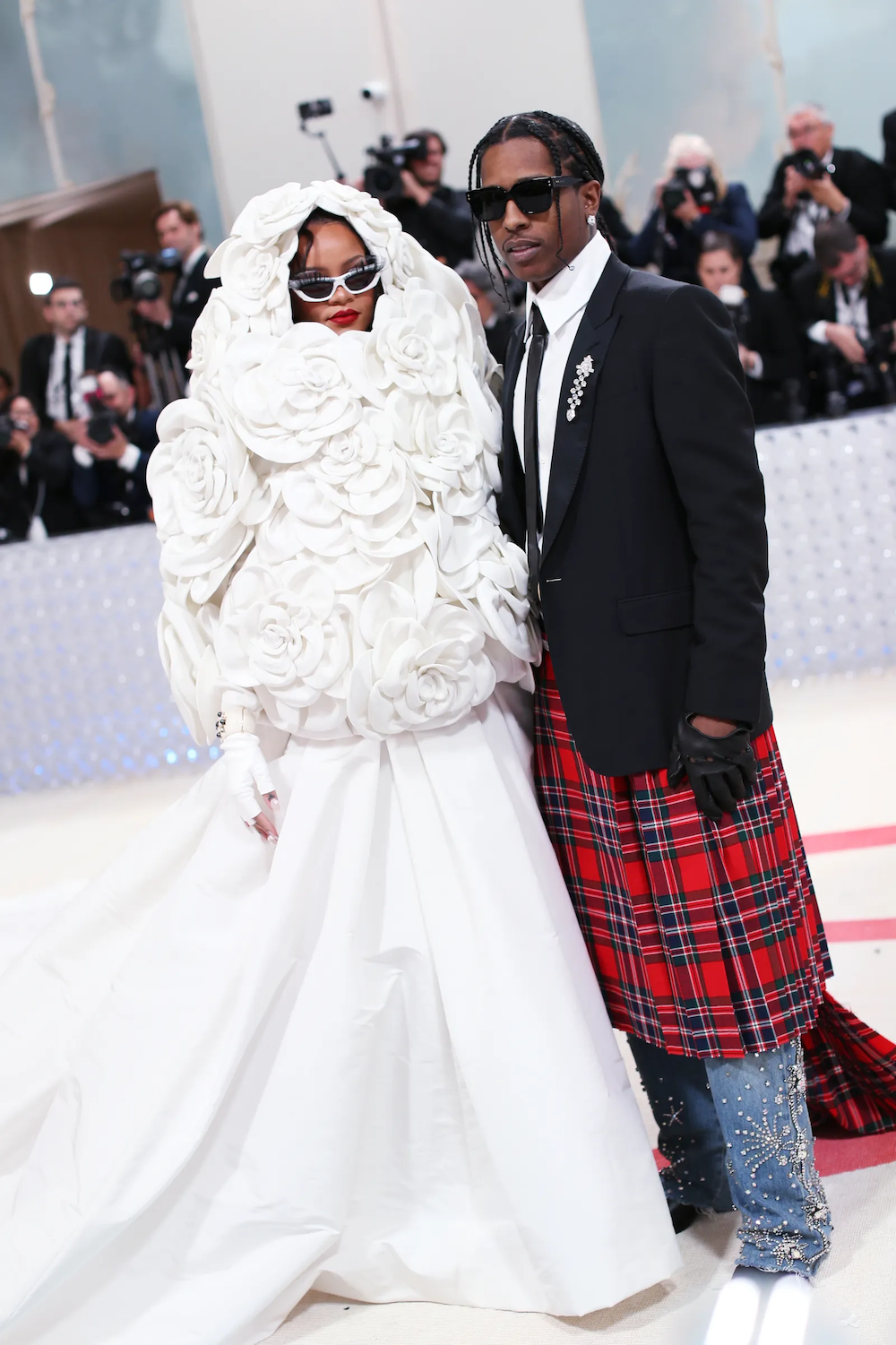 Odbywająca się w nocy z 1 na 2 maja MET Gala 2023 dobiegła końca. W tym roku bal organizowany w Metropolitan Museum of Art w Nowym Jorku inaugurował otwarcie wystawy "Karl Lagerfeld: A Line of Beauty". Na czerwonym dywanie, podobnie jak w przestrzeni wystawienniczej, wspominano dorobek zmarłego w 2019 roku projektanta i byłego dyrektora kreatywnego marek Chanel oraz Fendi.
Równie ważny, jak ekspozycja w Metropolitan Museum of Art, jest czerwony dywan rozłożony na jego schodach. Podczas MET Gali – nazywanej Super Bowl świata mody, gwiazdy co roku prezentują się w kreacjach, które przechodzą do historii. Podczas tegorocznej uroczystości zaproszeni goście zostali poproszeni o zinterpretowanie tematu wystawy "Karl Lagerfeld: A Line of Beauty" i złożenie hołdu jednemu z najznamienitszych projektantów XX i XXI wieku. Stąd na czerwonym dywanie nie zabrakło wariacji na temat jego archiwalnych kreacji, tweedowych kostiumów Chanel czy biało-czarnego uniformu Lagerfelda, złożonego z perfekcyjnie skrojonego garnituru, białej koszuli i brylantowej broszki.
Wszystkie kreacje z czerwonego dywanu MET Gali 2023
Na przyjęciu jako jedni z pierwszych zaprezentowali się gospodarze MET Gali 2023: aktorki Penélope Cruz i Michaela Coel, tenisista Roger Federer, wokalistka Dua Lipa oraz redaktorka naczelna amerykańskiego "Vogue'a" Anna Wintour. By poznać resztę gości, zapraszamy do poniższej galerii z najpiękniejszymi stylizacjami najgorętszych nazwisk show-biznesu – od oscarowych aktorów i nagradzanych piosenkarzy po sportowców oraz modelki.
Zapraszamy na powtórkę z transmisji na żywo, by jeszcze raz przeżyć to wielkie święto mody.
1/204

Kim Kardashian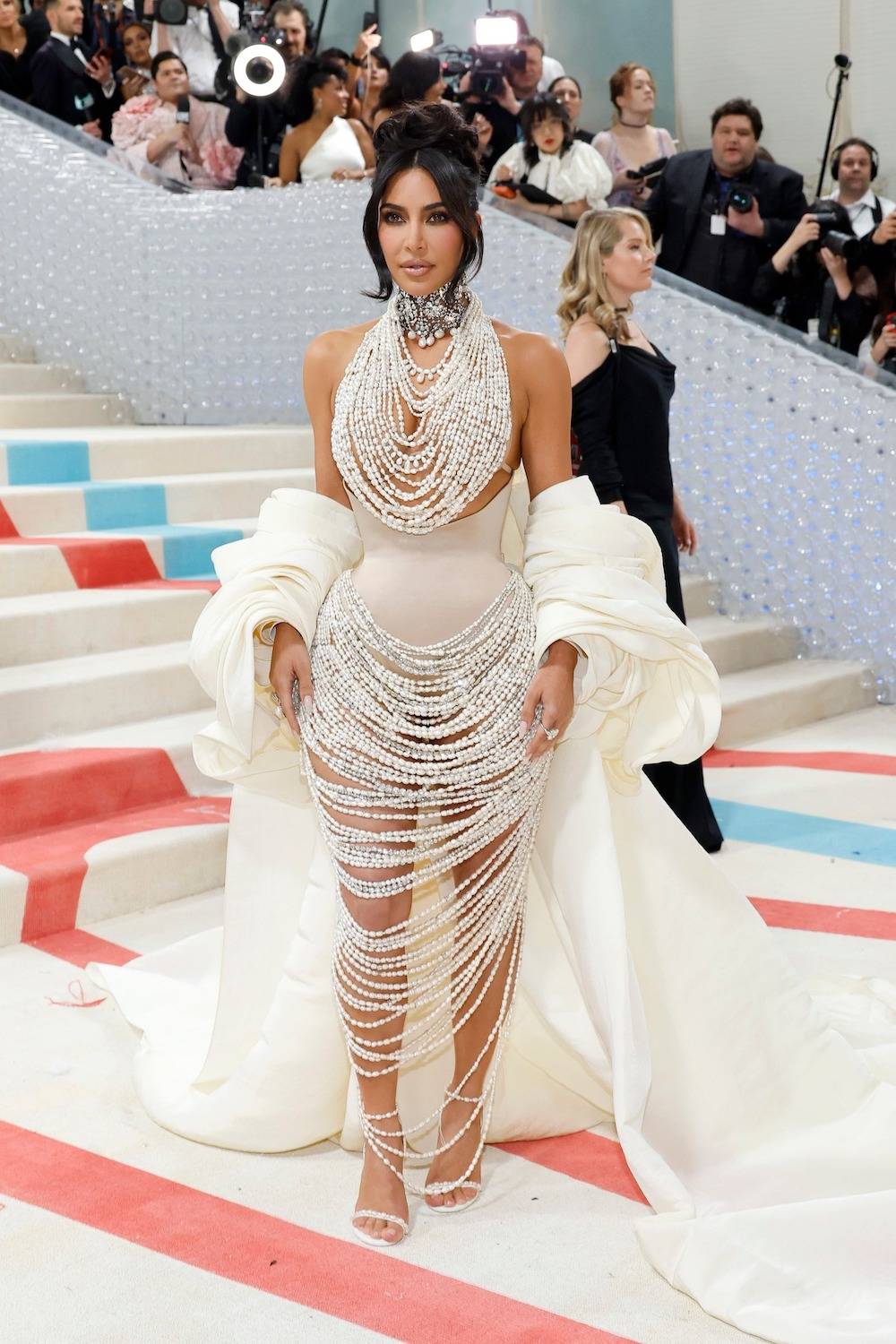 2/204

Jenna Ortega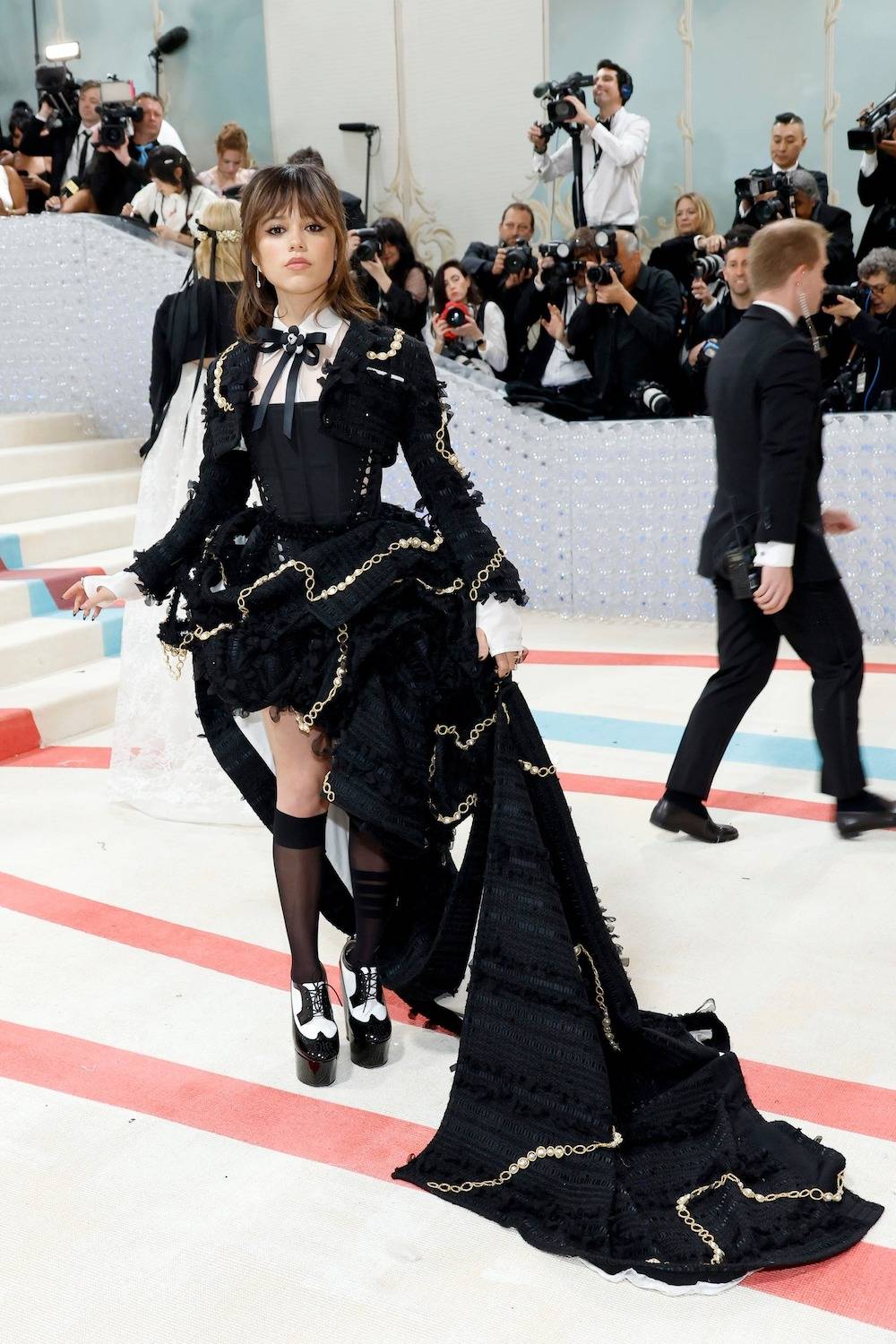 3/204

Salma Hayek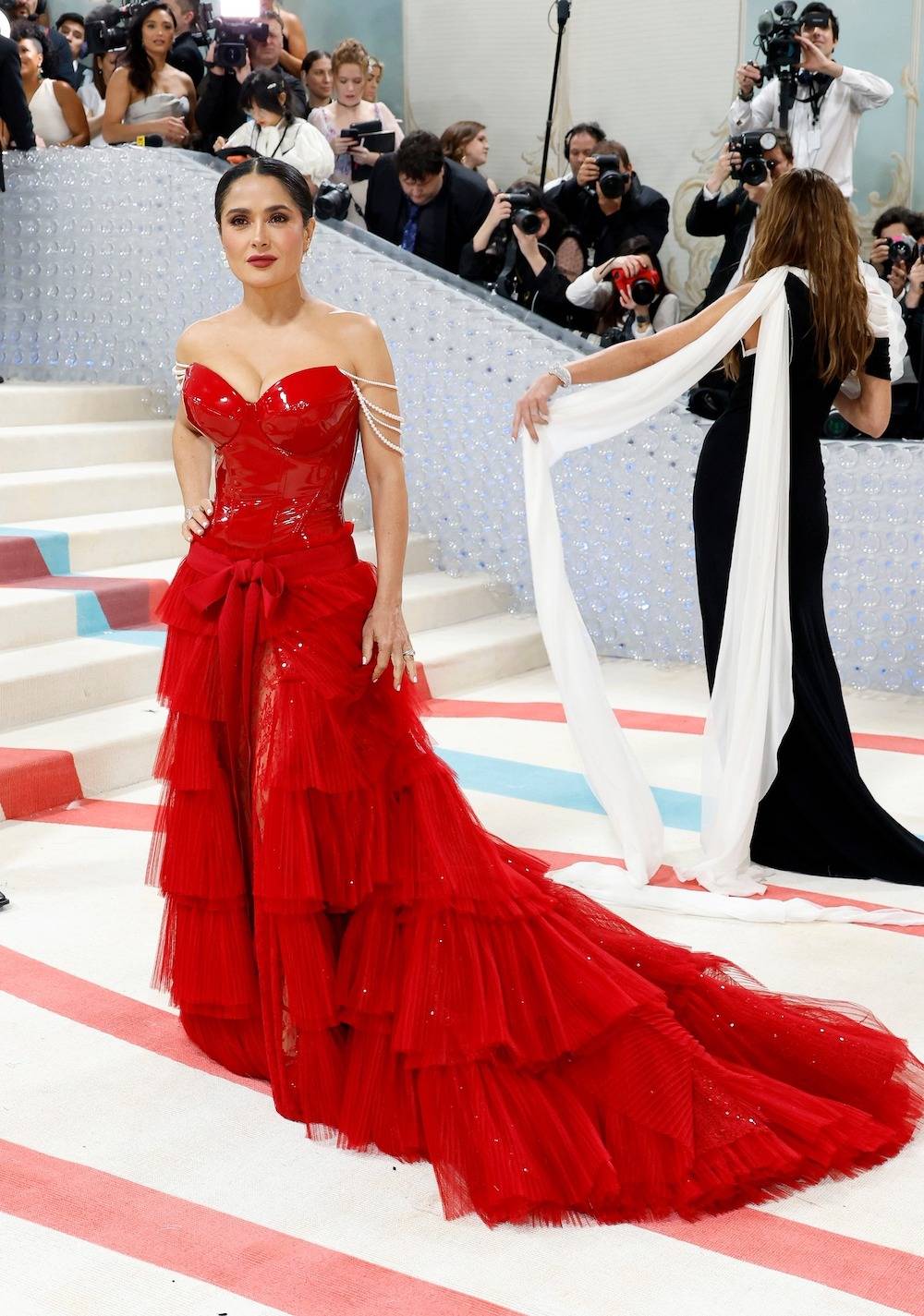 4/204

Jennifer Lopez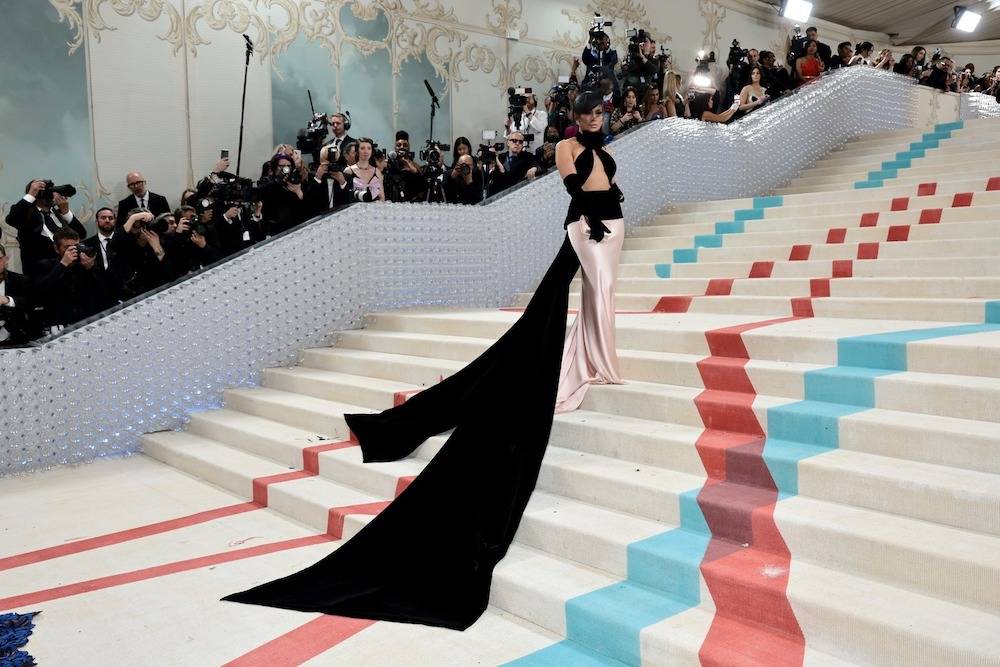 5/204

Anne Hathaway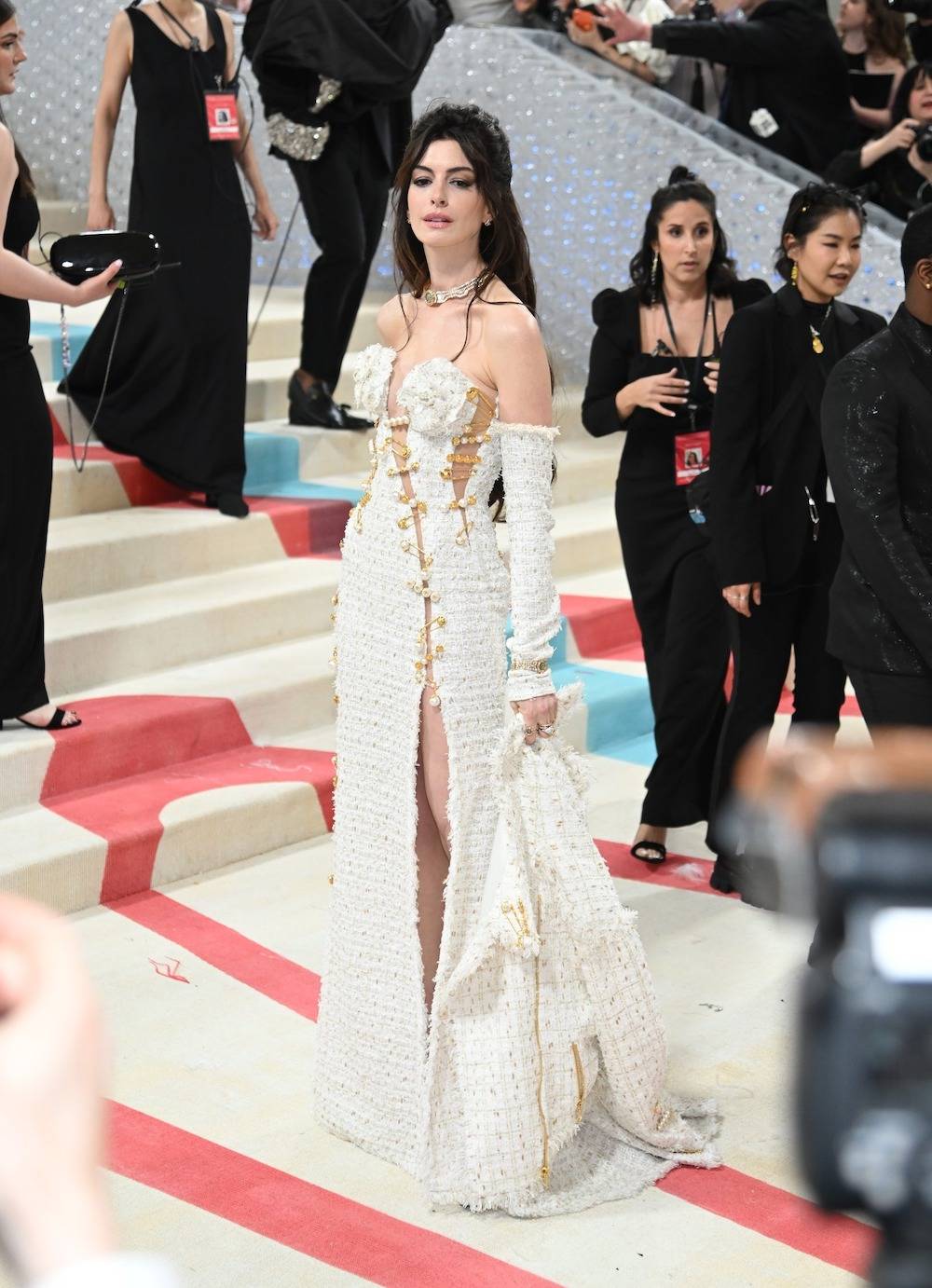 6/204

Max Hollein i Nina Hollein
7/204

Sabrina Dhowre i Idris Elba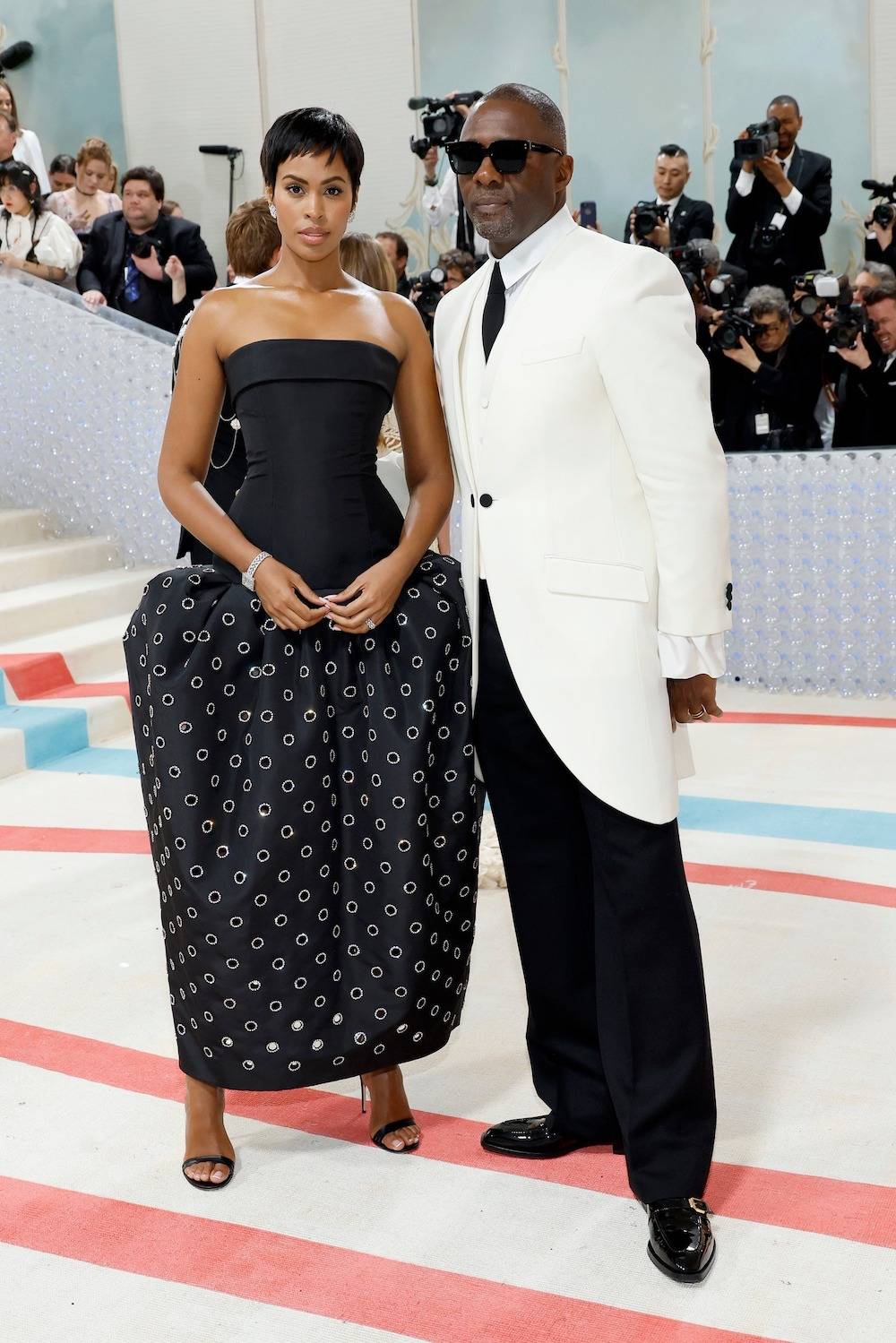 8/204

Elle Fanning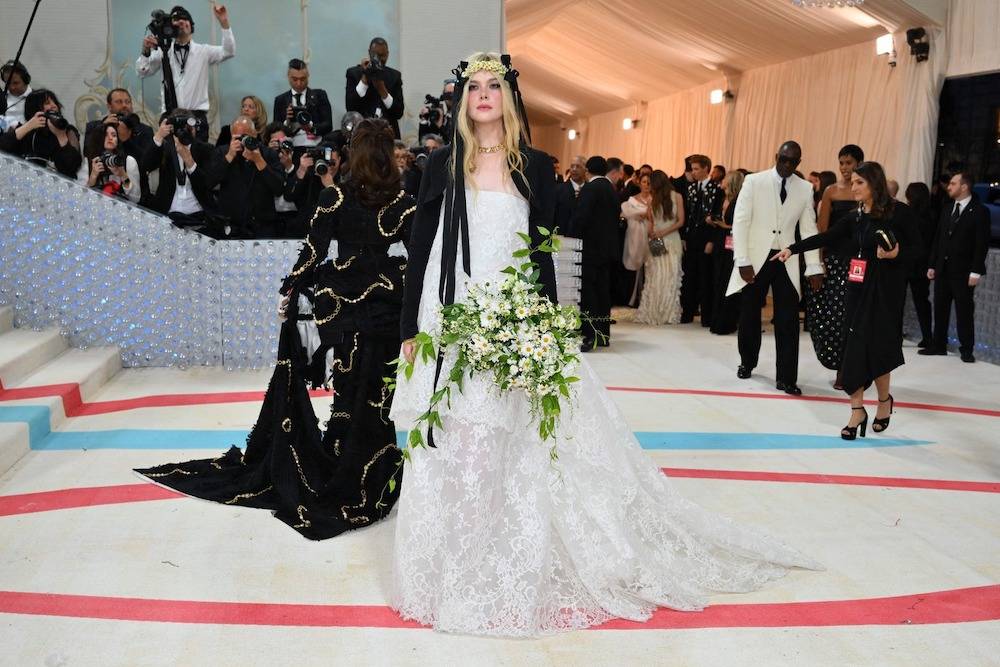 9/204

Yung Miami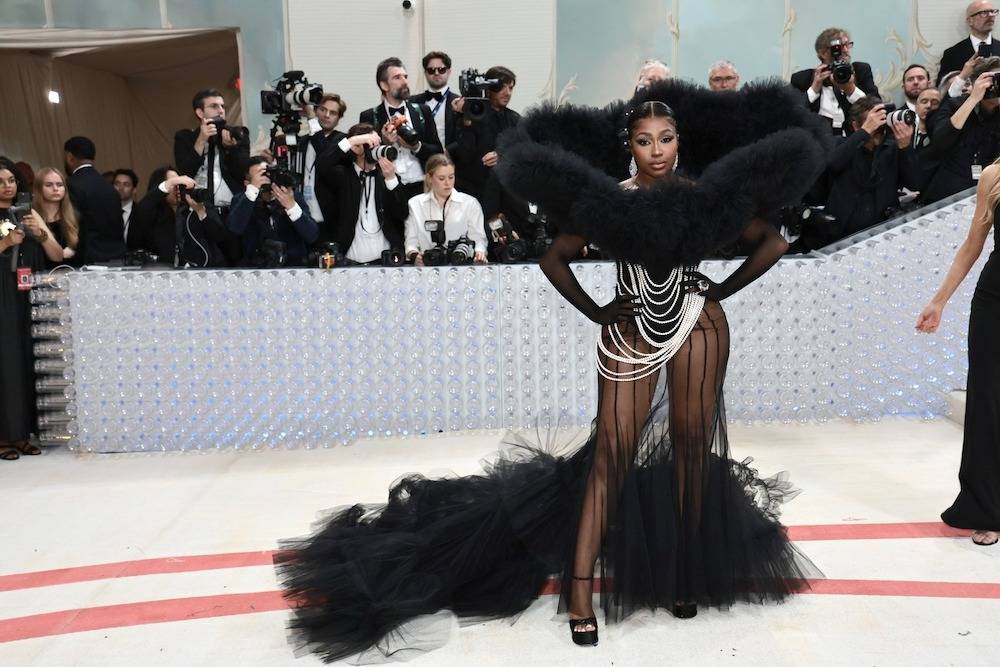 10/204

Sean Diddy Combs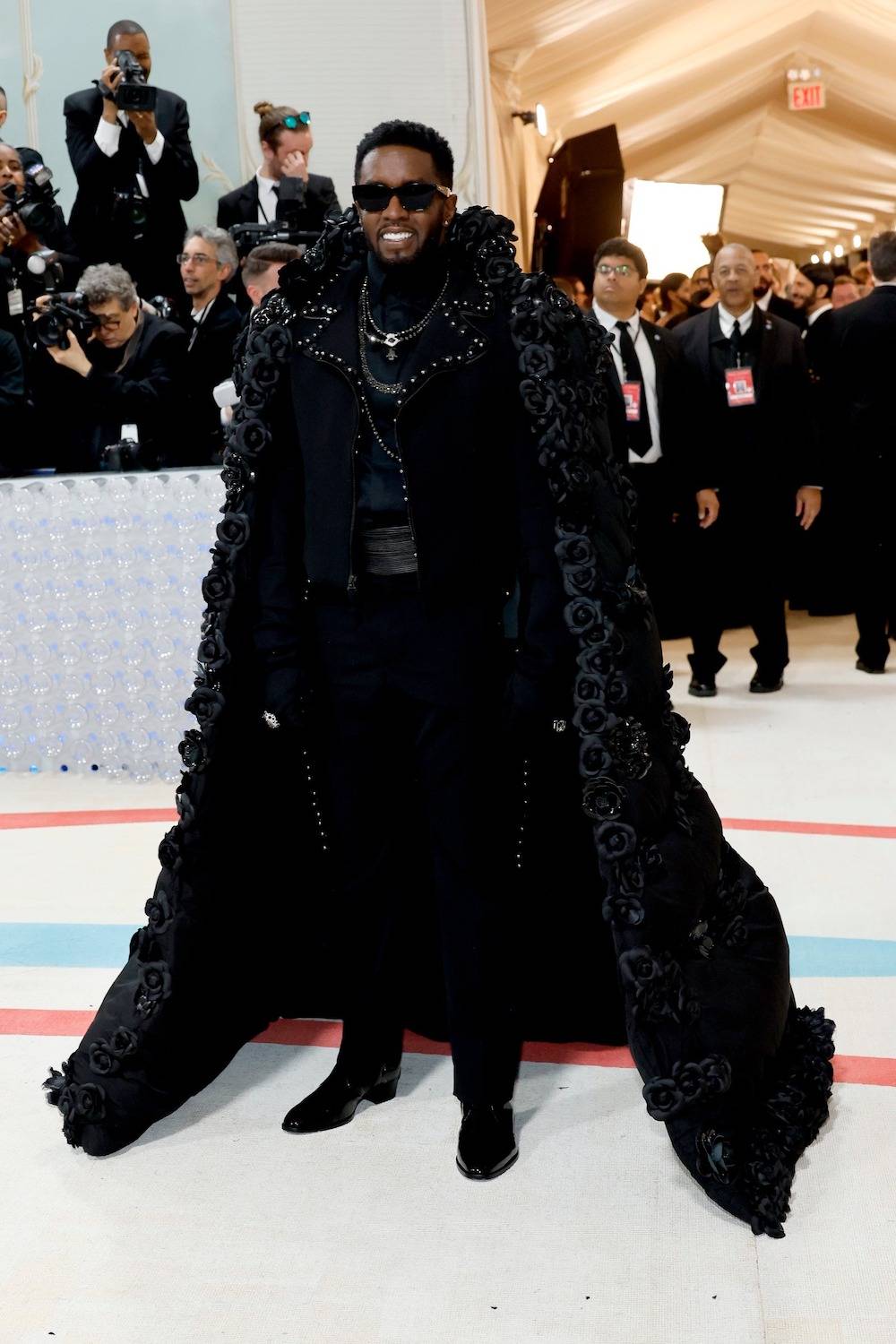 11/204

Maya Penn i Stuart Vevers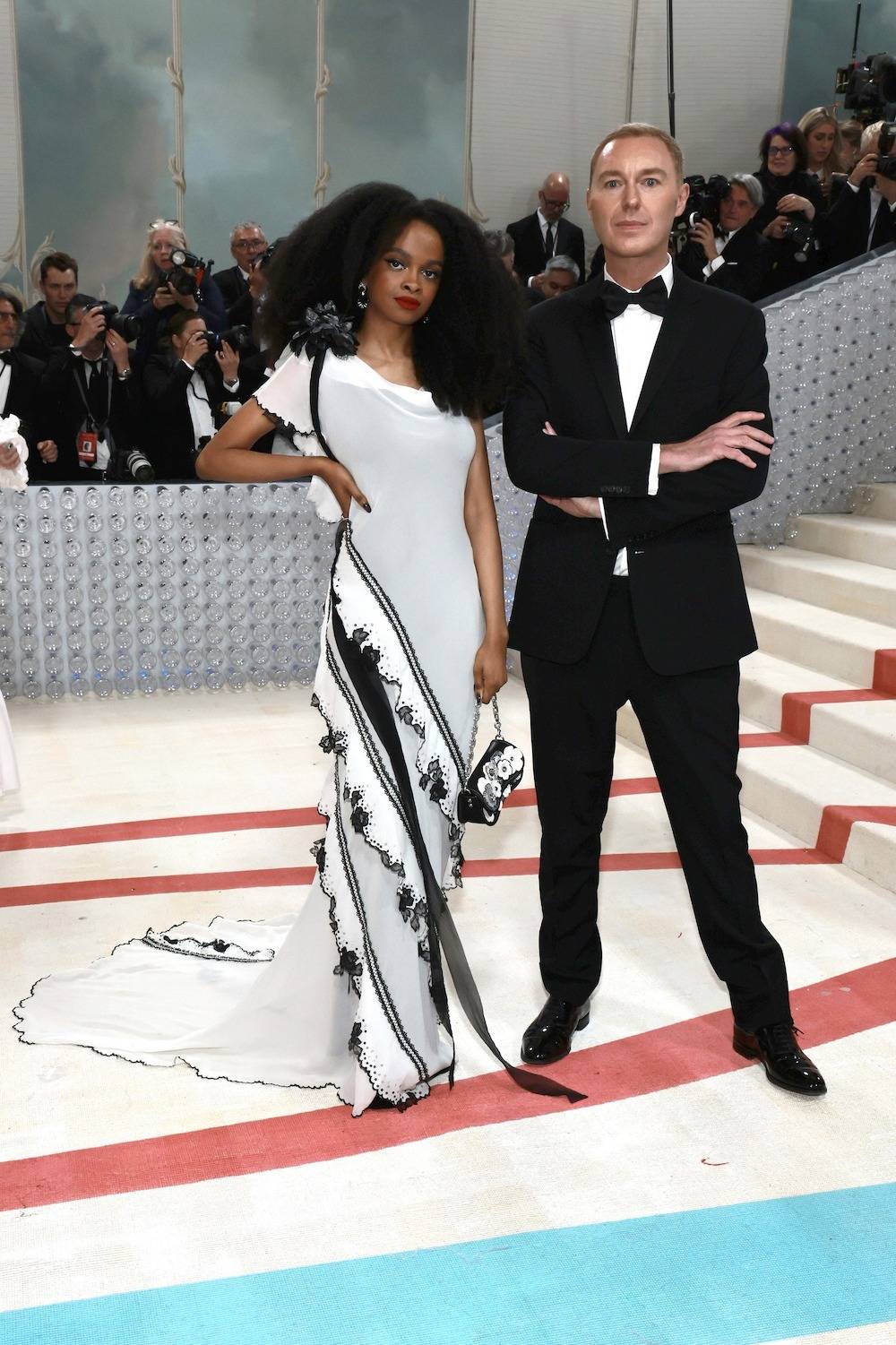 12/204

Tems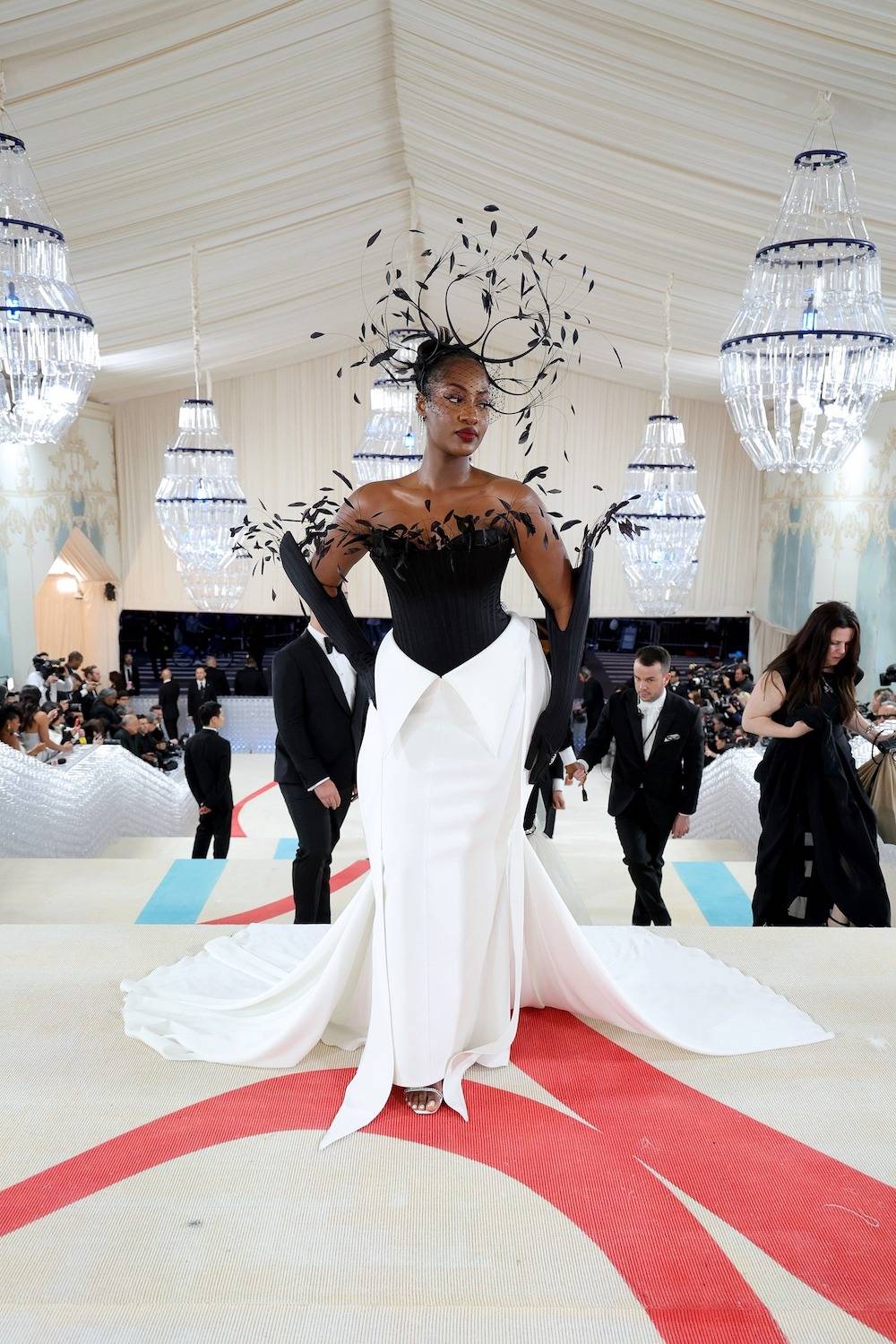 13/204

Burna Boy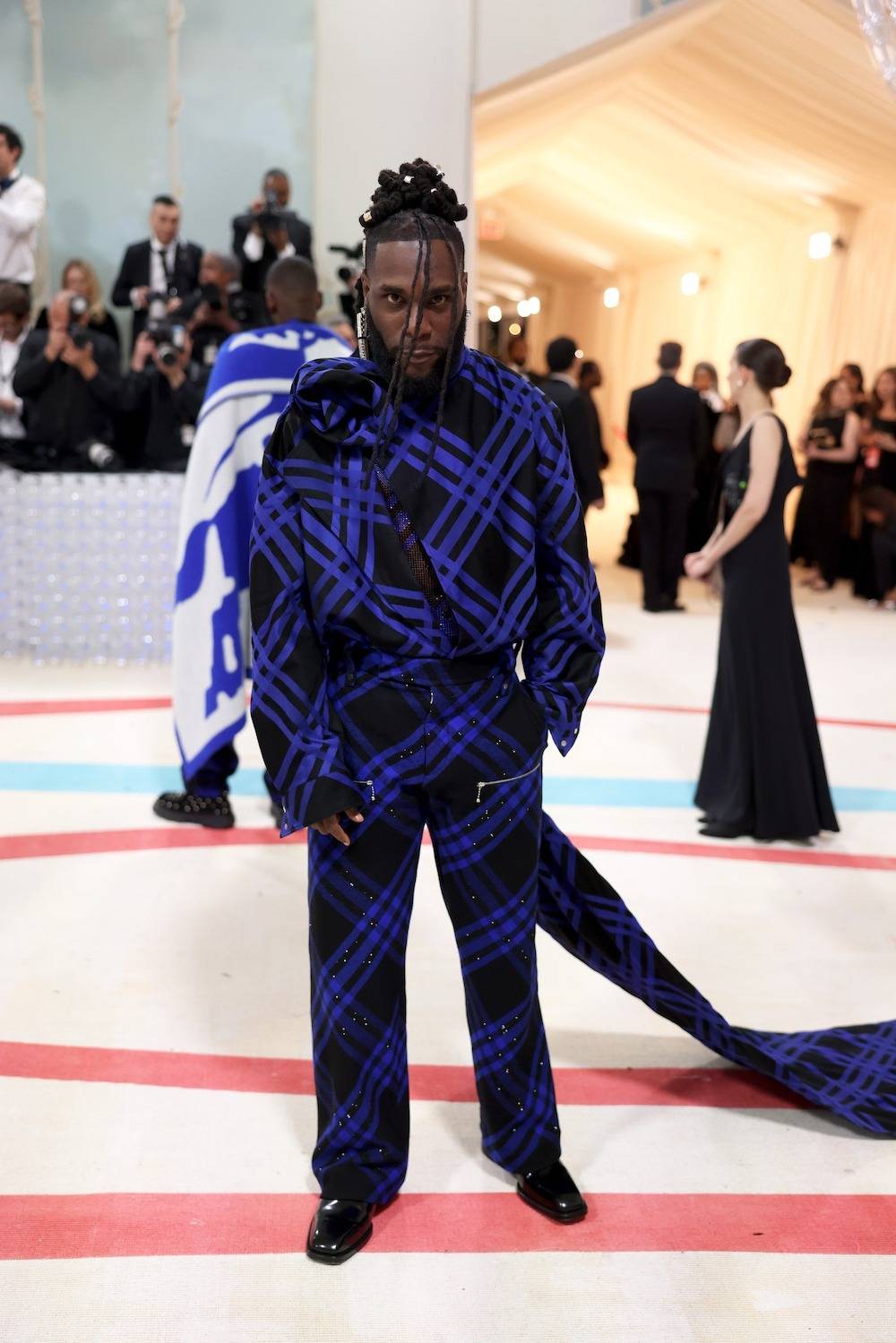 14/204

Mary J. Blige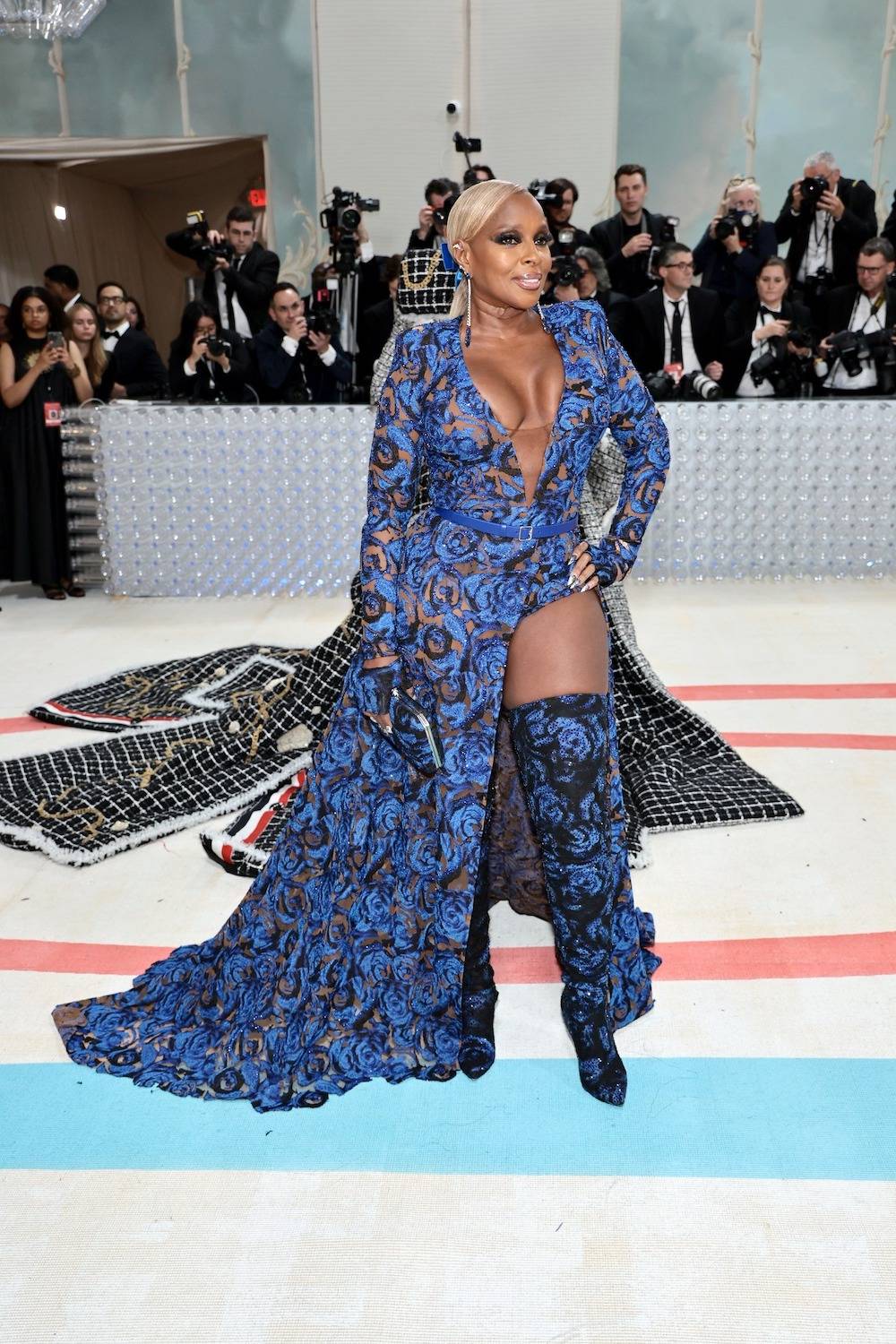 15/204

Madelyn Cline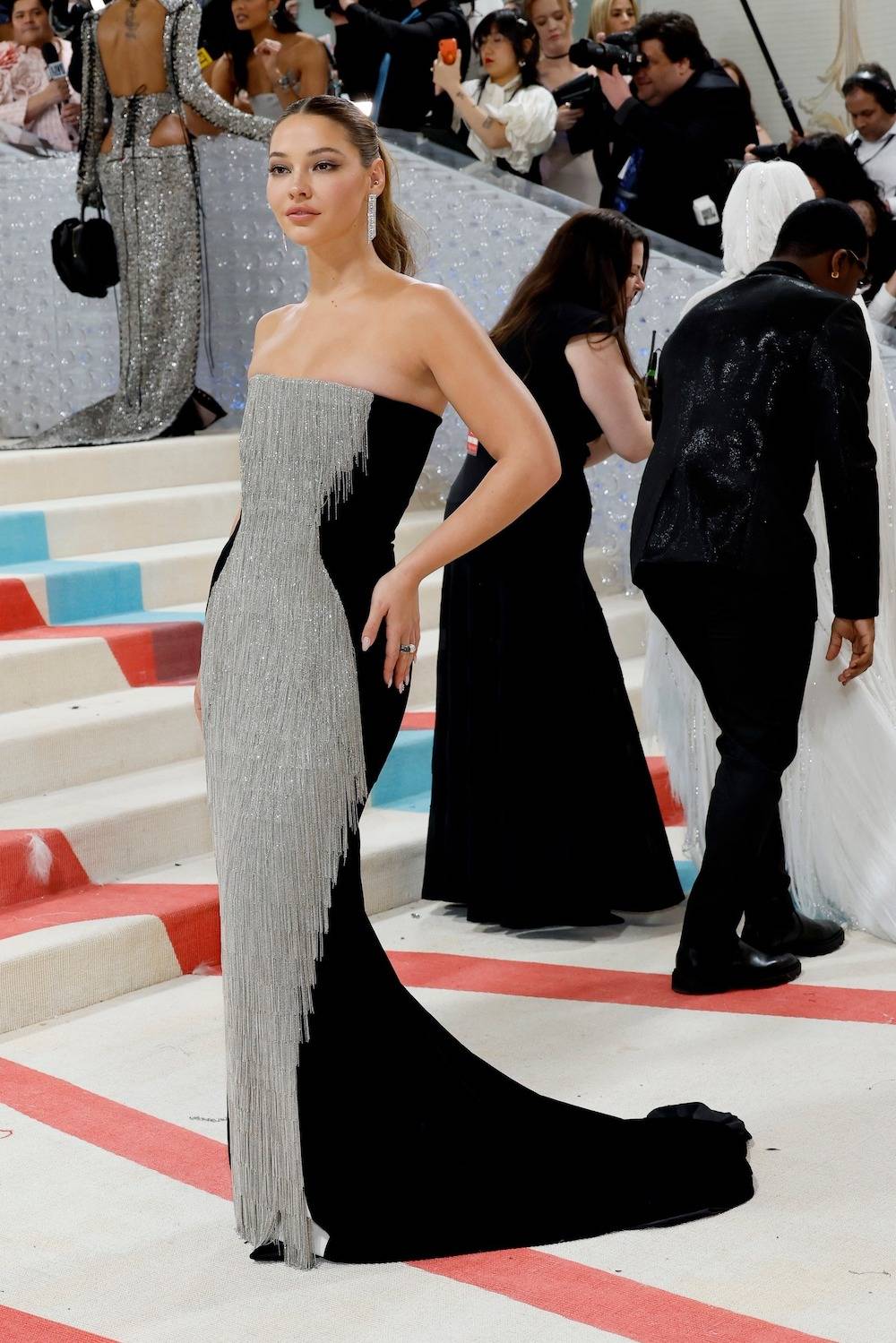 16/204

Olivia Rodrigo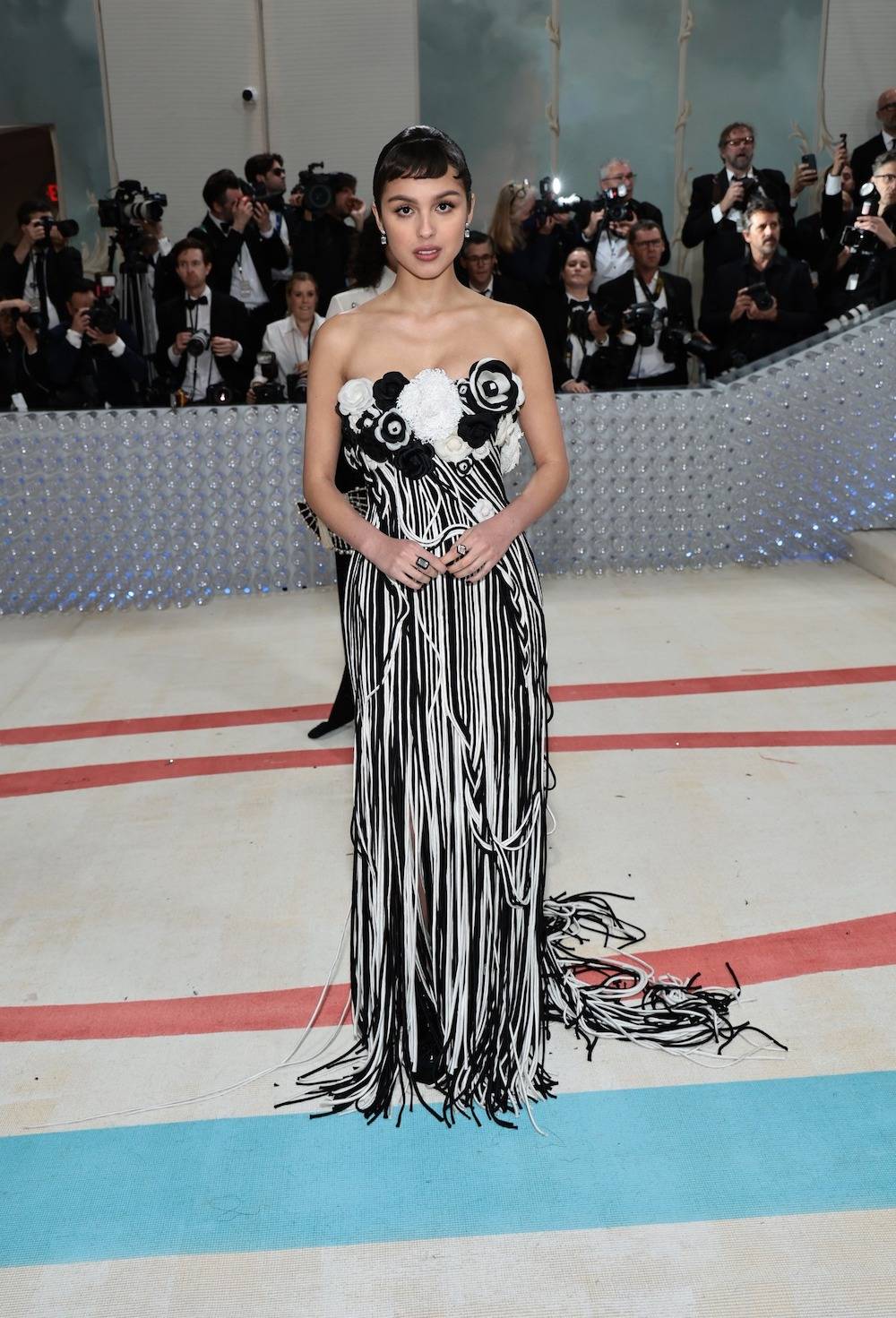 17/204

Teyana Taylor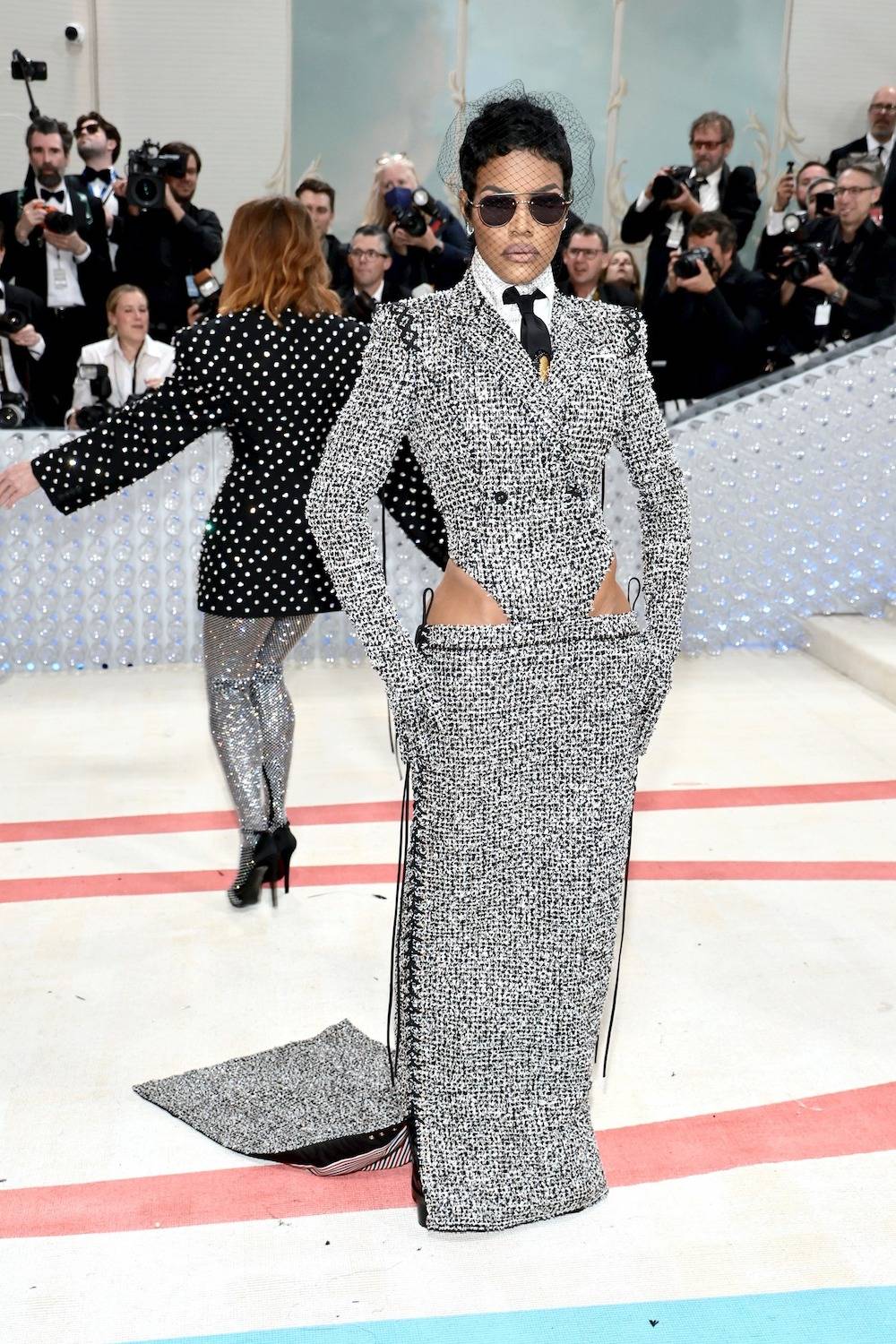 18/204

Alexandra Daddario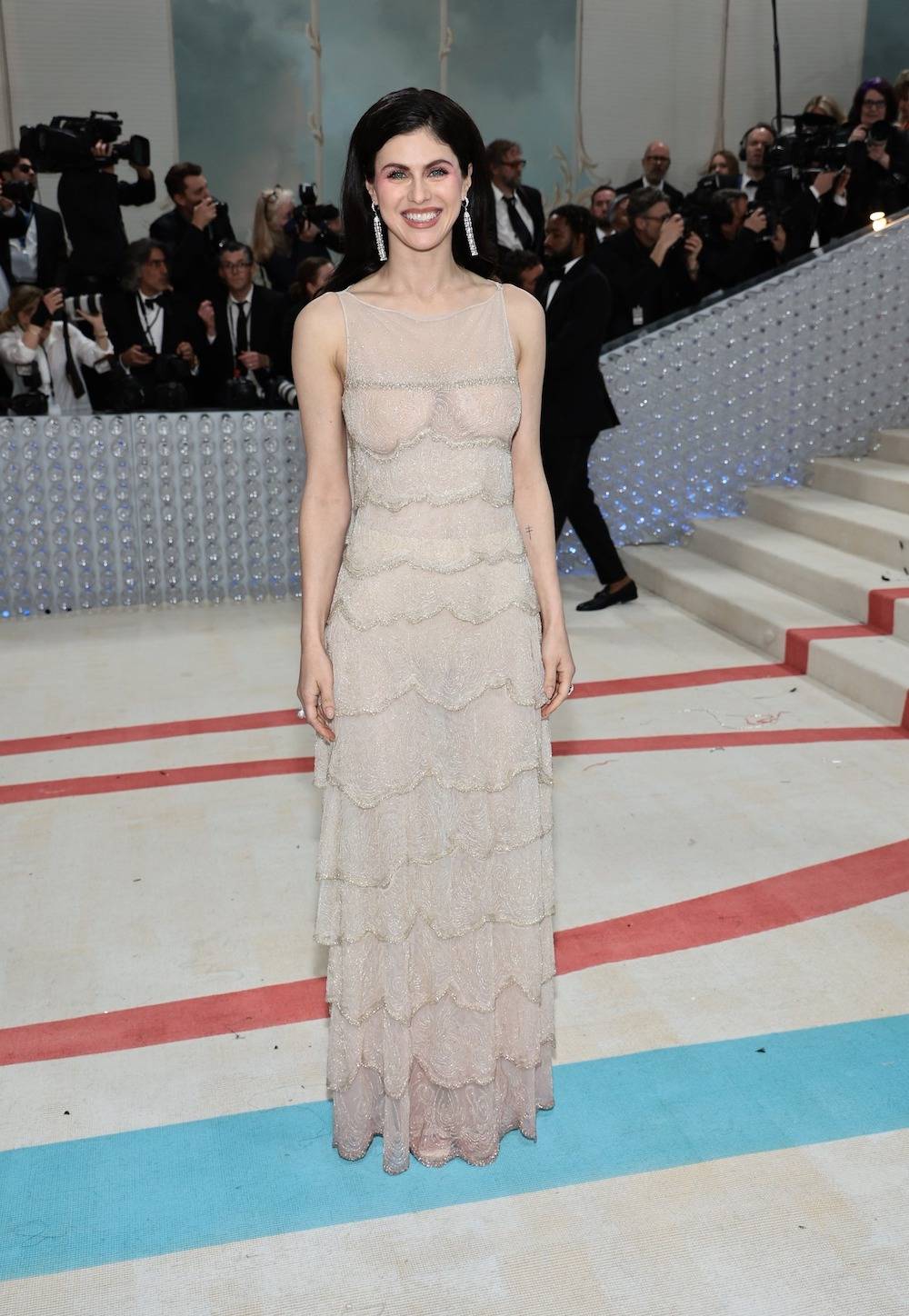 19/204

Aubrey Plaza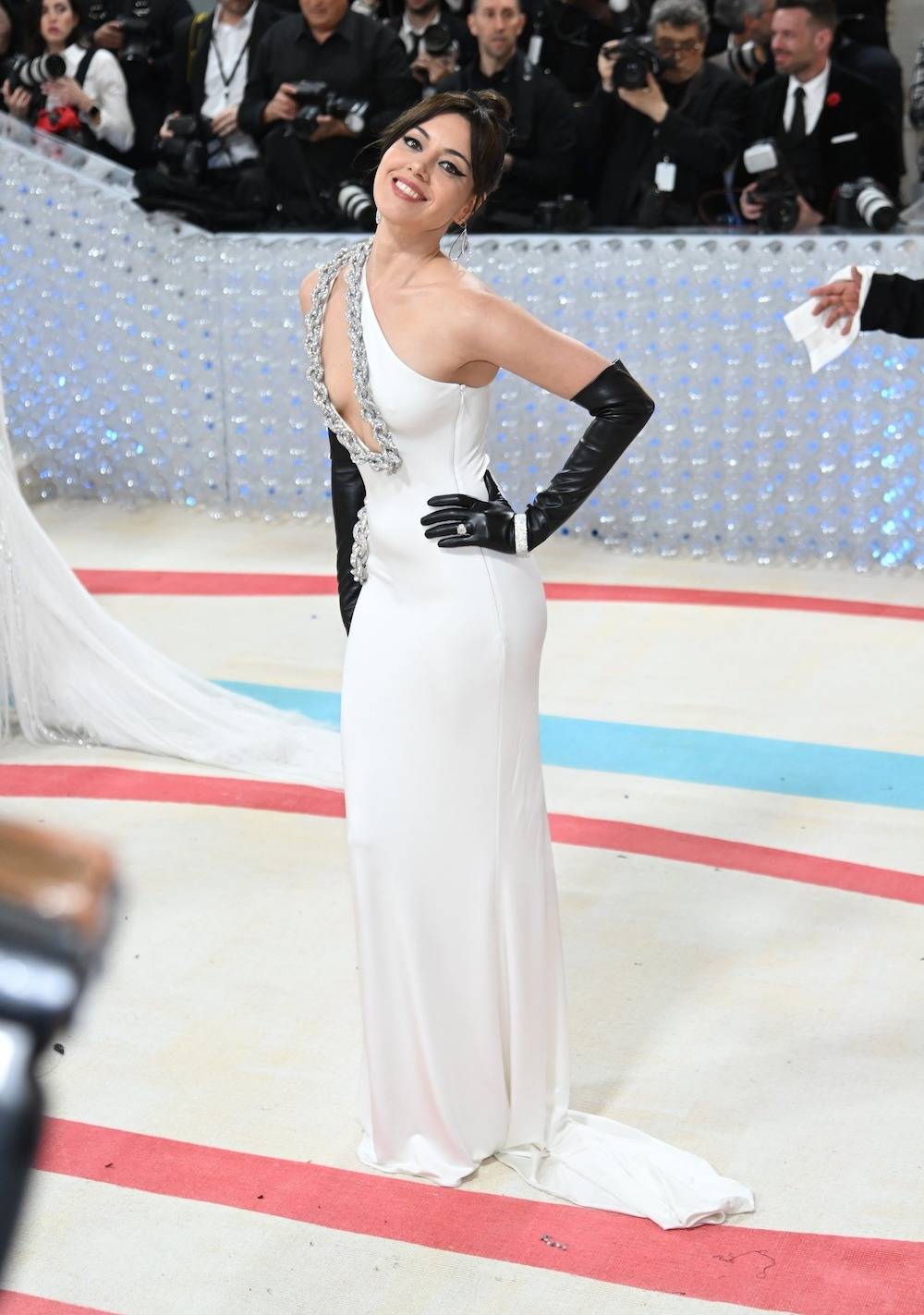 20/204

Olivier Rousteing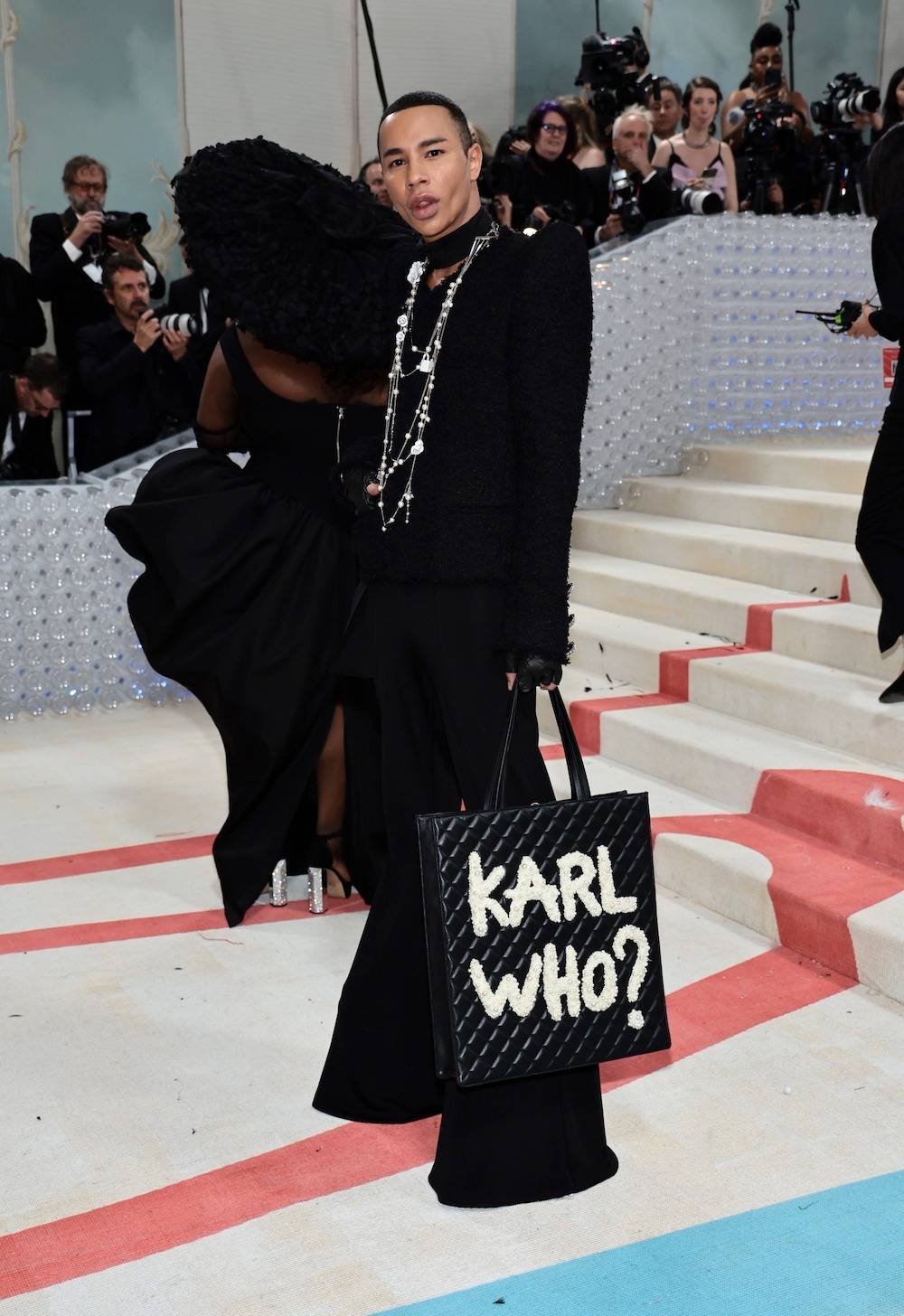 21/204

Erykah Badu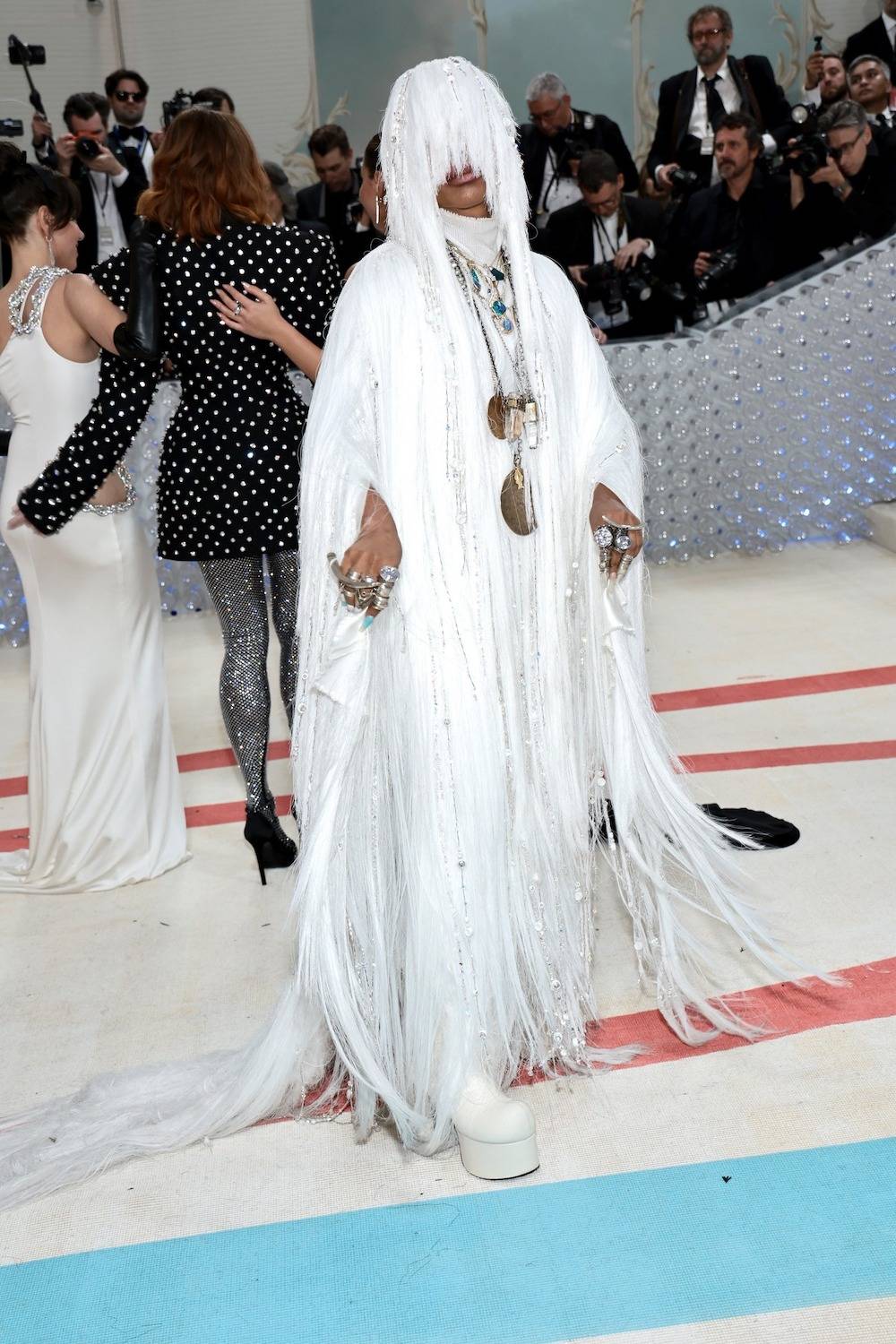 22/204

Russell Westbrook
23/204

Alex Newell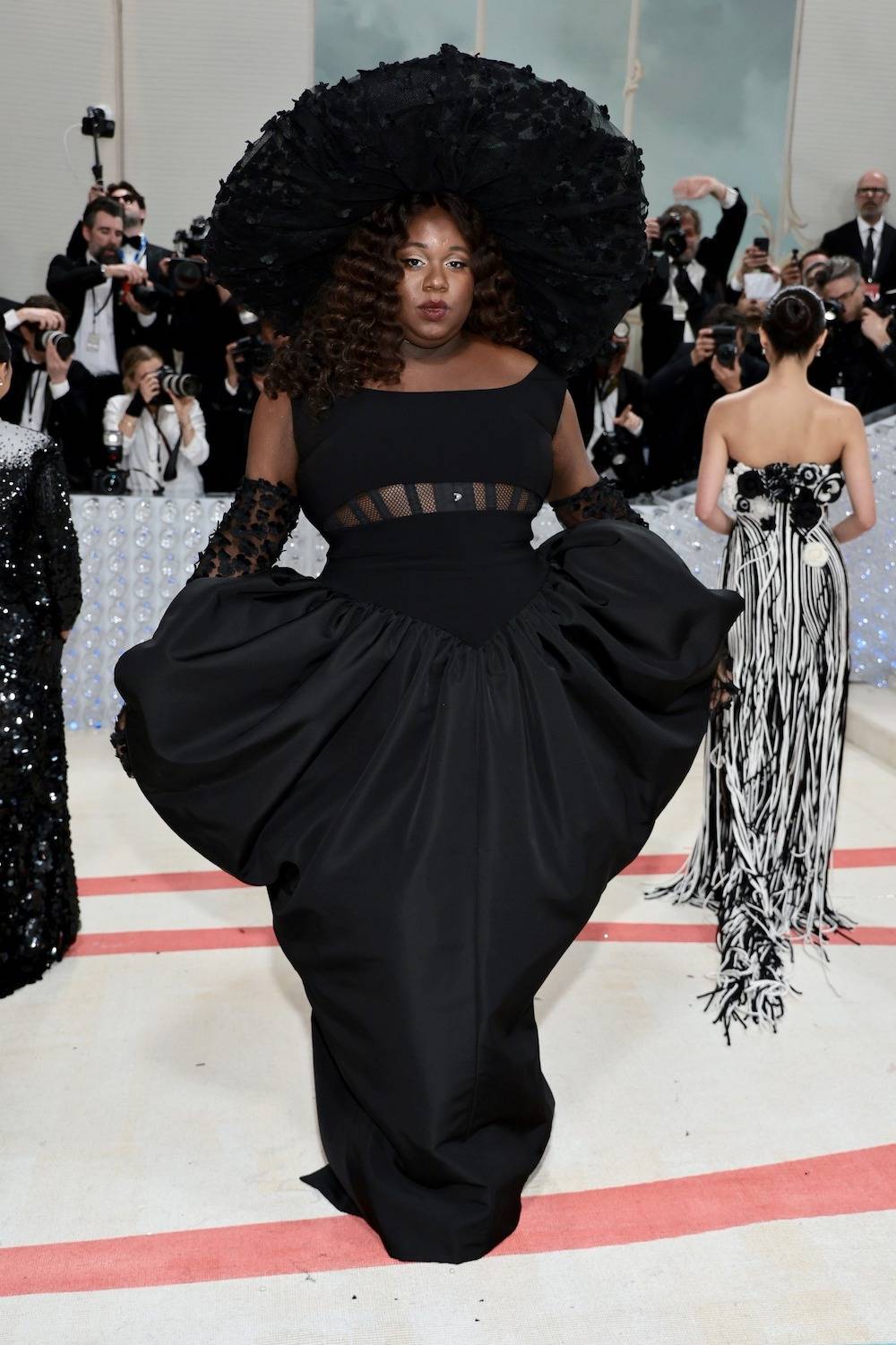 24/204

Carla Bruni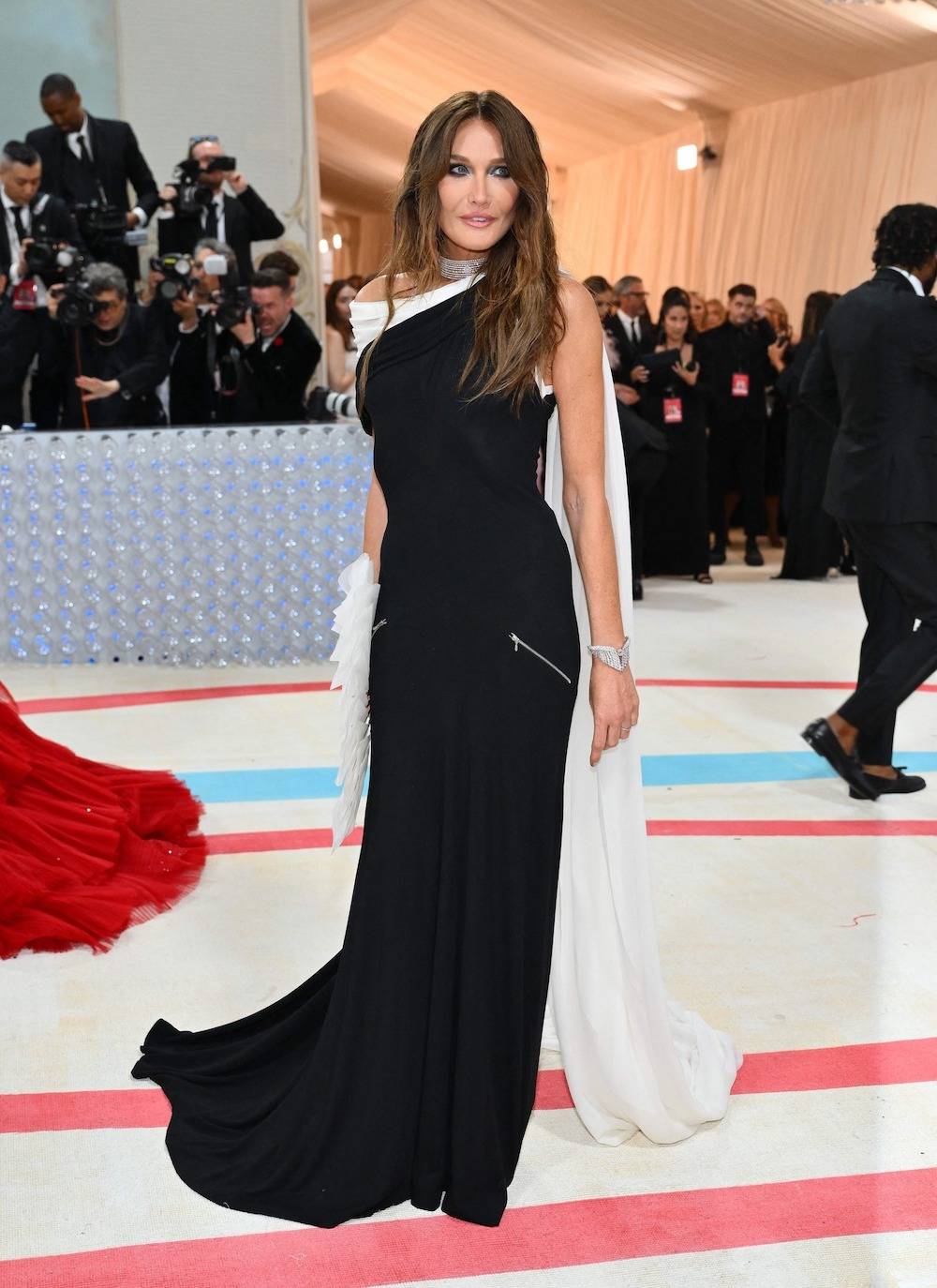 25/204

Stephanie Hsu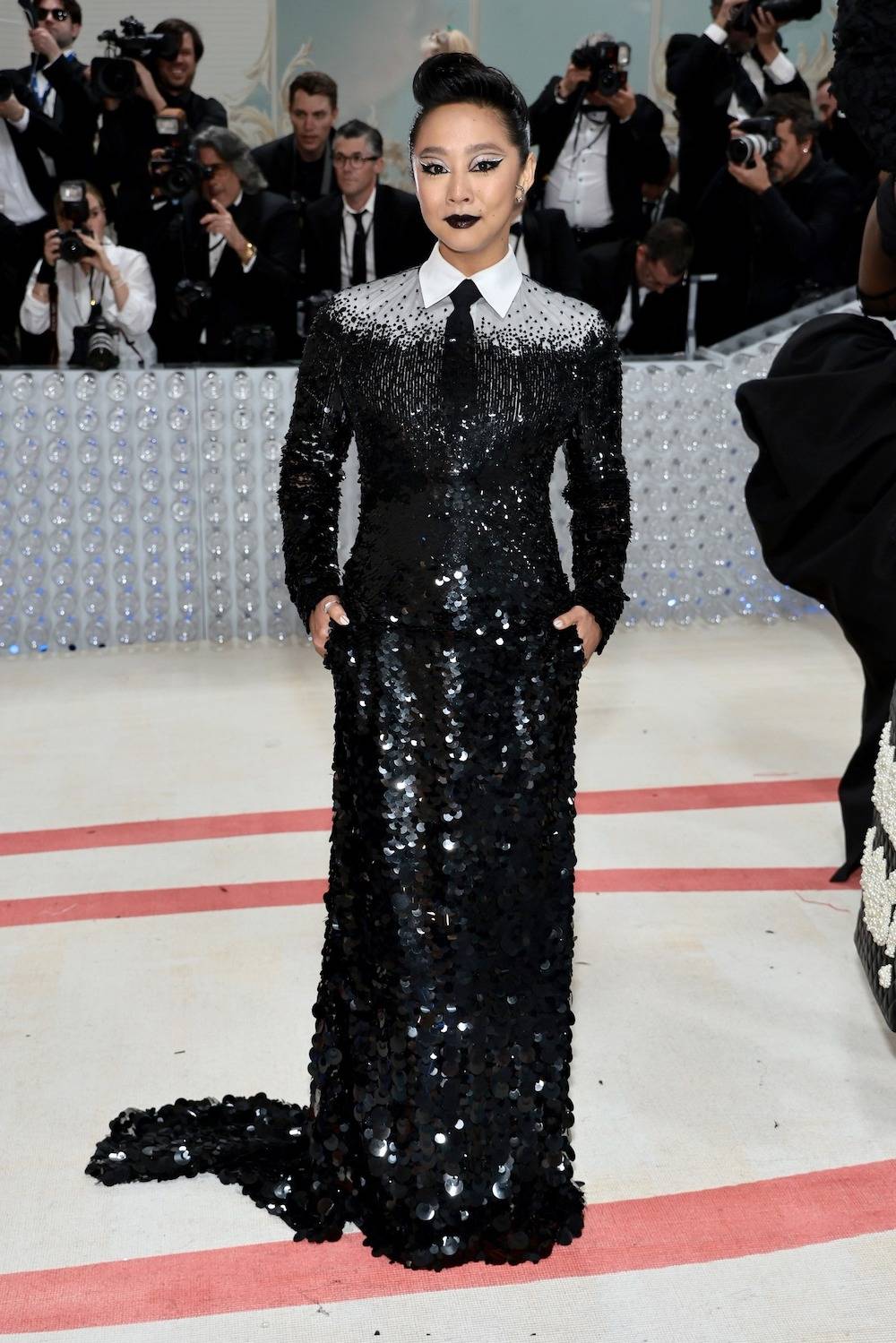 26/204

Conan Gray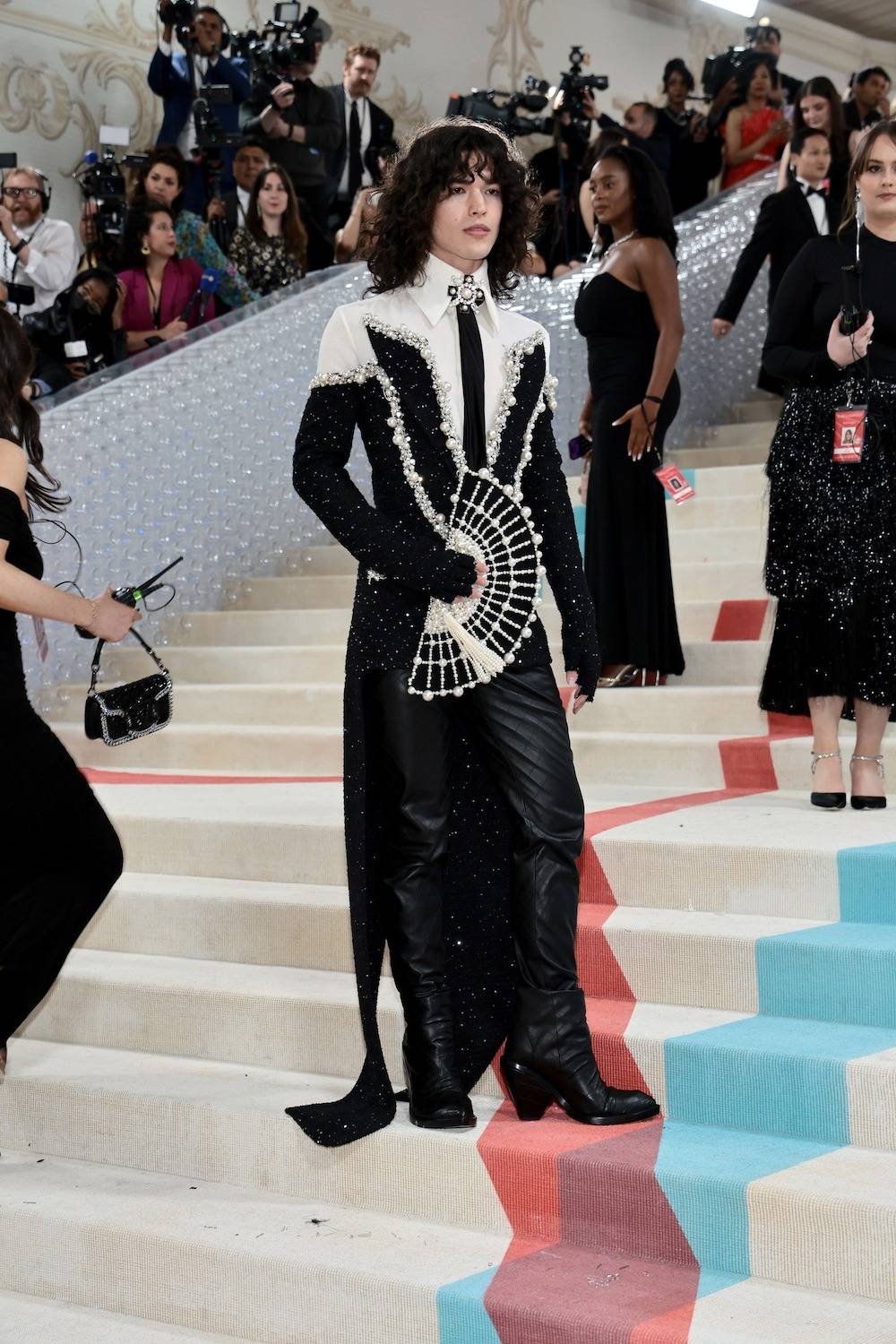 27/204

Cardi B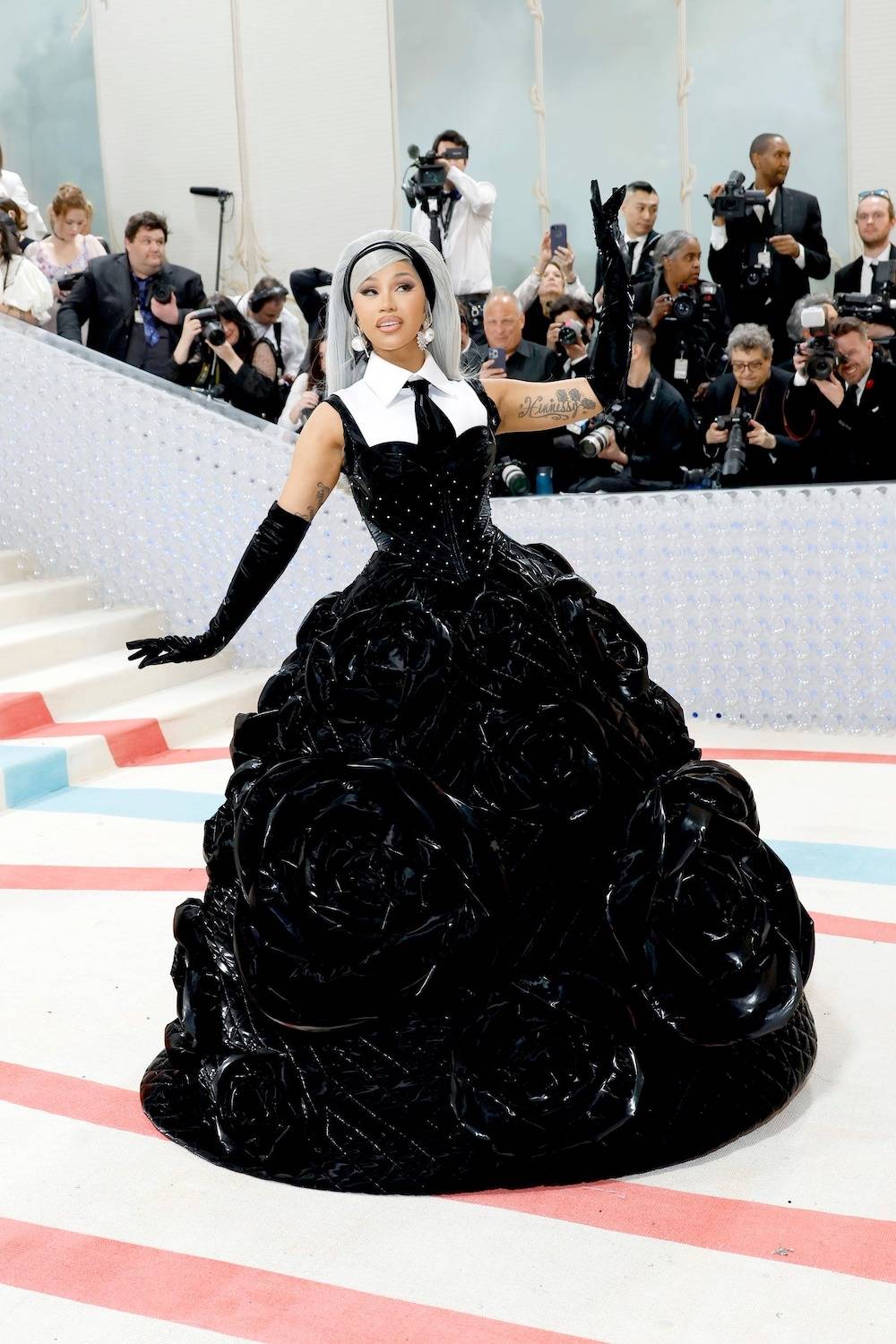 28/204

Zac Posen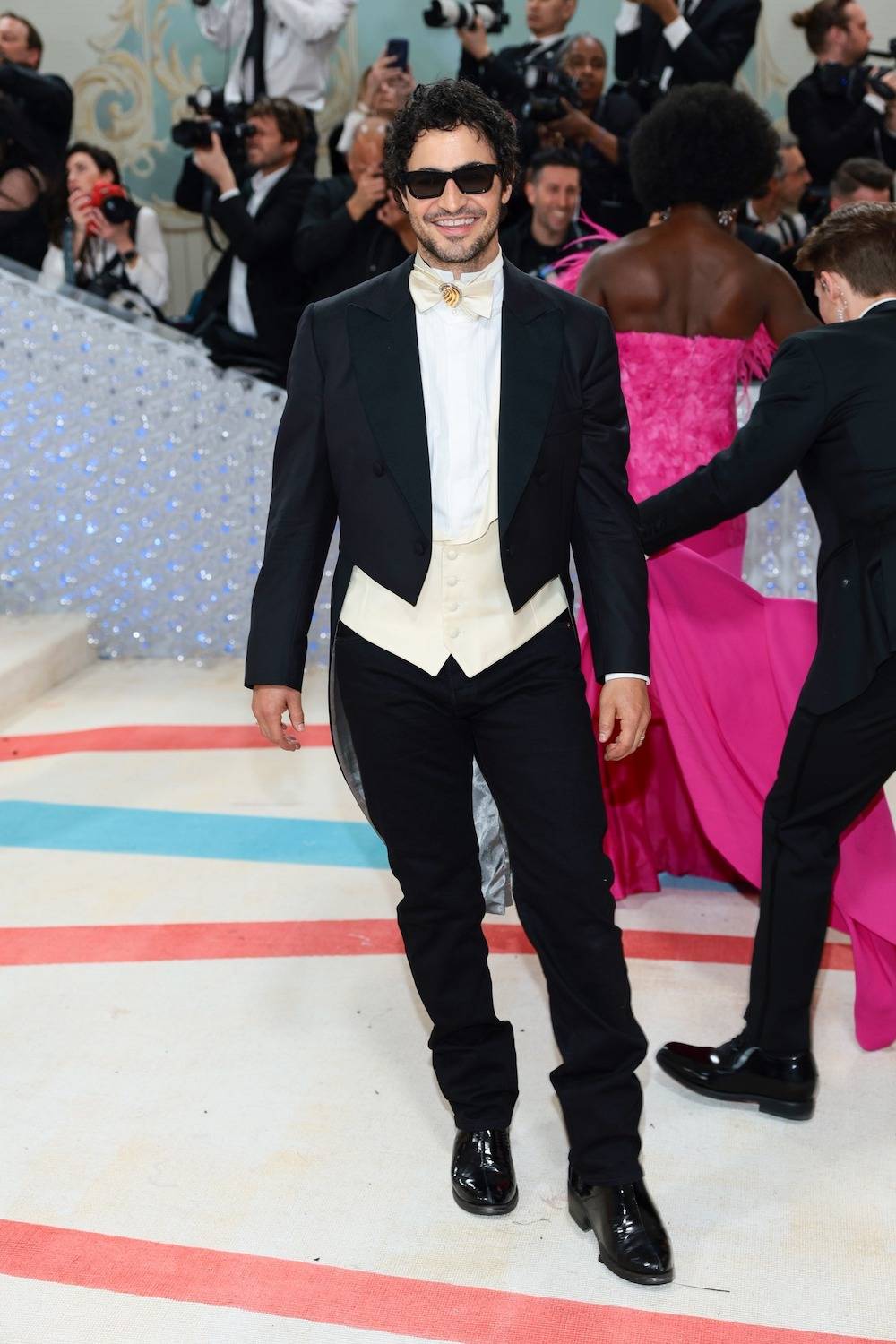 29/204

Jeremy Pope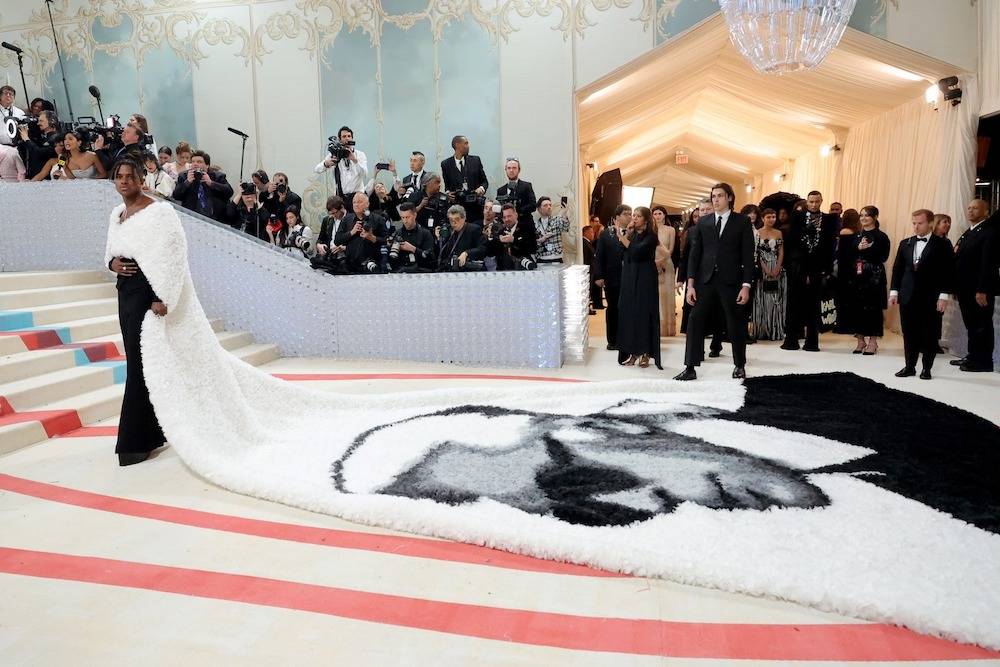 30/204

Stella McCartney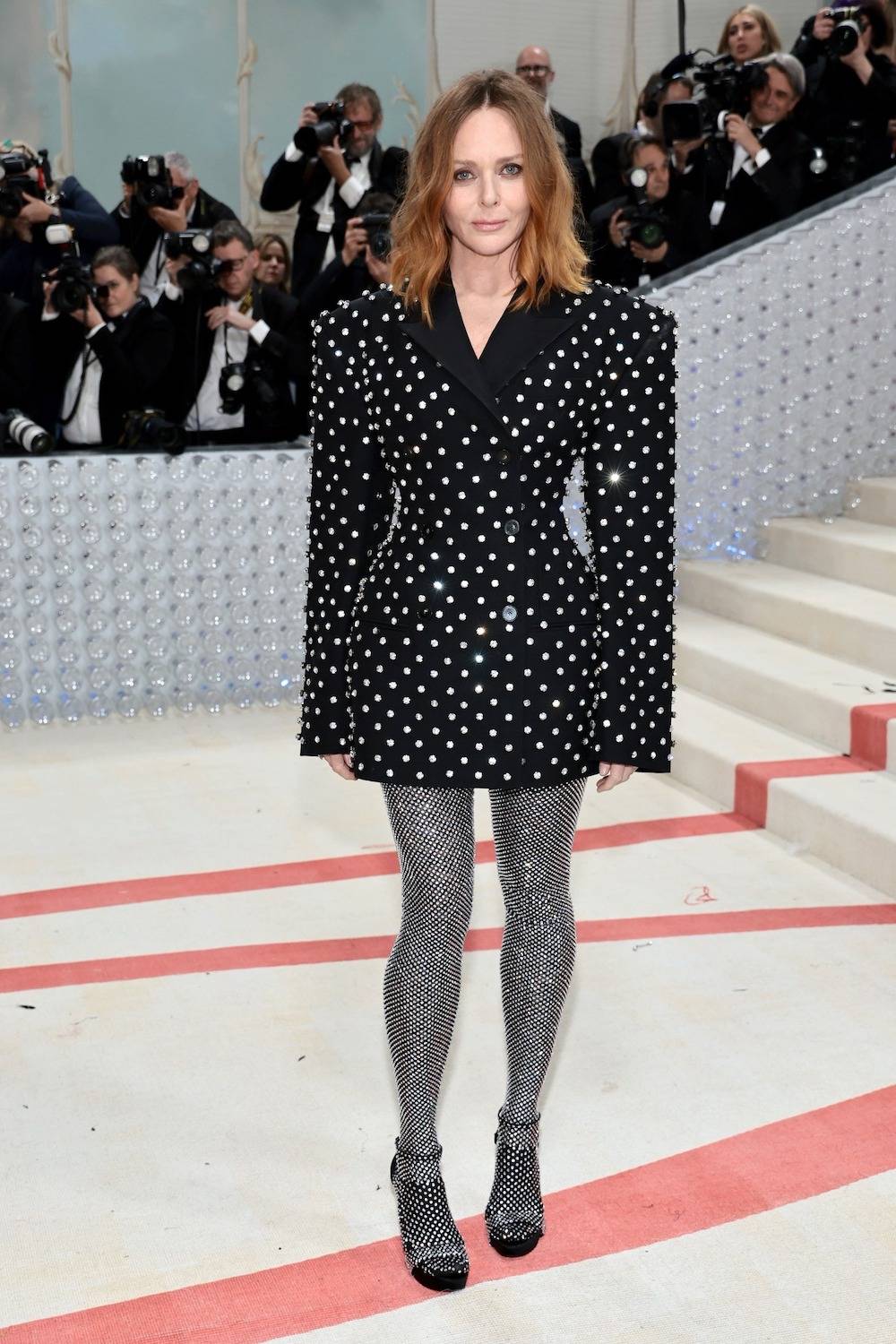 31/204

Pedro Pascal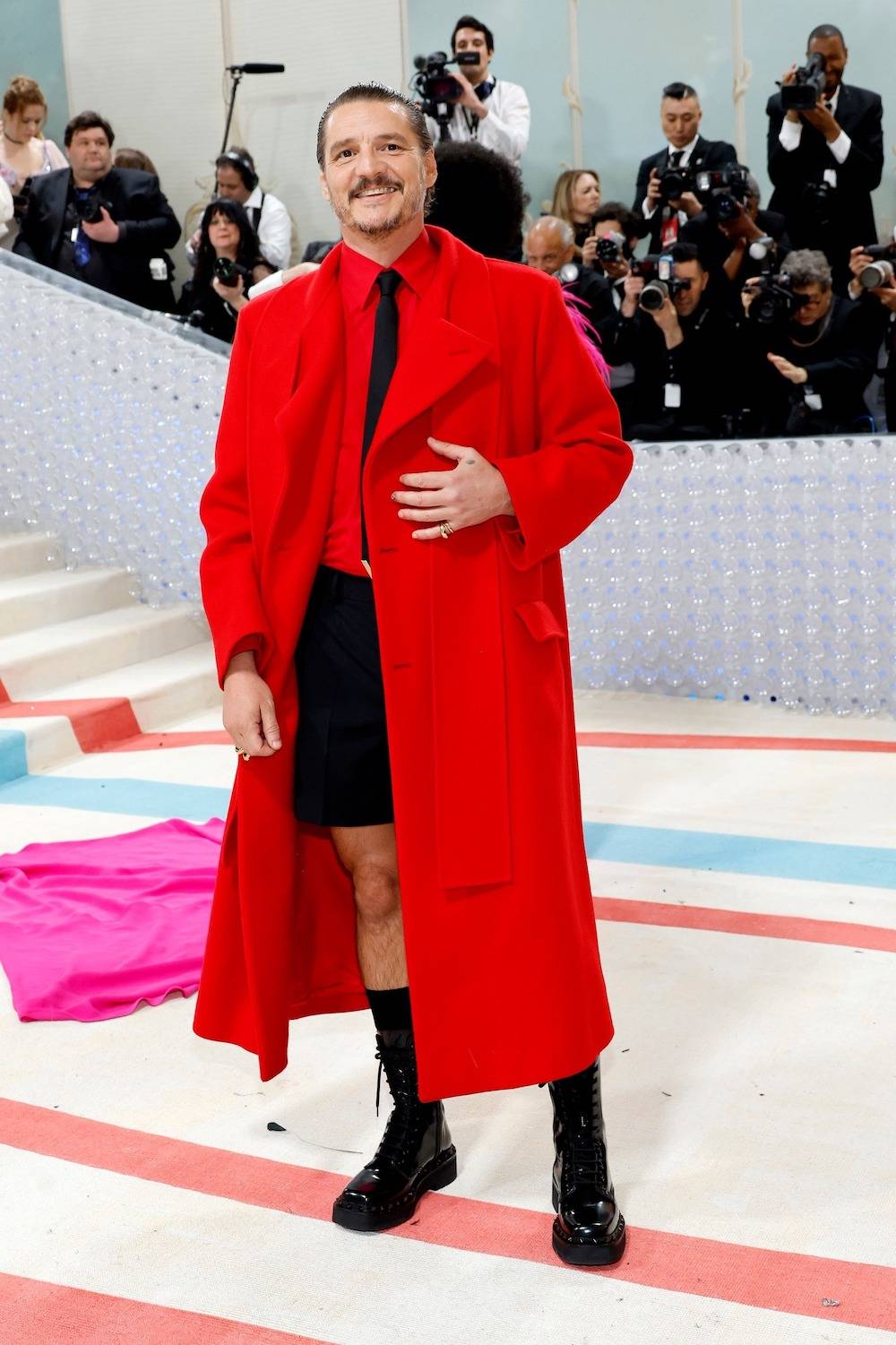 32/204

Bradley Cooper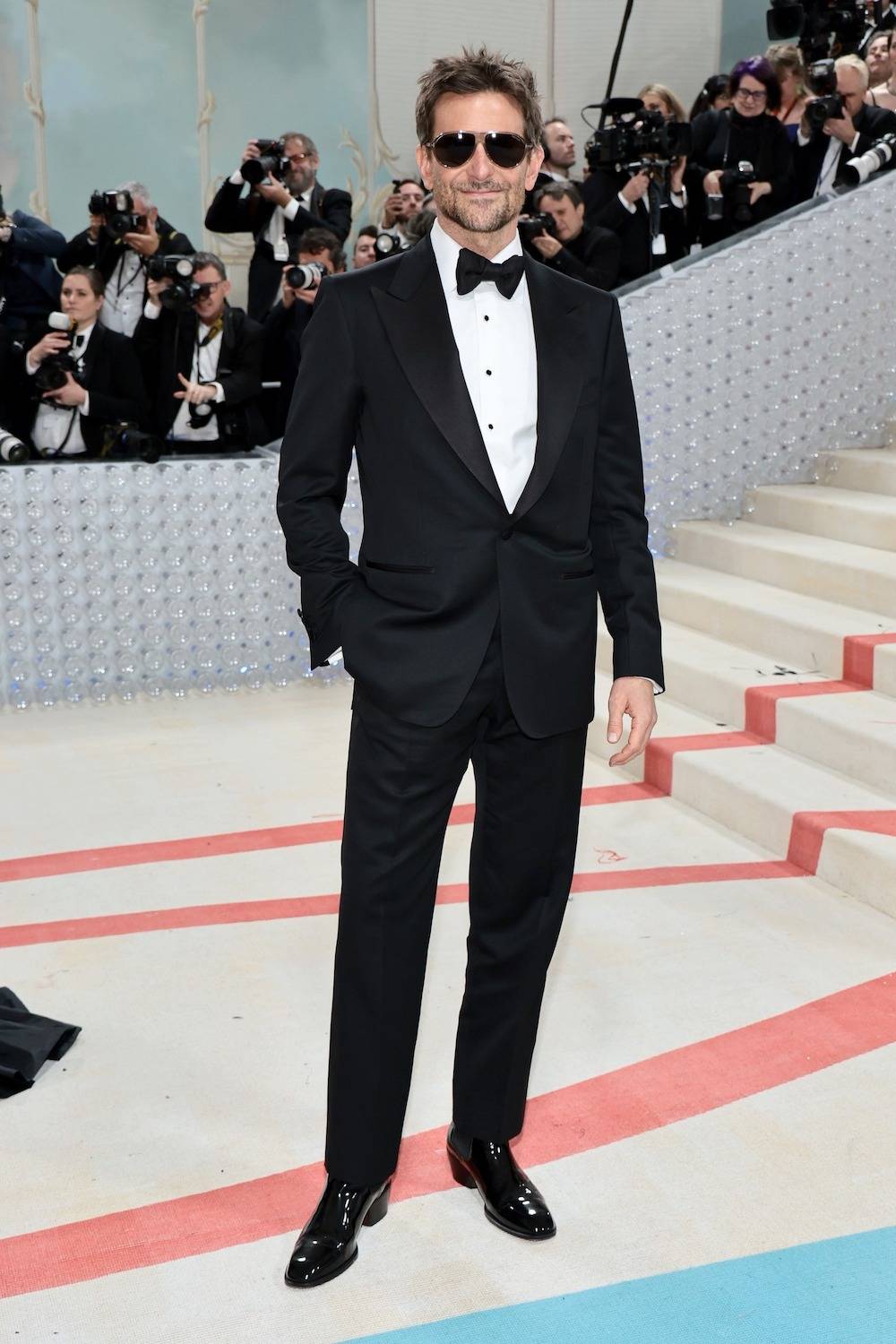 33/204

Priyanka Chopra Jonas i Nick Jonas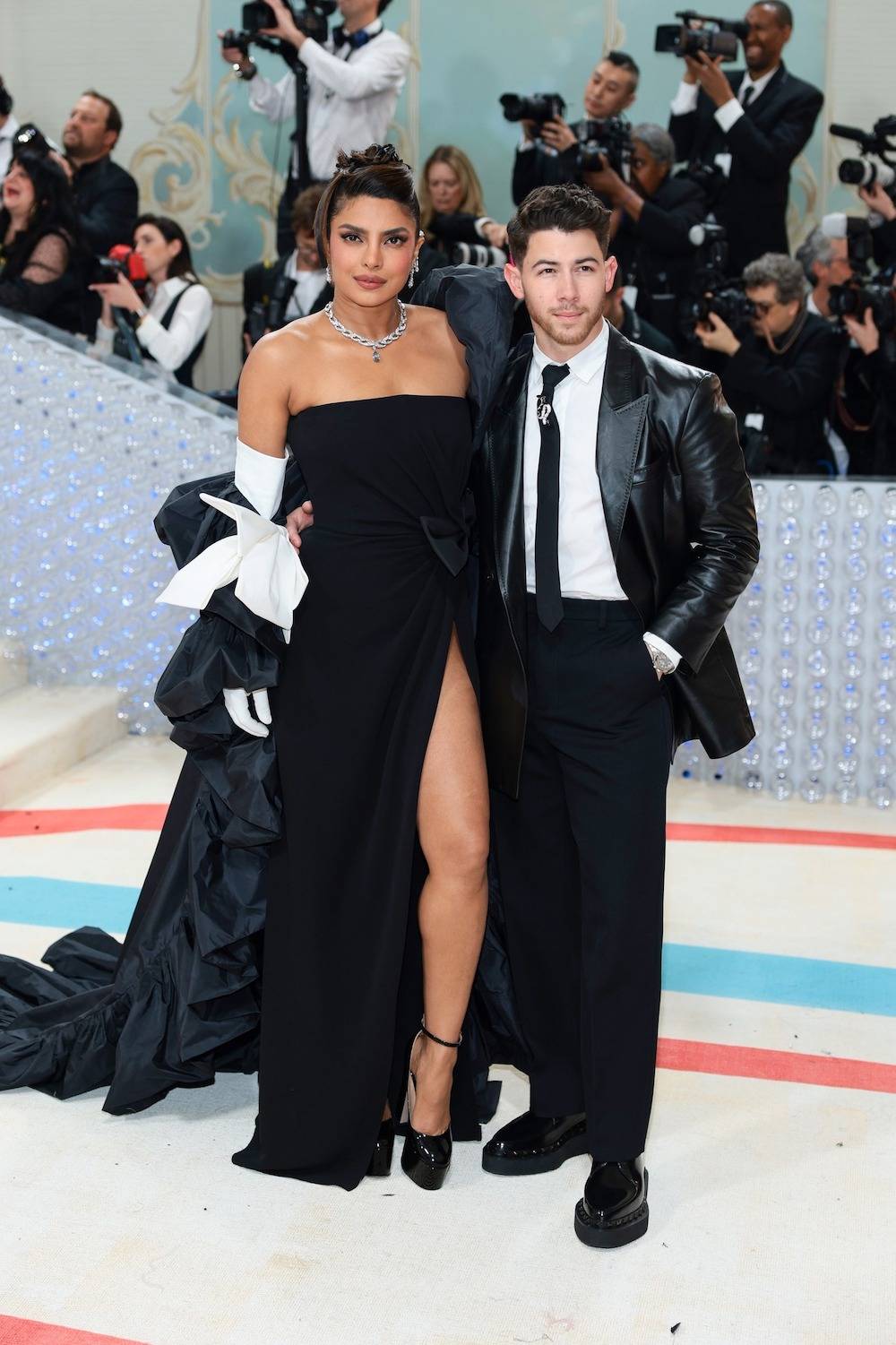 34/204

Alton Mason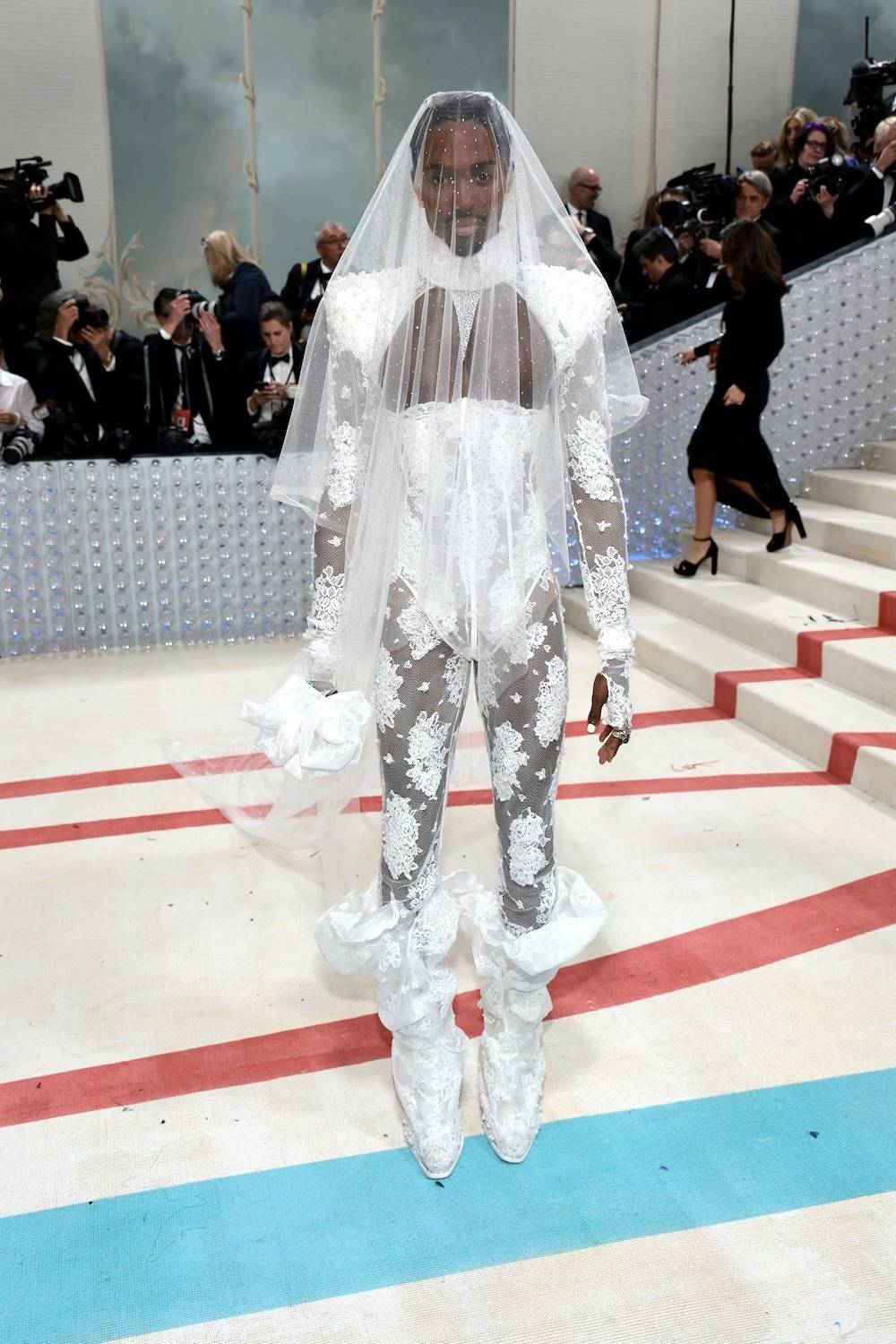 35/204

Julius Tennon i Viola Davis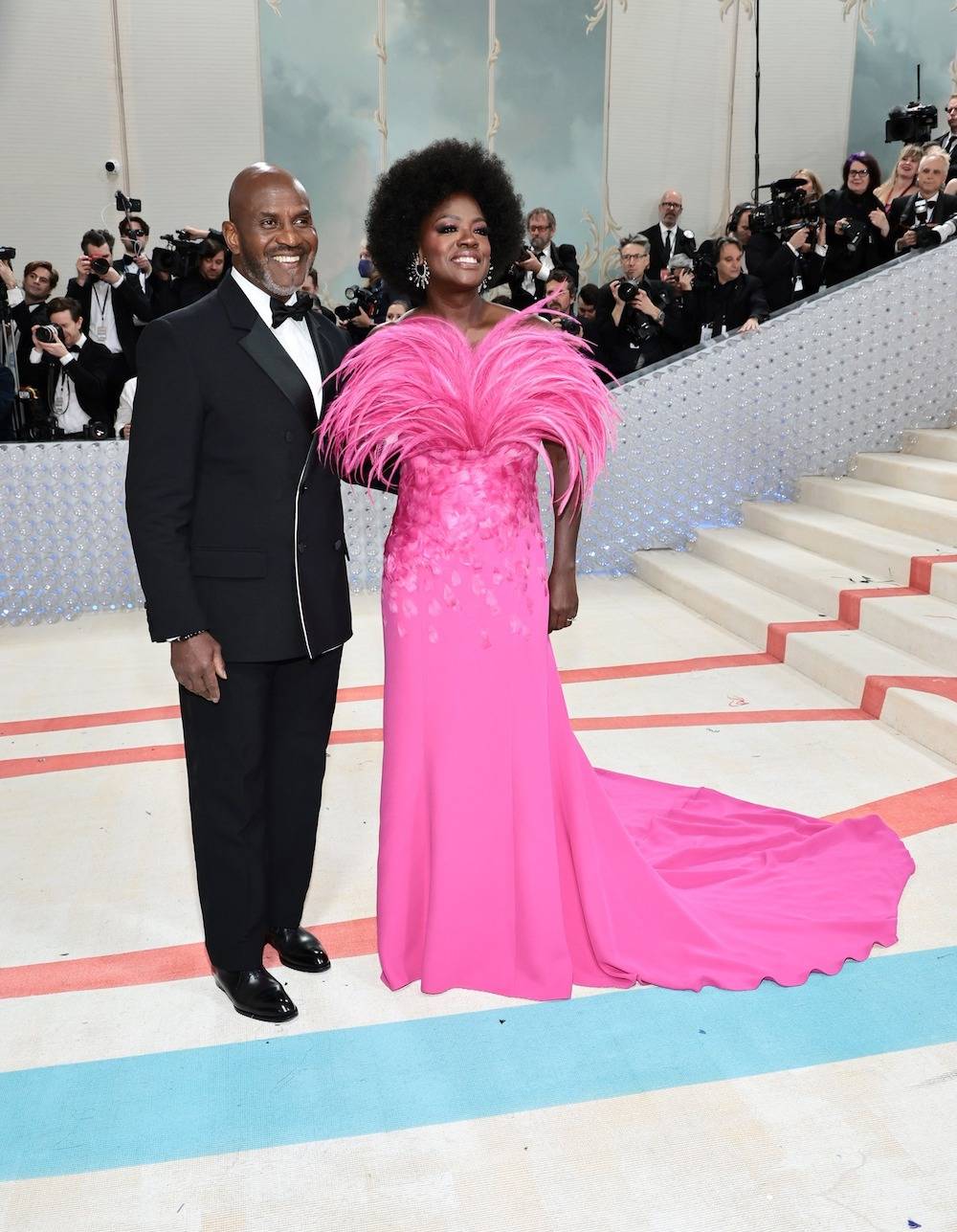 36/204

Miranda Kerr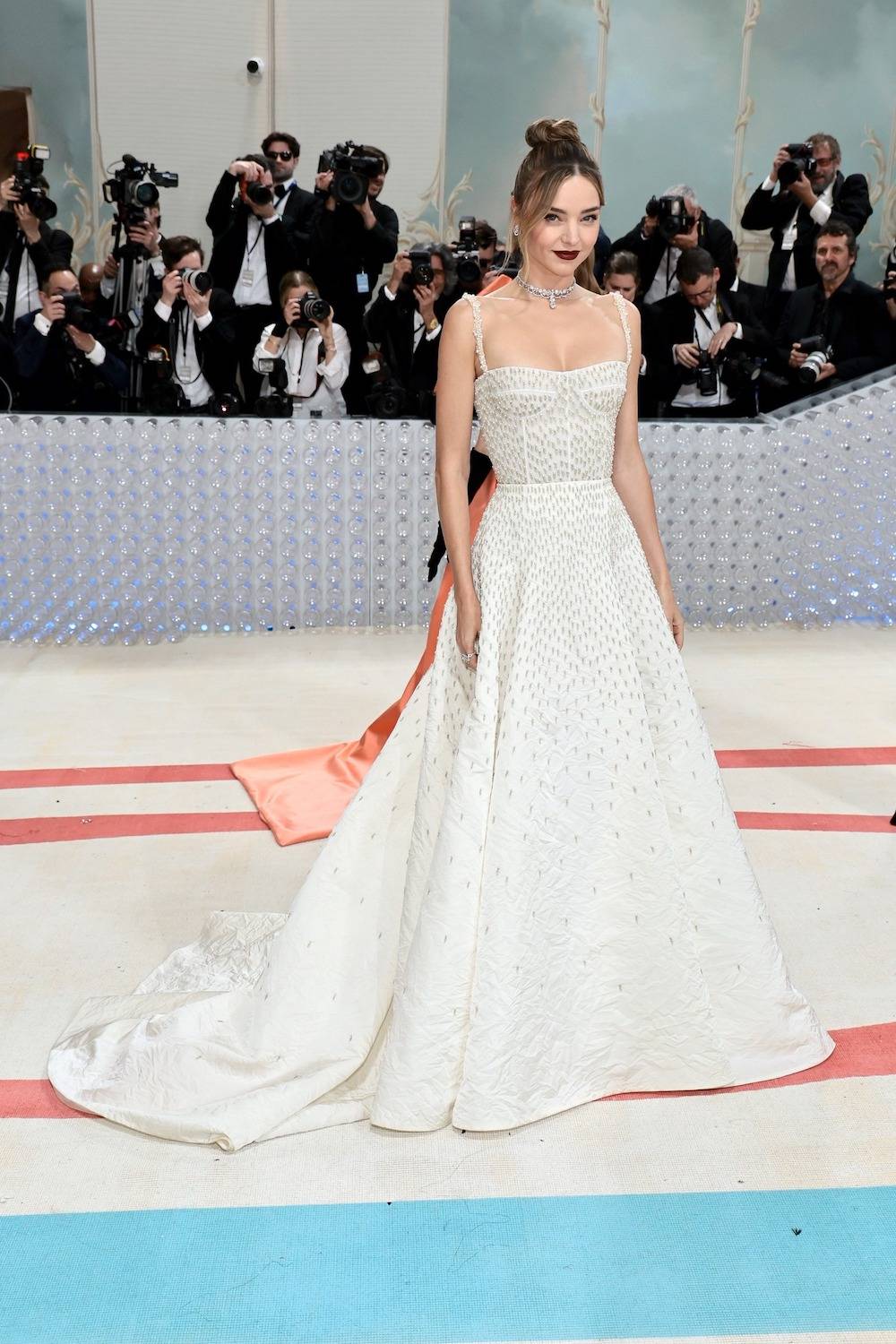 37/204

Amanda Harlech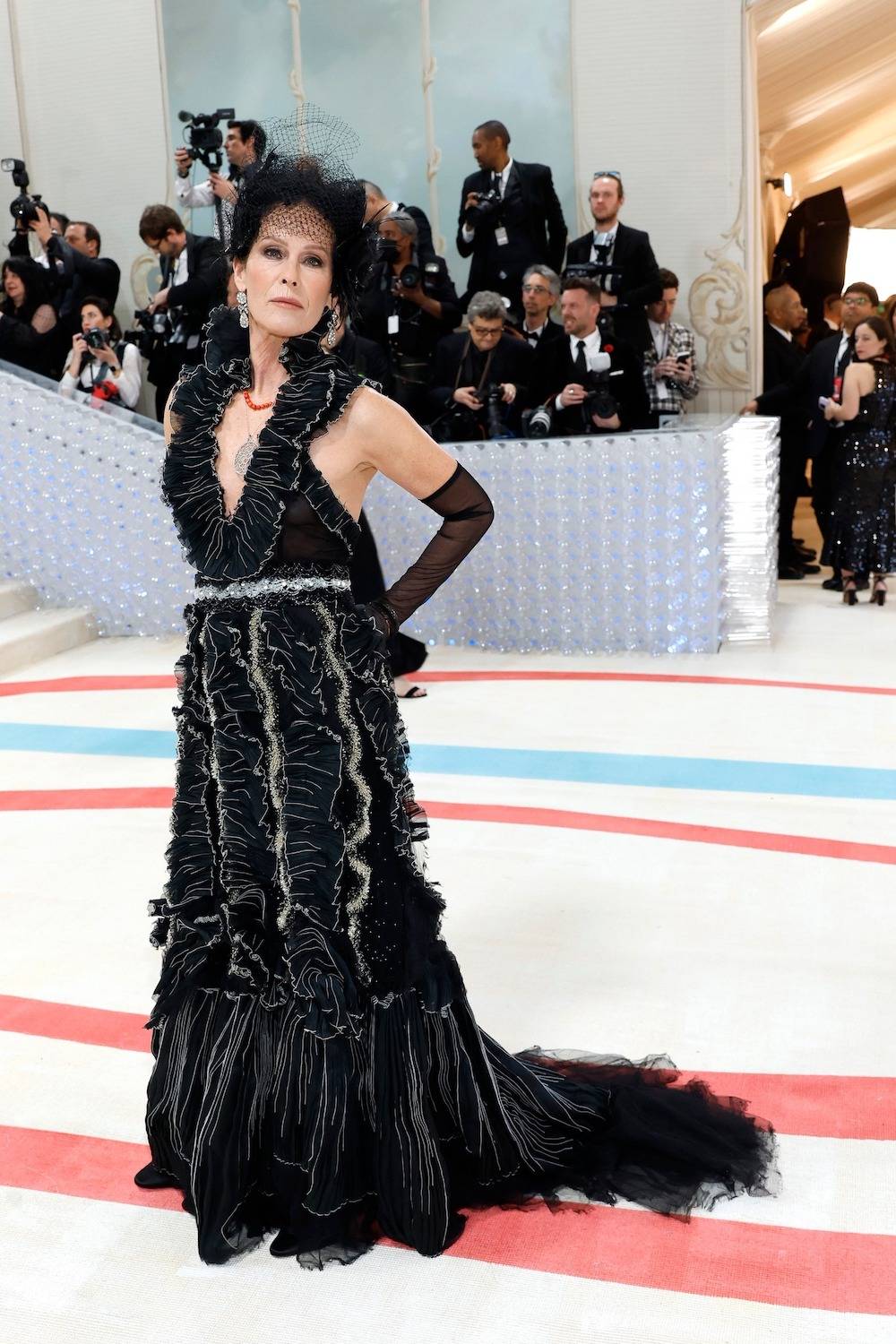 38/204

Devon Aoki i Jeremy Scott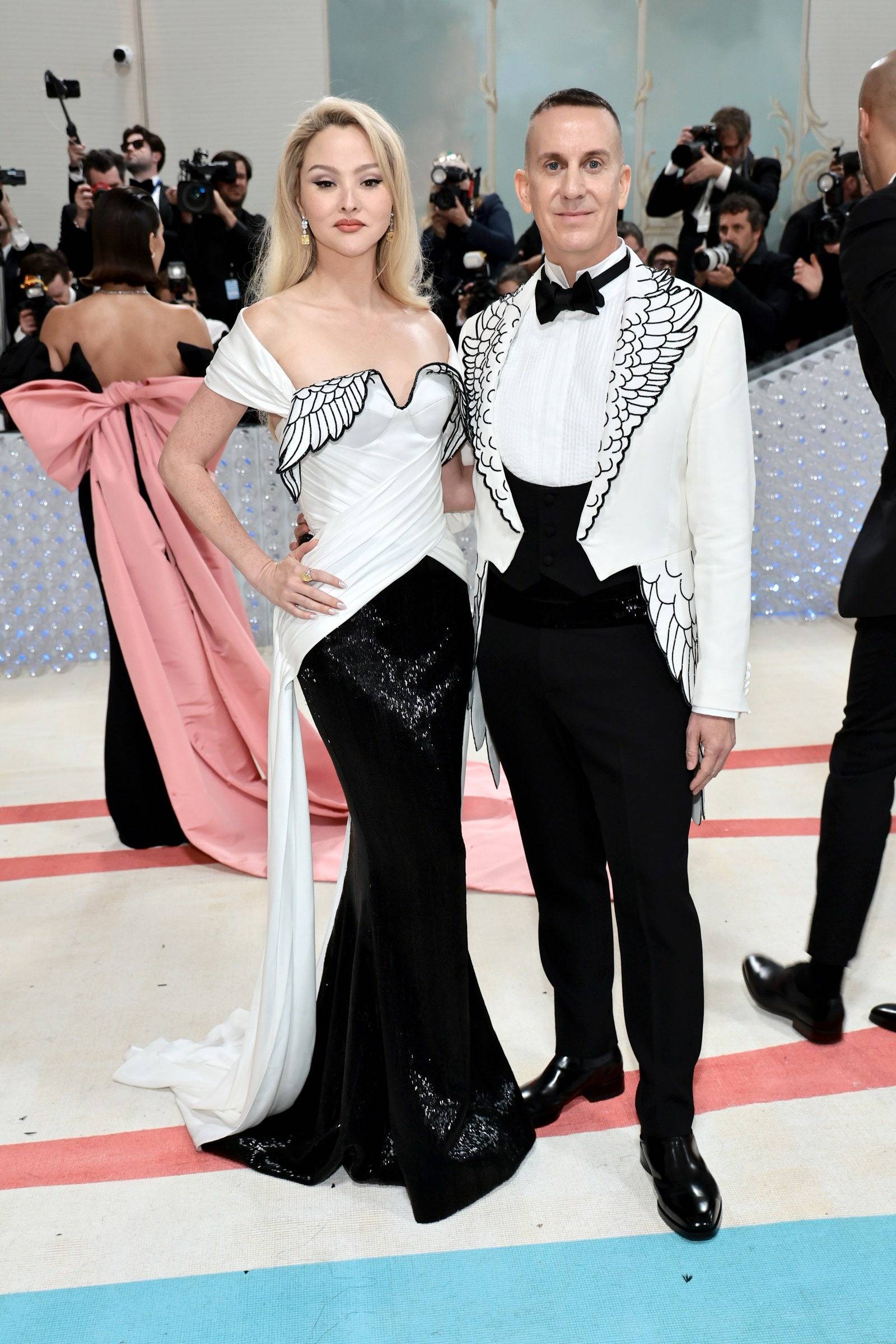 39/204

Guillaume Henry i Allison Williams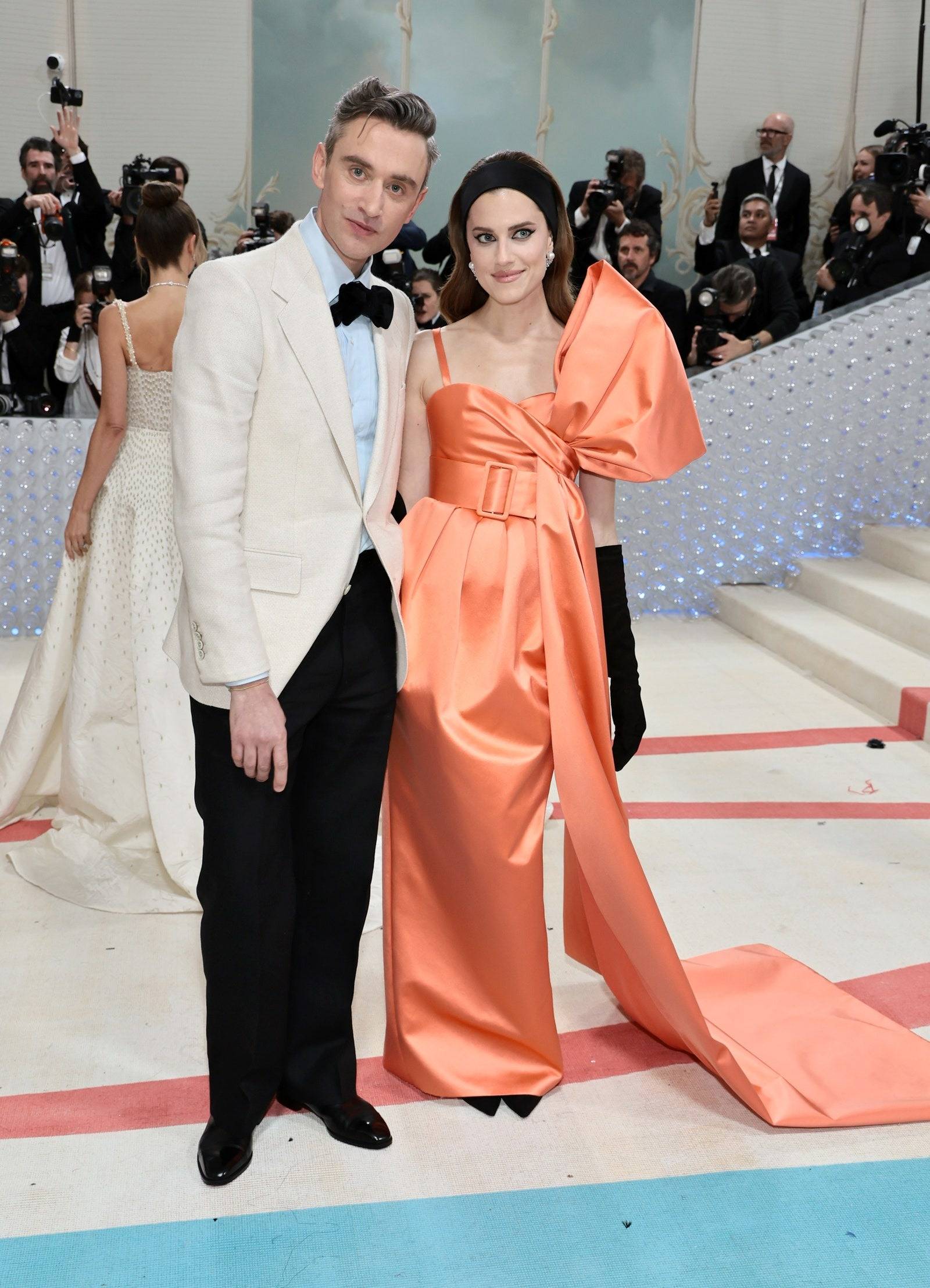 40/204

Gigi Hadid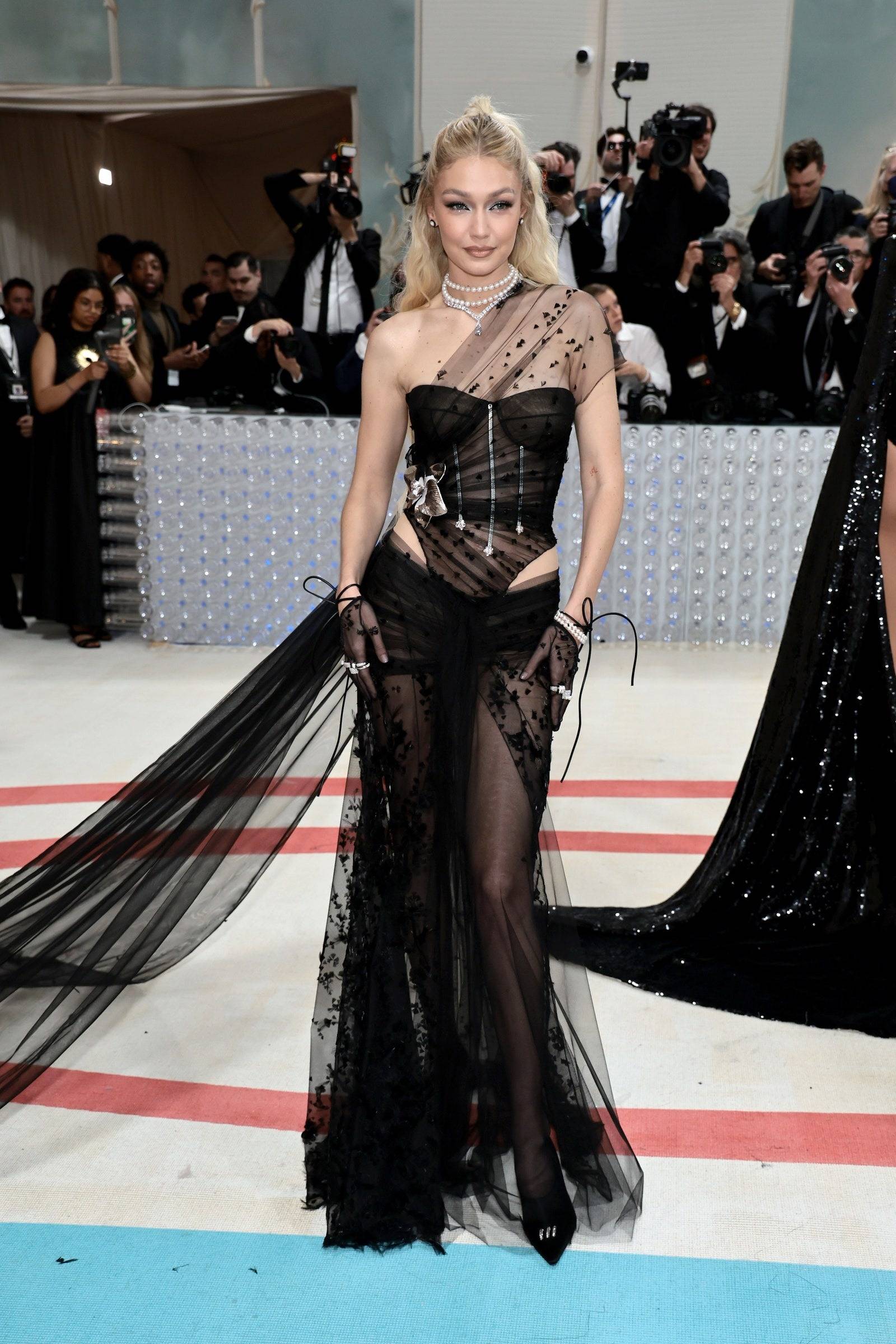 41/204

Kylie Jenner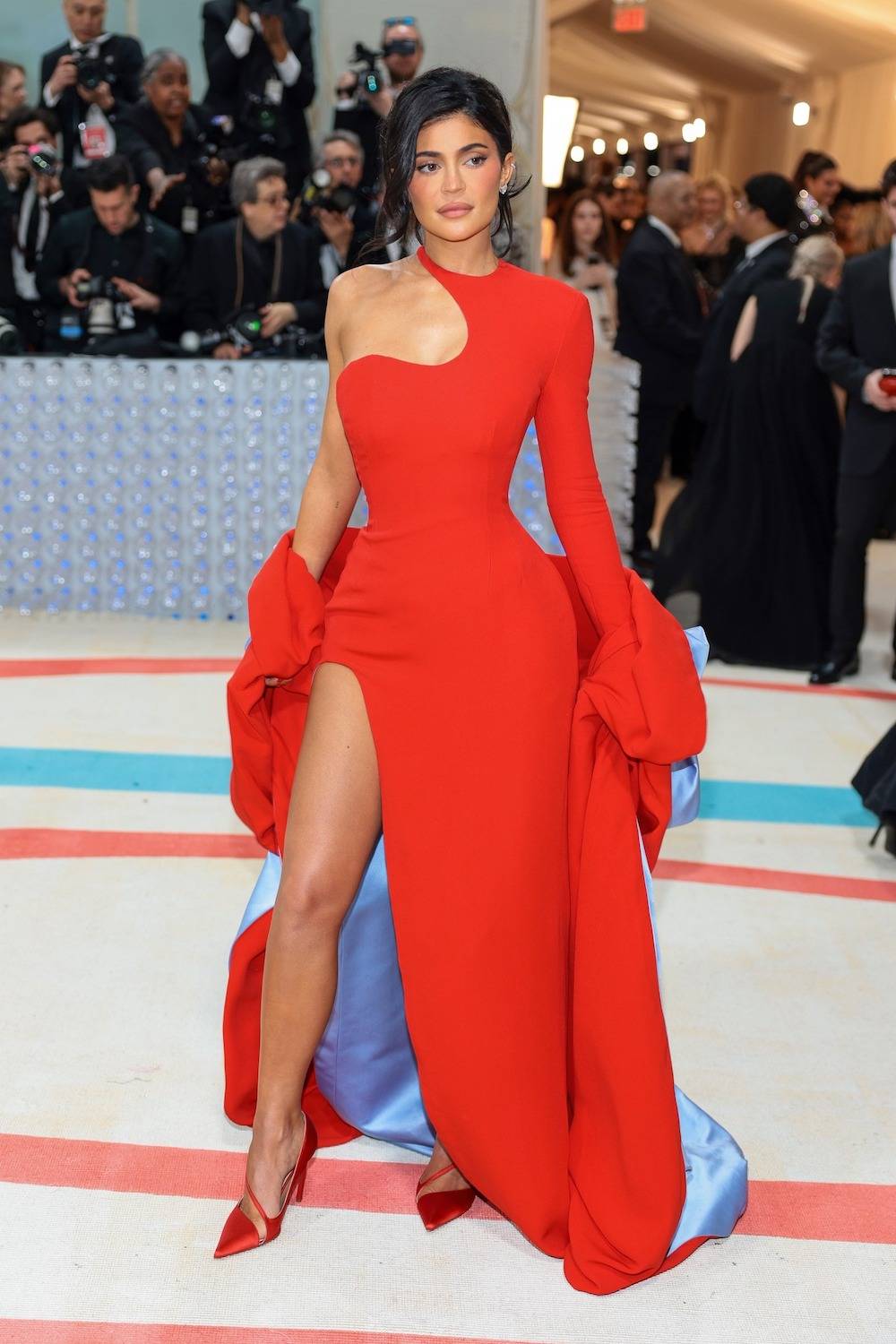 42/204

Bella Ramsey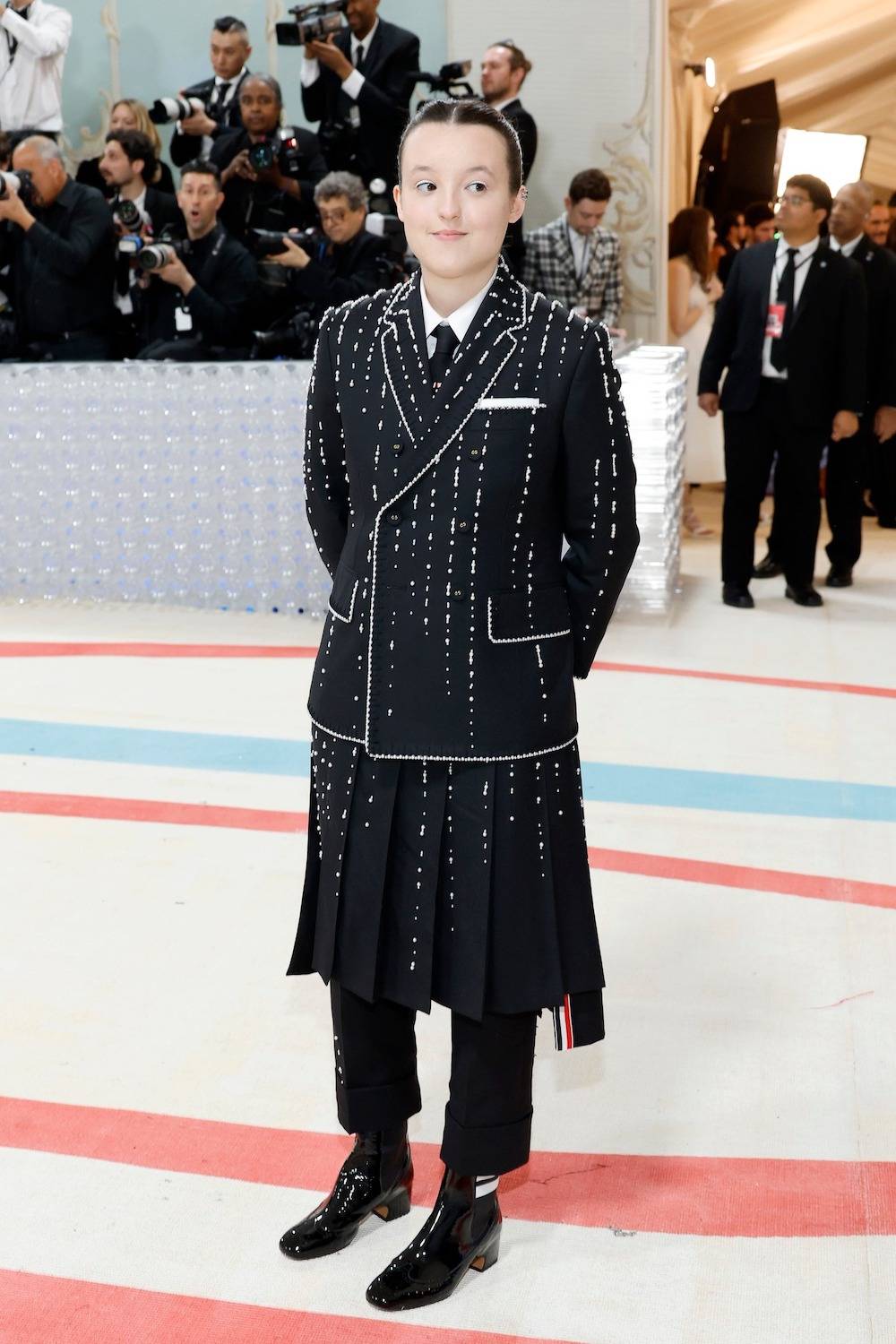 43/204

Cara Delevingne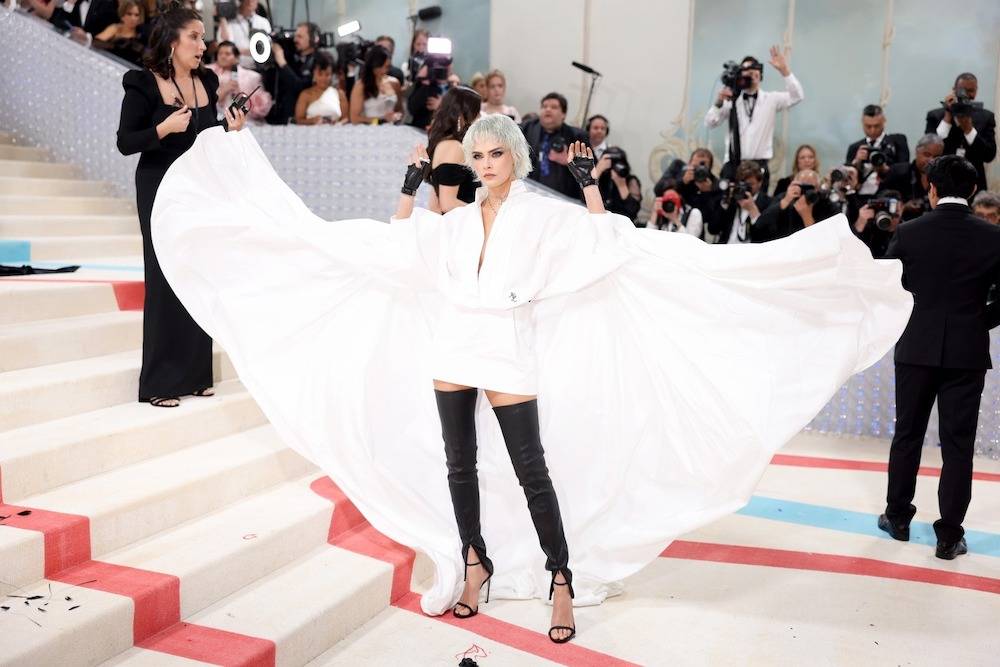 44/204

Simu Liu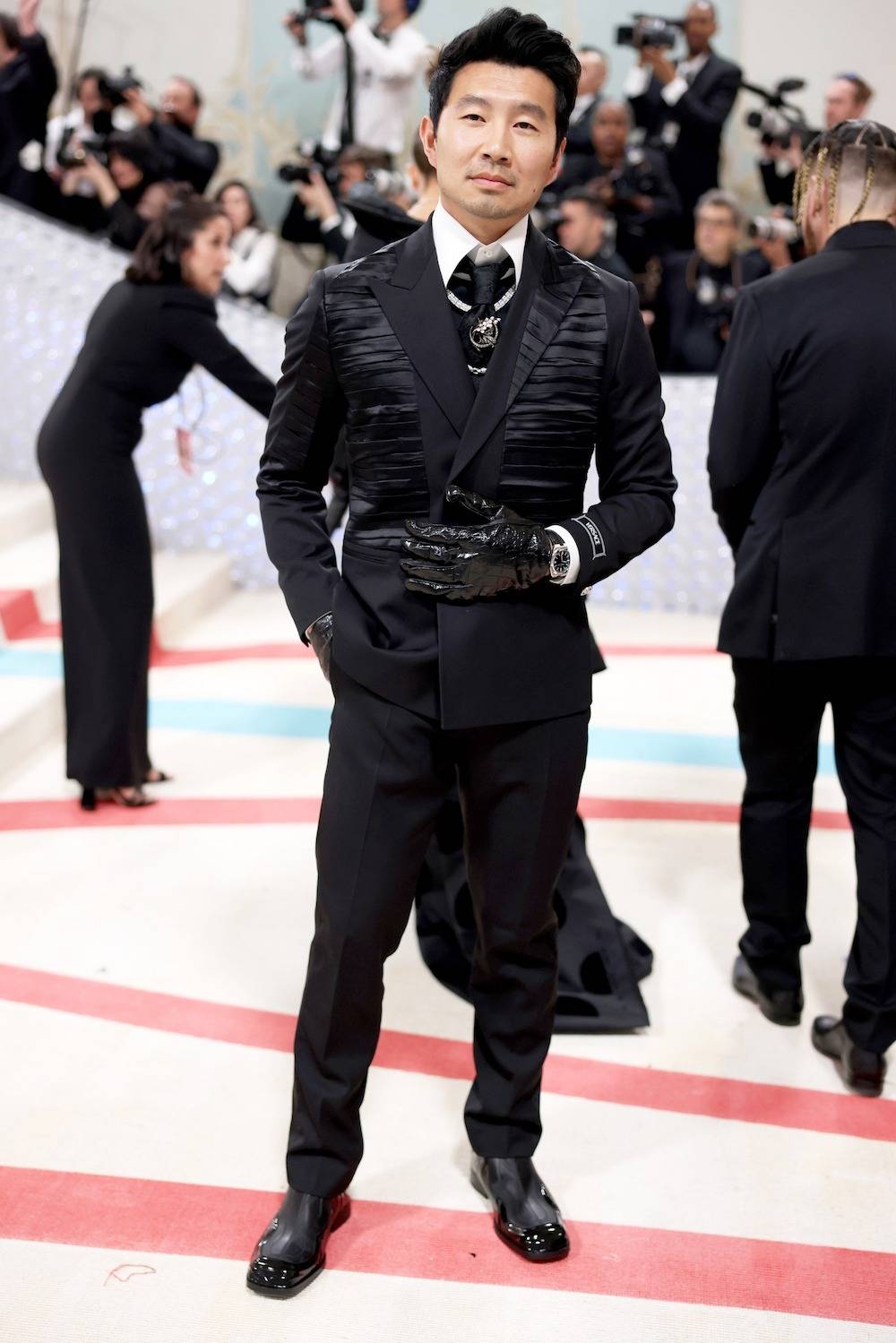 45/204

Lily Aldridge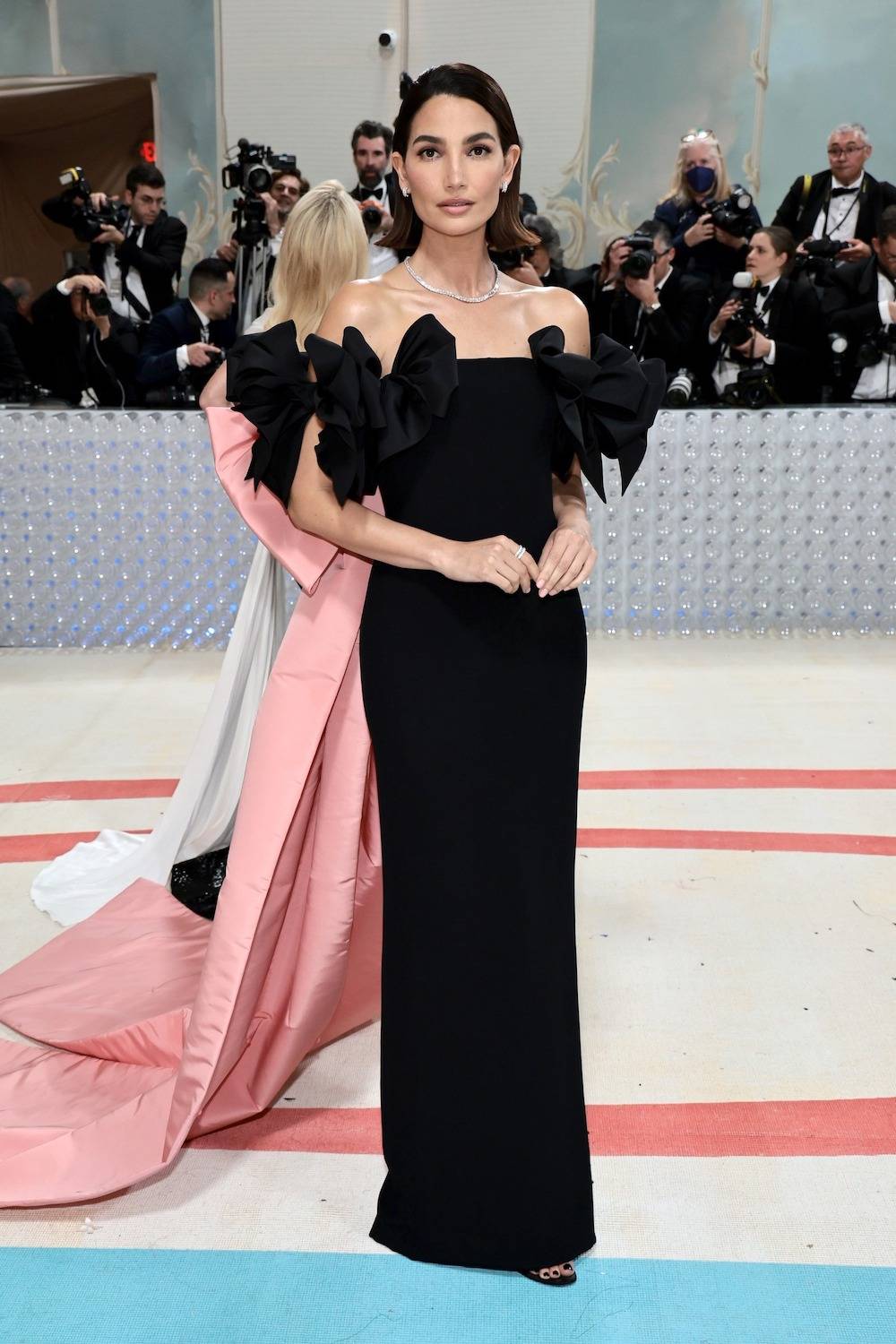 46/204

Janelle Monáe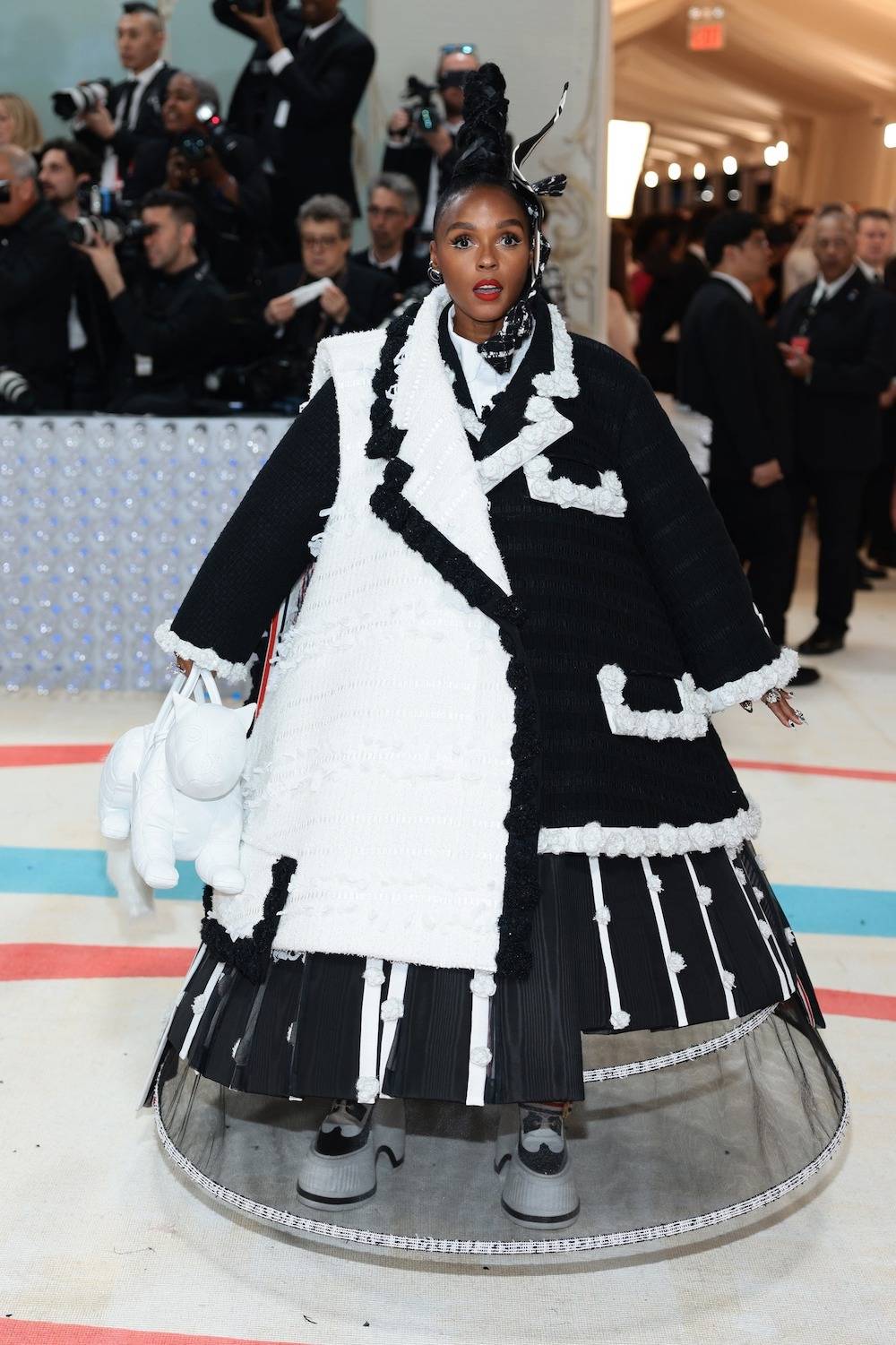 47/204

Marc Jacobs i Paris Hilton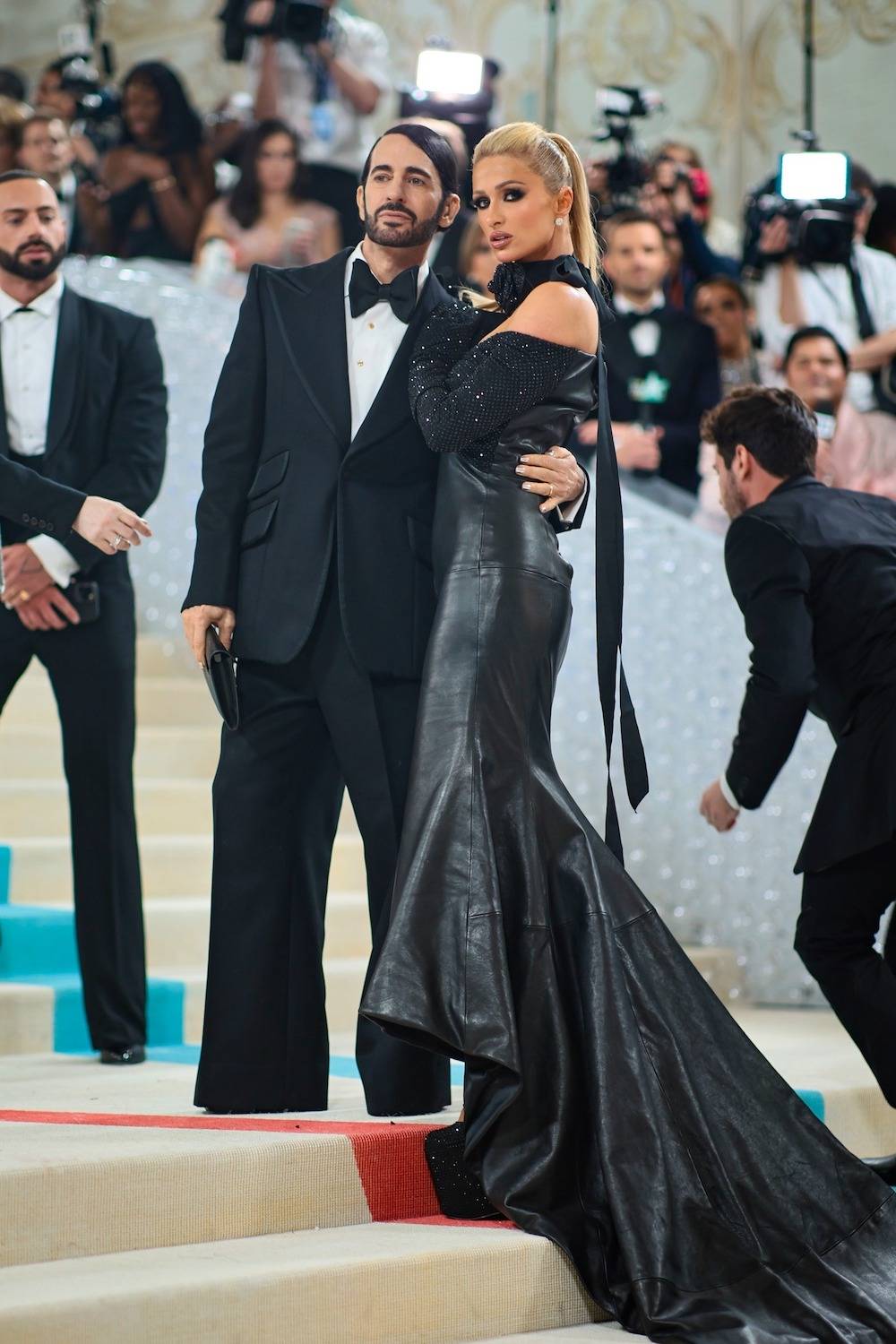 48/204

Bad Bunny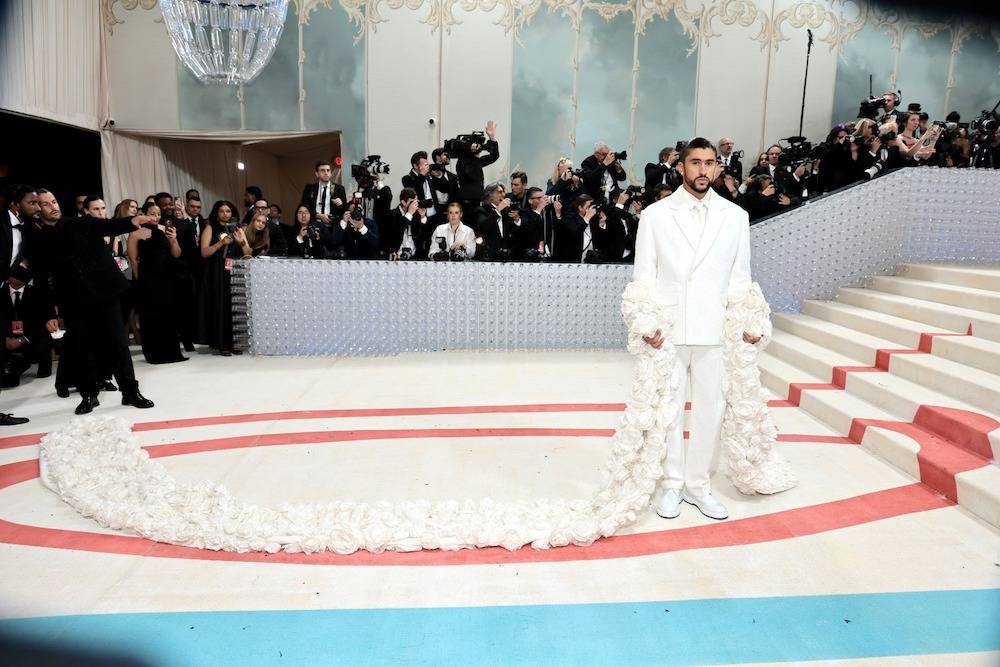 49/204

Raul Lopez i Paloma Elsesser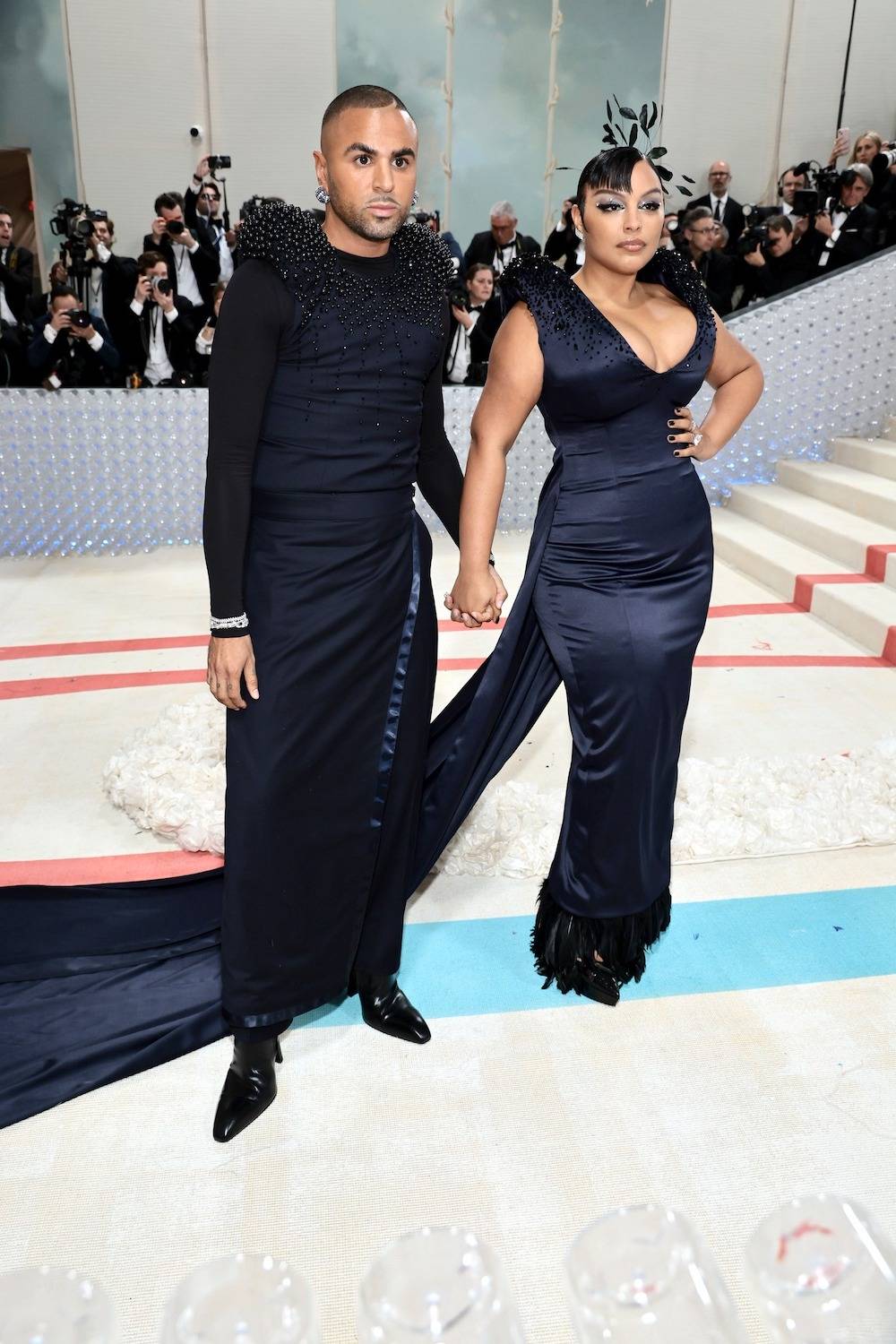 50/204

Michelle Yeoh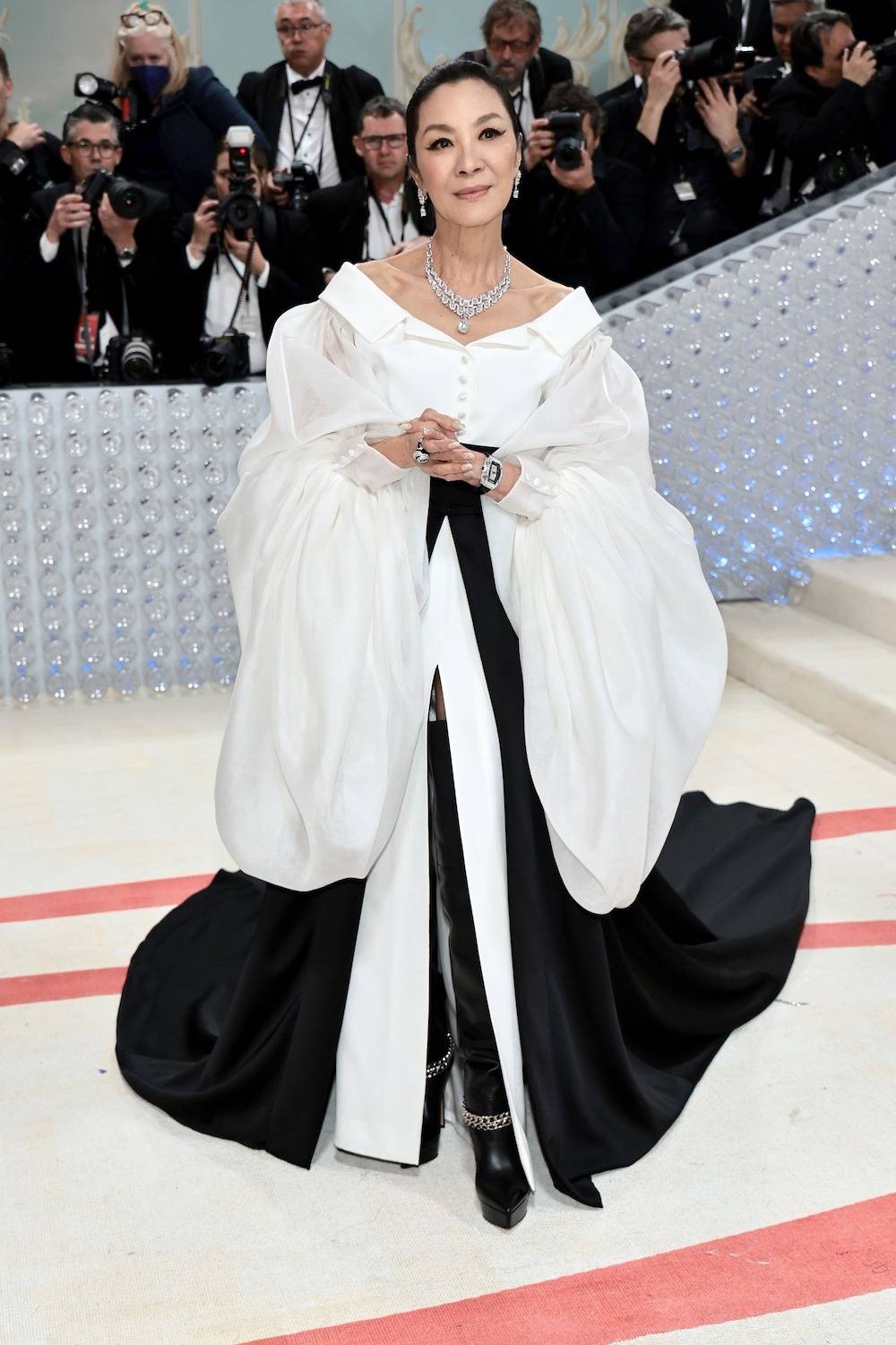 51/204

Kendall Jenner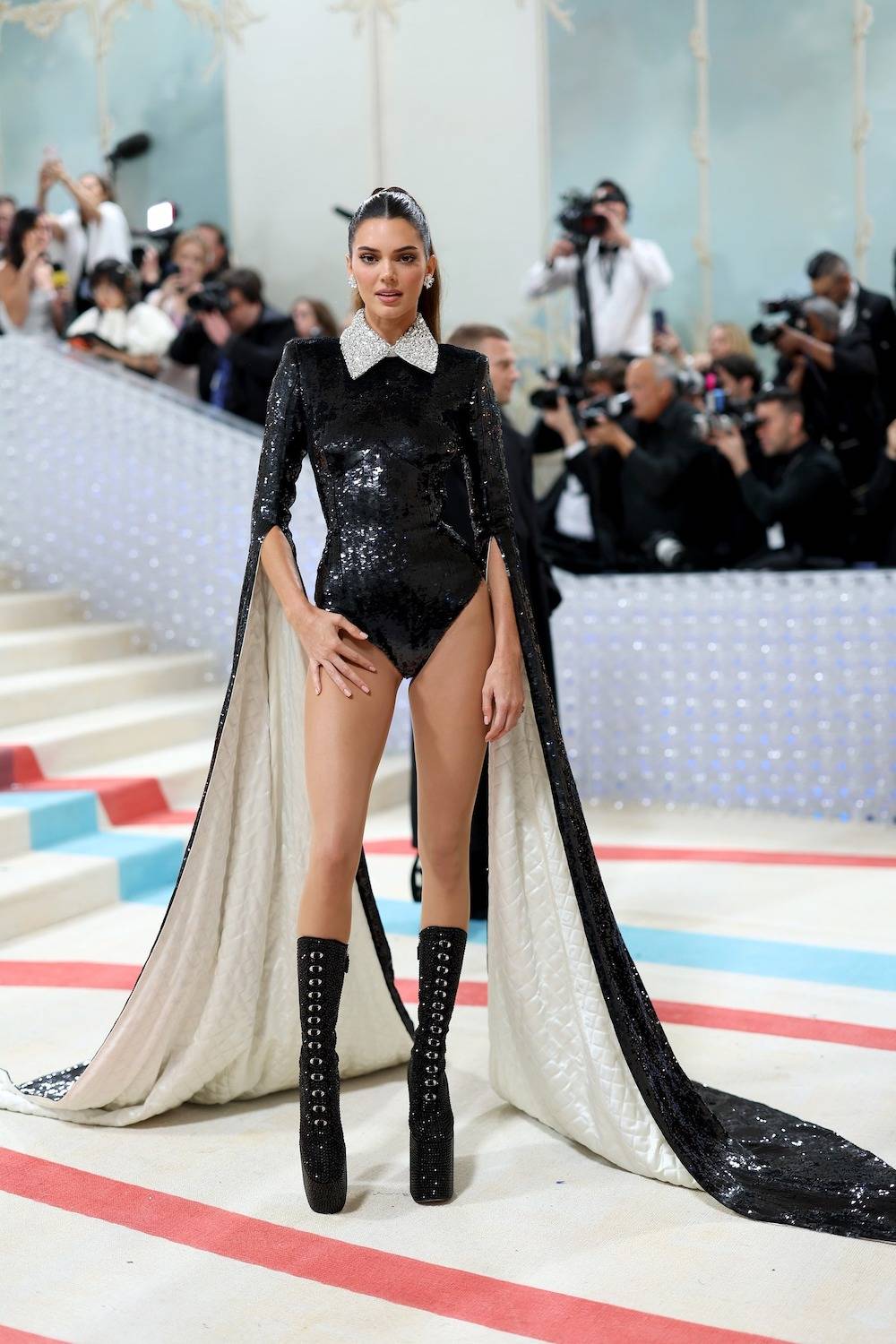 52/204

Mindy Kaling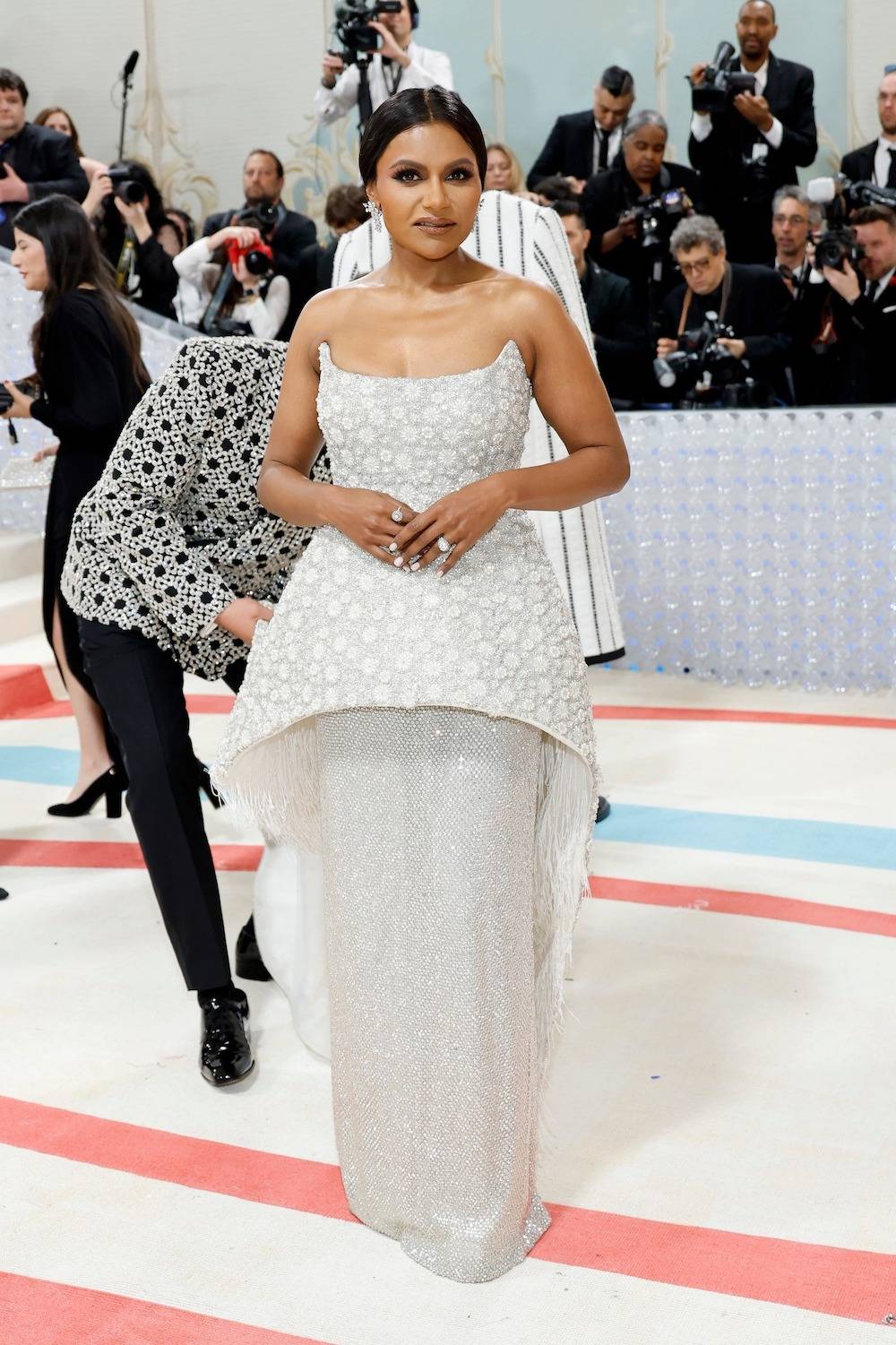 53/204

Stormzy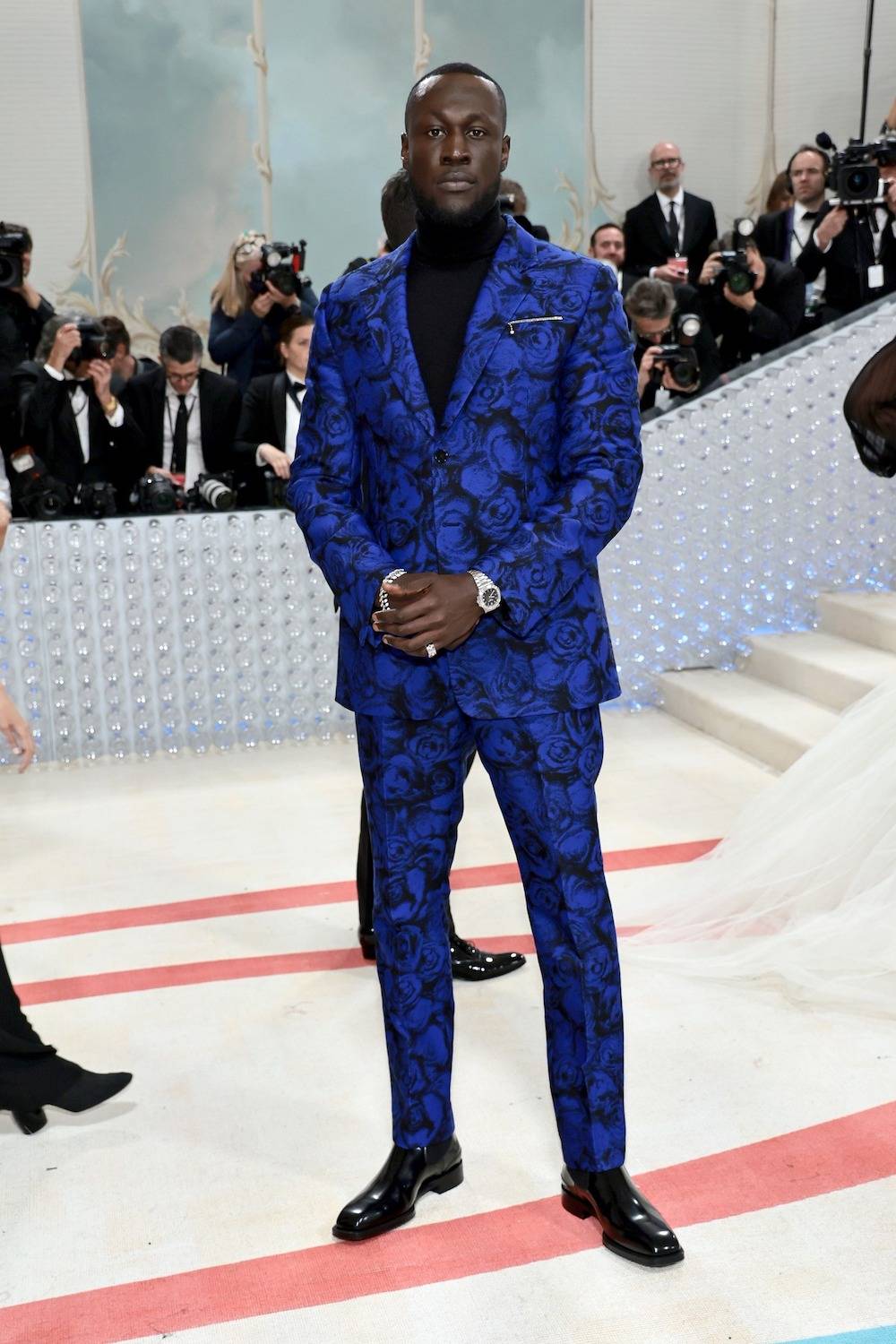 54/204

Brooklyn Beckham i Nicola Peltz Beckham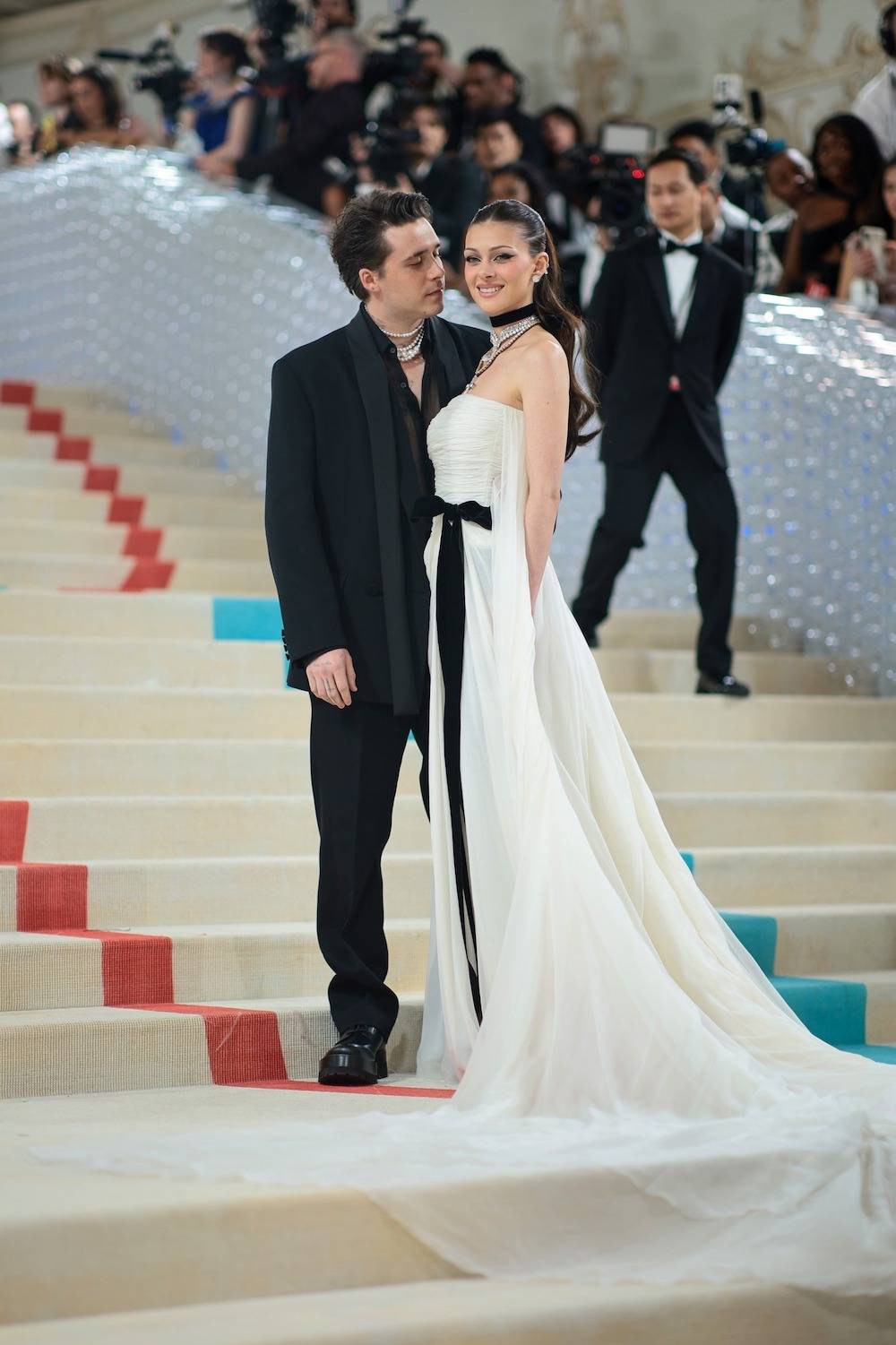 55/204

Alexis Ohanian i Serena Williams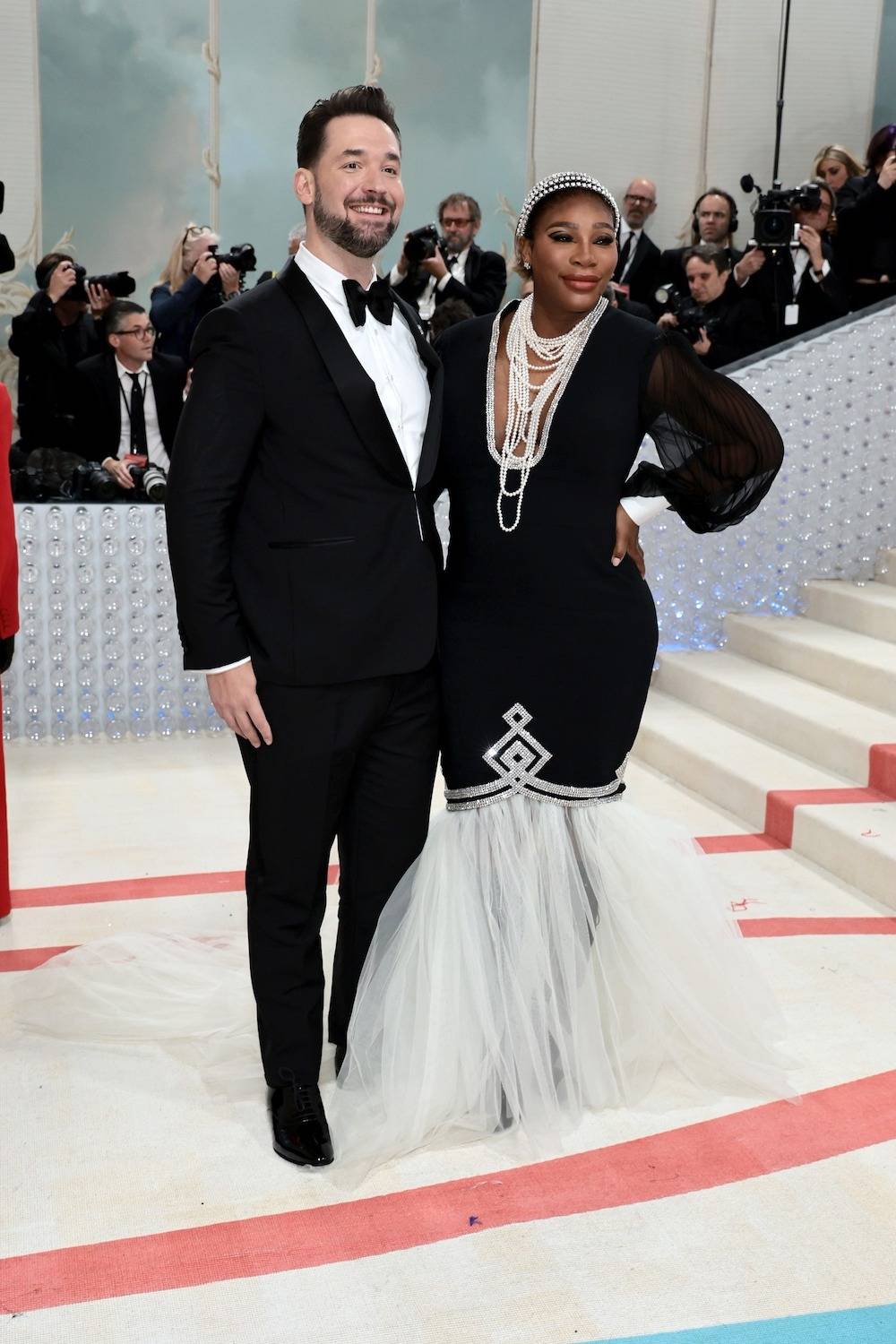 56/204

Joan Smalls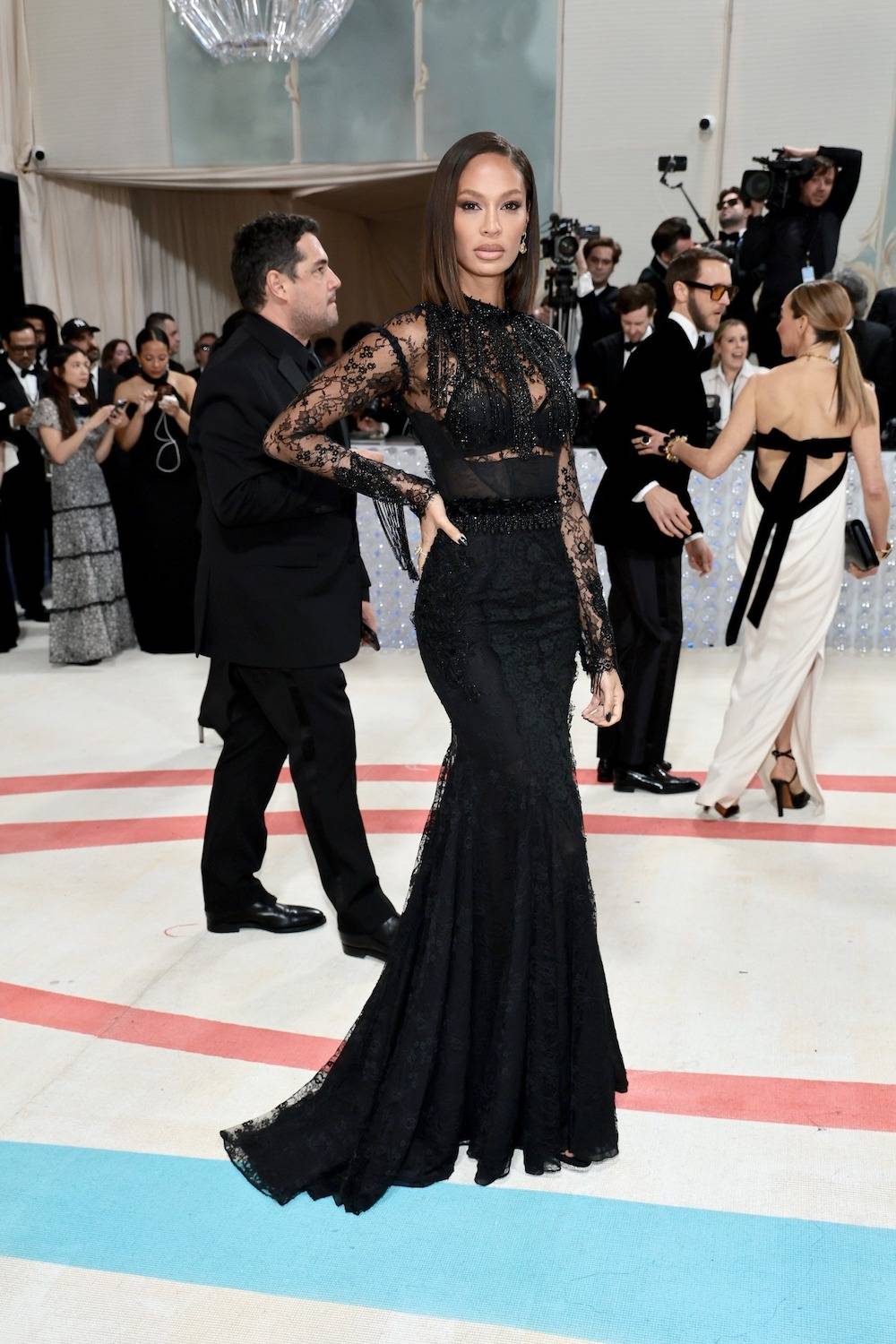 57/204

Radhika Jones
58/204

Jodie Comer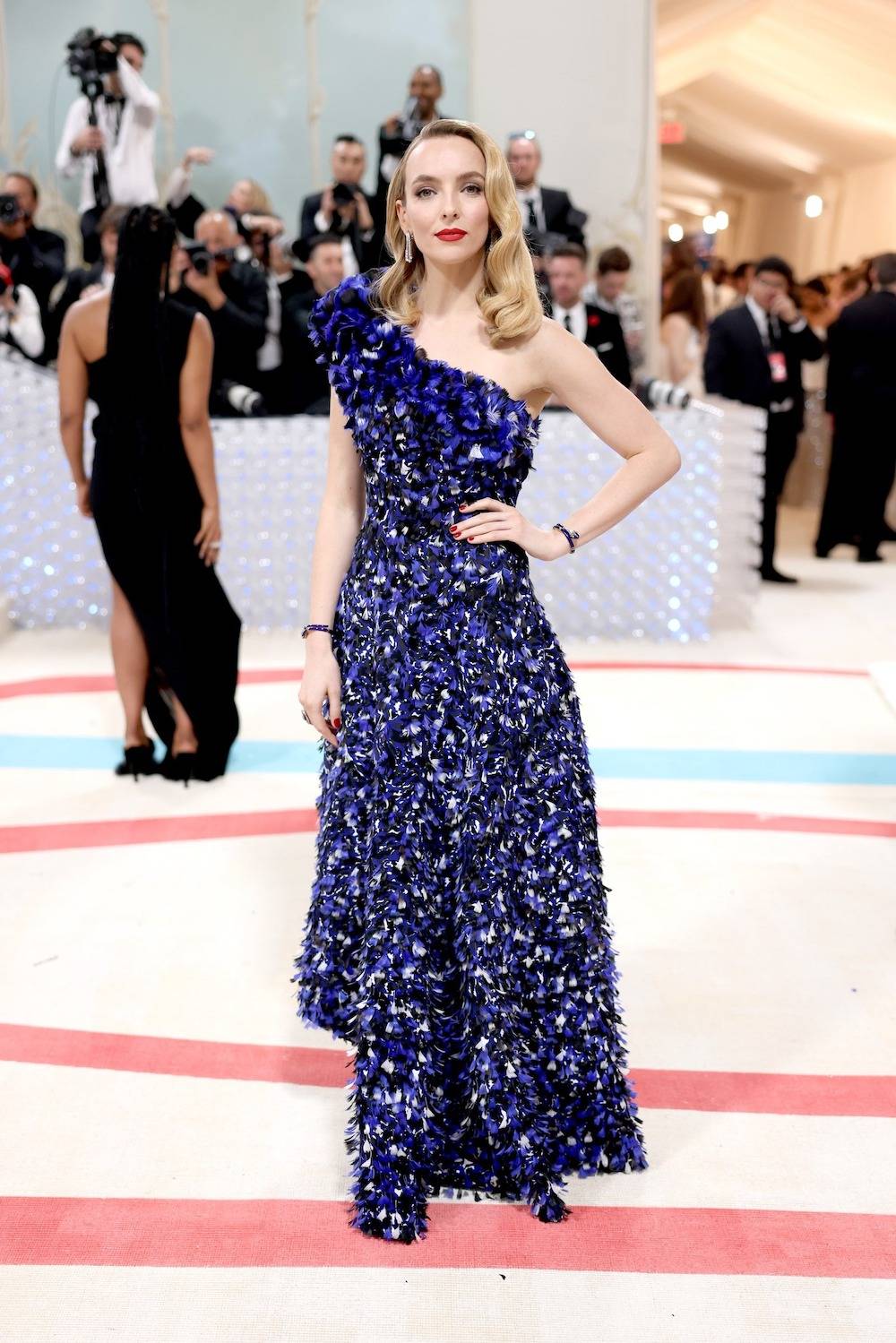 59/204

Kim Jones i Kate Moss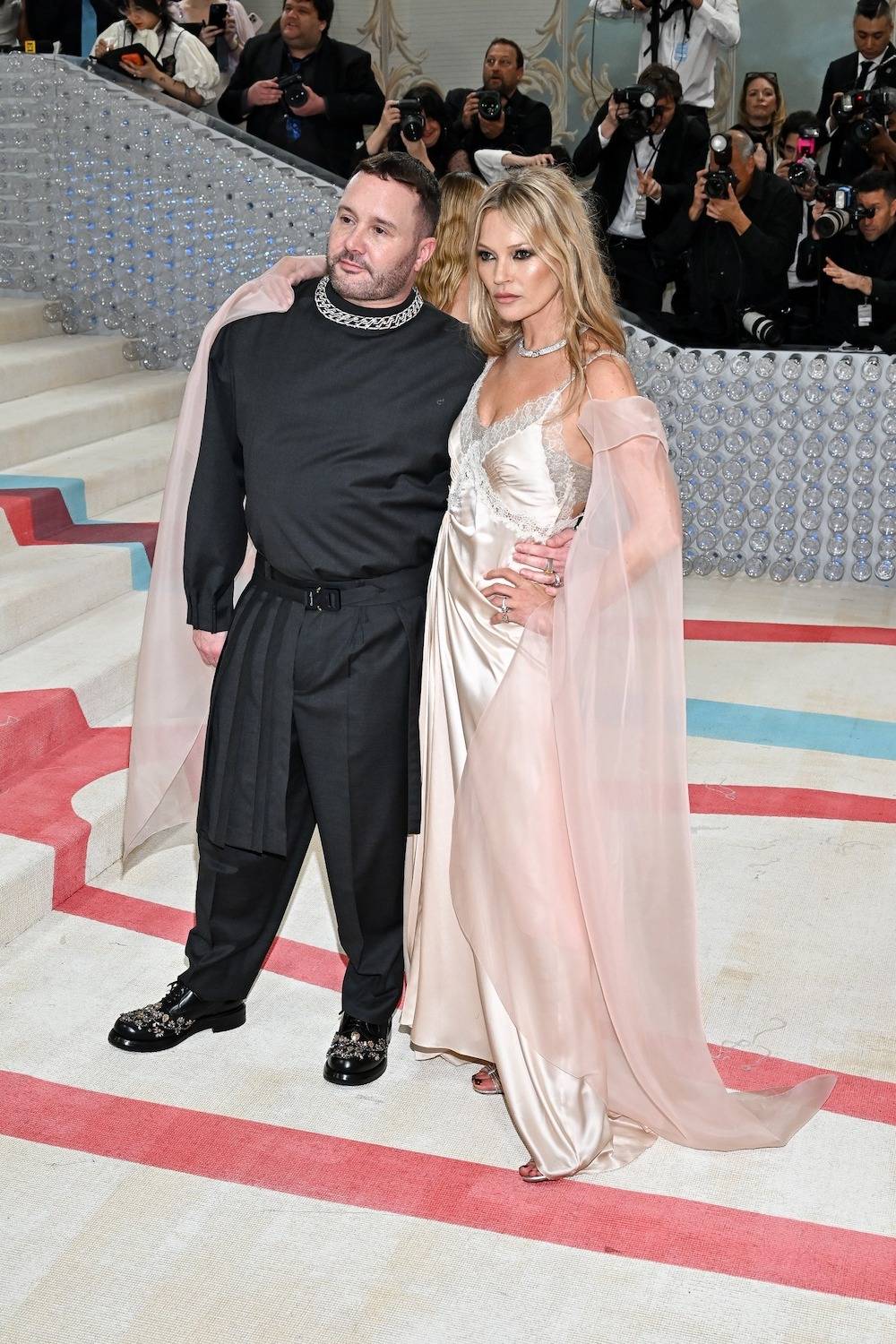 60/204

Naomi Ackie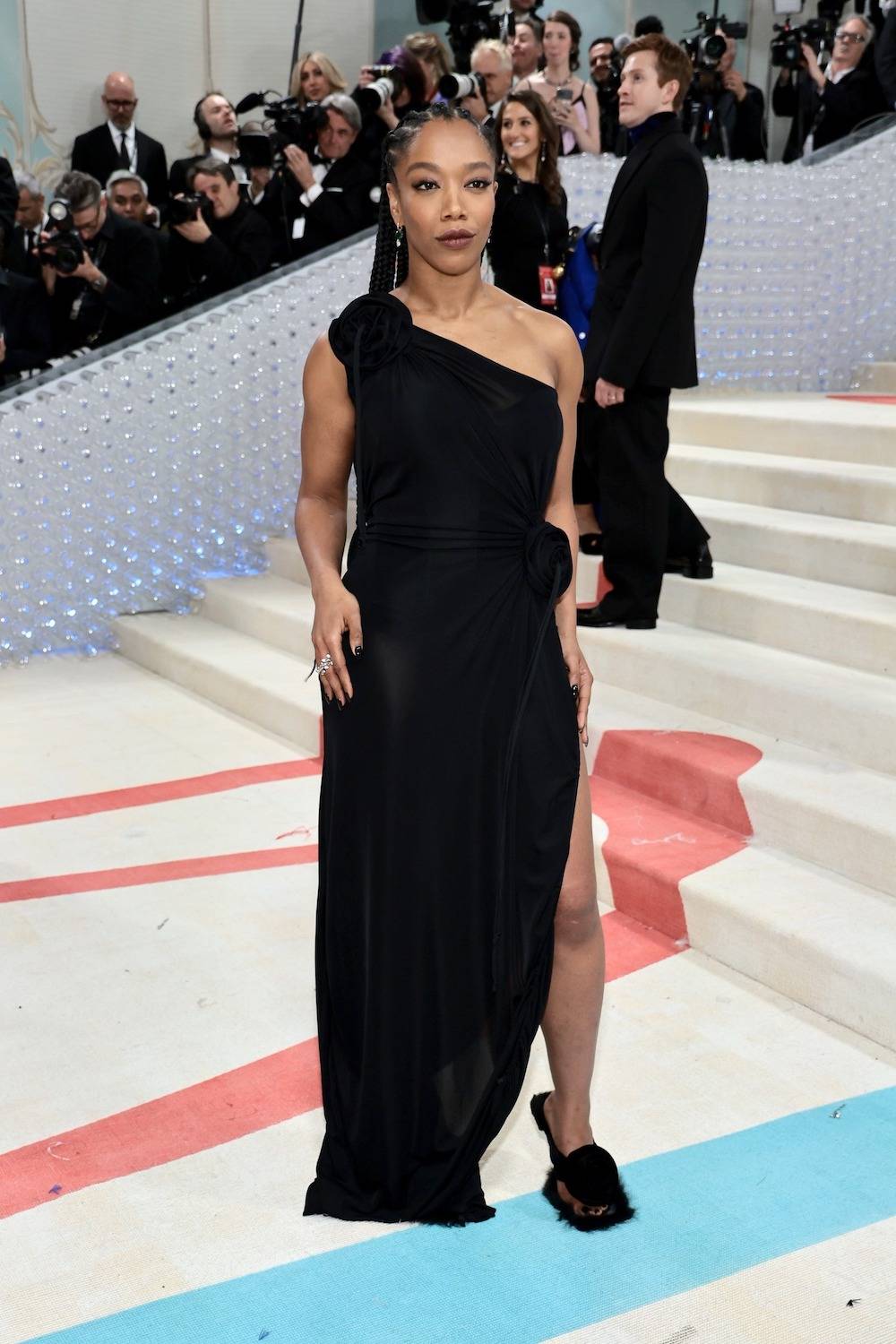 61/204

Ke Huy Quan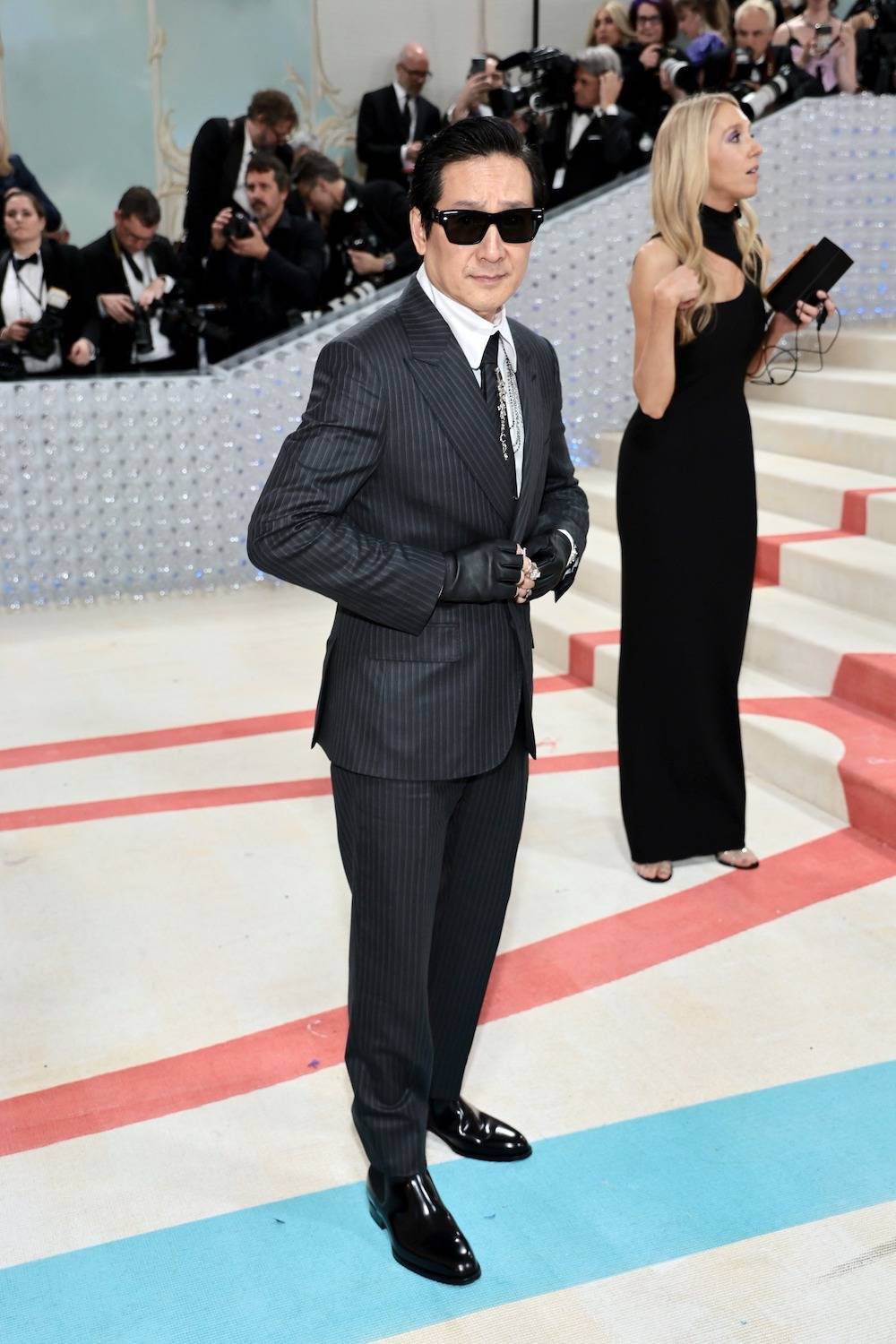 62/204

Pier Paolo Piccioli i Florence Pugh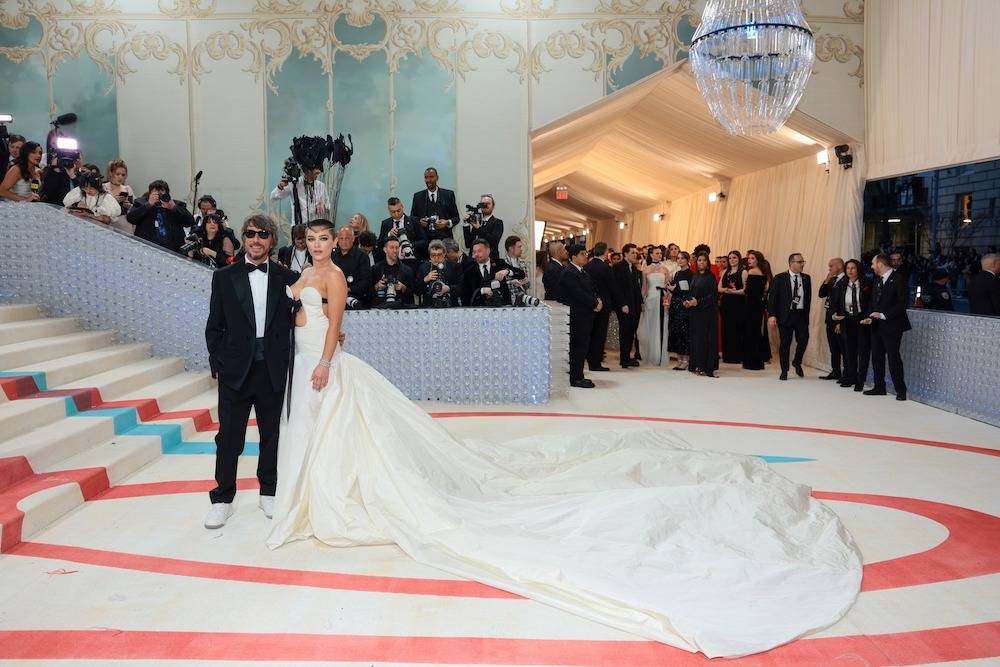 63/204

Brittney Griner i Cherelle Griner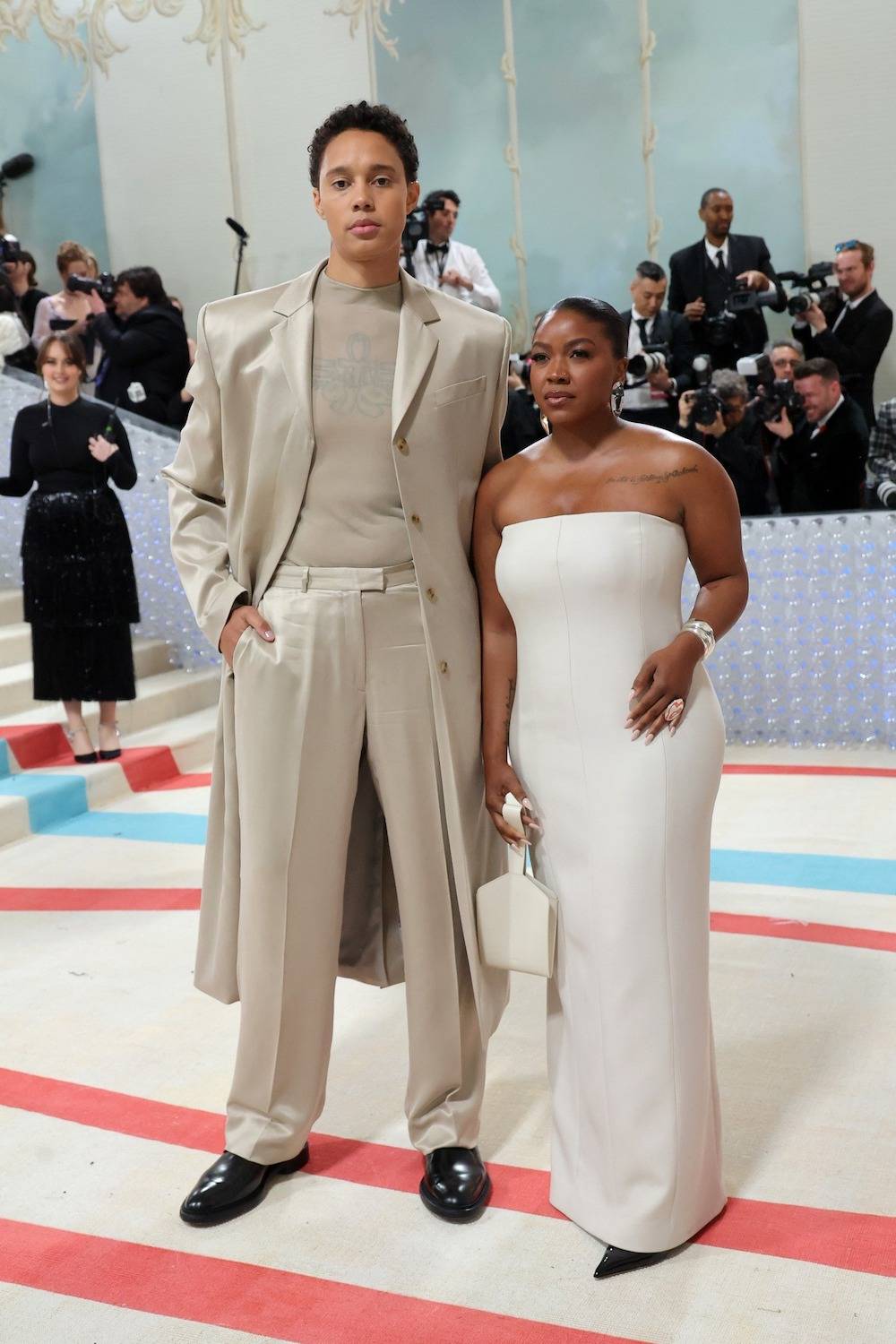 64/204

Christina Ricci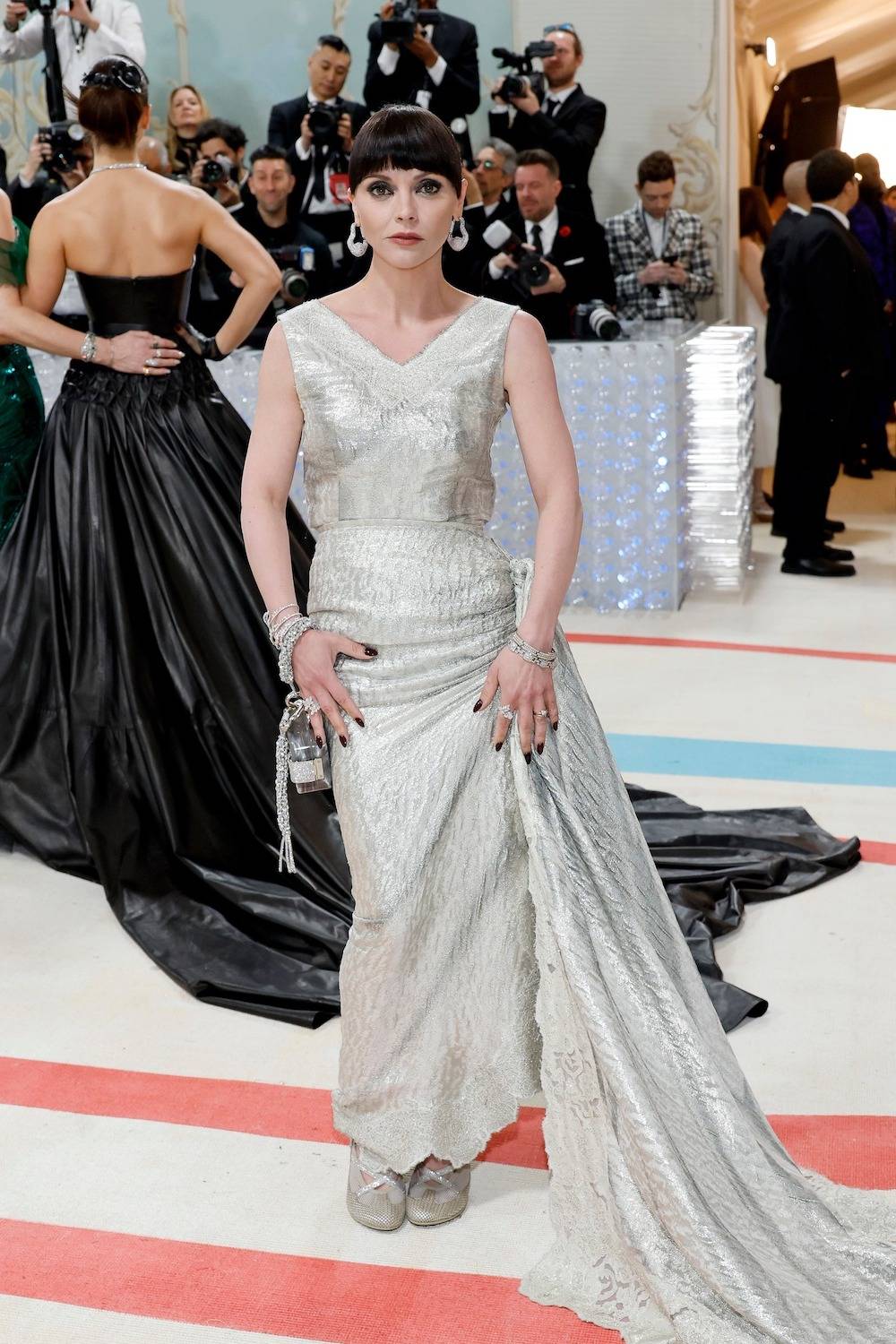 65/204

Manu Rios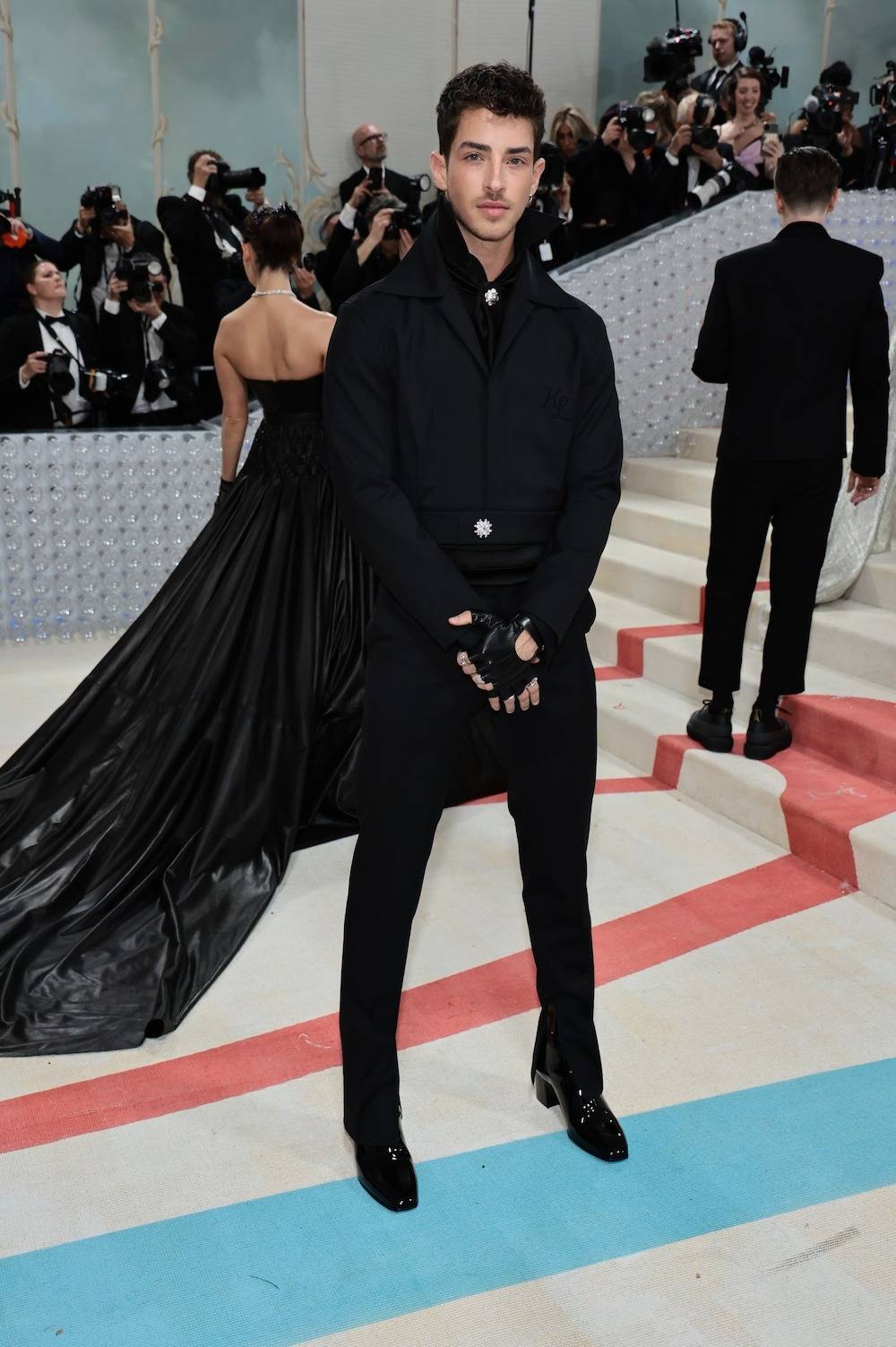 66/204

Lily James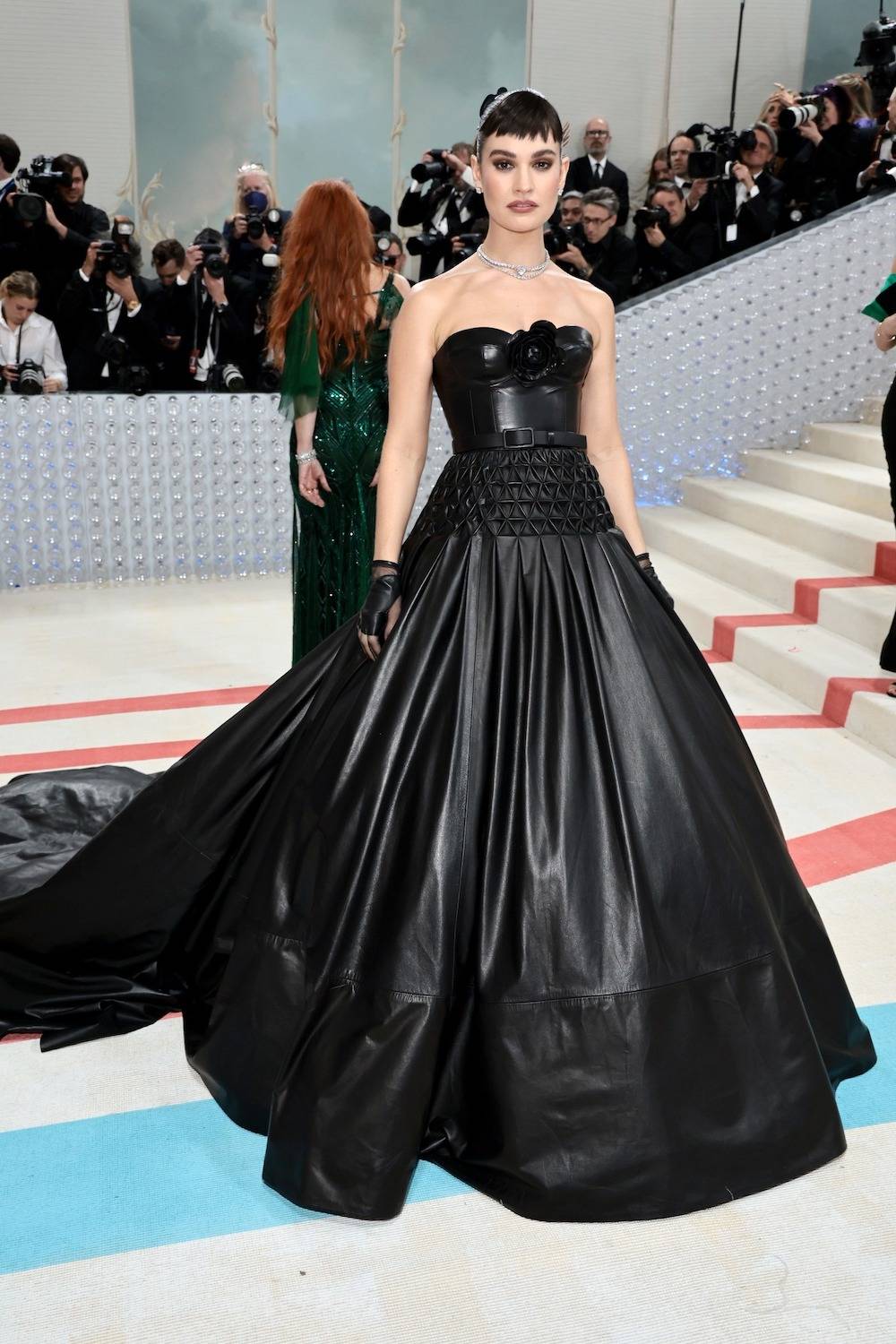 67/204

Charlotte Tilbury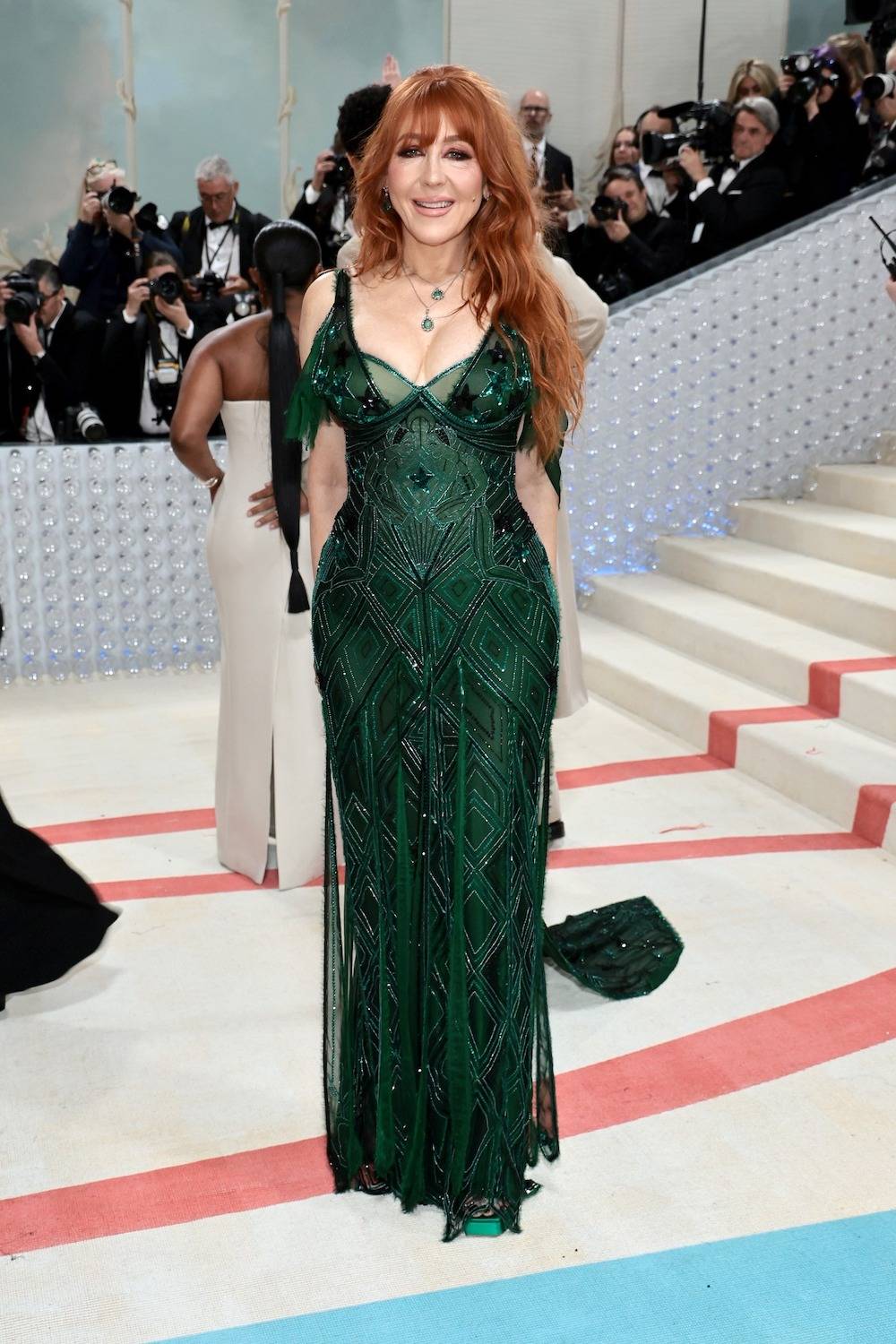 68/204

Jared Leto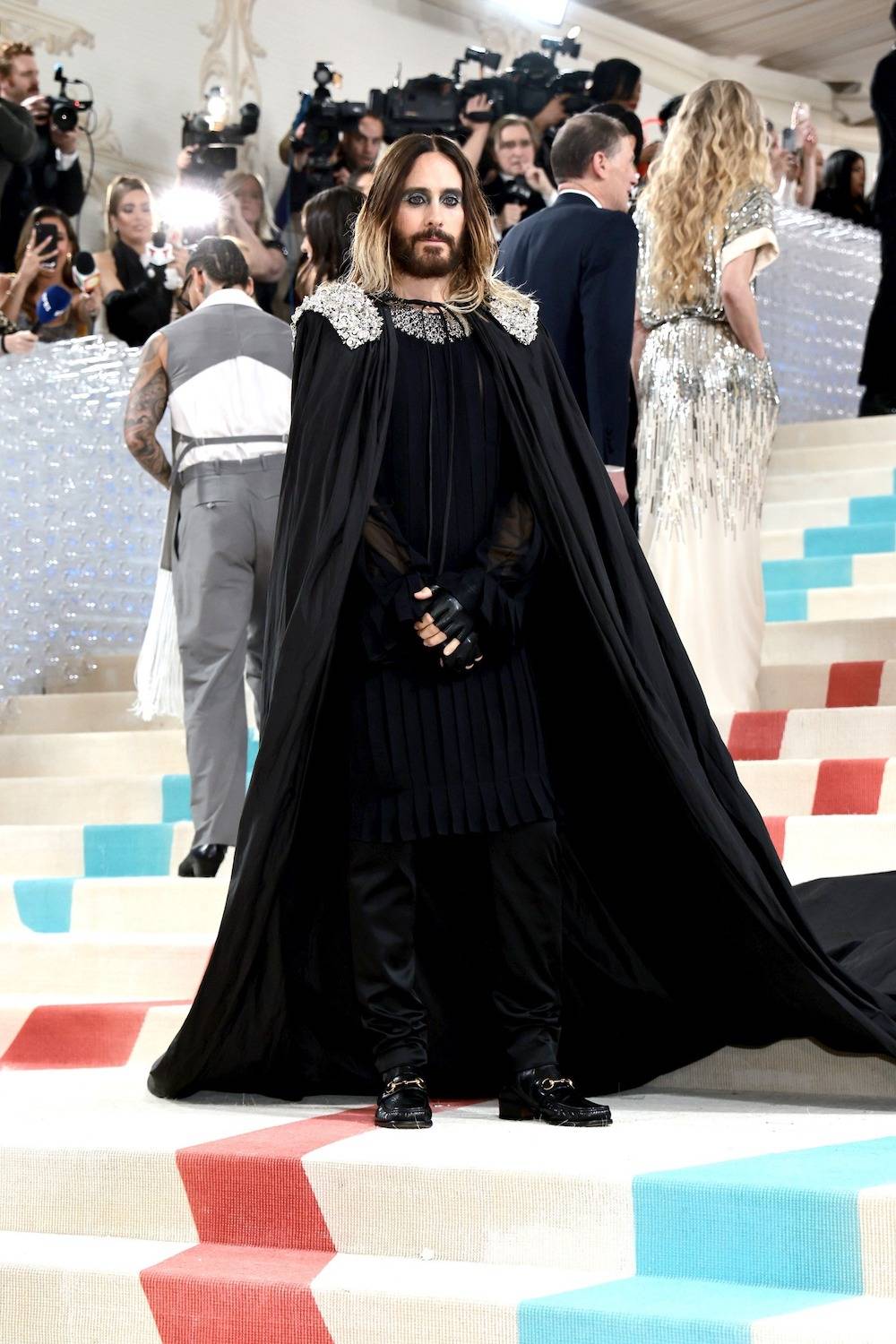 69/204

Pusha T
70/204

Alexander Skarsgård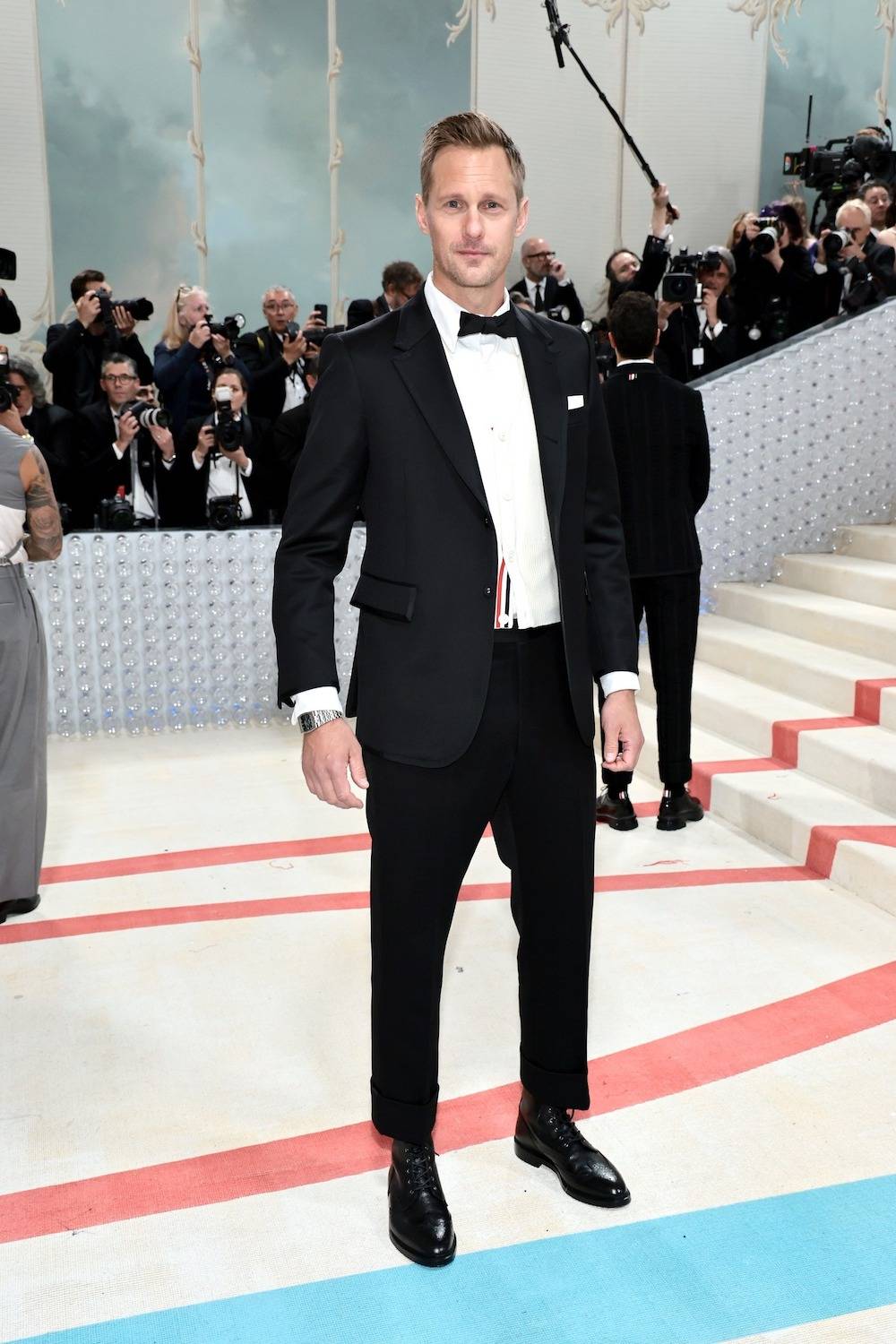 71/204

Tommy Hilfiger i Dee Hilfiger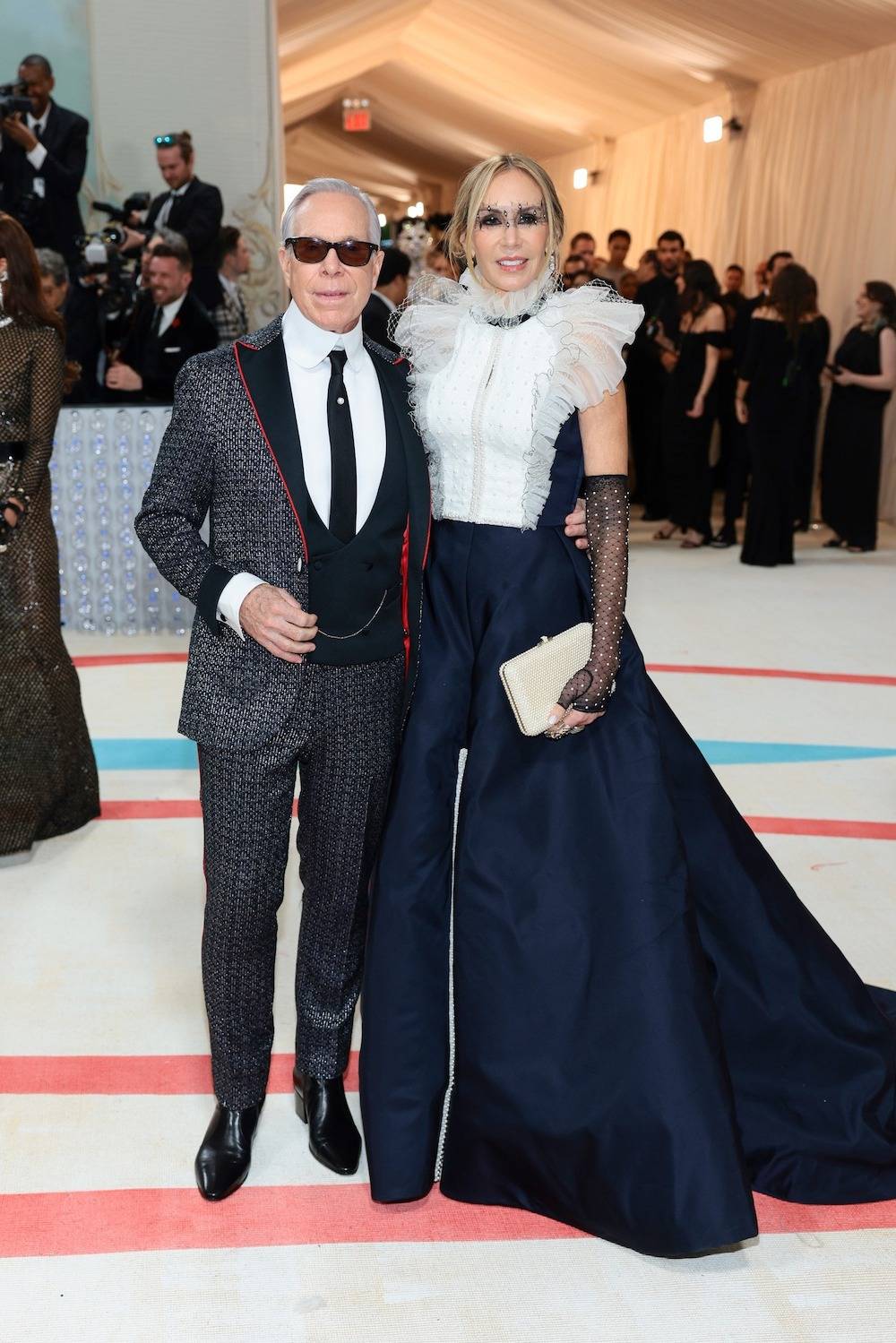 72/204

Jared Leto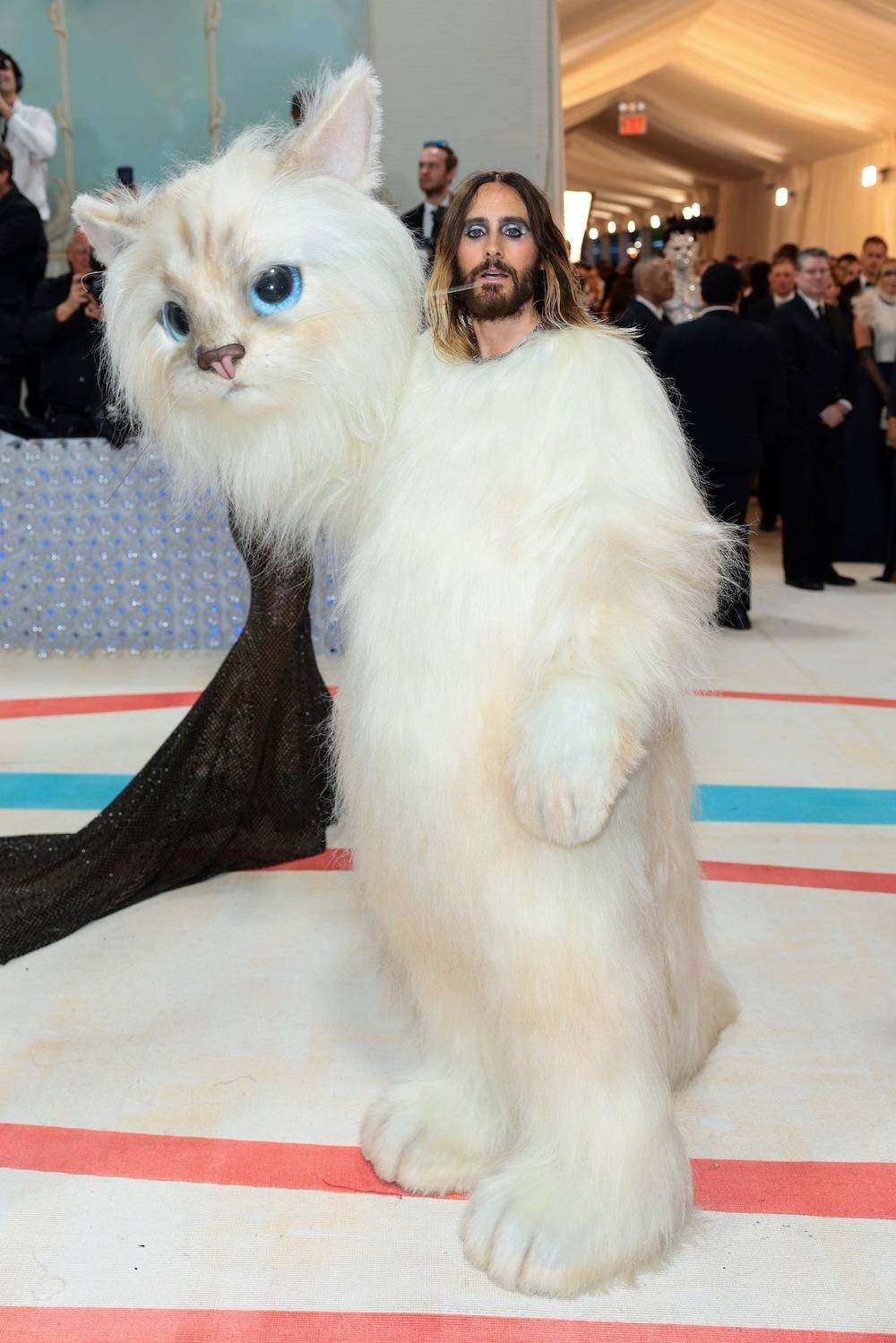 73/204

Matteo Berrettini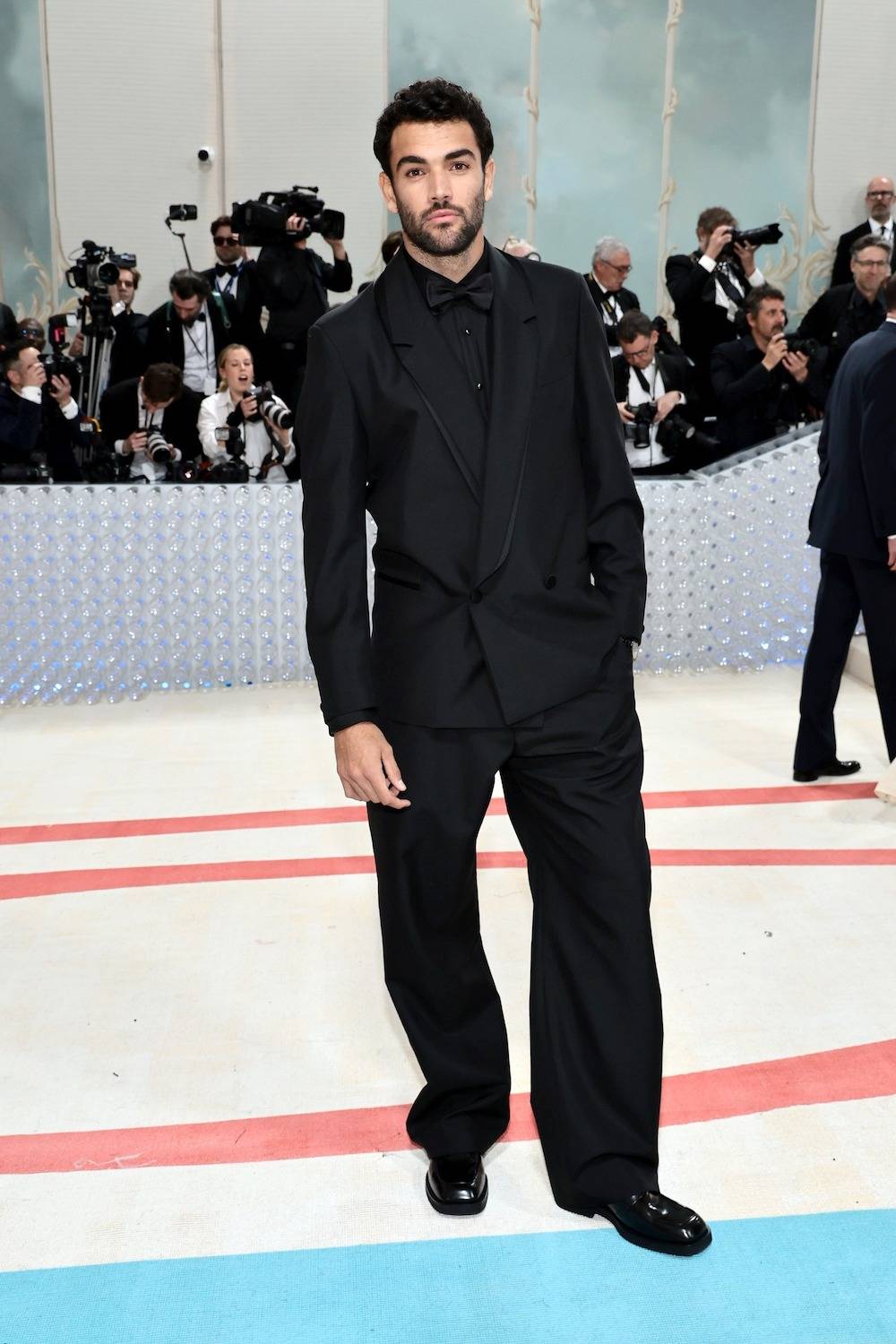 74/204

Ashley Park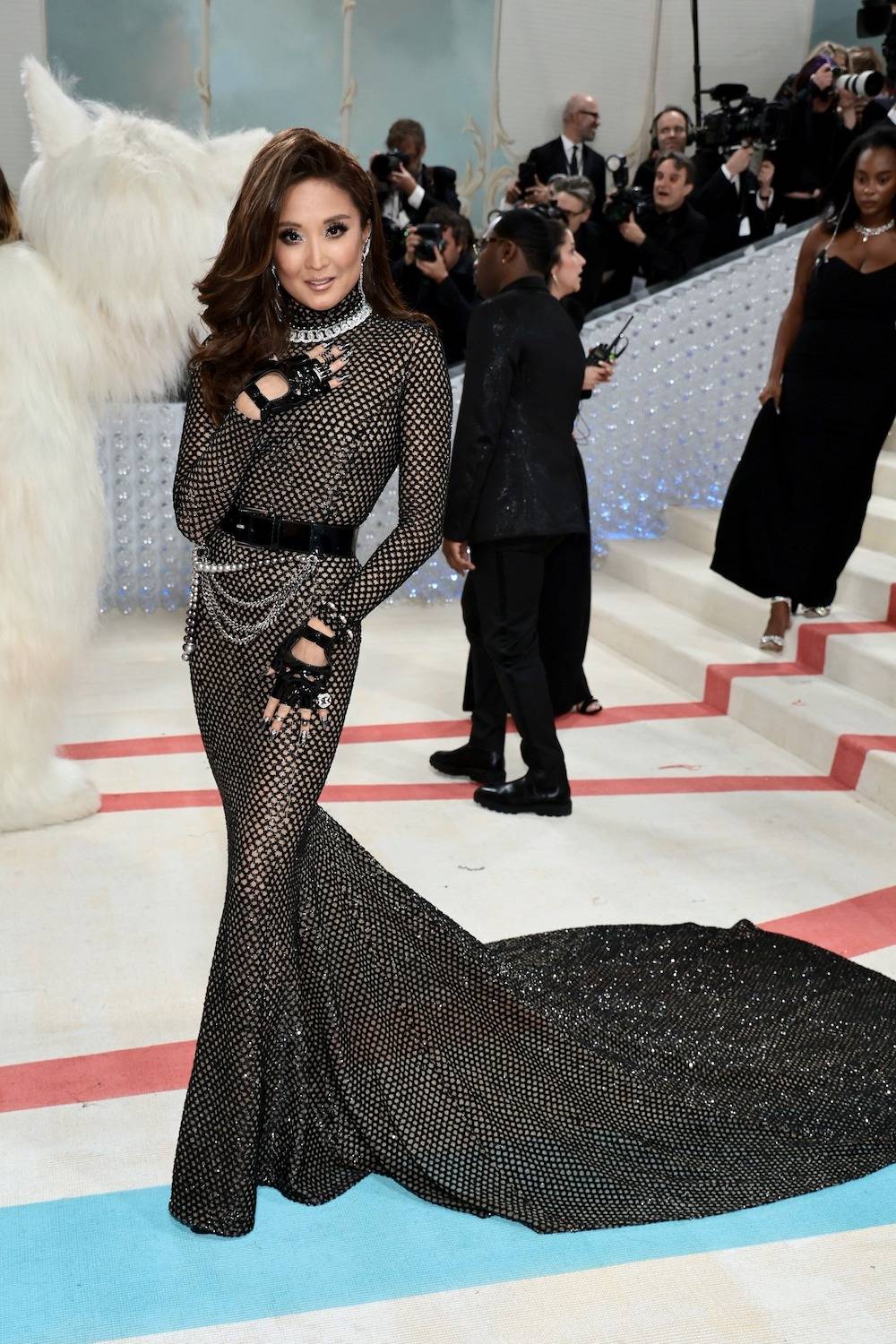 75/204

Lil Nas X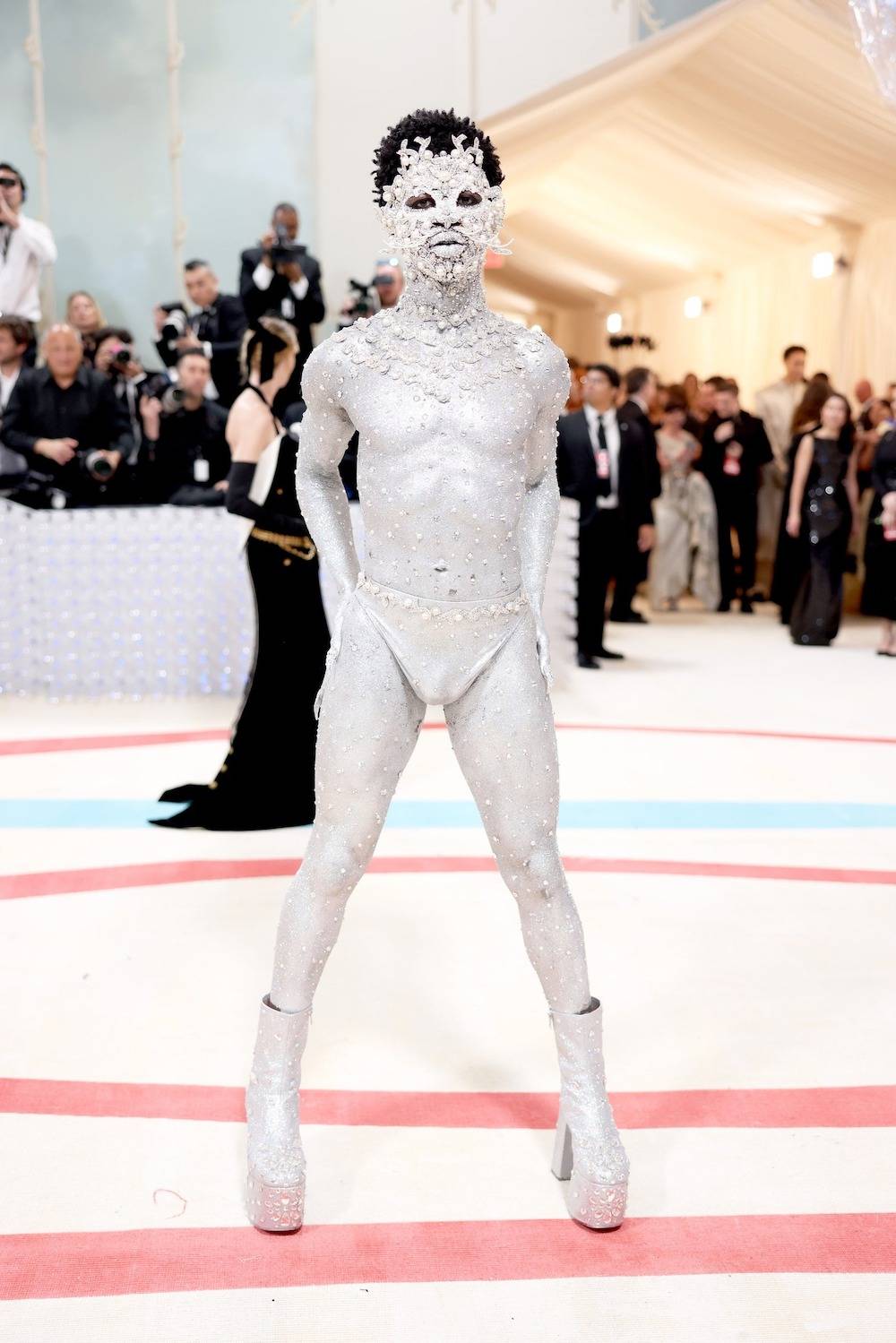 76/204

Maluma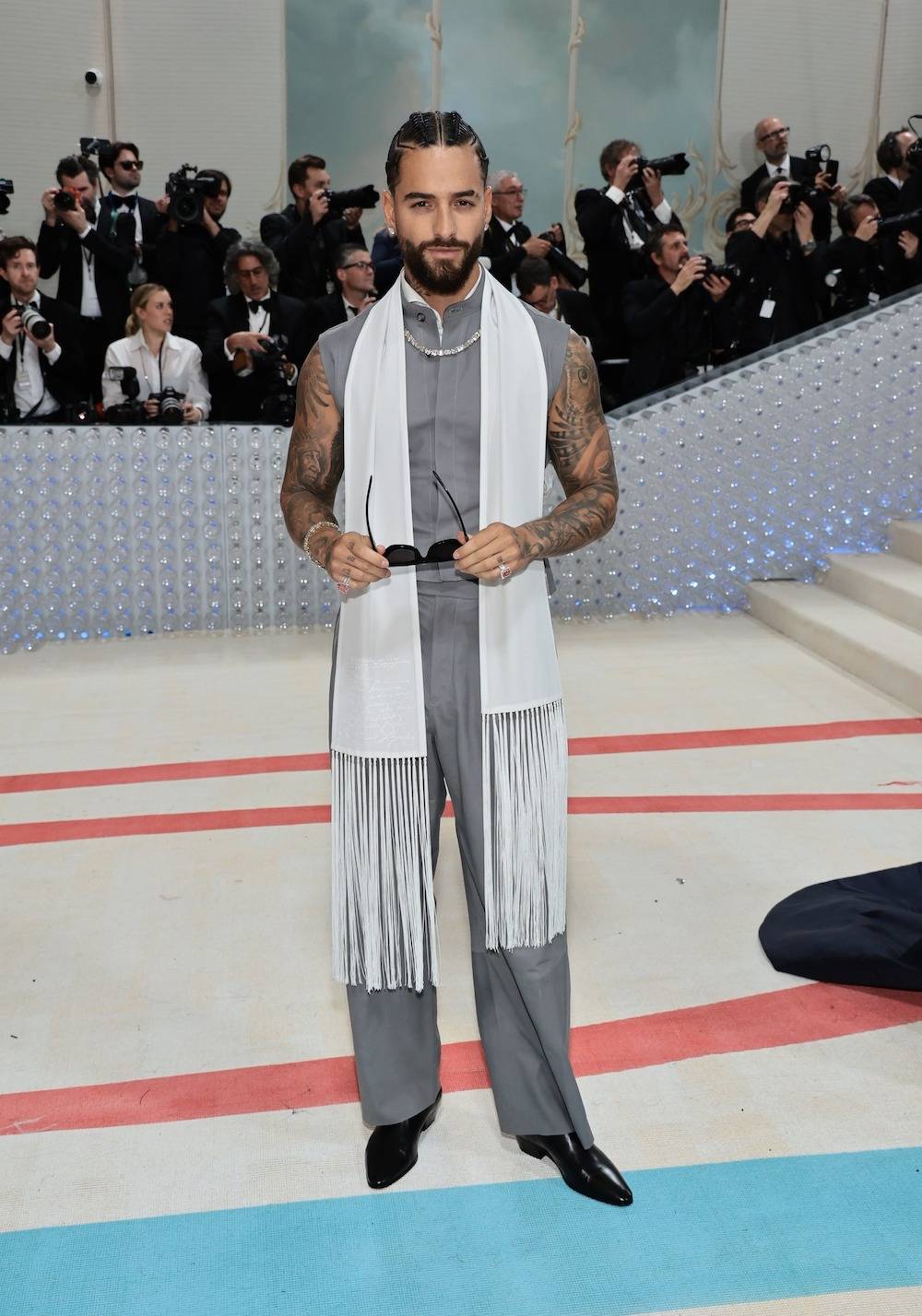 77/204

Trevor Noah
78/204

Lea Michele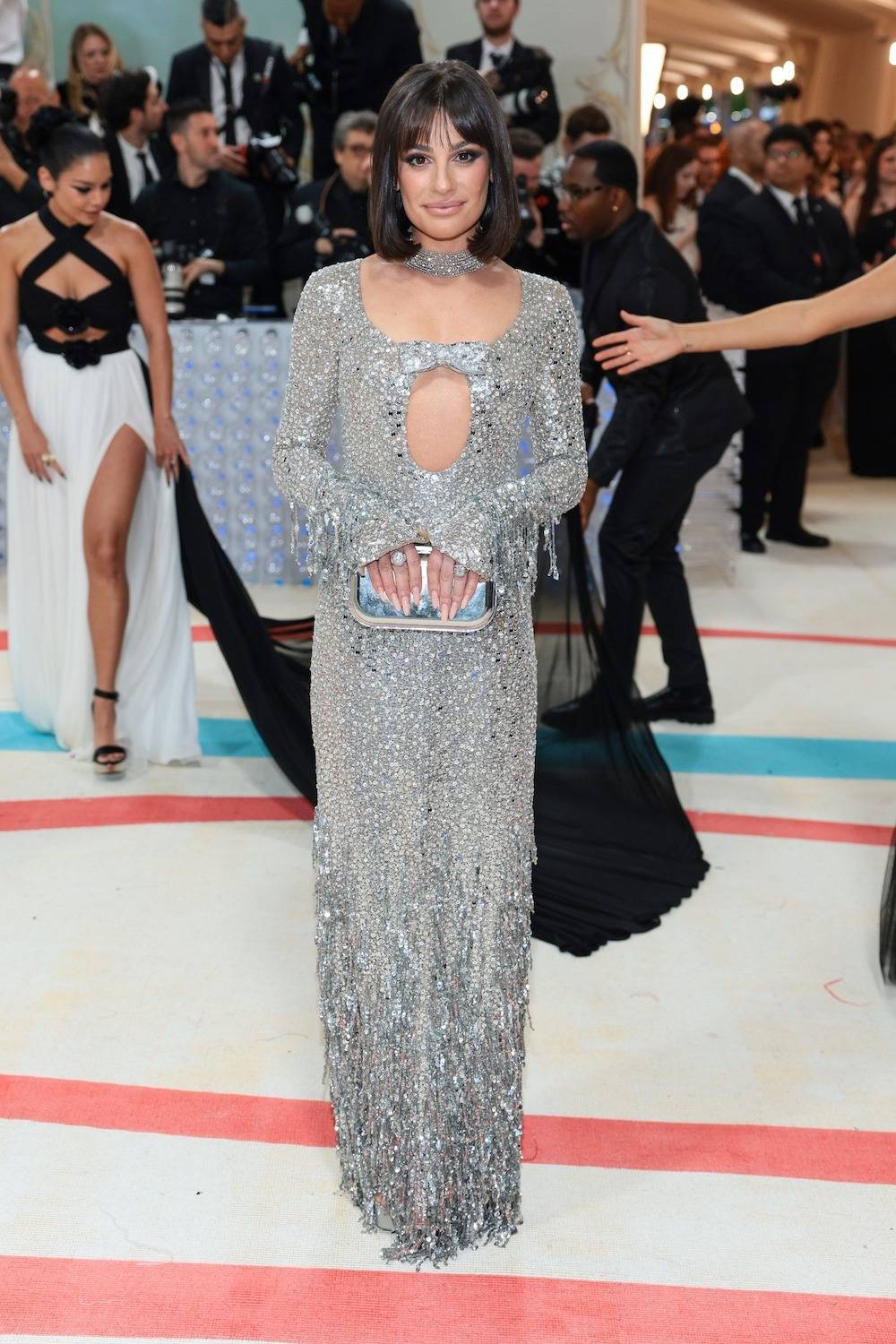 79/204

Jack Harlow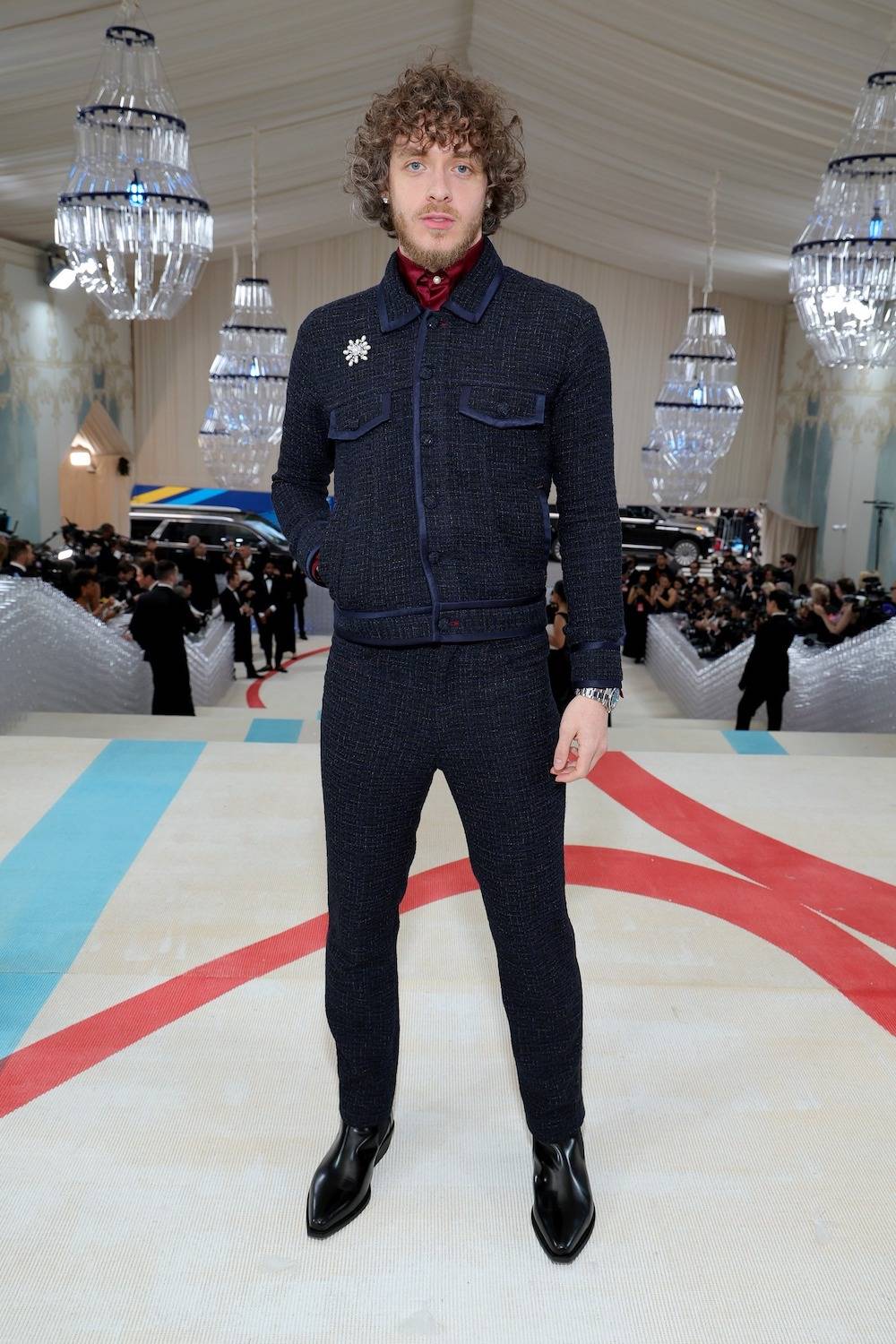 80/204

Vanessa Hudgens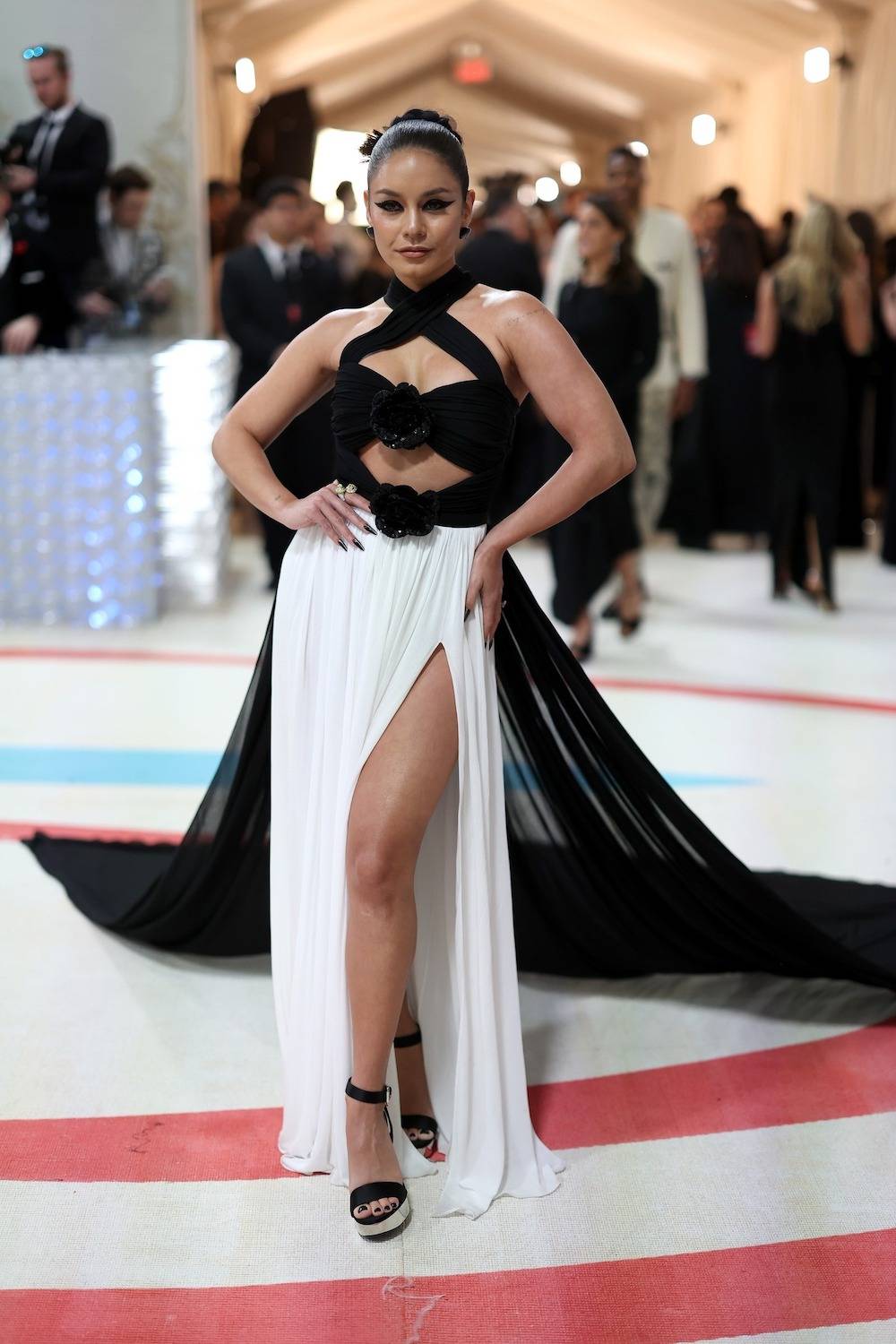 81/204

Glenn Close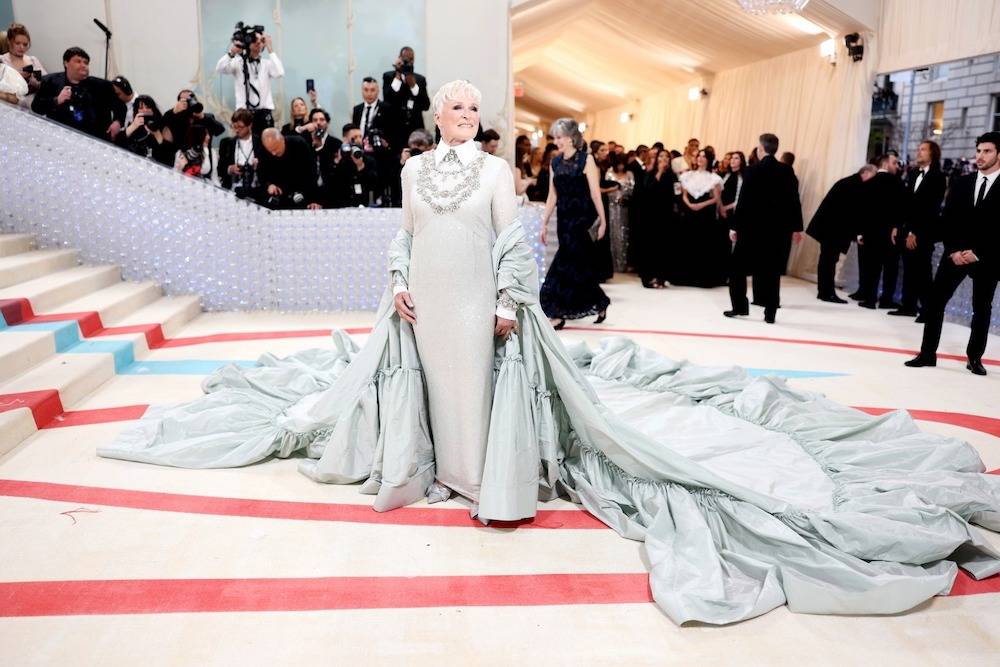 82/204

Camila Morrone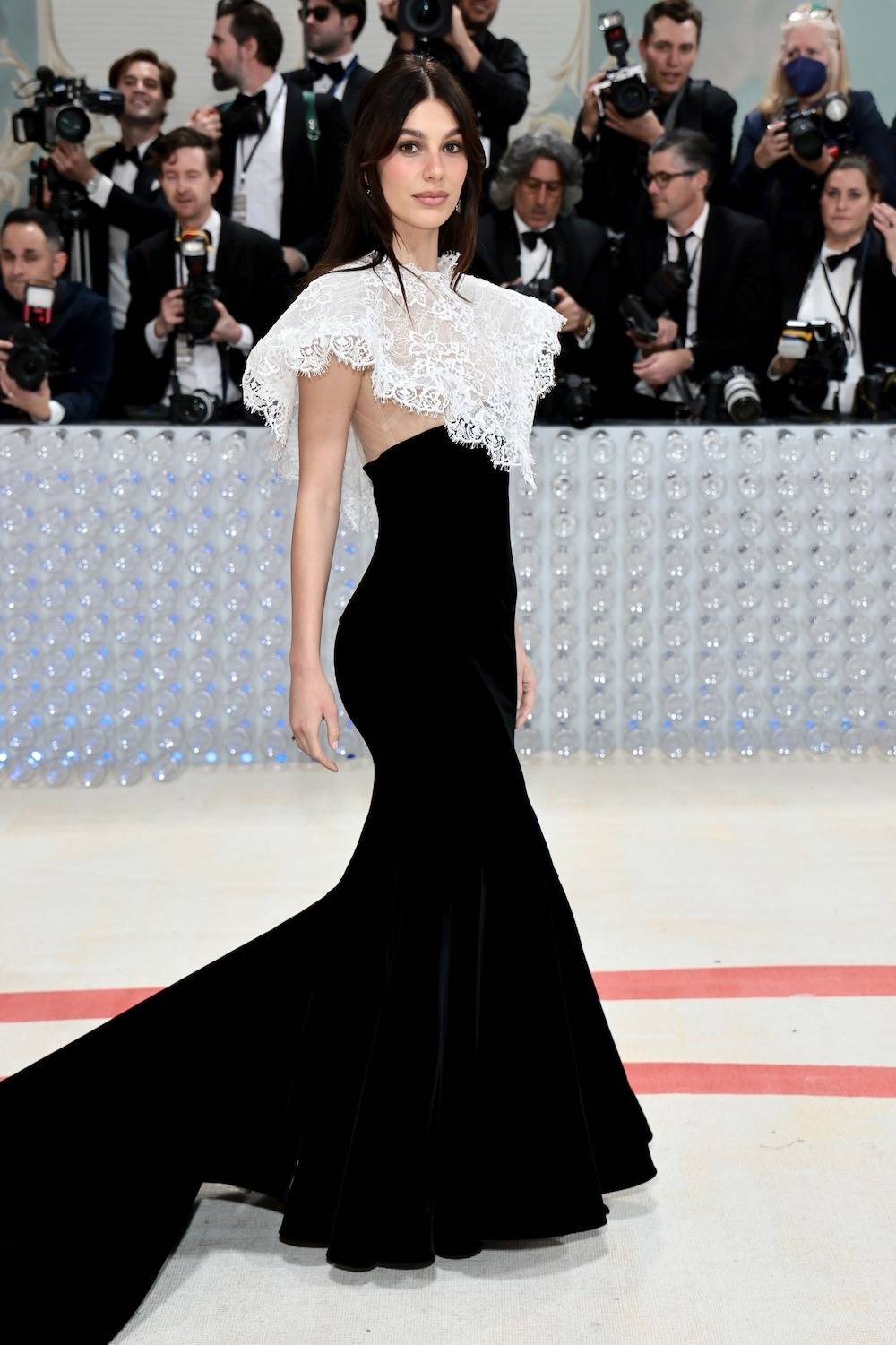 83/204

Lizzo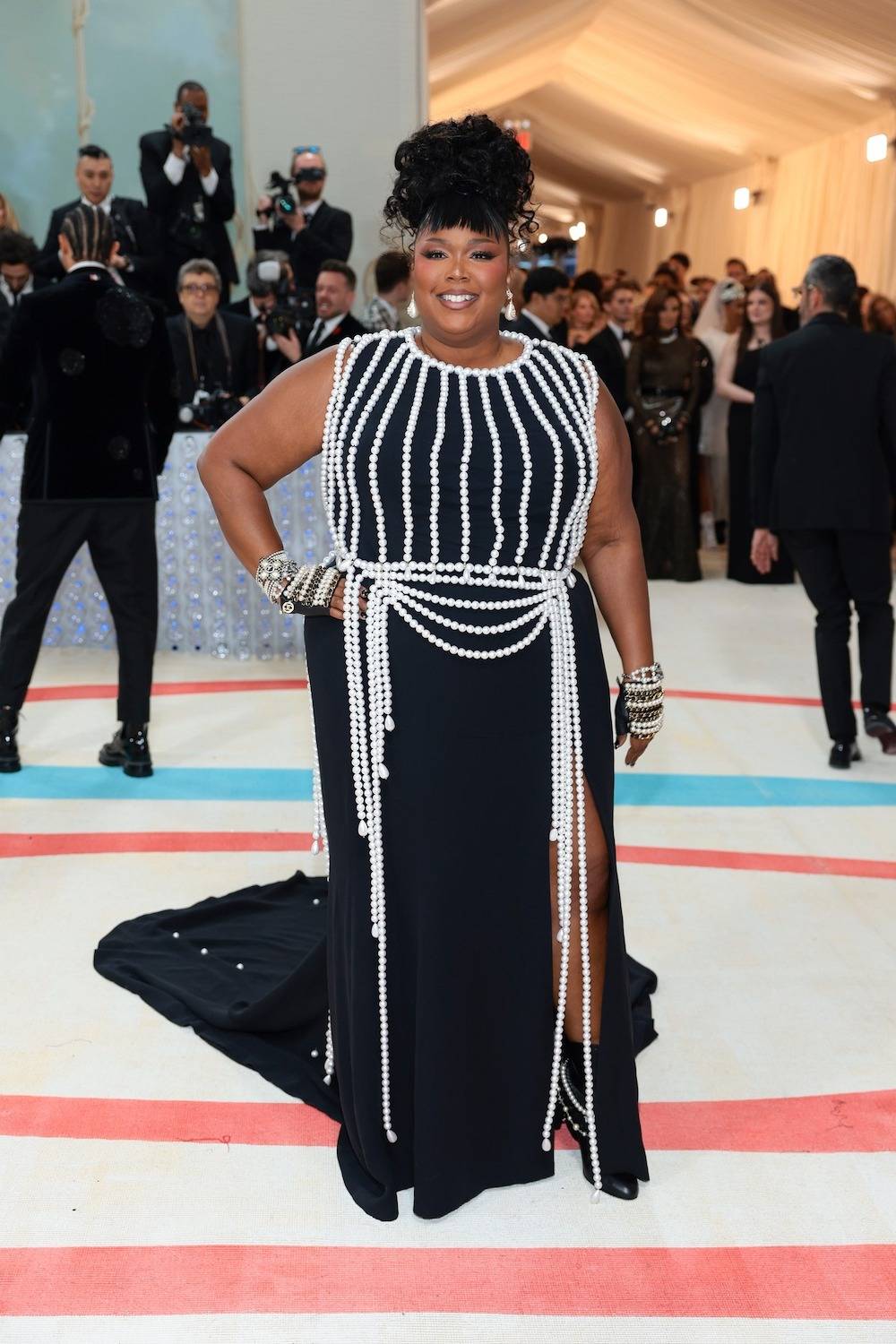 84/204

Ava Max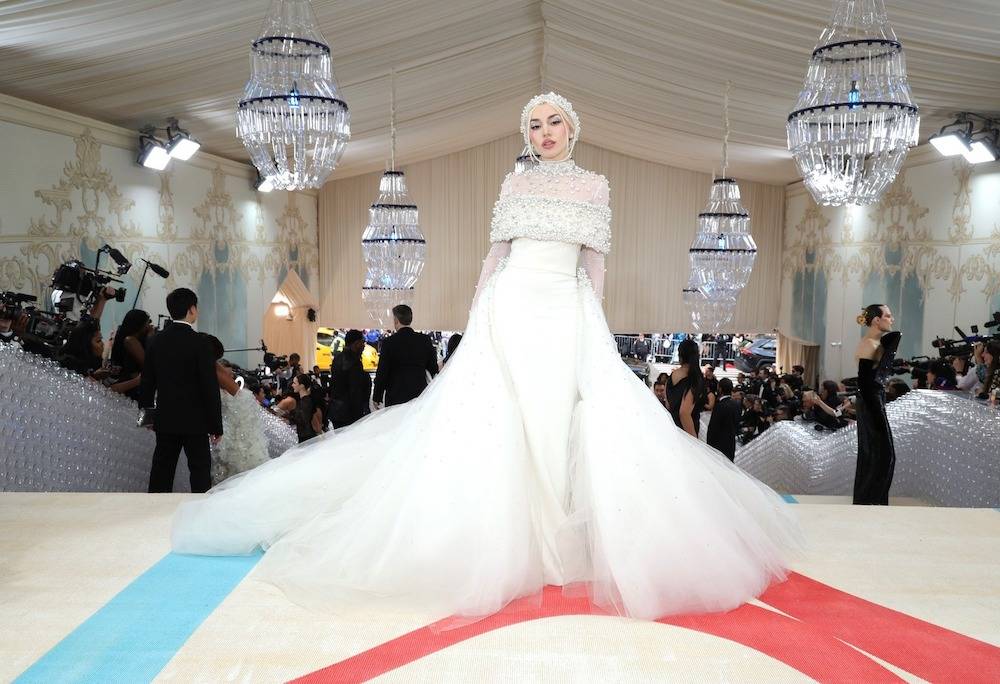 85/204

Finneas O'Connell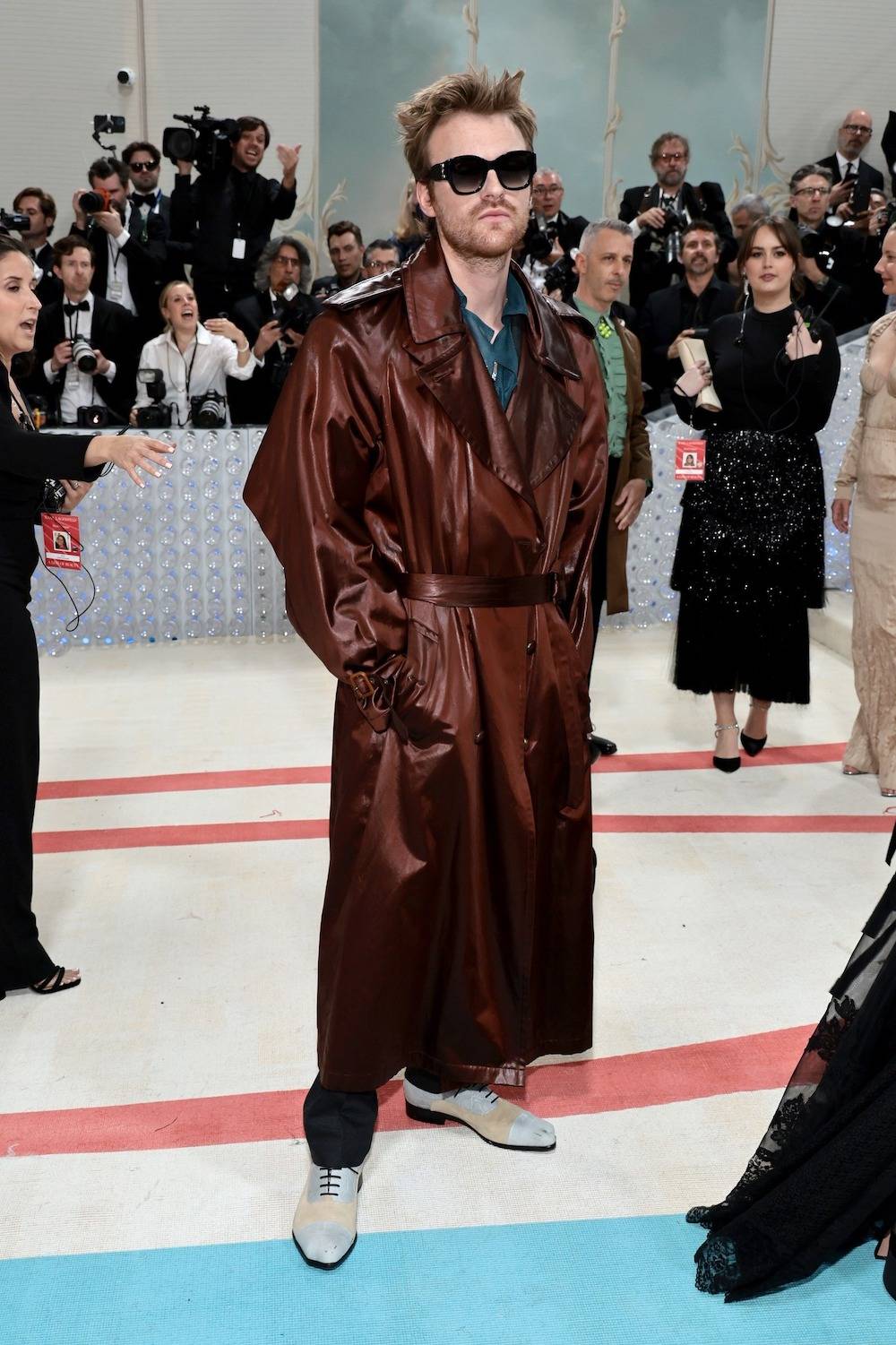 86/204

Lily Collins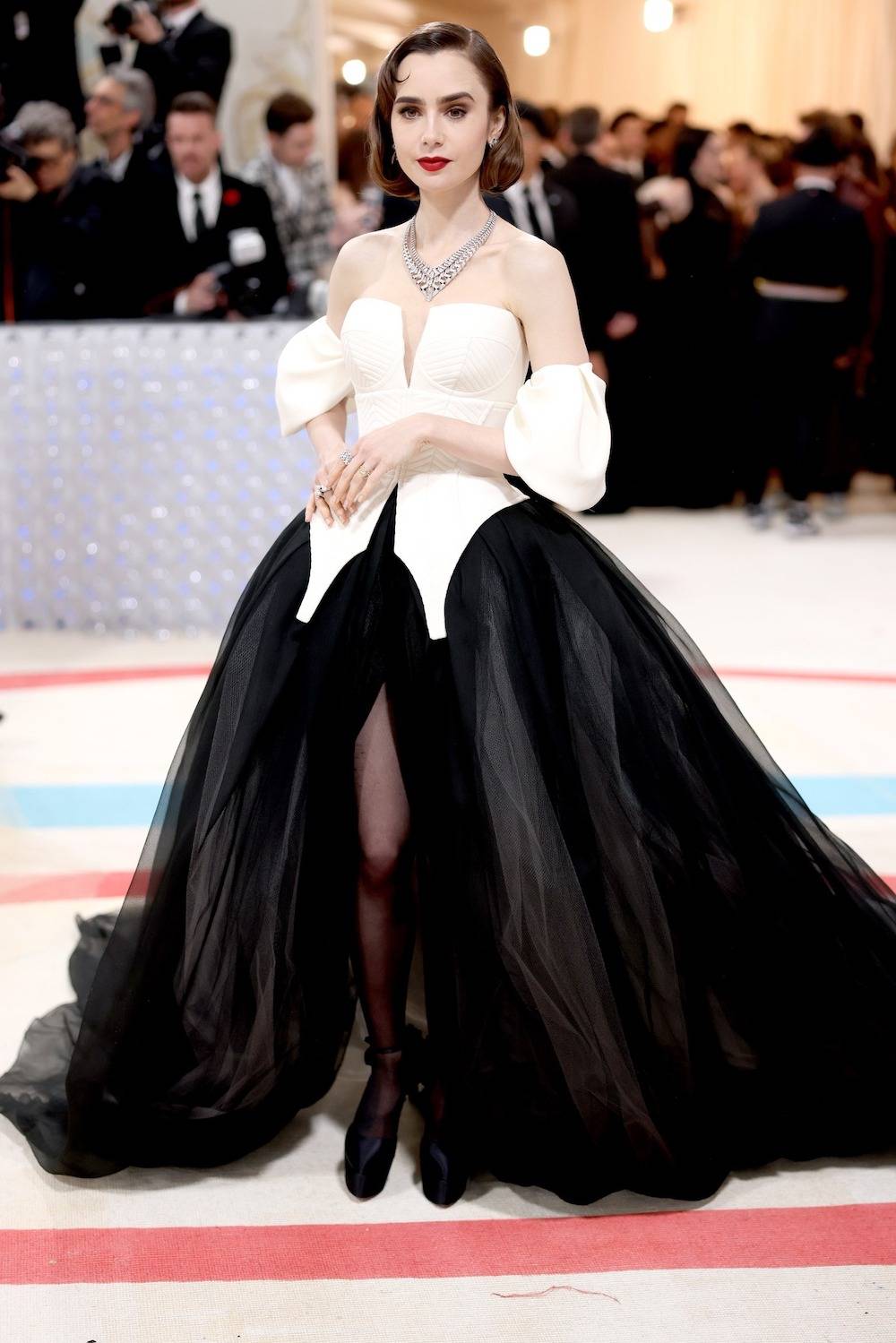 87/204

Emma Wall i Jeremy Strong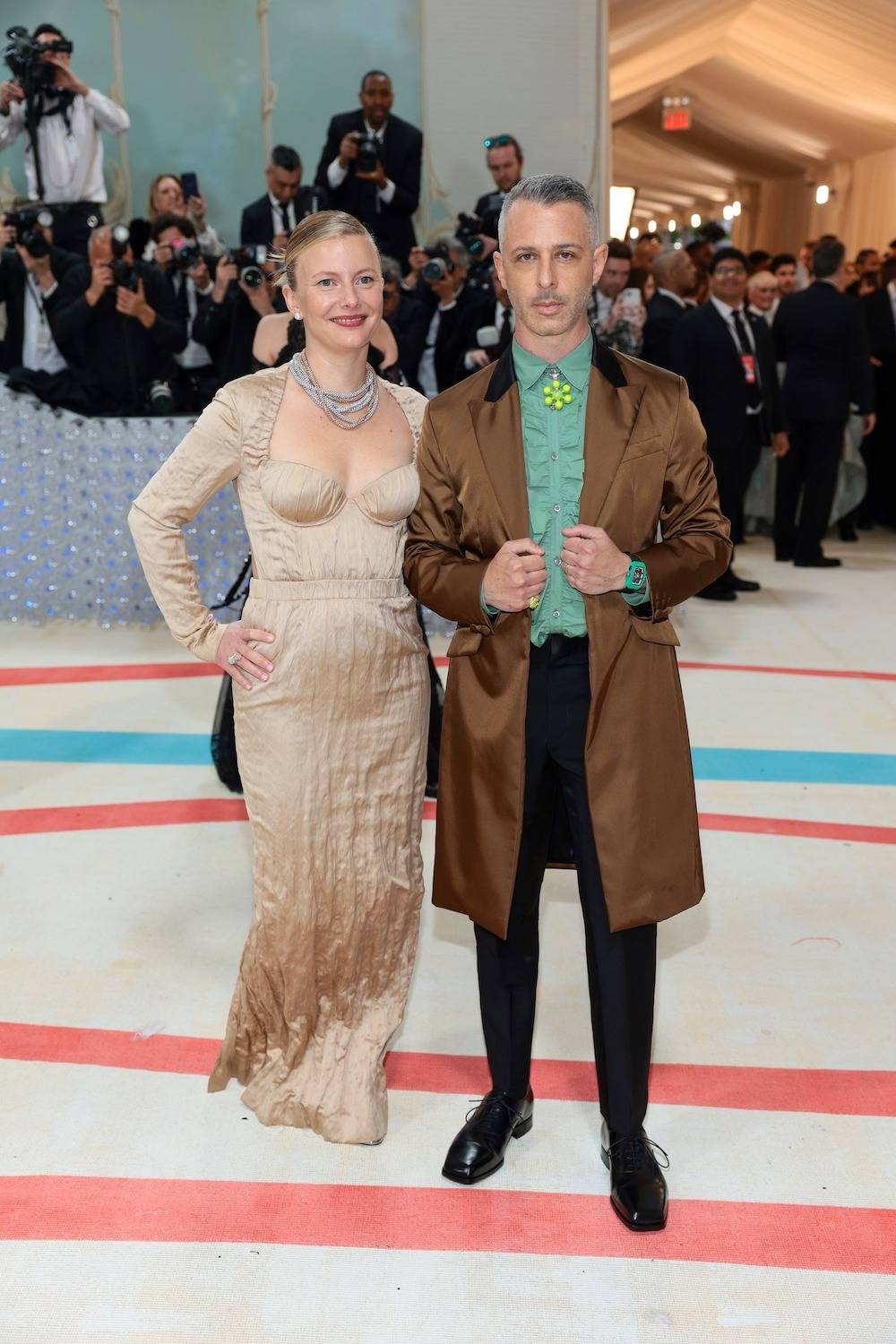 88/204

Billie Eilish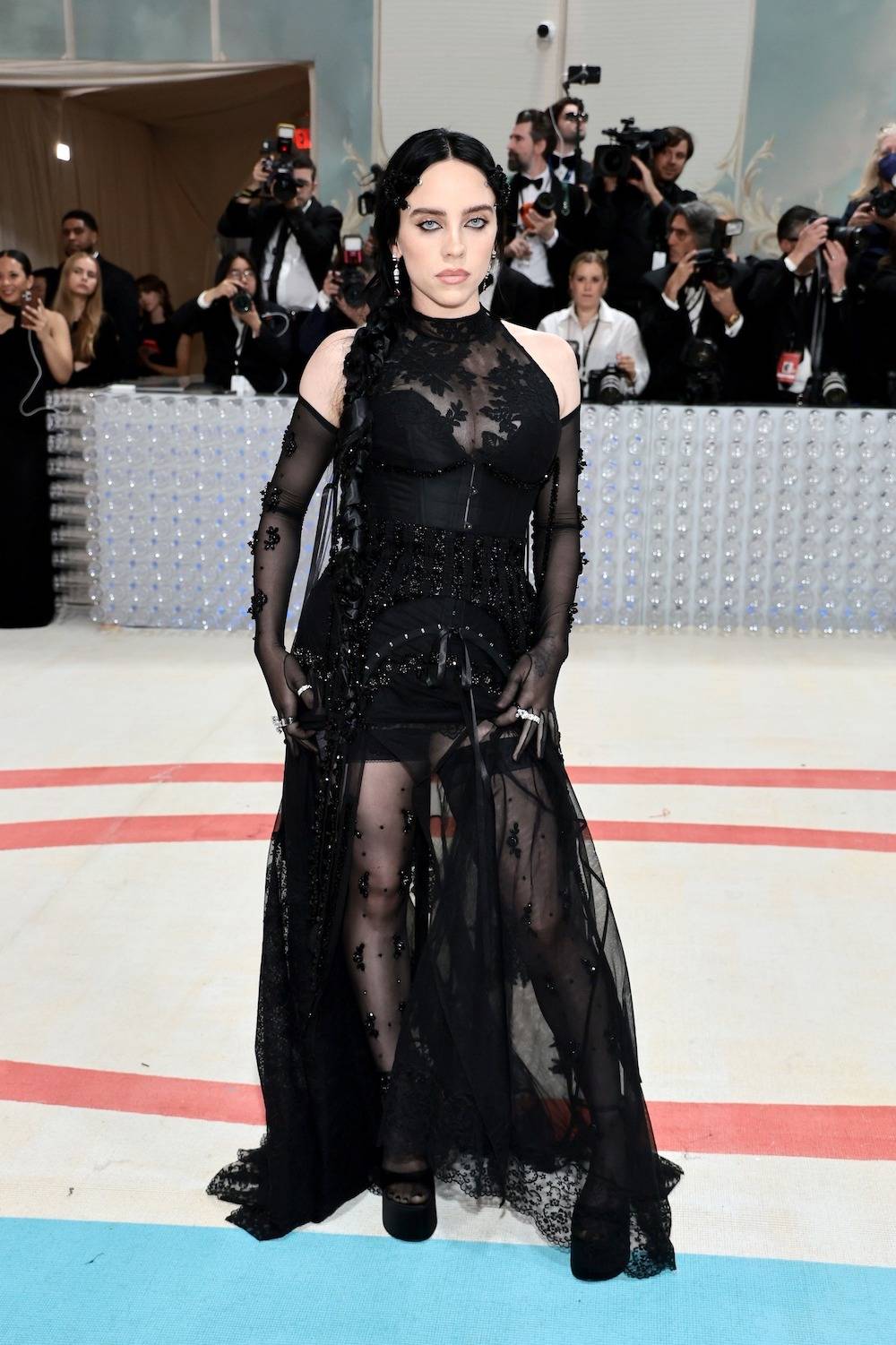 89/204

Micaela Diamond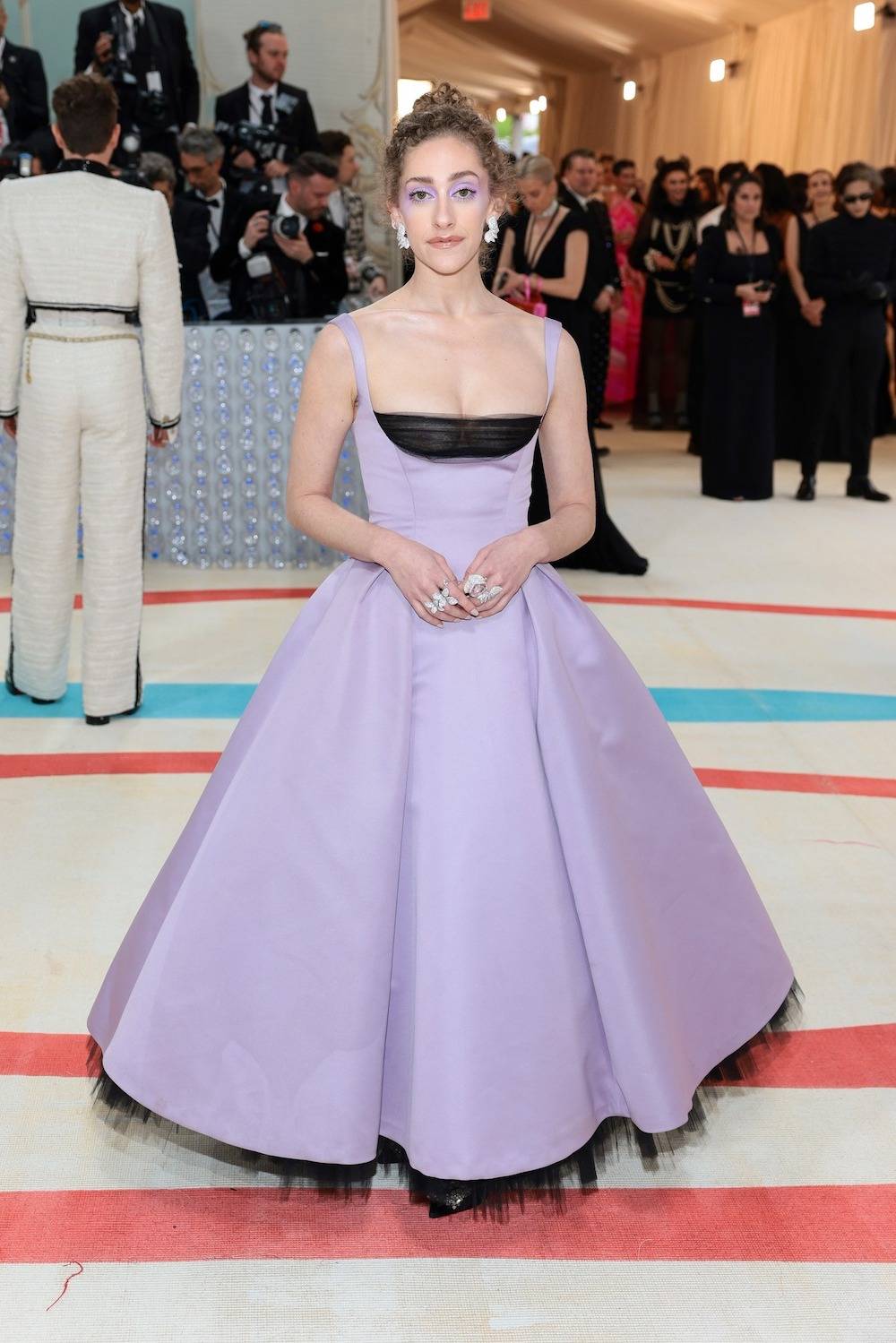 90/204

Vera Wang
91/204

Imaan Hammam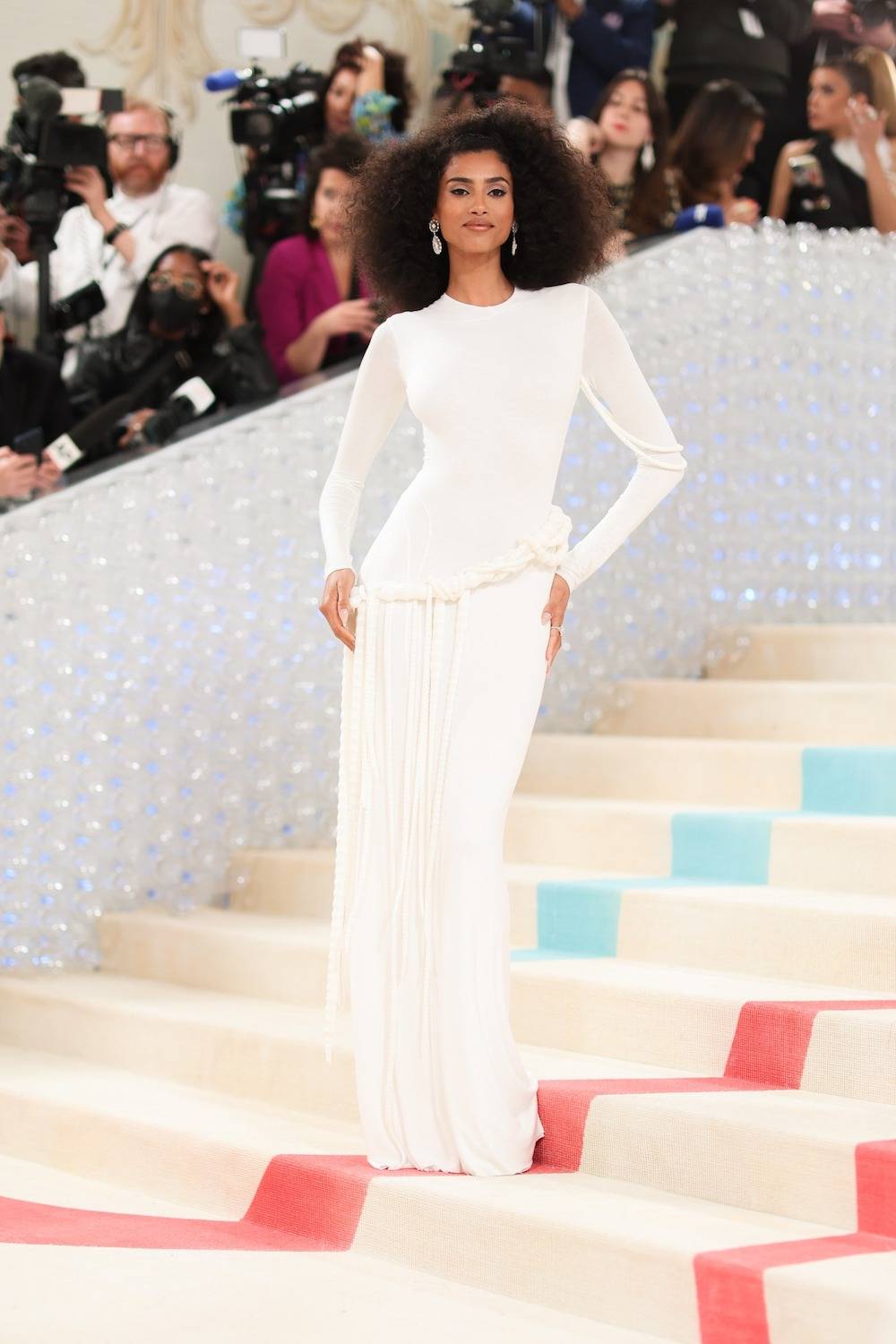 92/204

Brittany Mahomes i Patrick Mahomes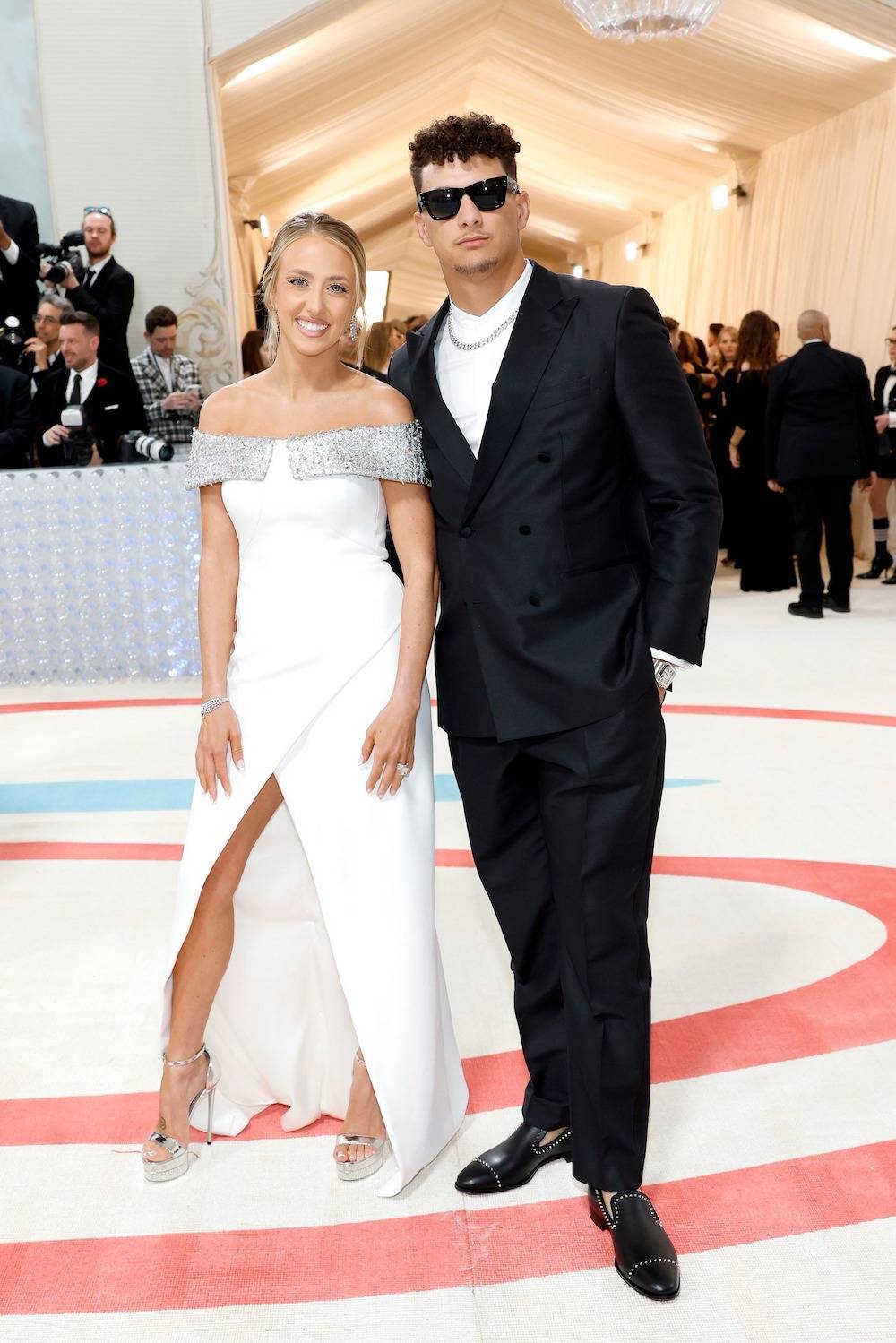 93/204

Amber Valletta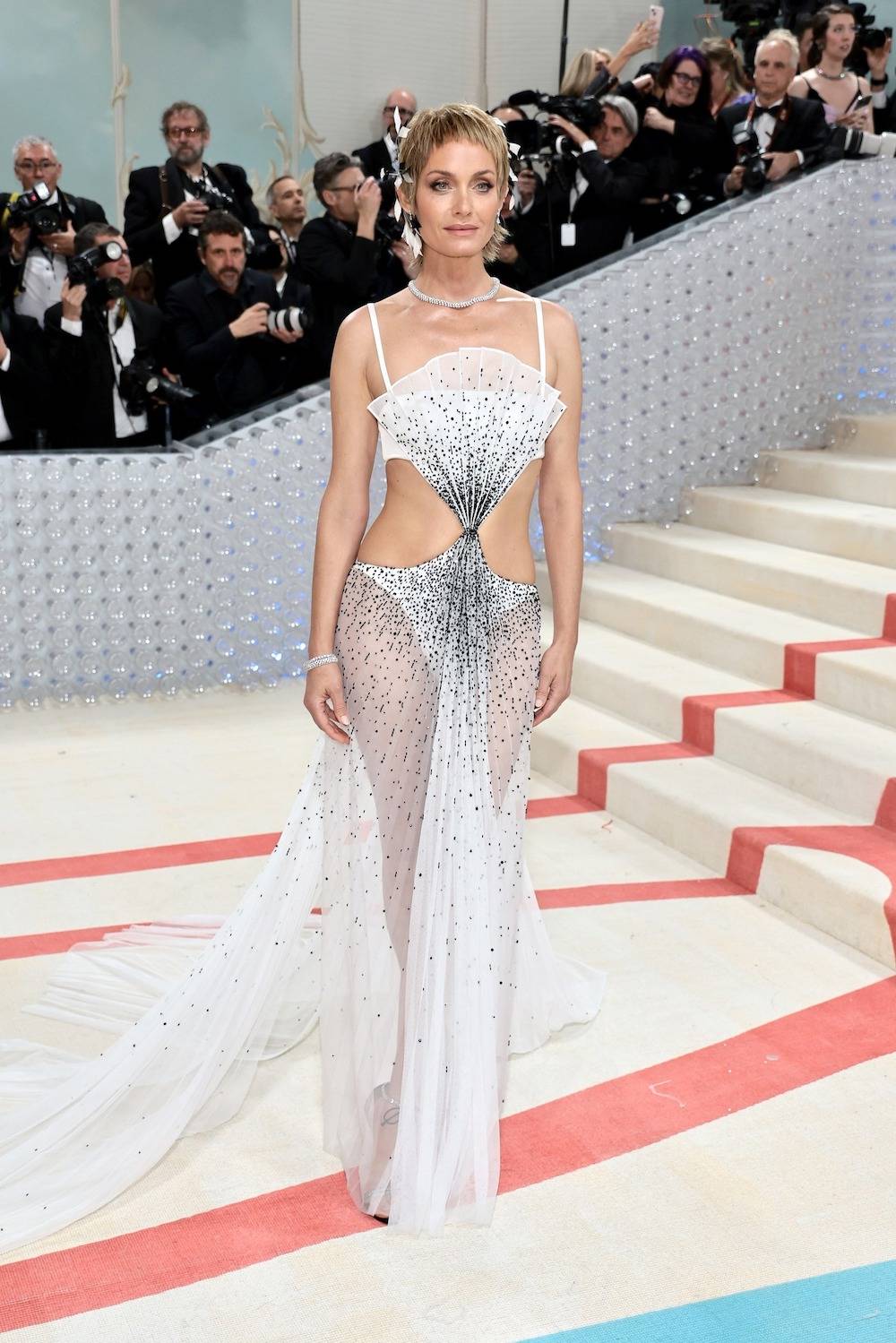 94/204

Carla Bruni
95/204

Wes Gordon i Adut Akech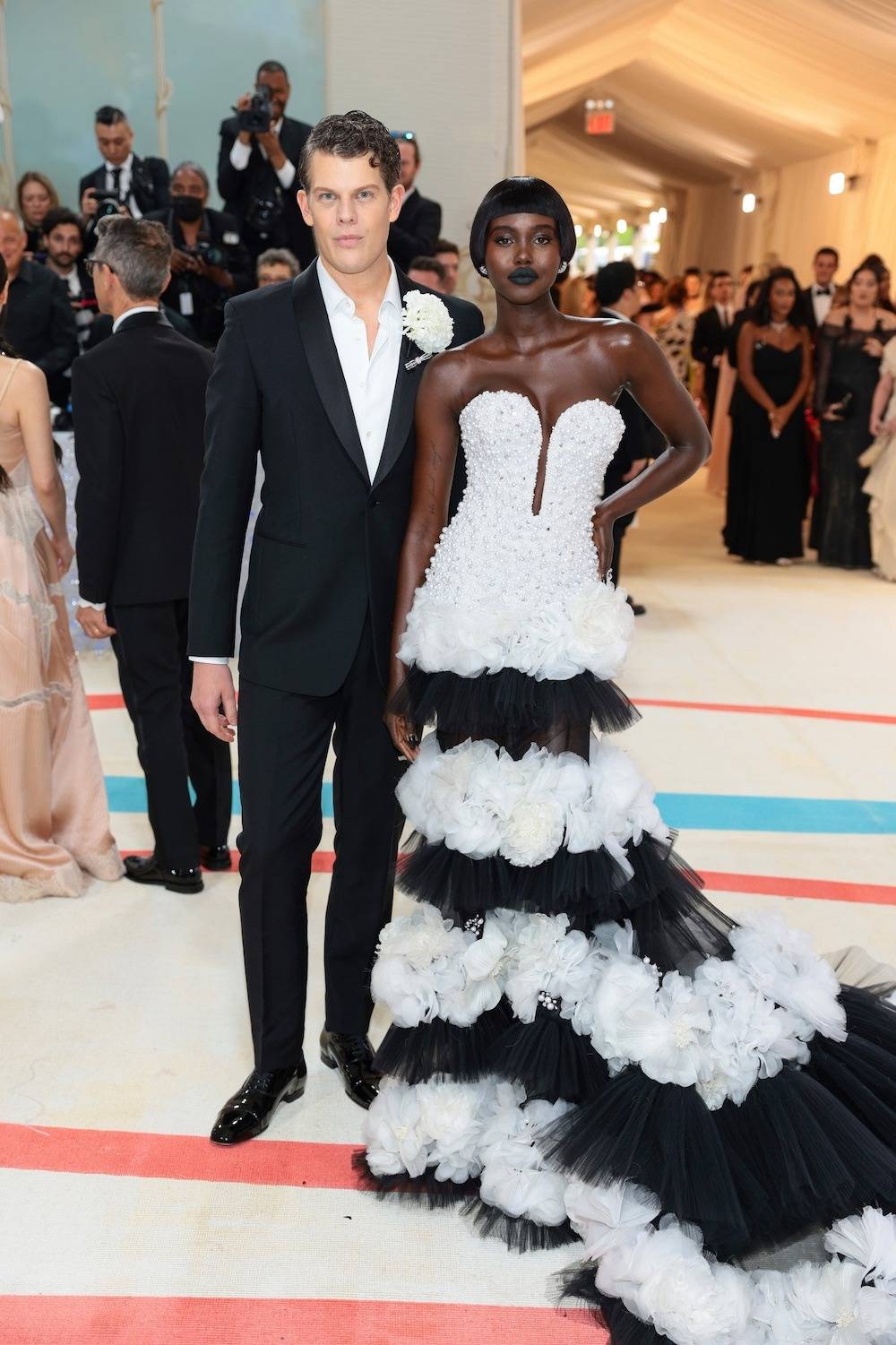 96/204

Kristen Stewart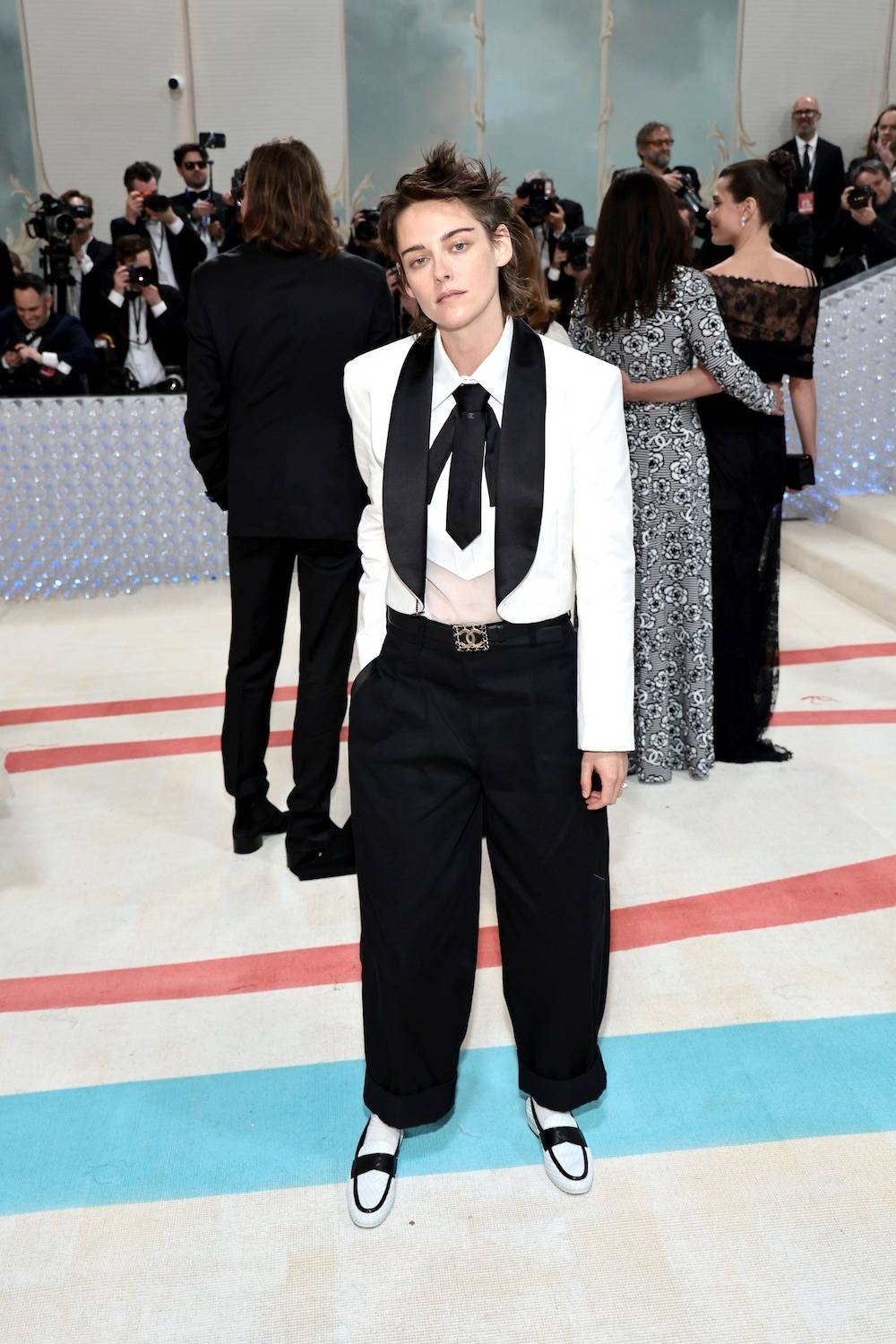 97/204

Ivy Getty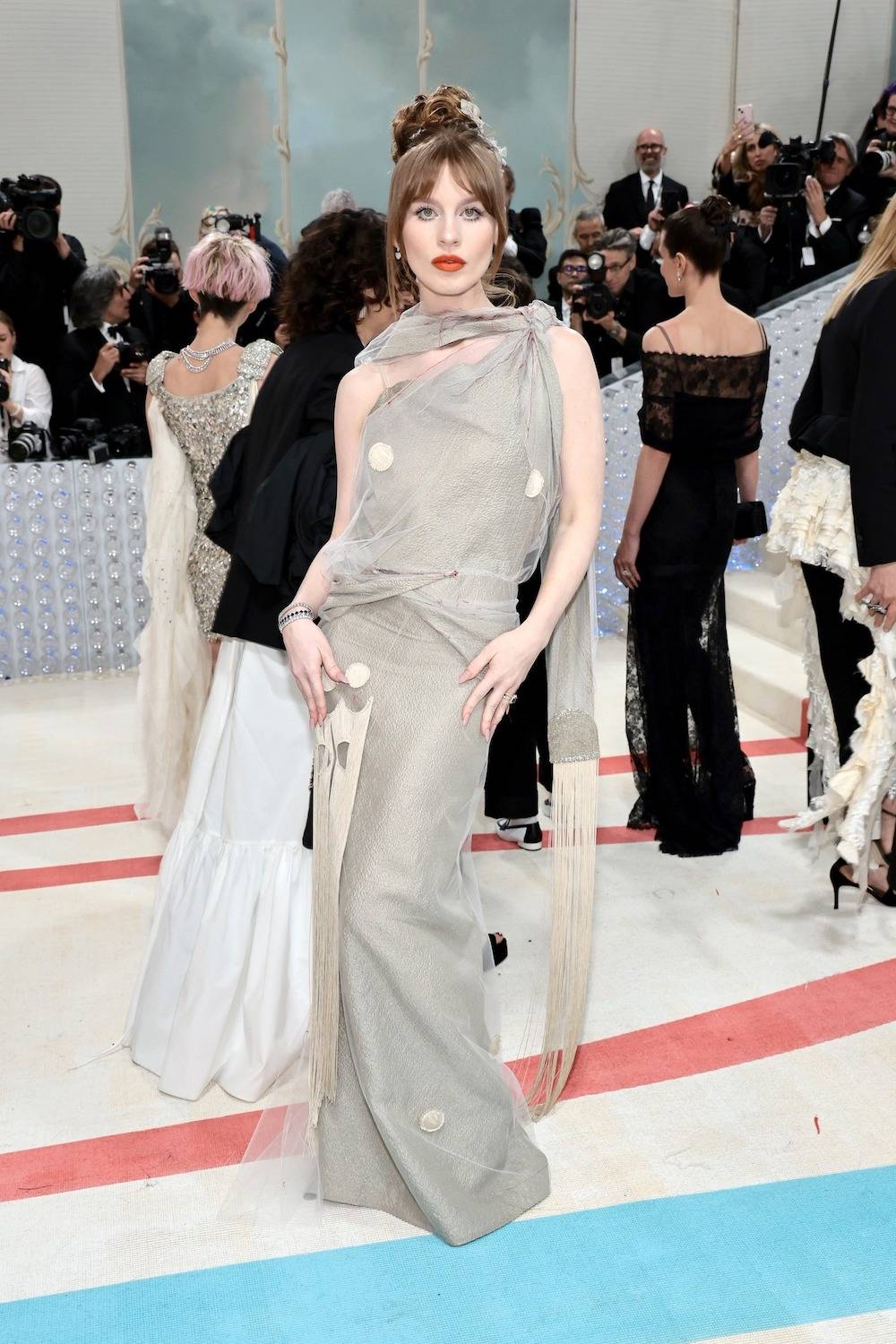 98/204

Marion Cotillard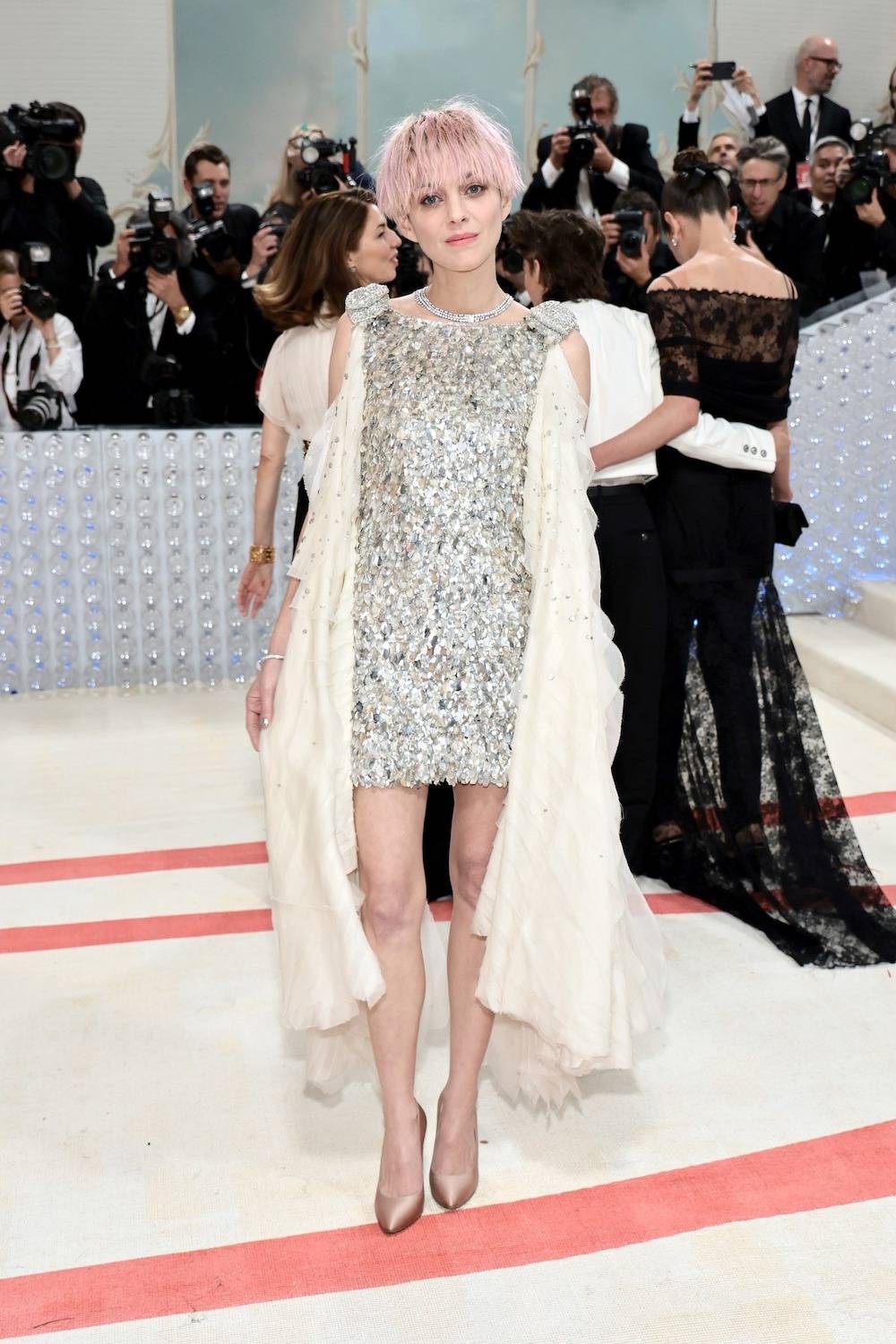 99/204

Dr. Dre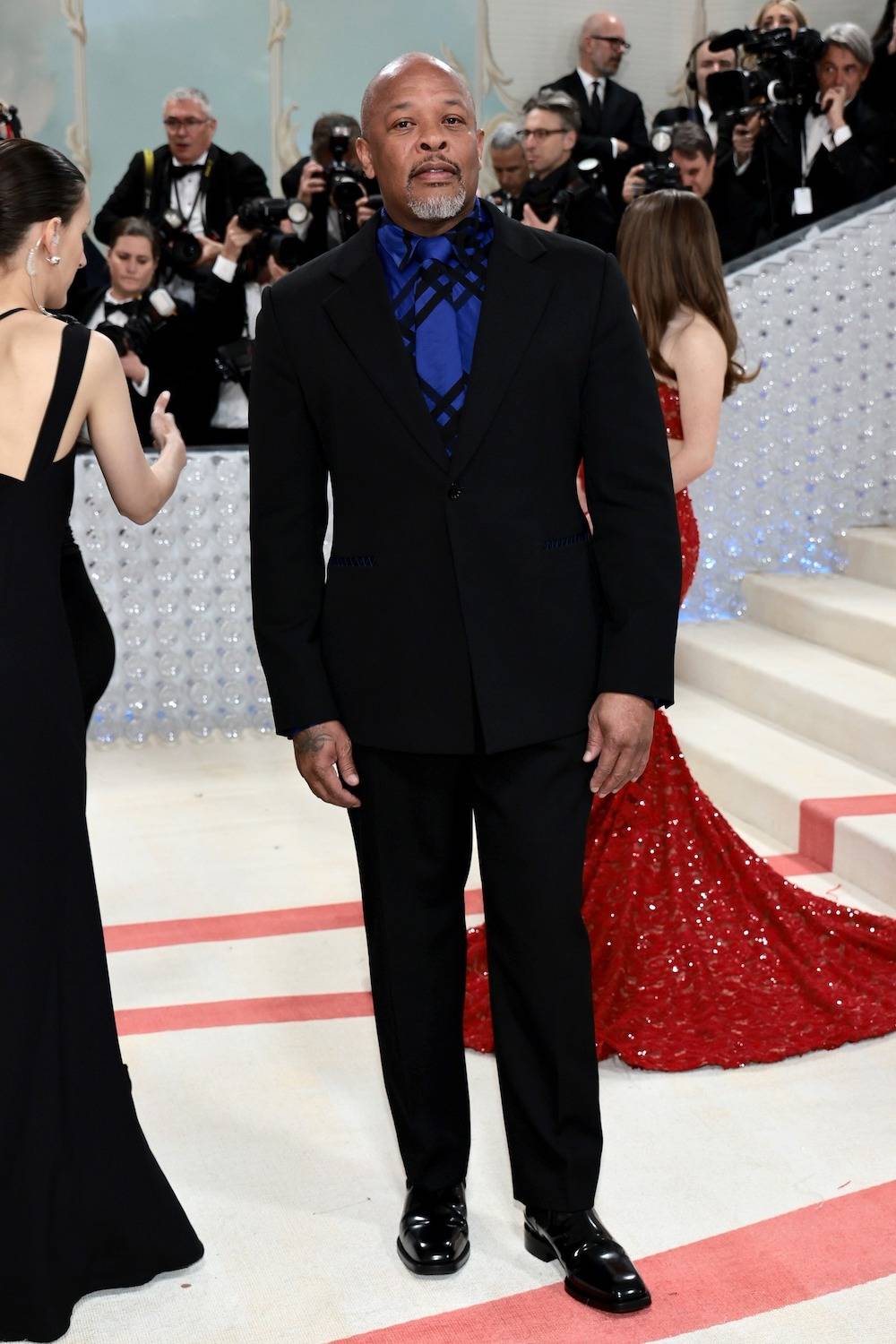 100/204

Kaitlyn Dever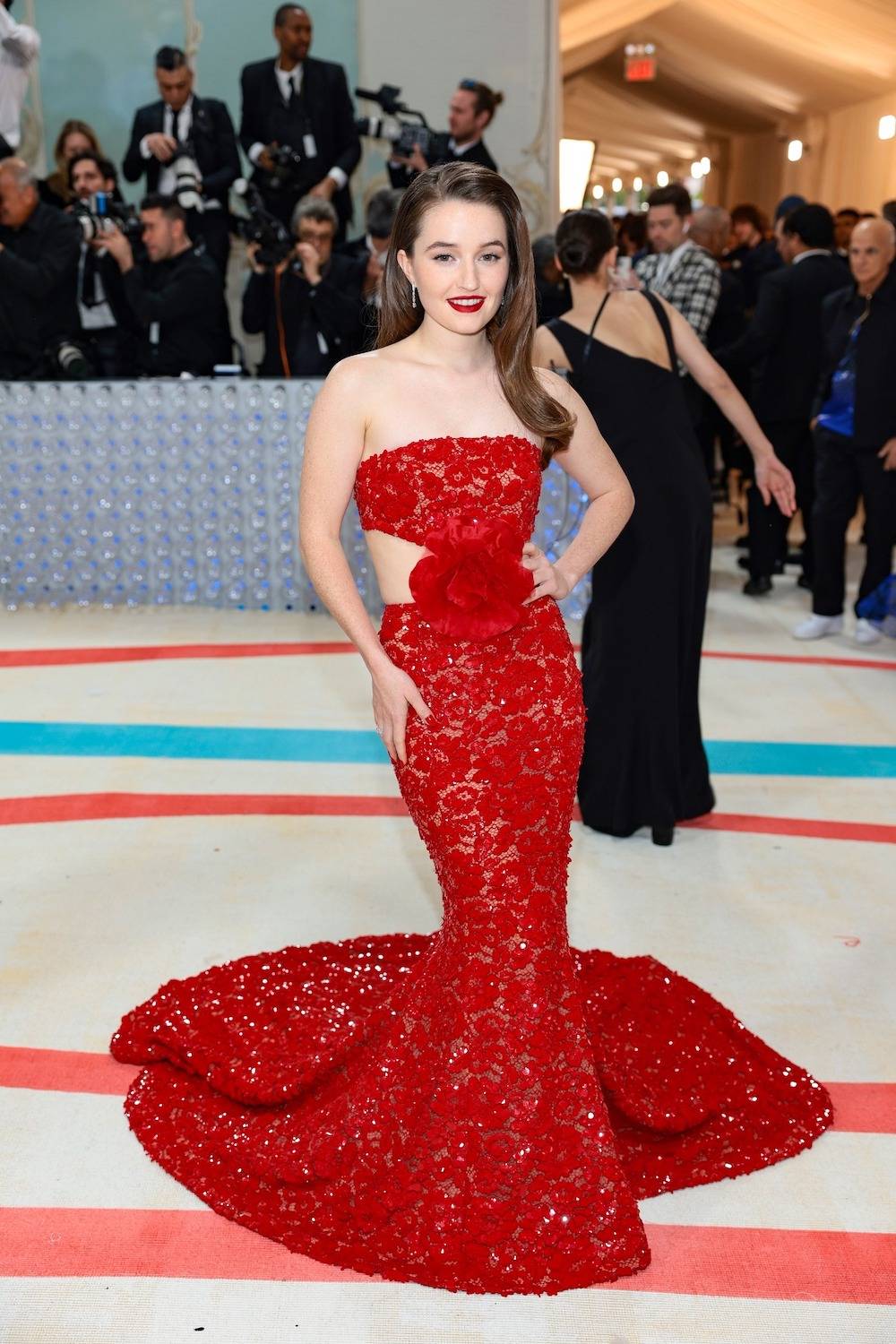 101/204

FKA twigs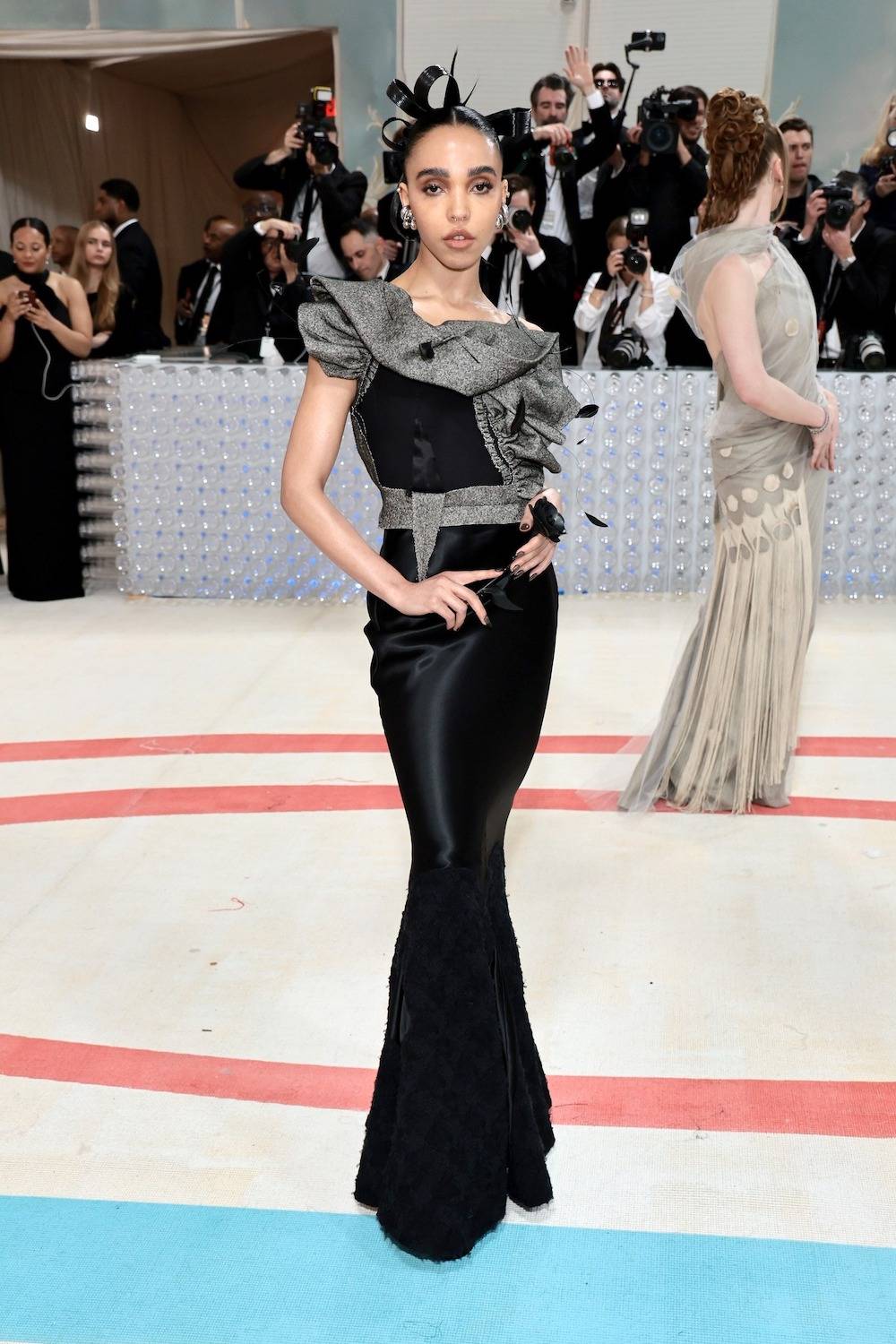 102/204

Jennie Kim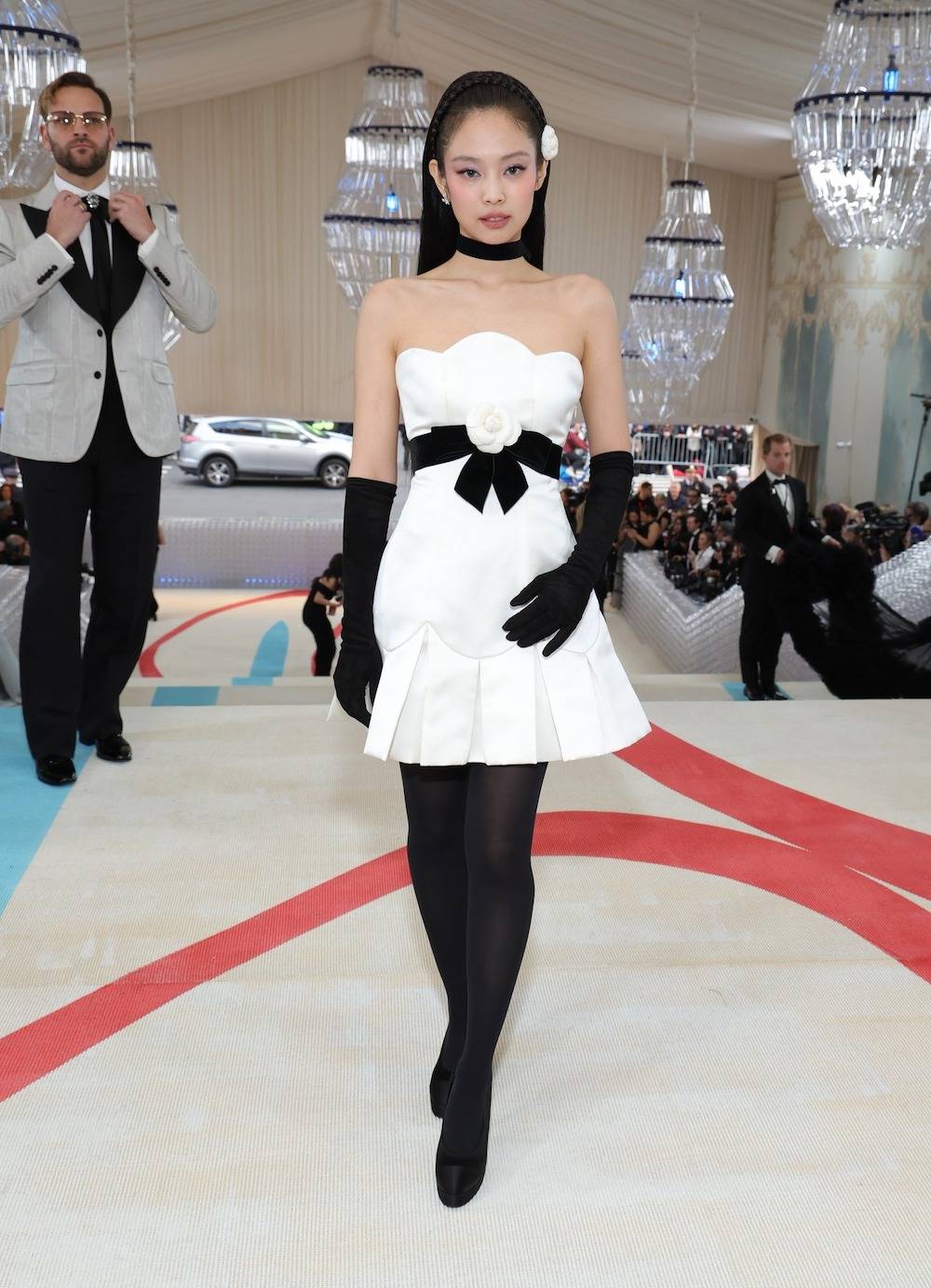 103/204

Naomi Campbell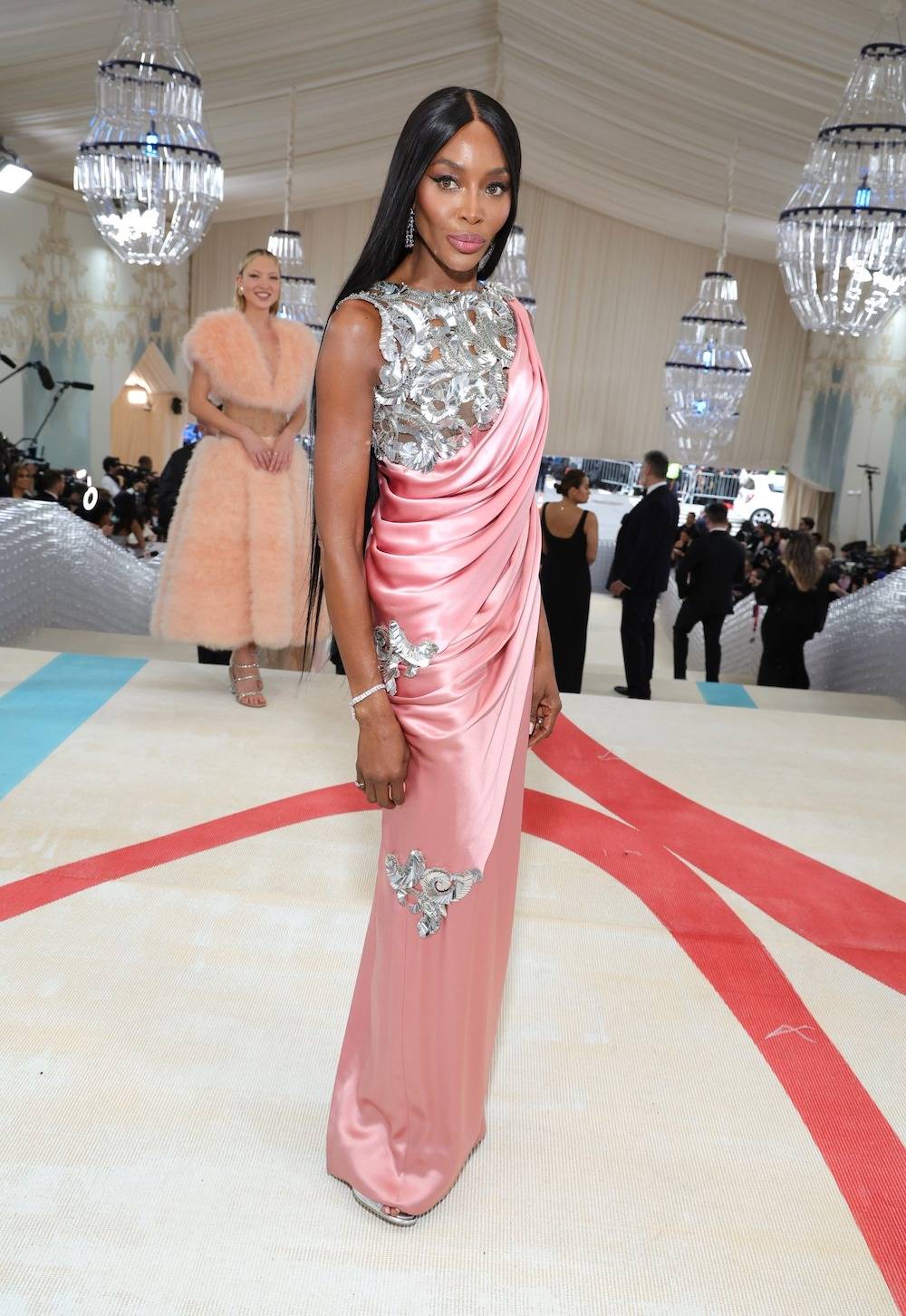 104/204

Jimmy Iovine i Liberty Ross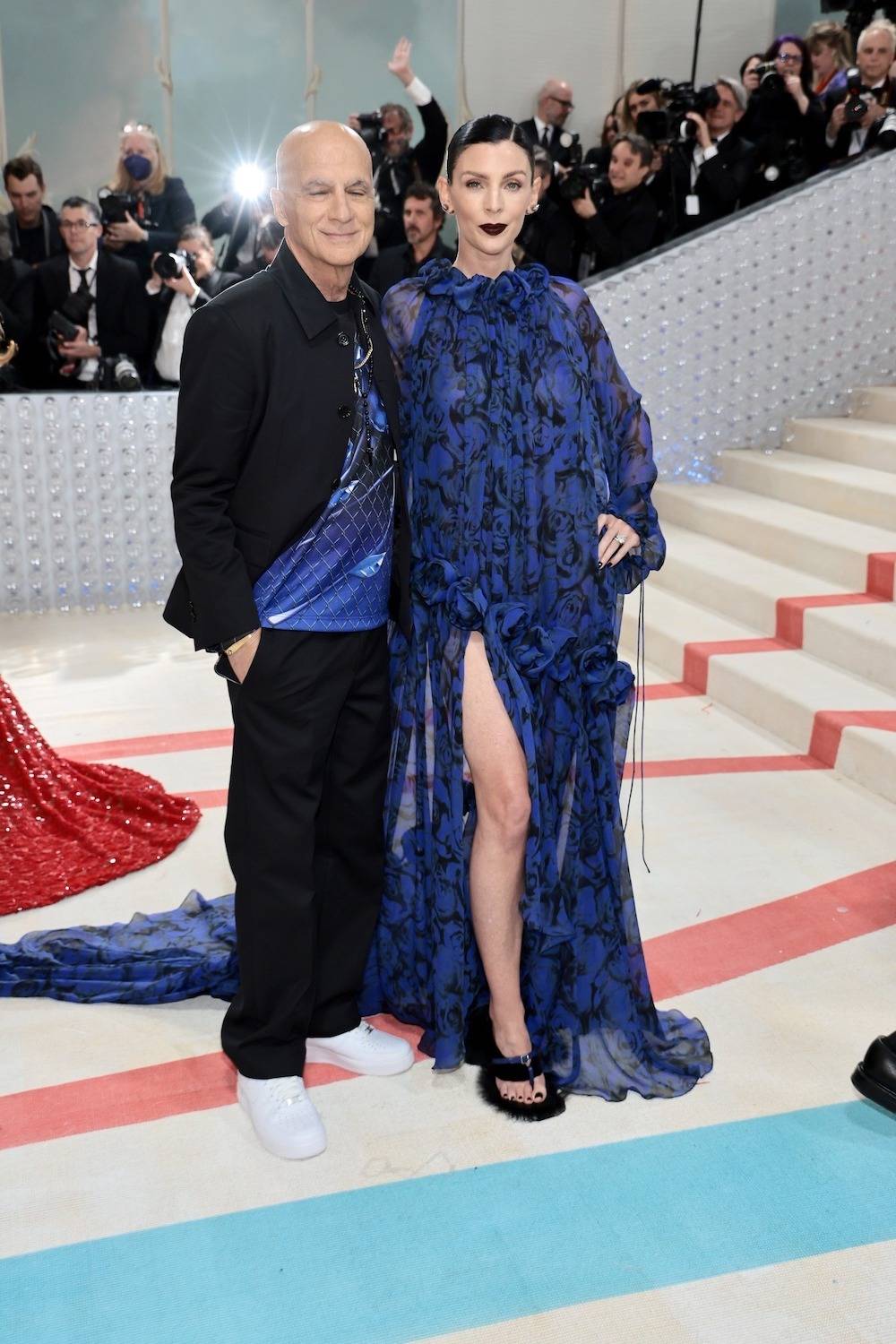 105/204

Margaret Qualley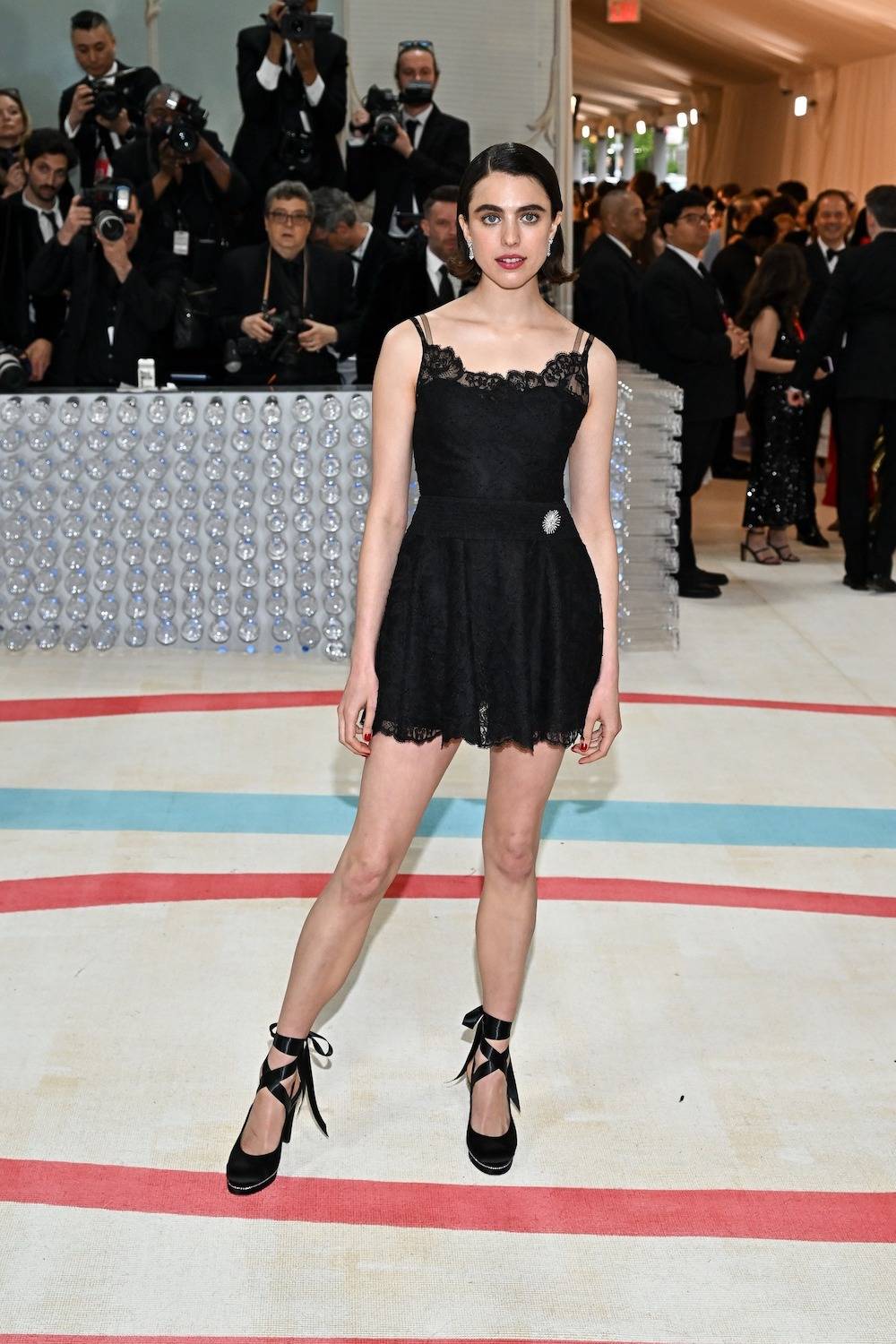 106/204

Kerry Washington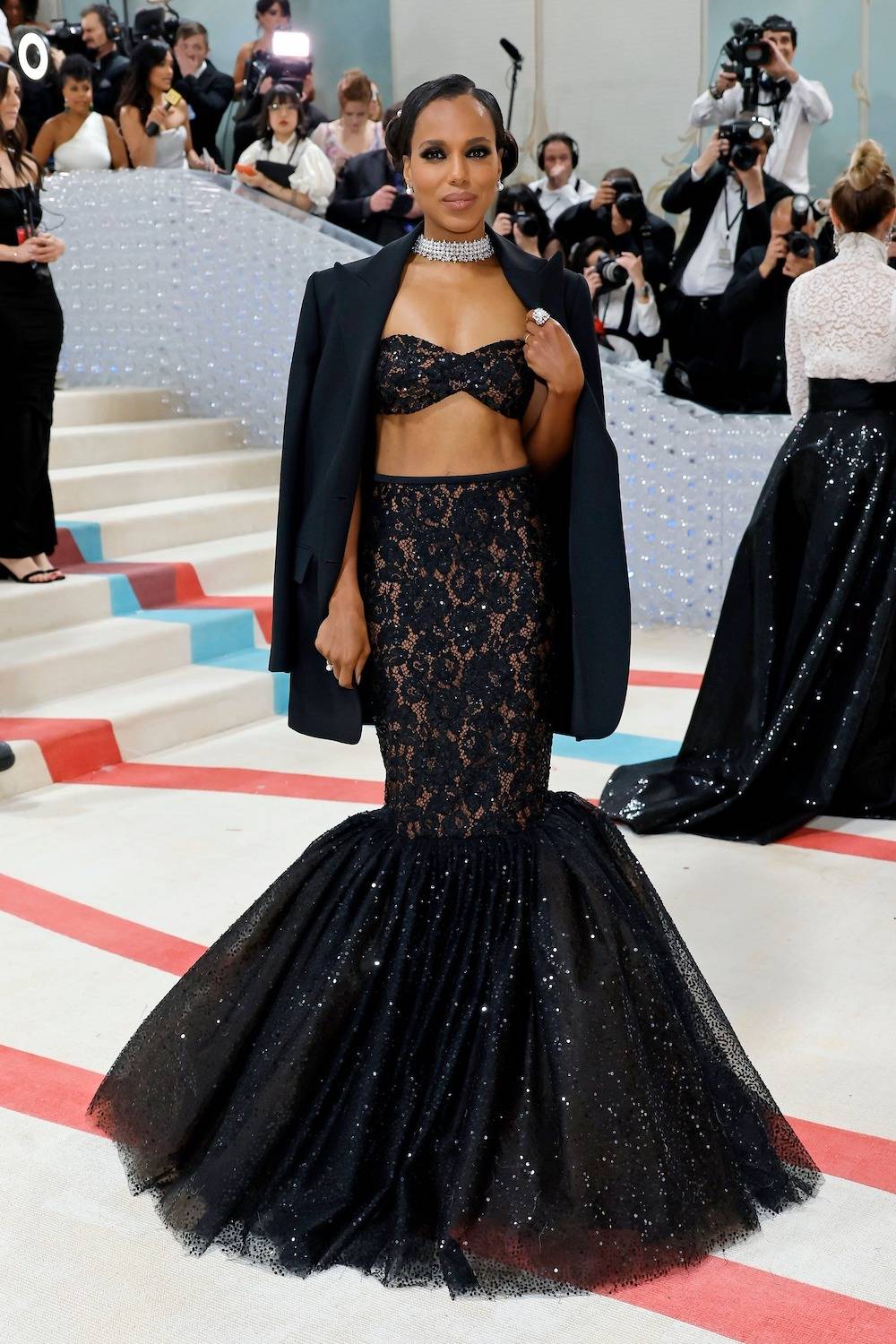 107/204

Anitta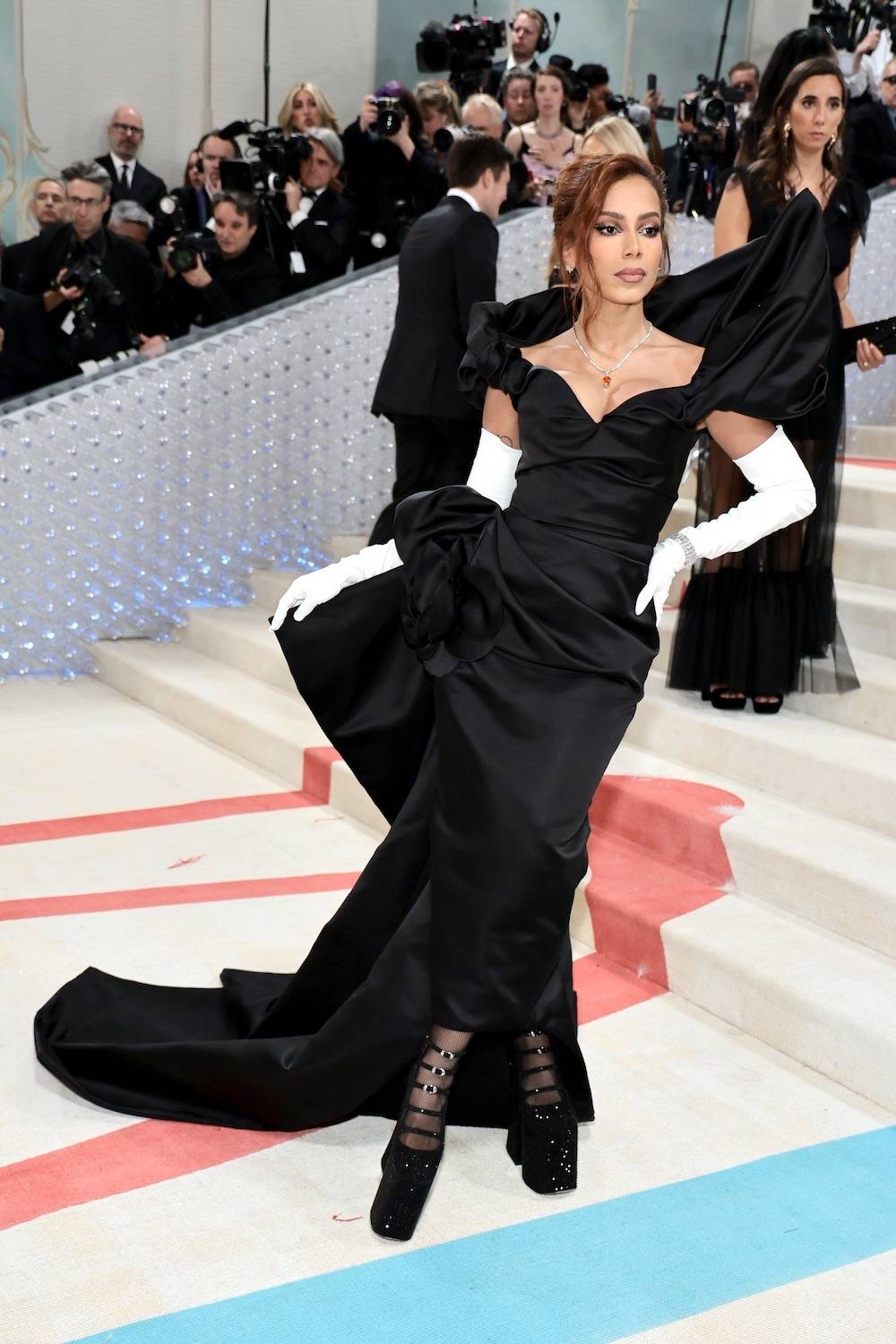 108/204

Kim Petras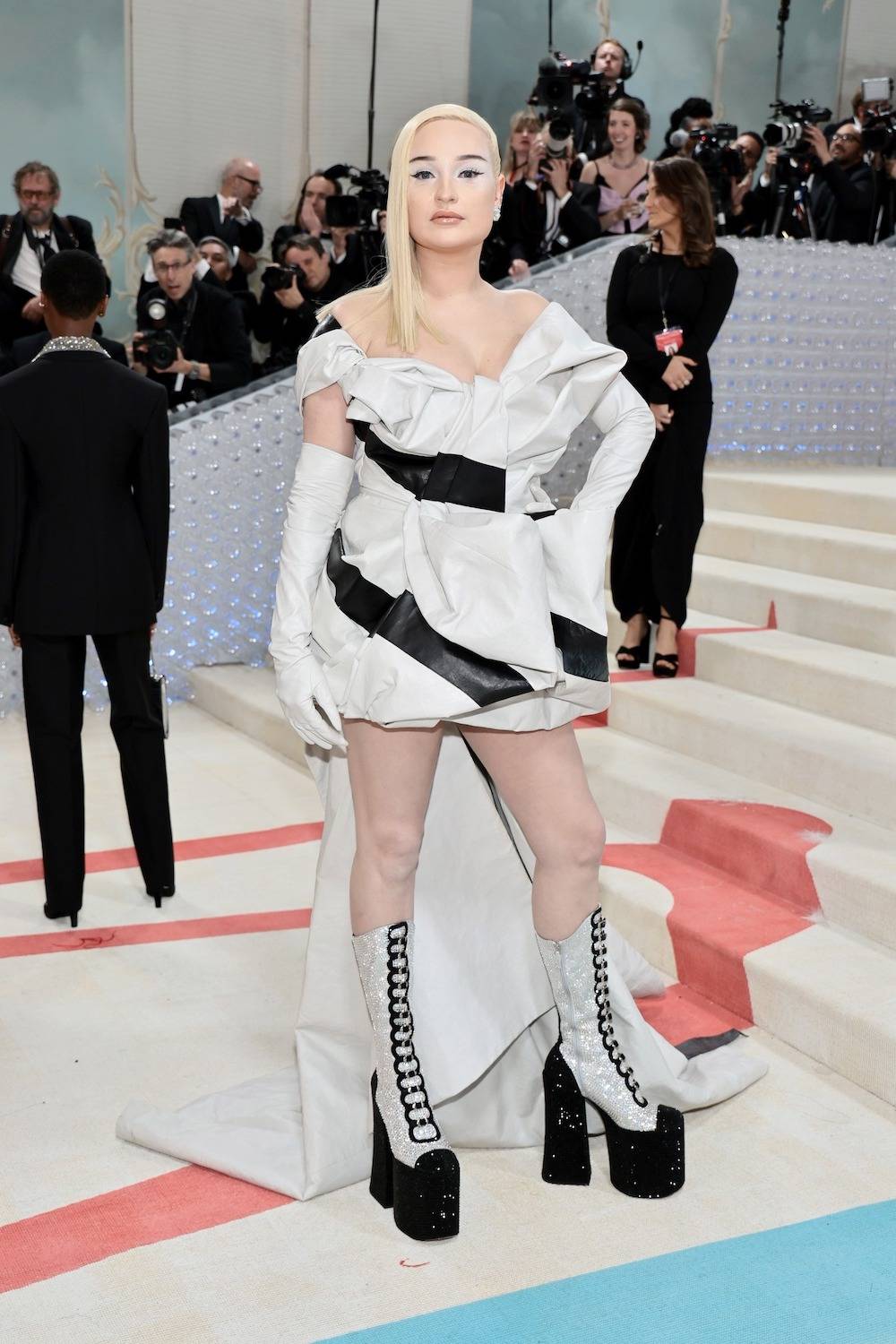 109/204

Emily Blunt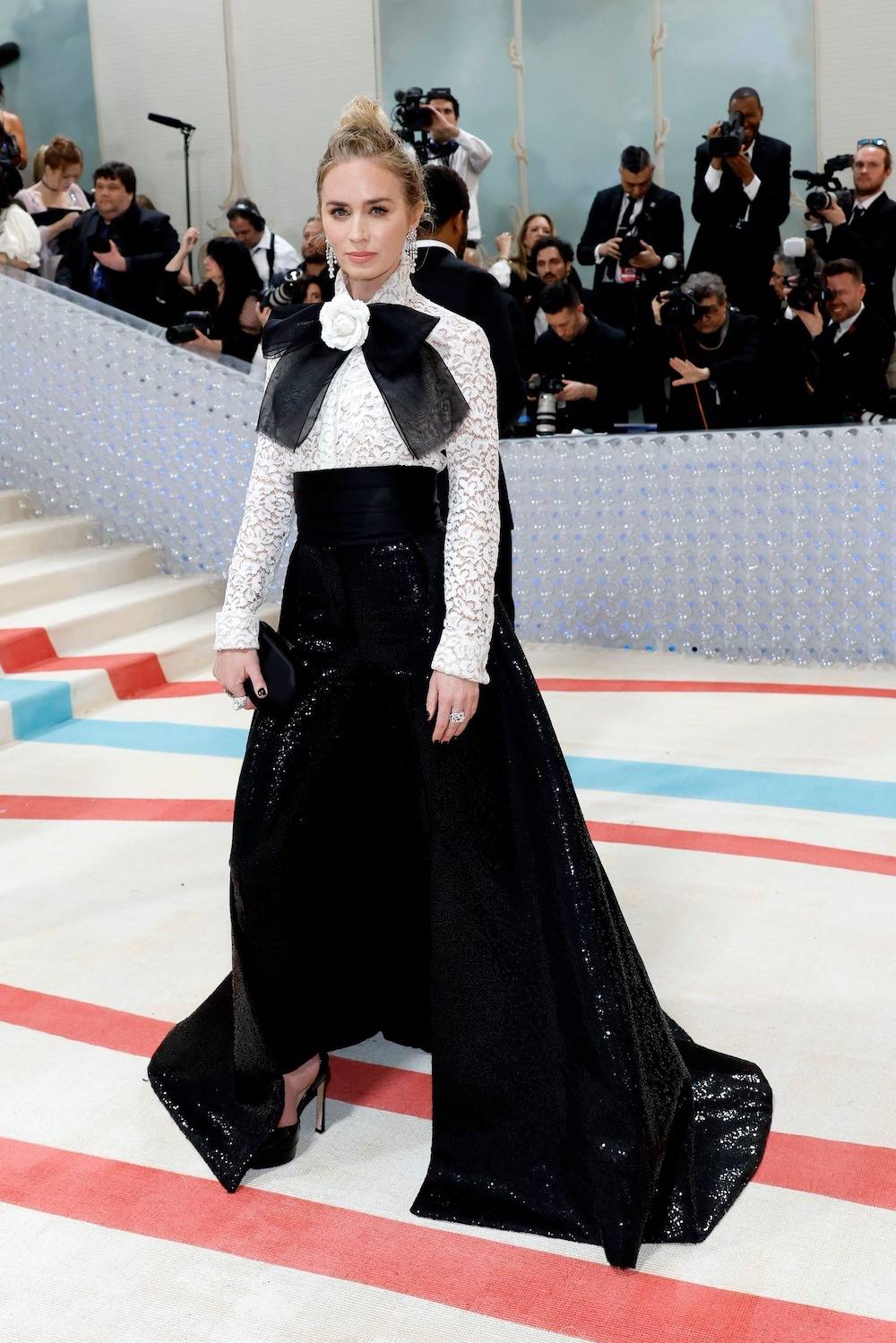 110/204

Tom Sturridge i Alexa Chung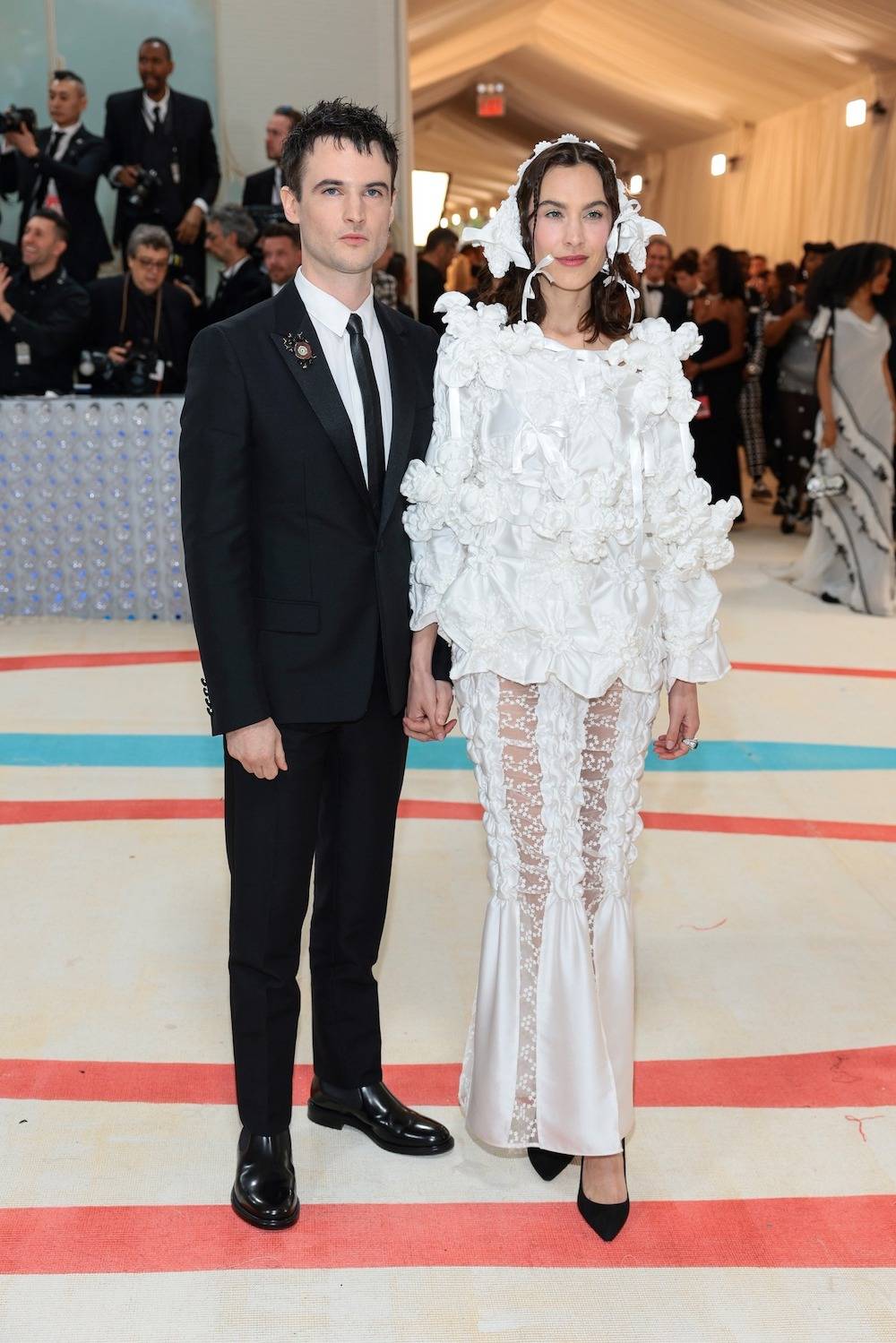 111/204

Angèle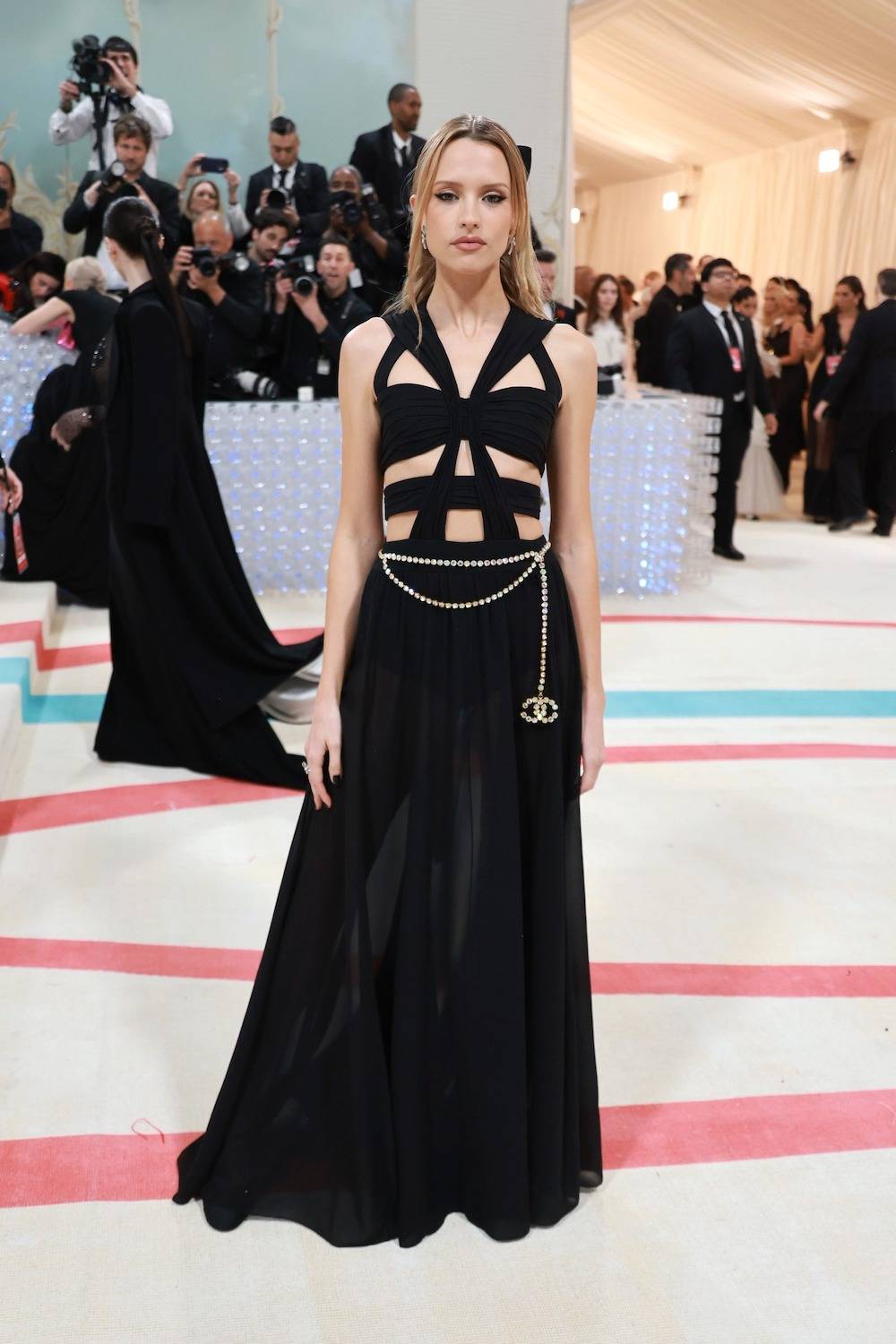 112/204

Sienna Miller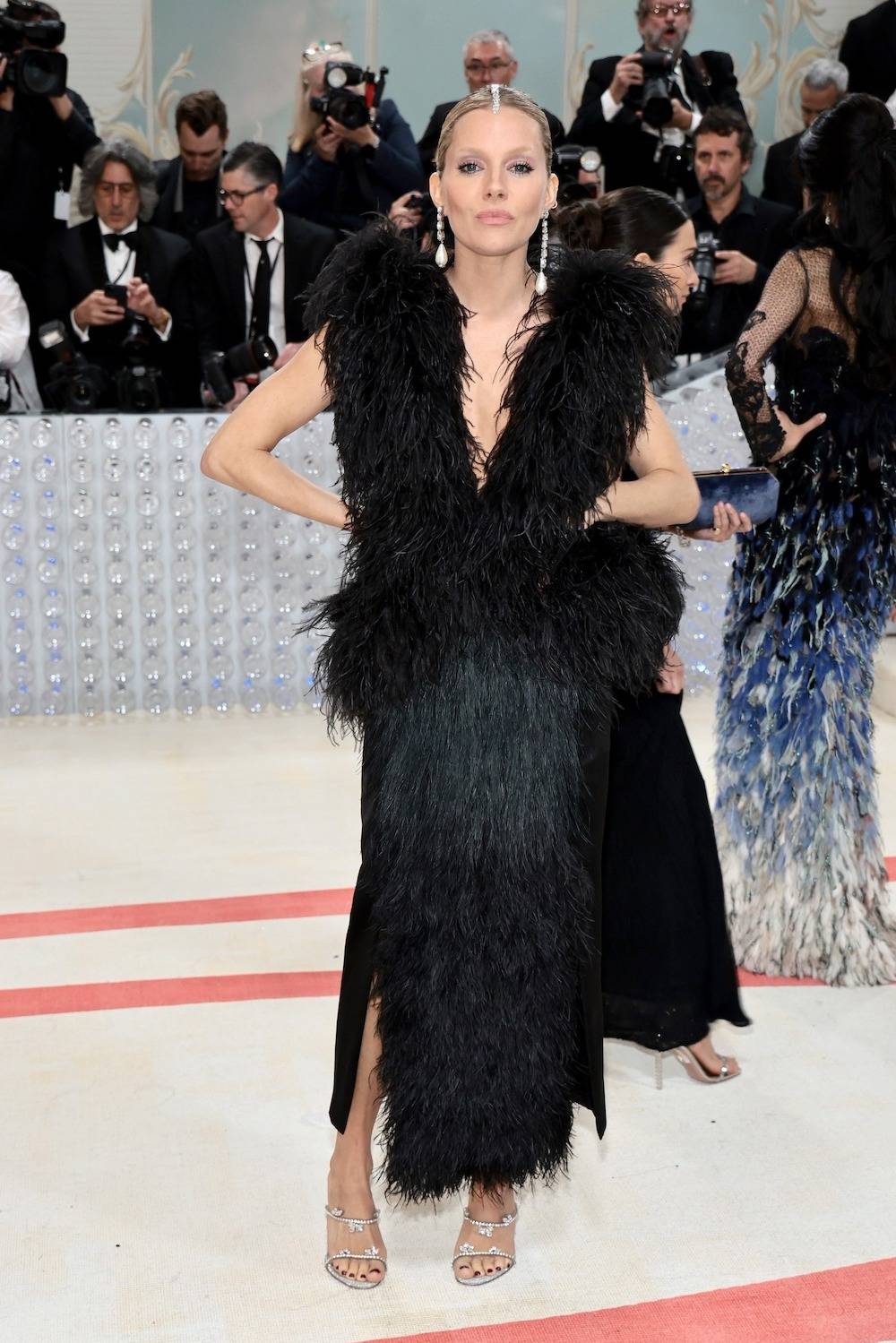 113/204

Huma Abedin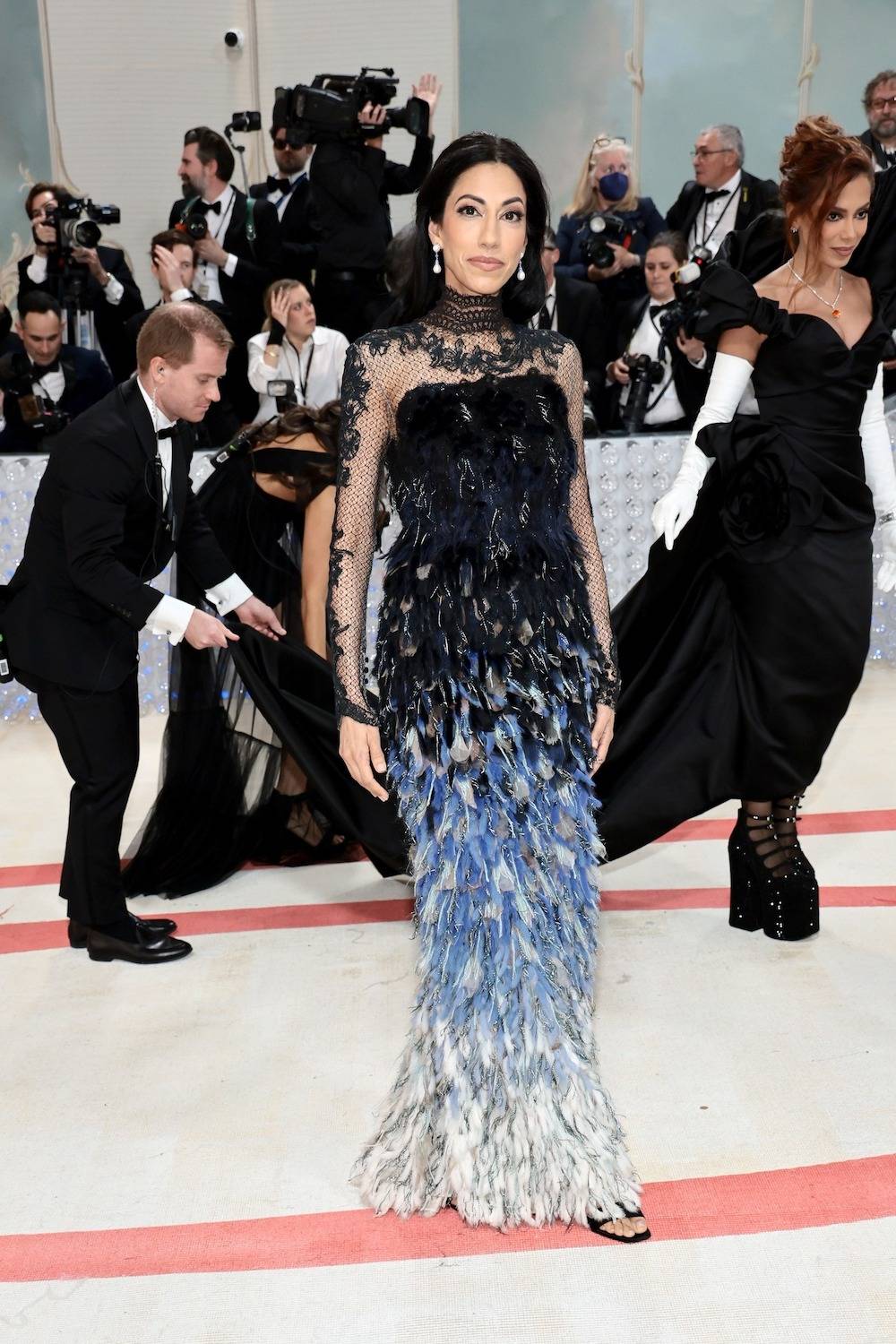 114/204

Doja Cat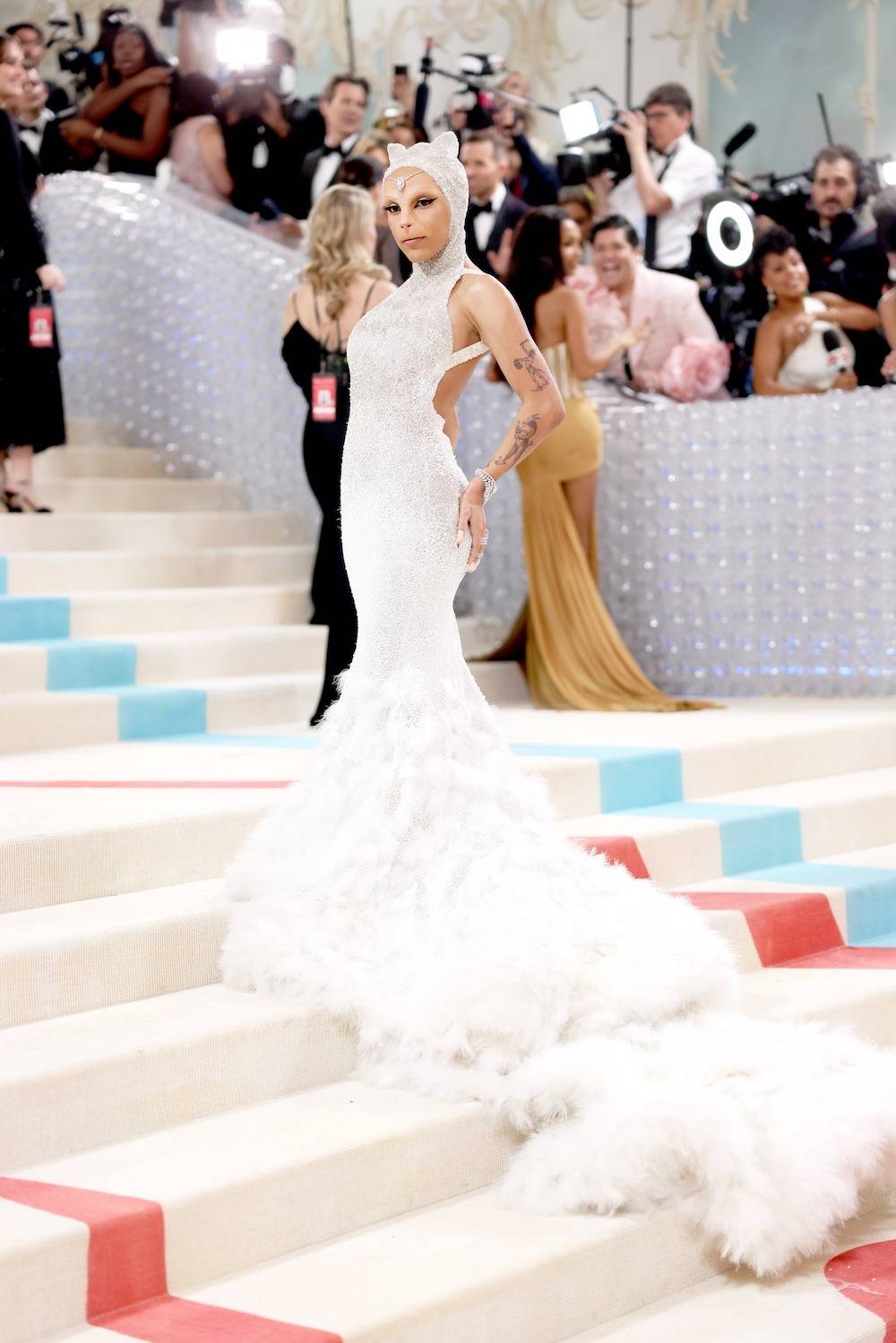 115/204

Daisy Edgar-Jones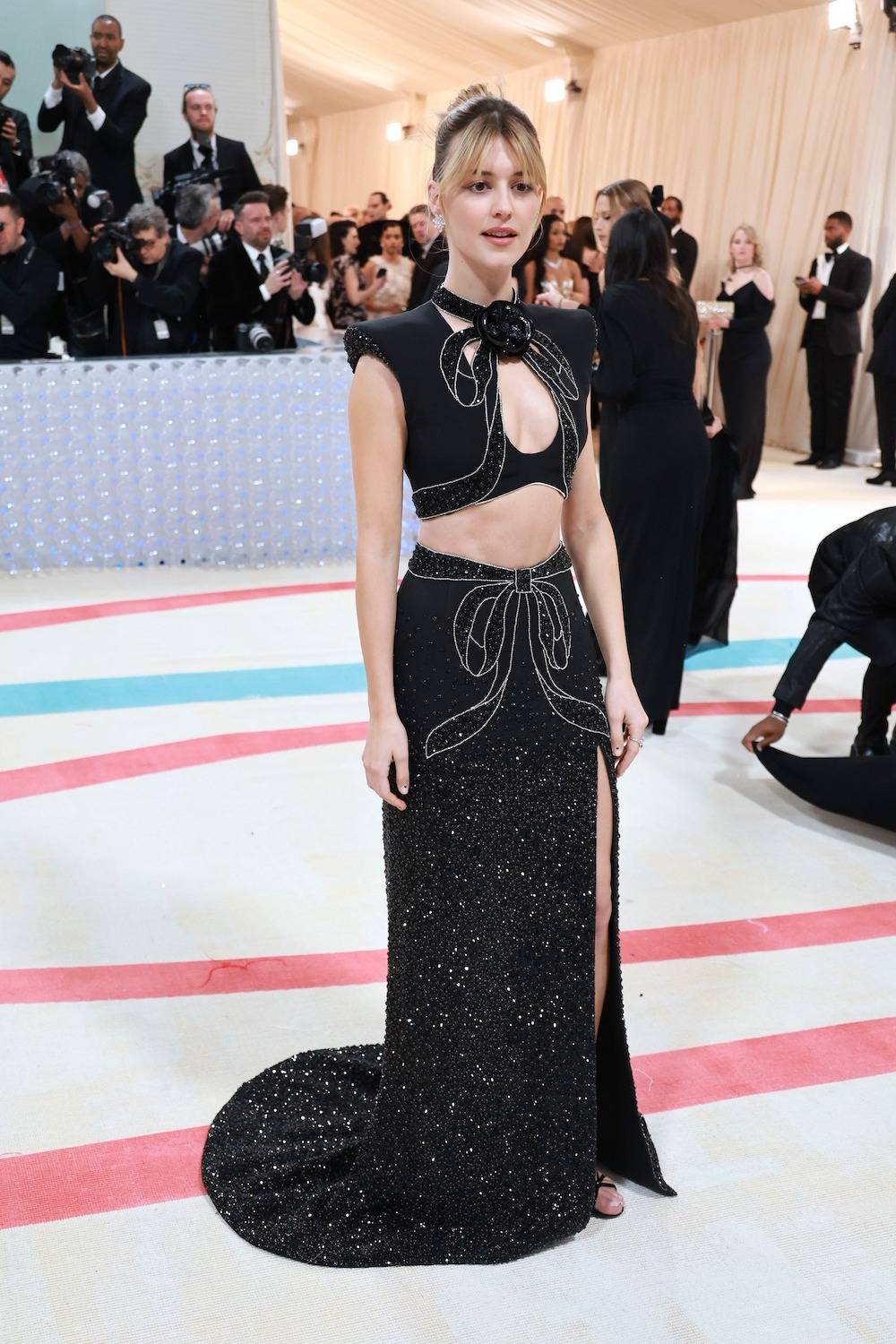 116/204

Yara Shahidi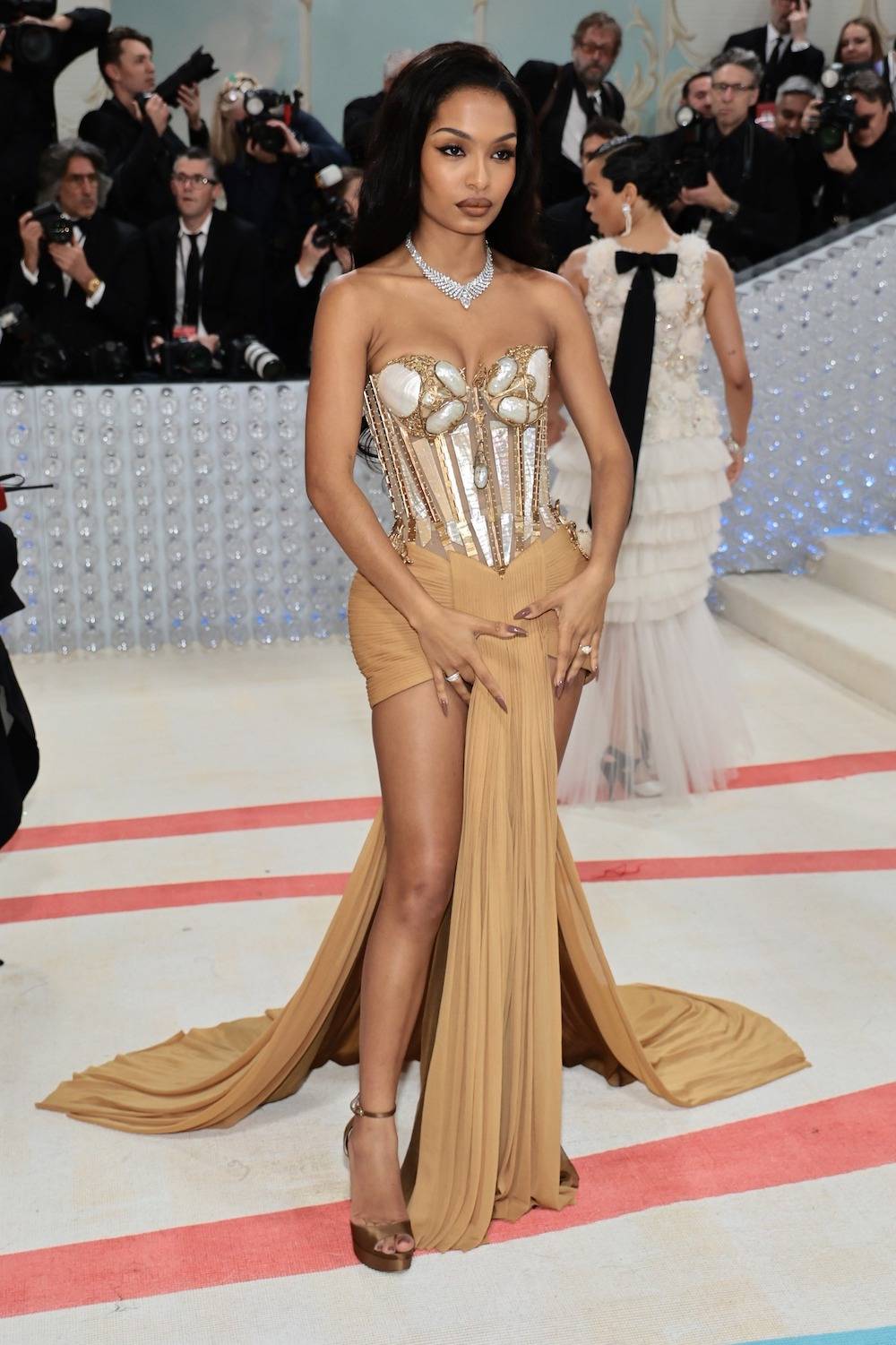 117/204

Montana Cox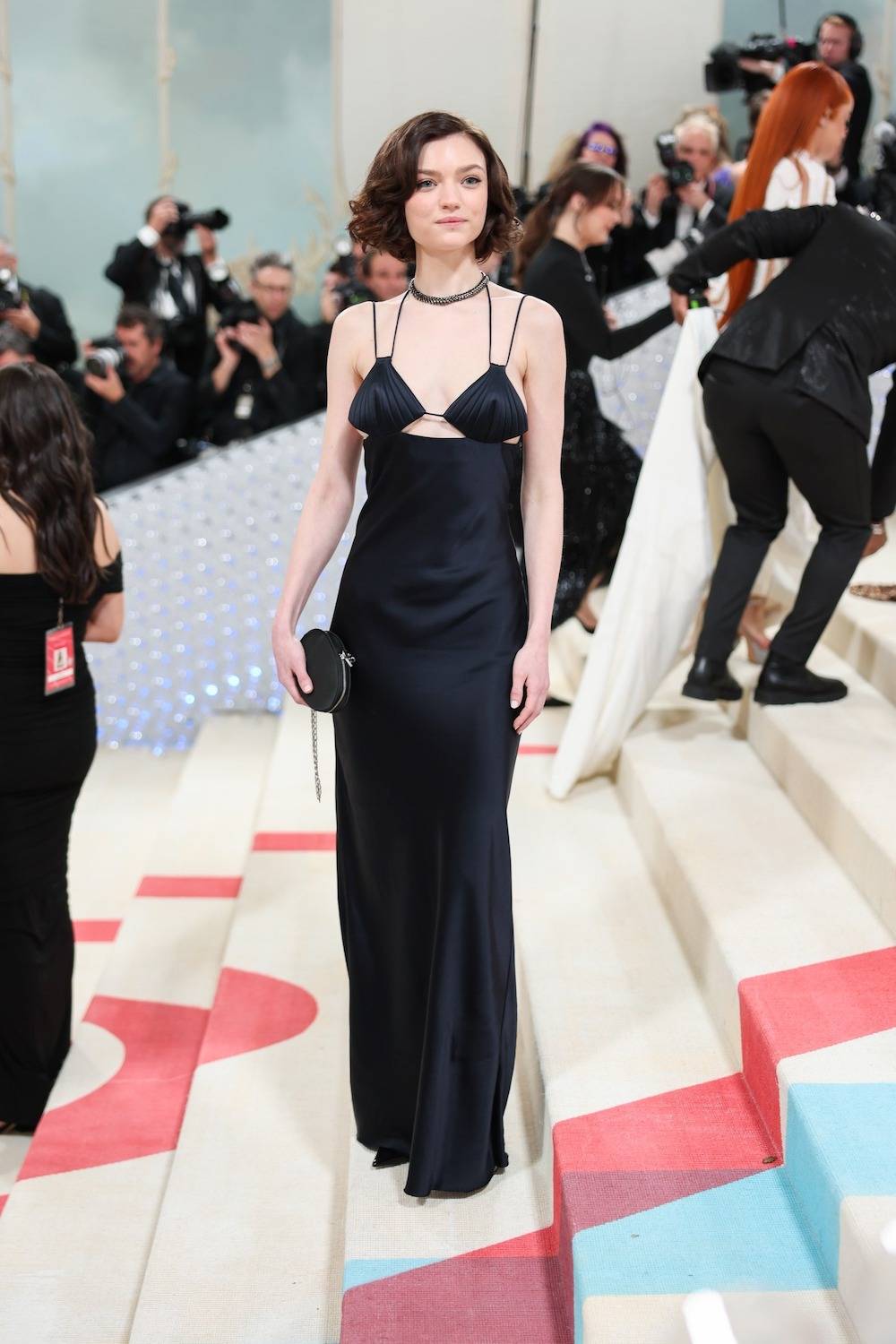 118/204

Jordan Roth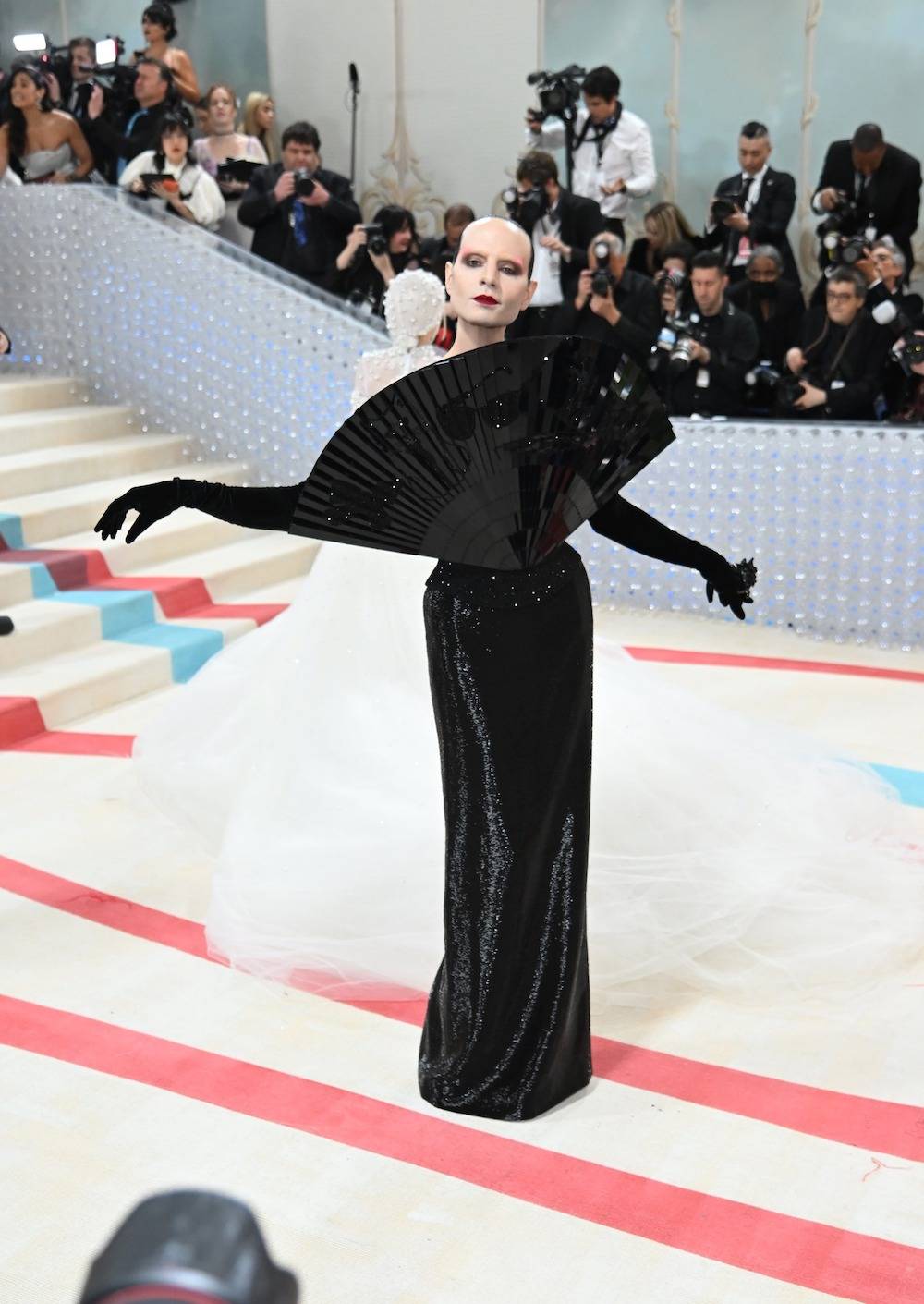 119/204

Michaela Coel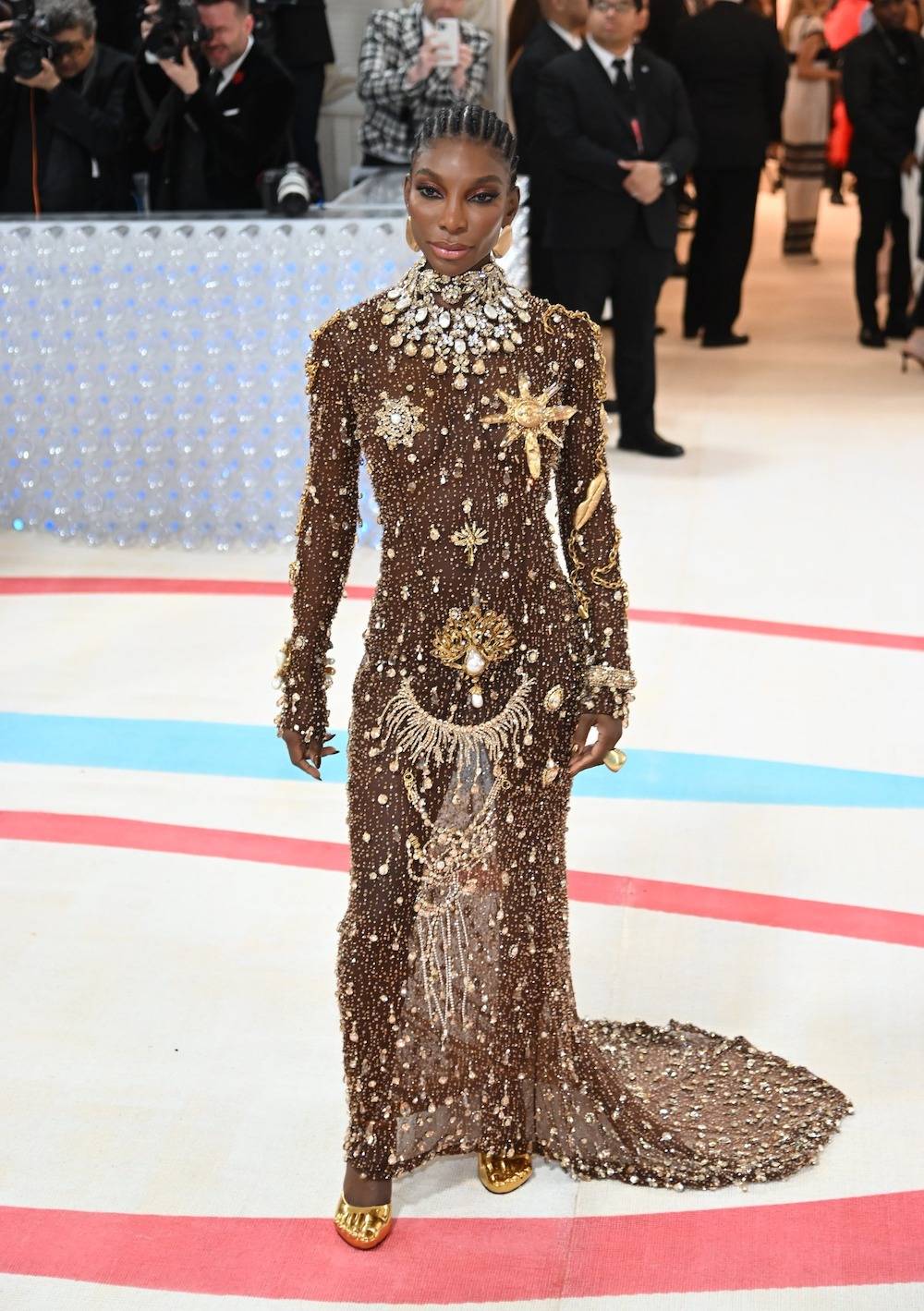 120/204

Keke Palmer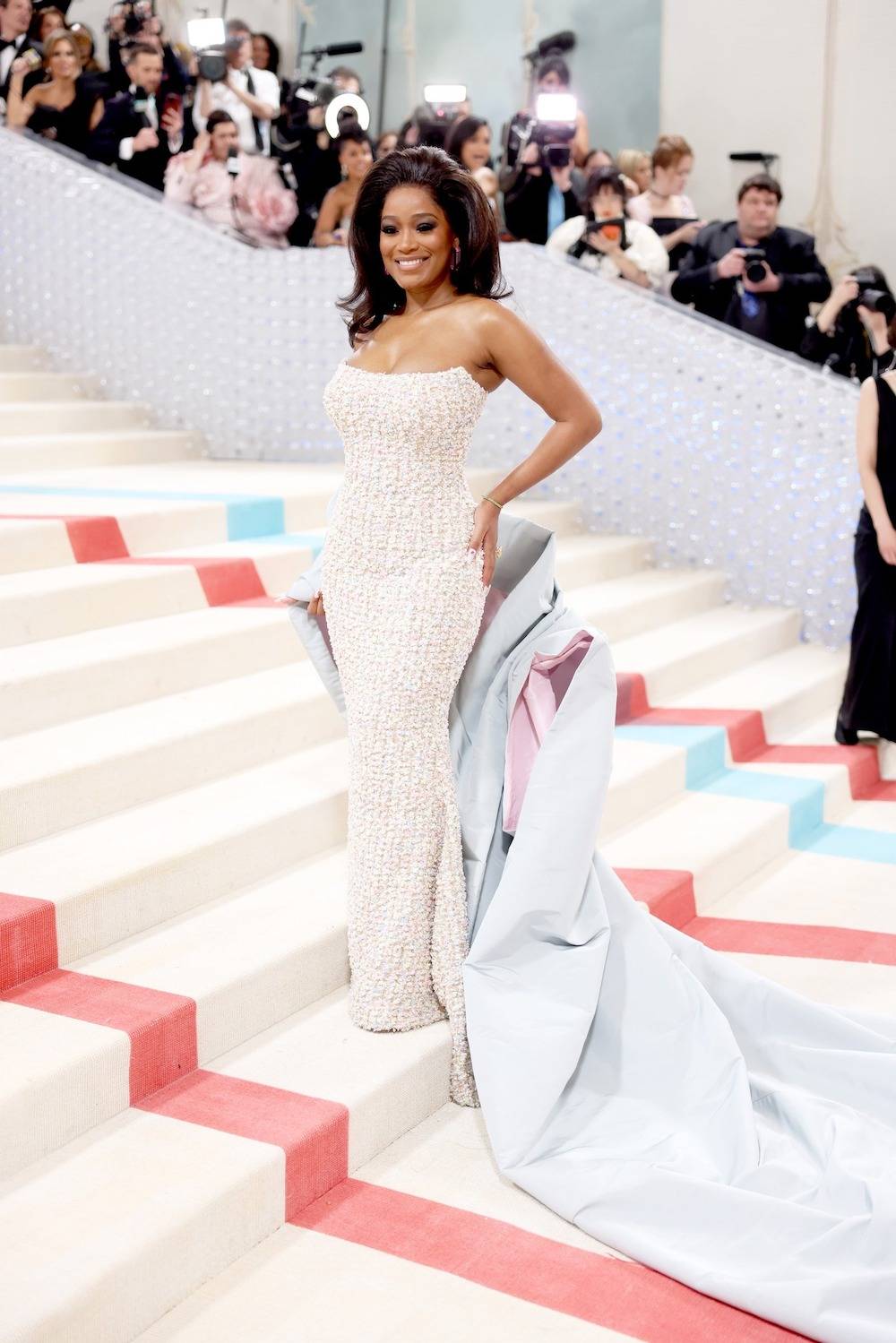 121/204

Rachel Brosnahan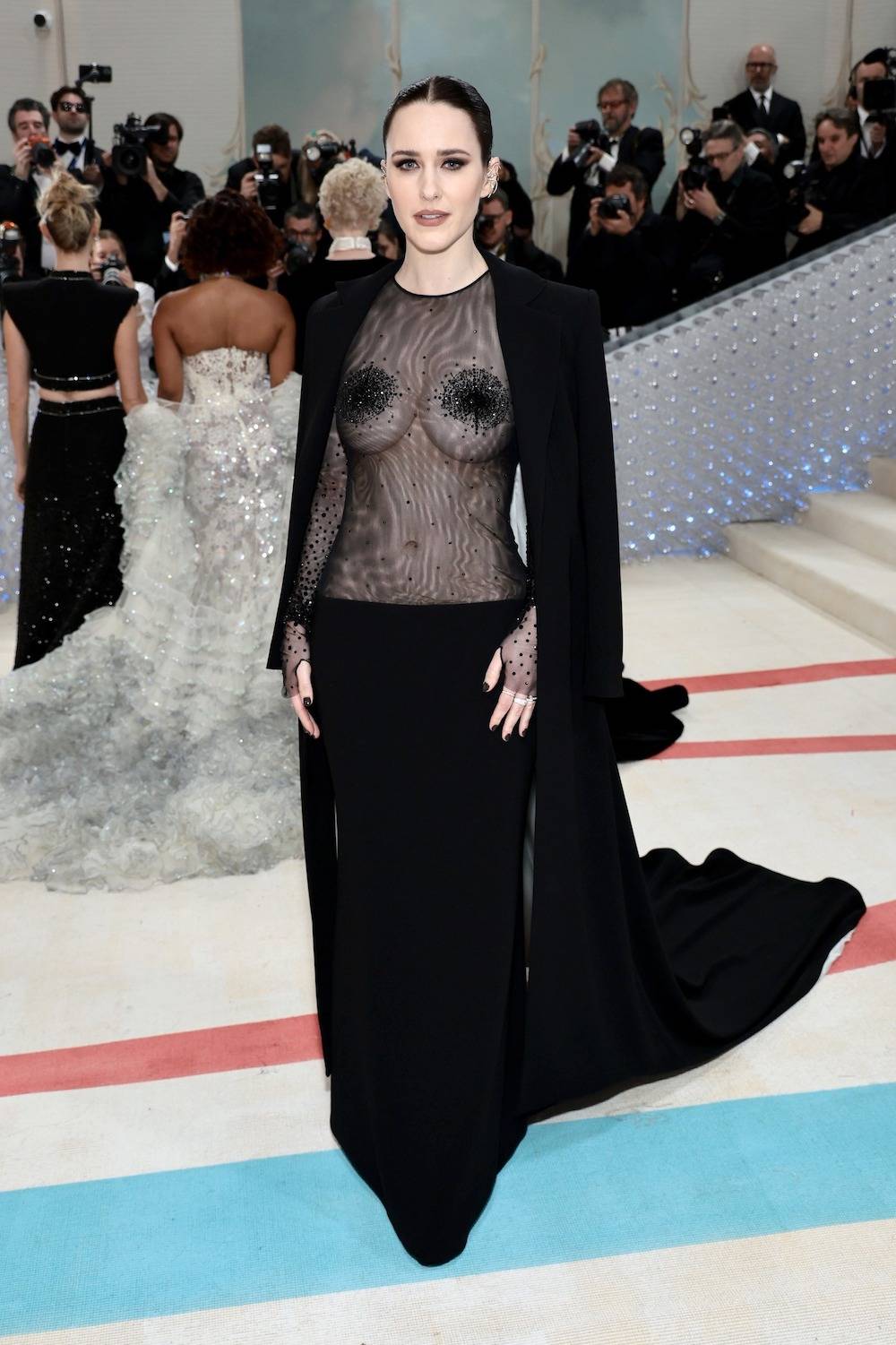 122/204

Tom Ford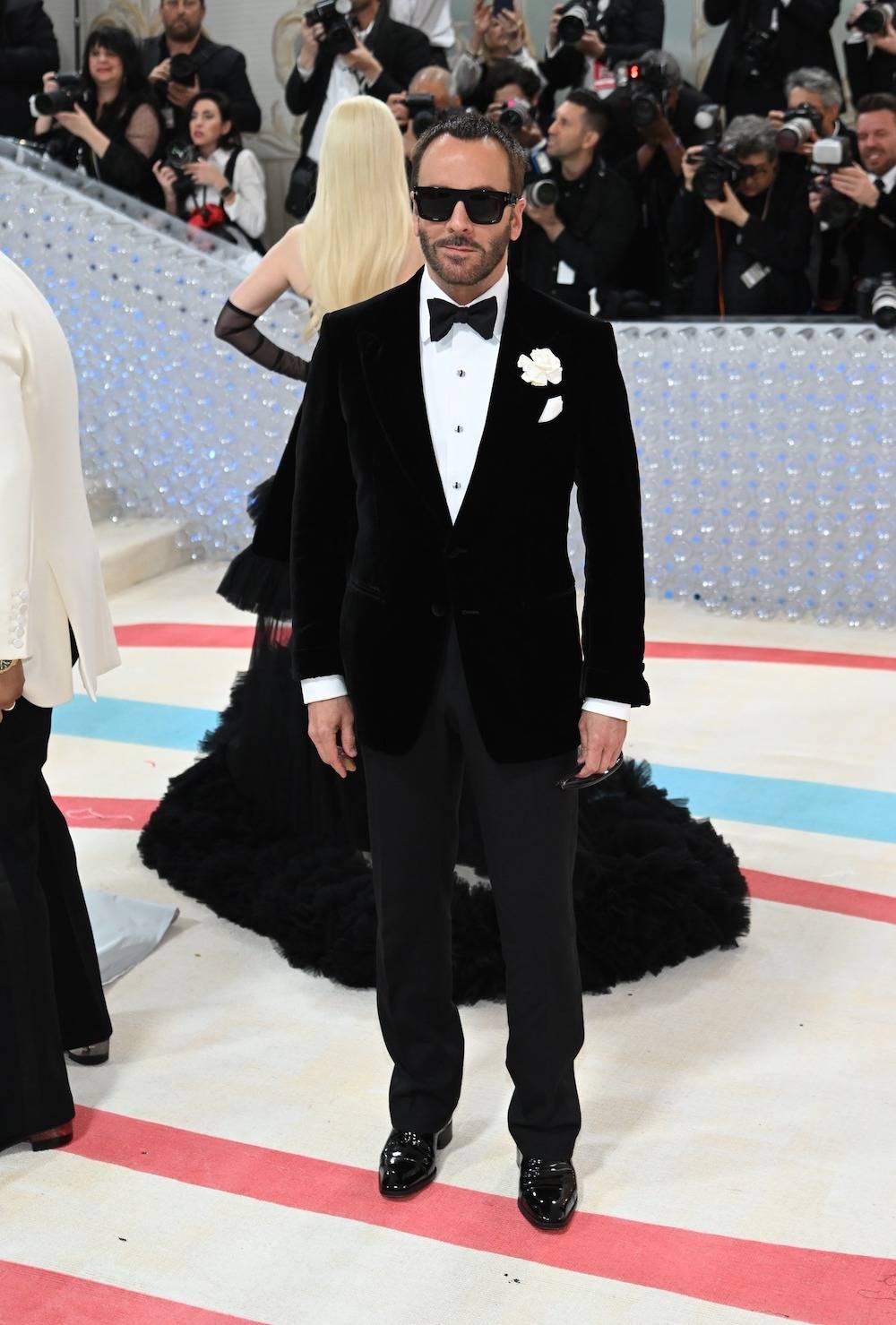 123/204

Margot Robbie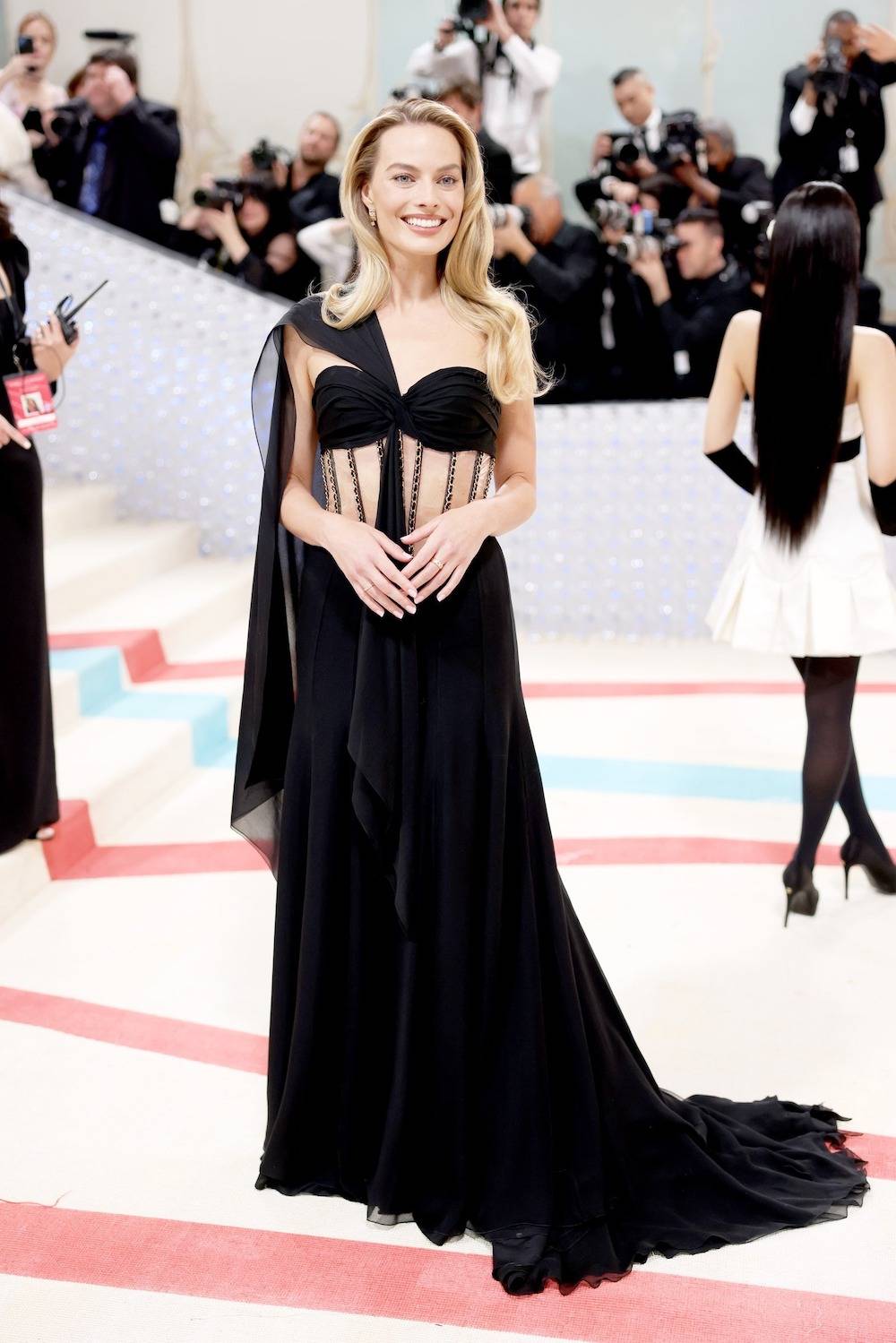 124/204

Halle Bailey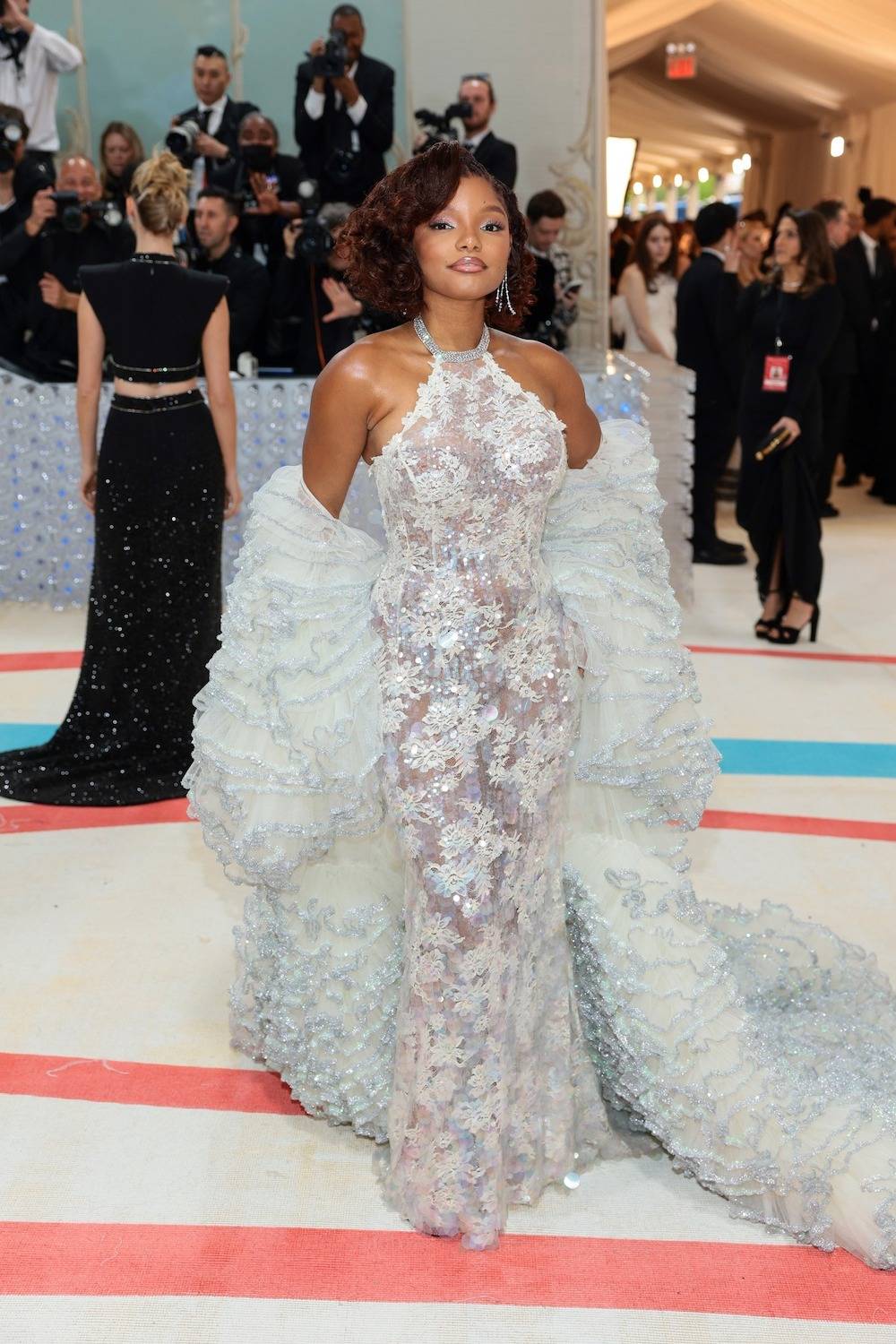 125/204

Julia Garner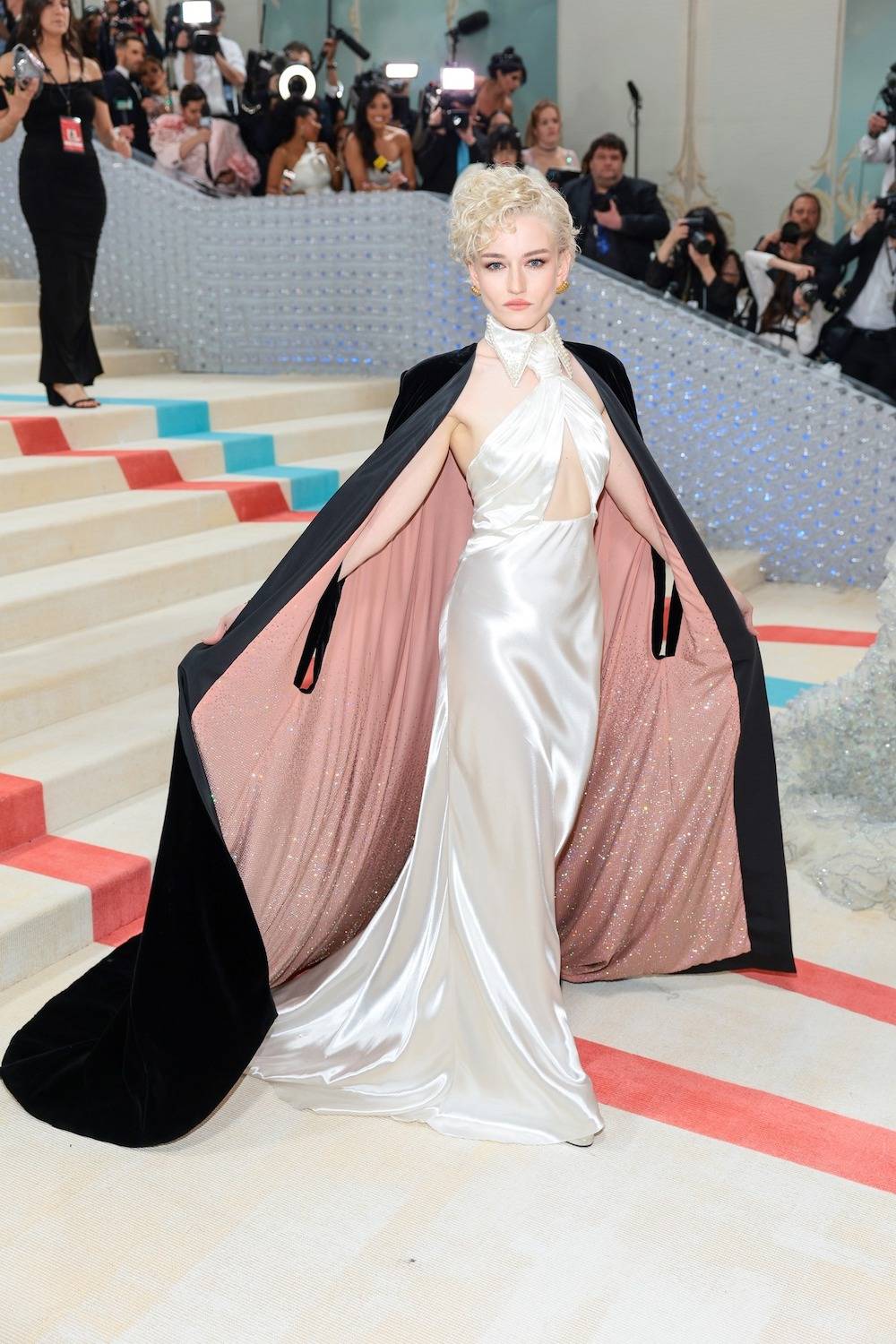 126/204

Bob Iger i Willow Bay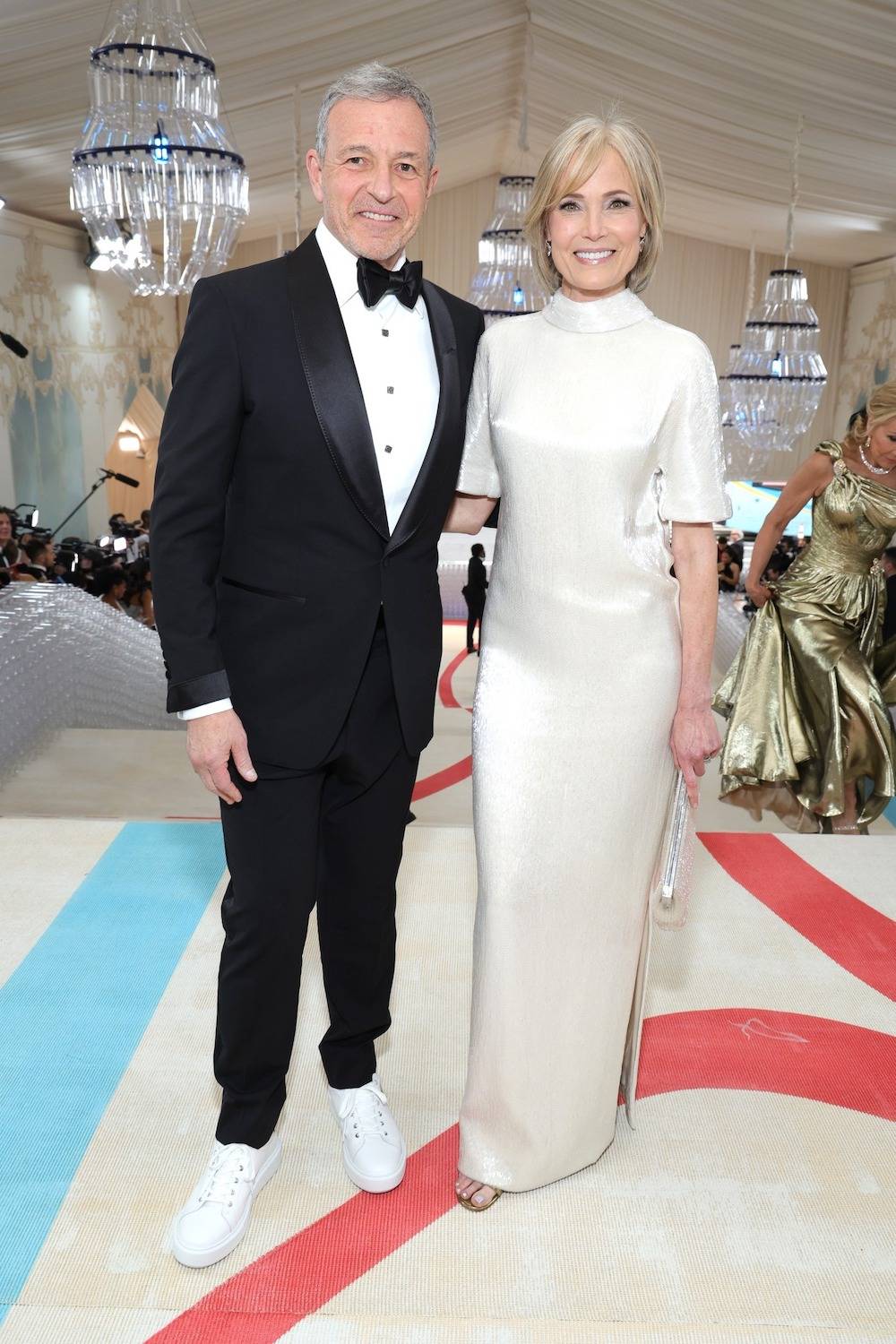 127/204

Jessica Chastain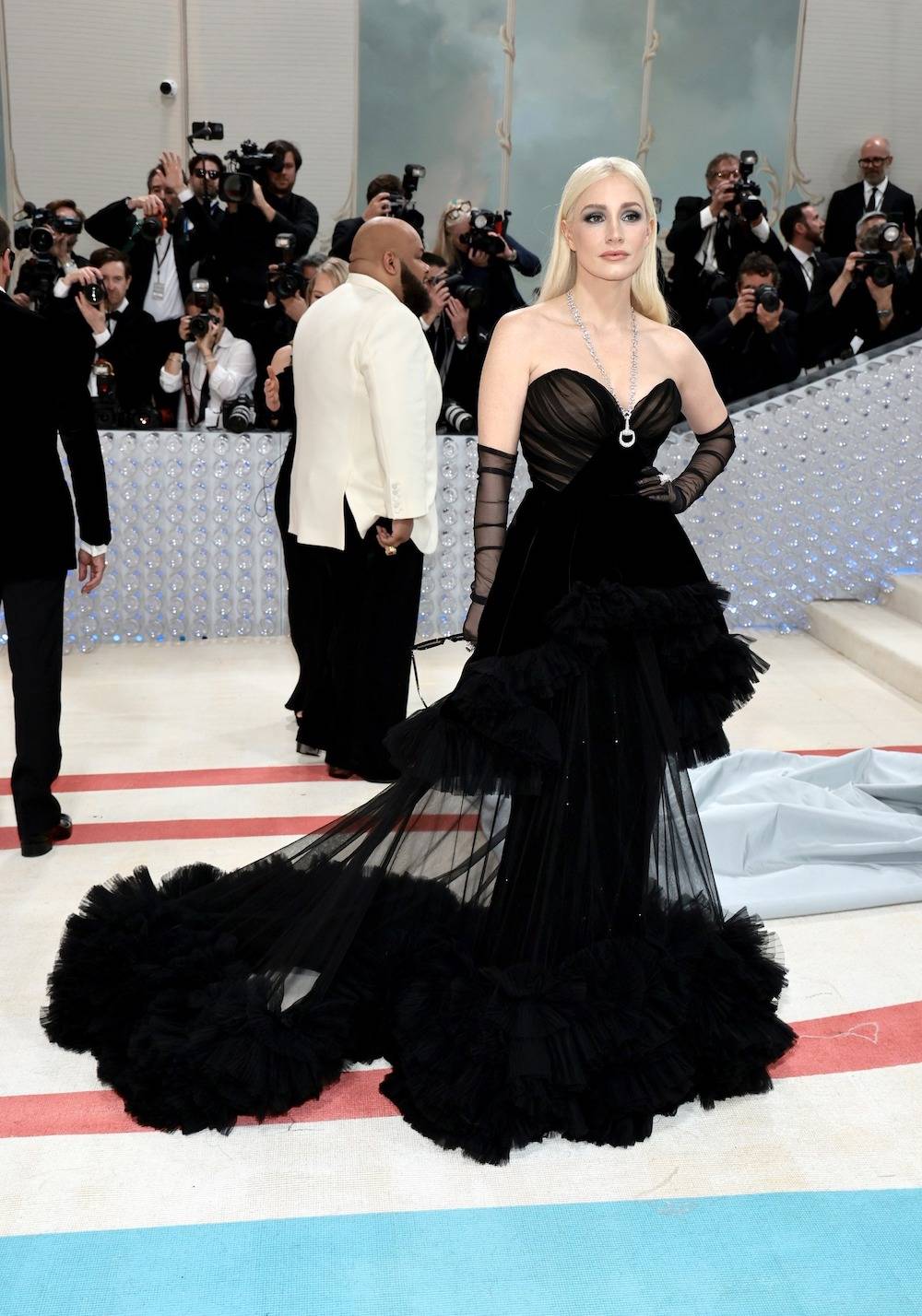 128/204

Suki Waterhouse i Robert Pattinson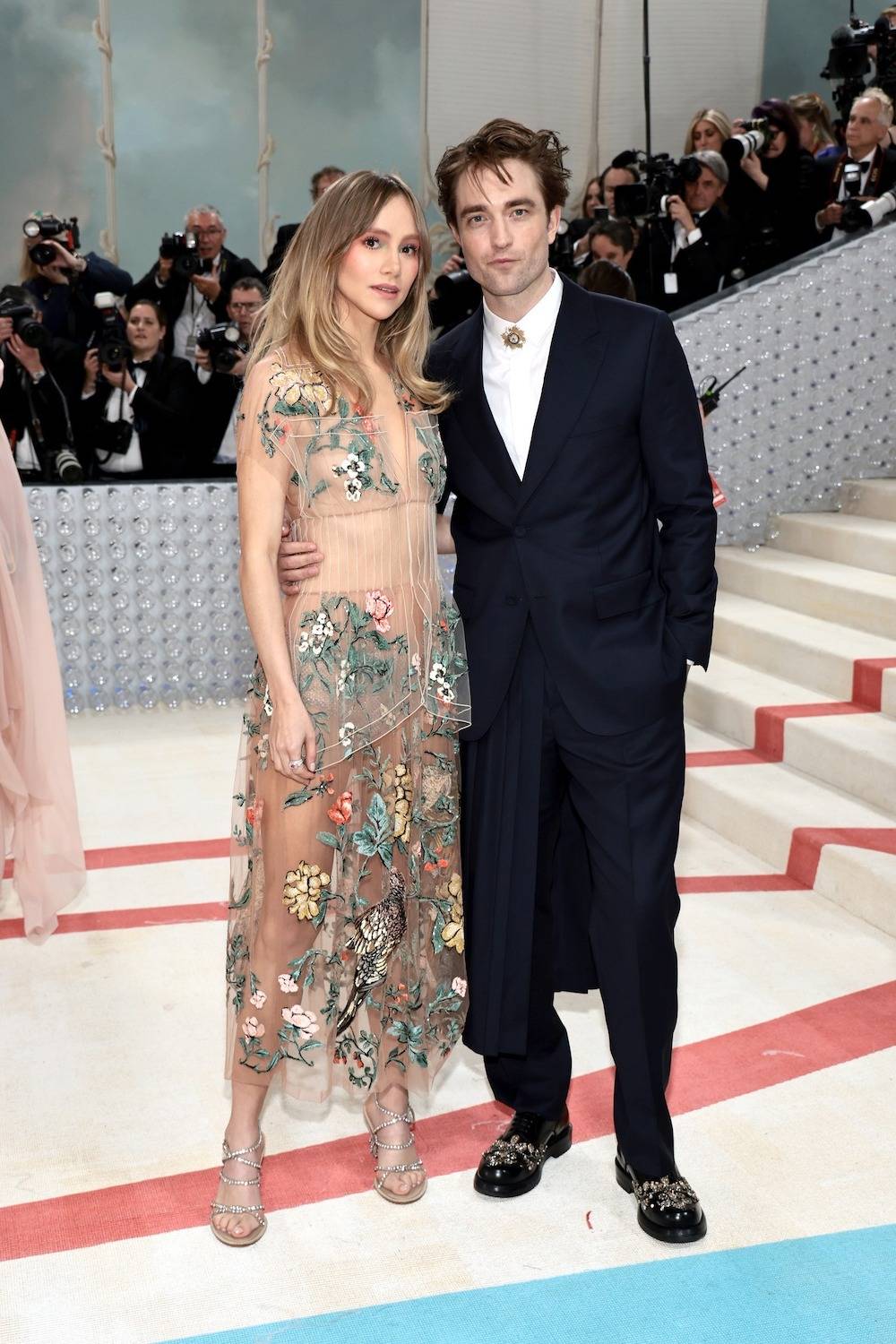 129/204

Grace Elizabeth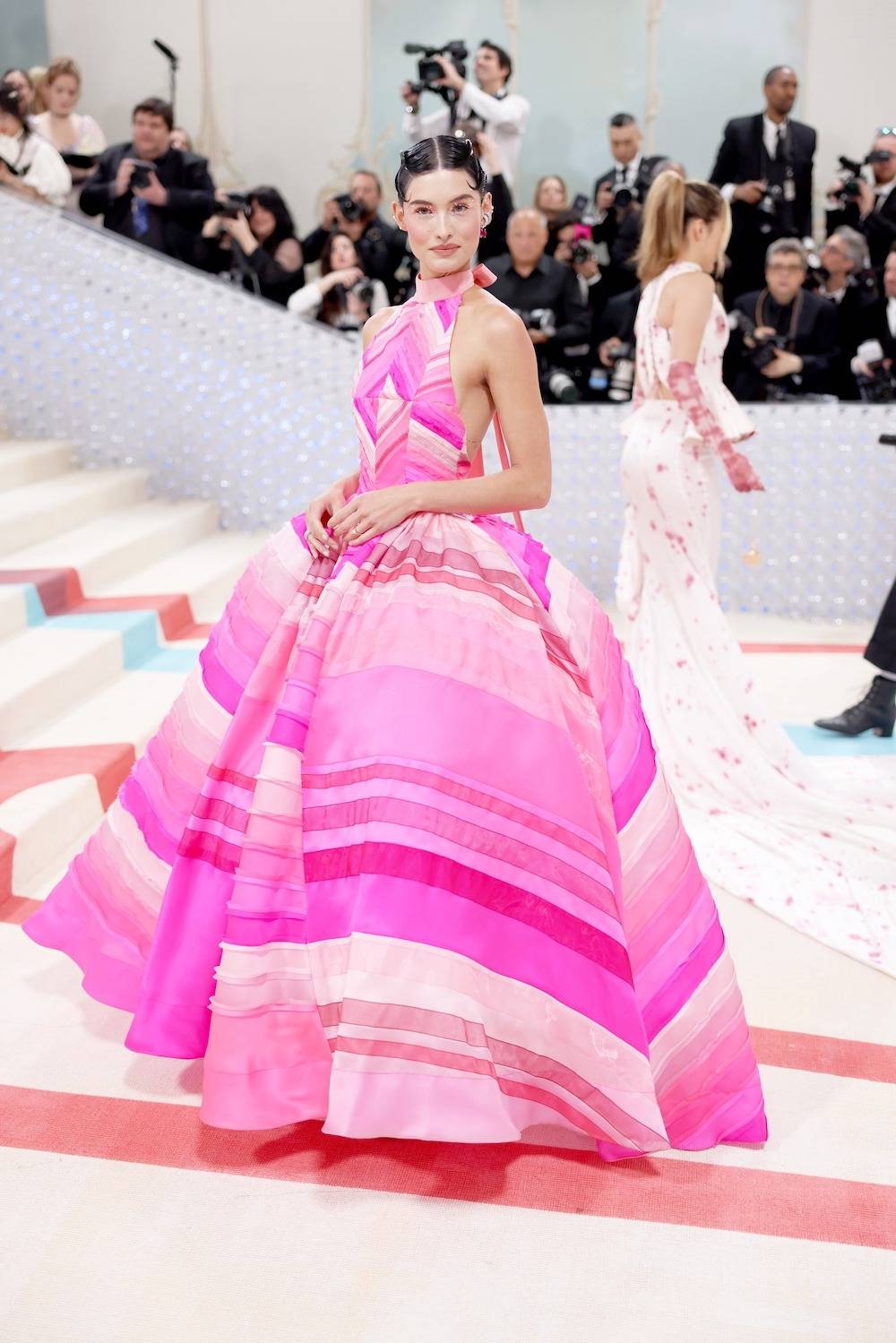 130/204

Robert Pattinson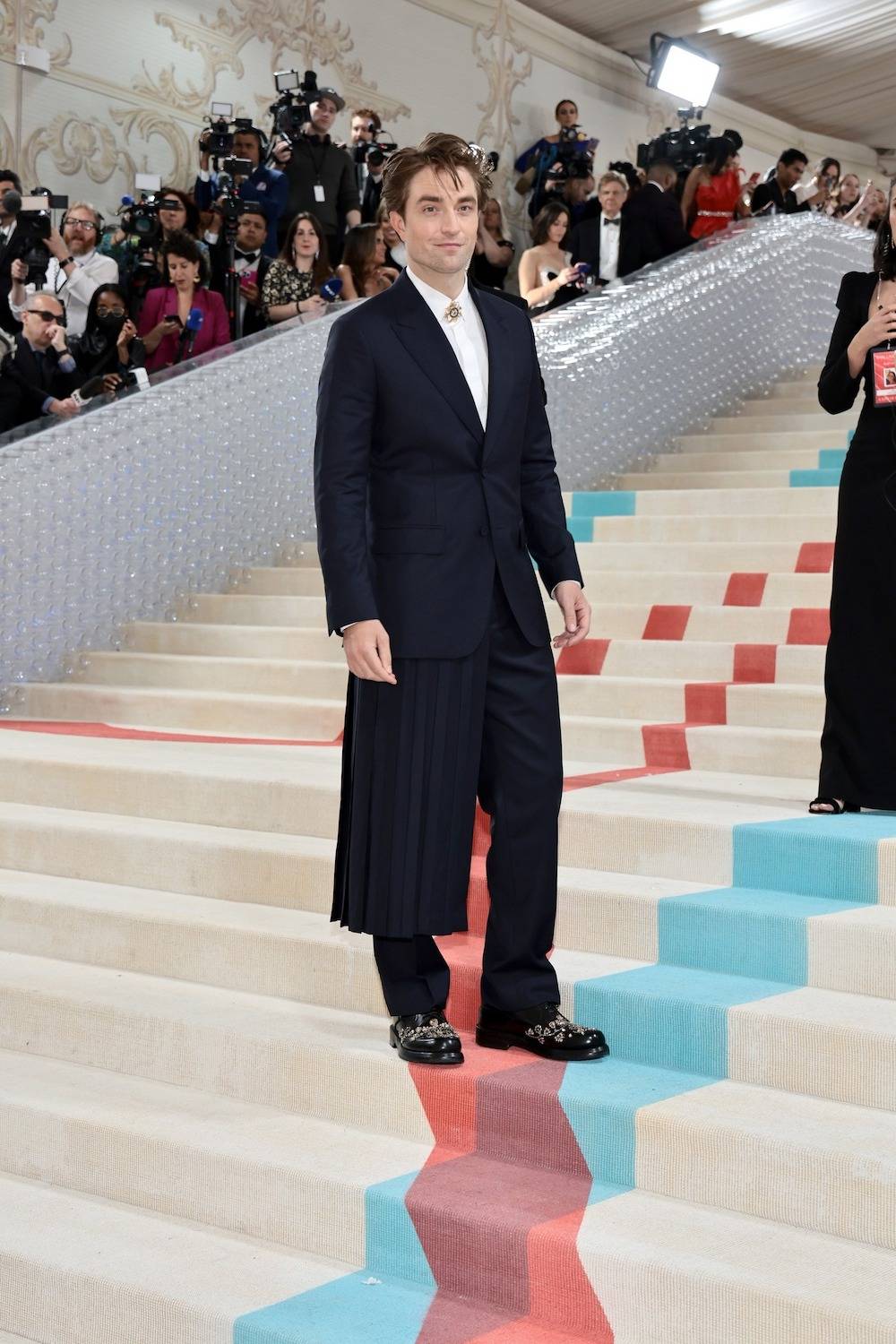 131/204

Gustav Witzoe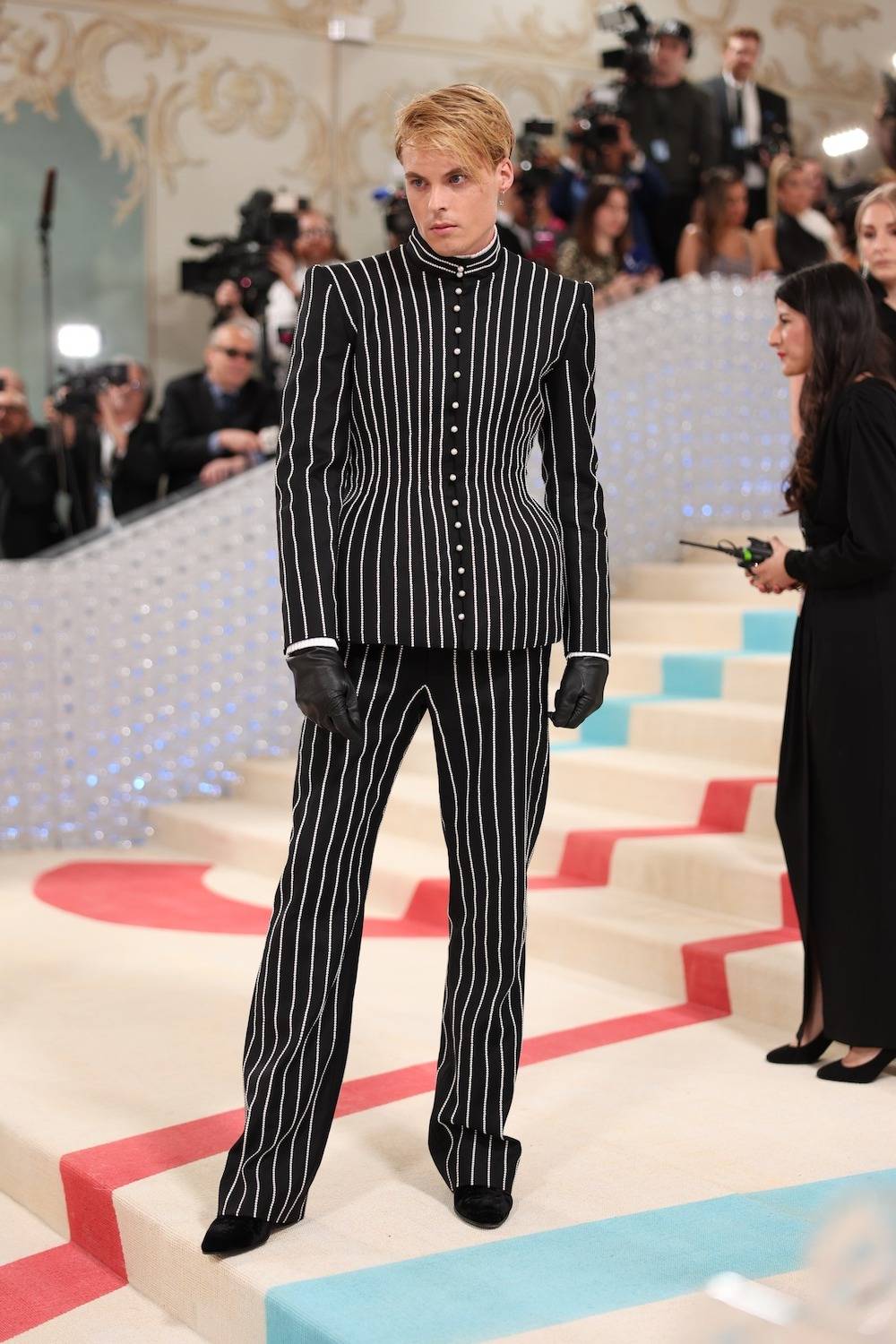 132/204

Sydney Sweeney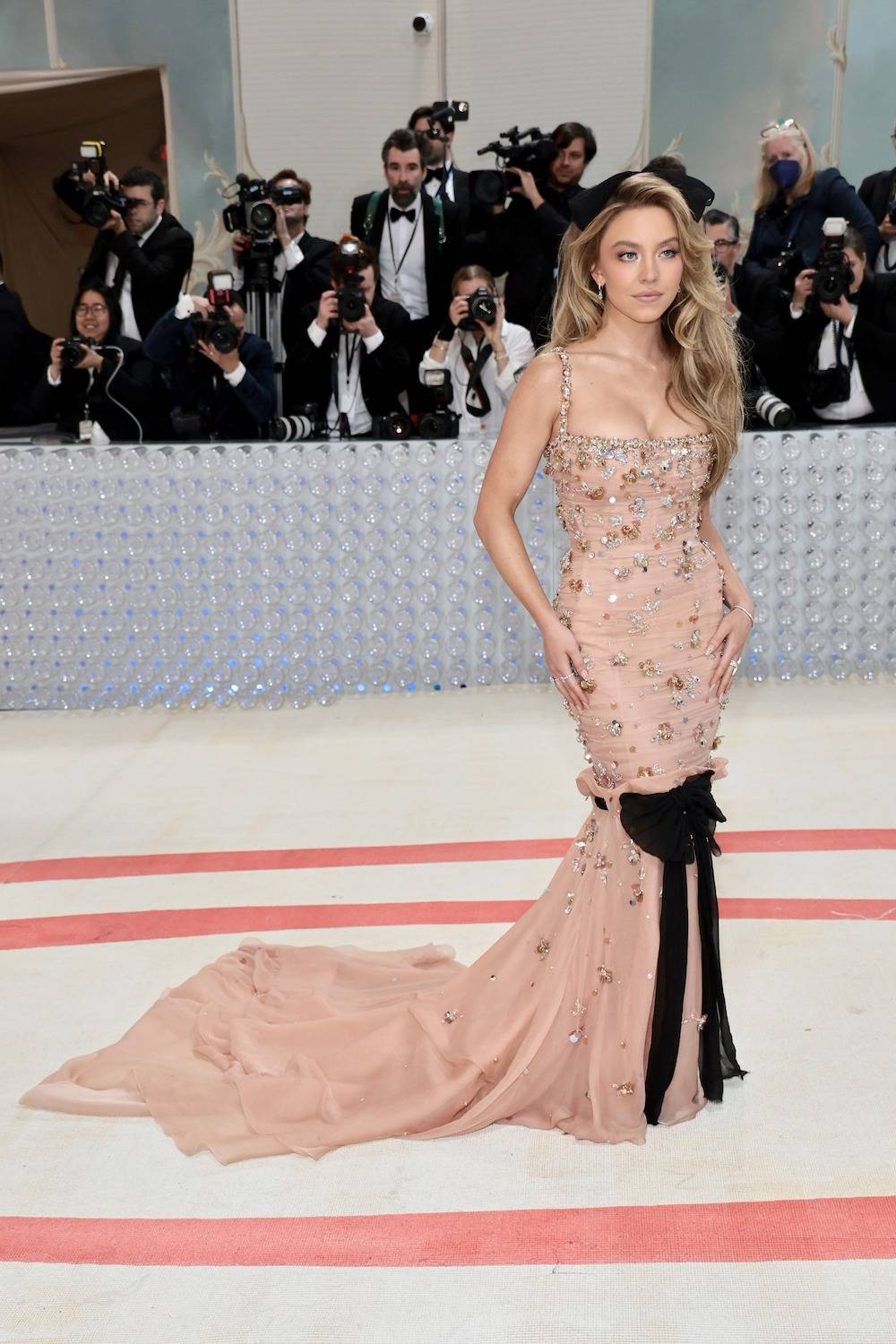 133/204

Brian Tyree Henry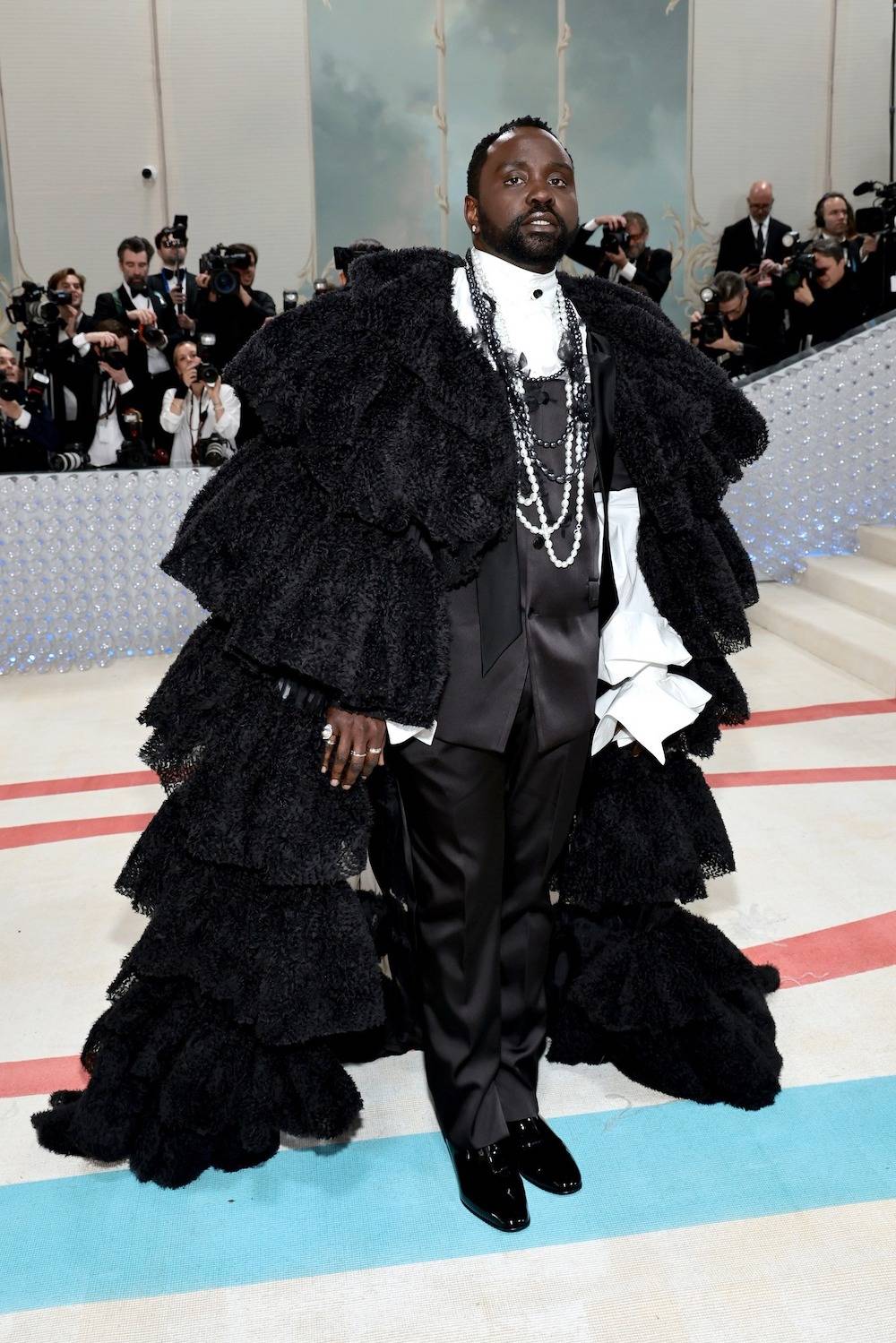 134/204

Jonathan Groff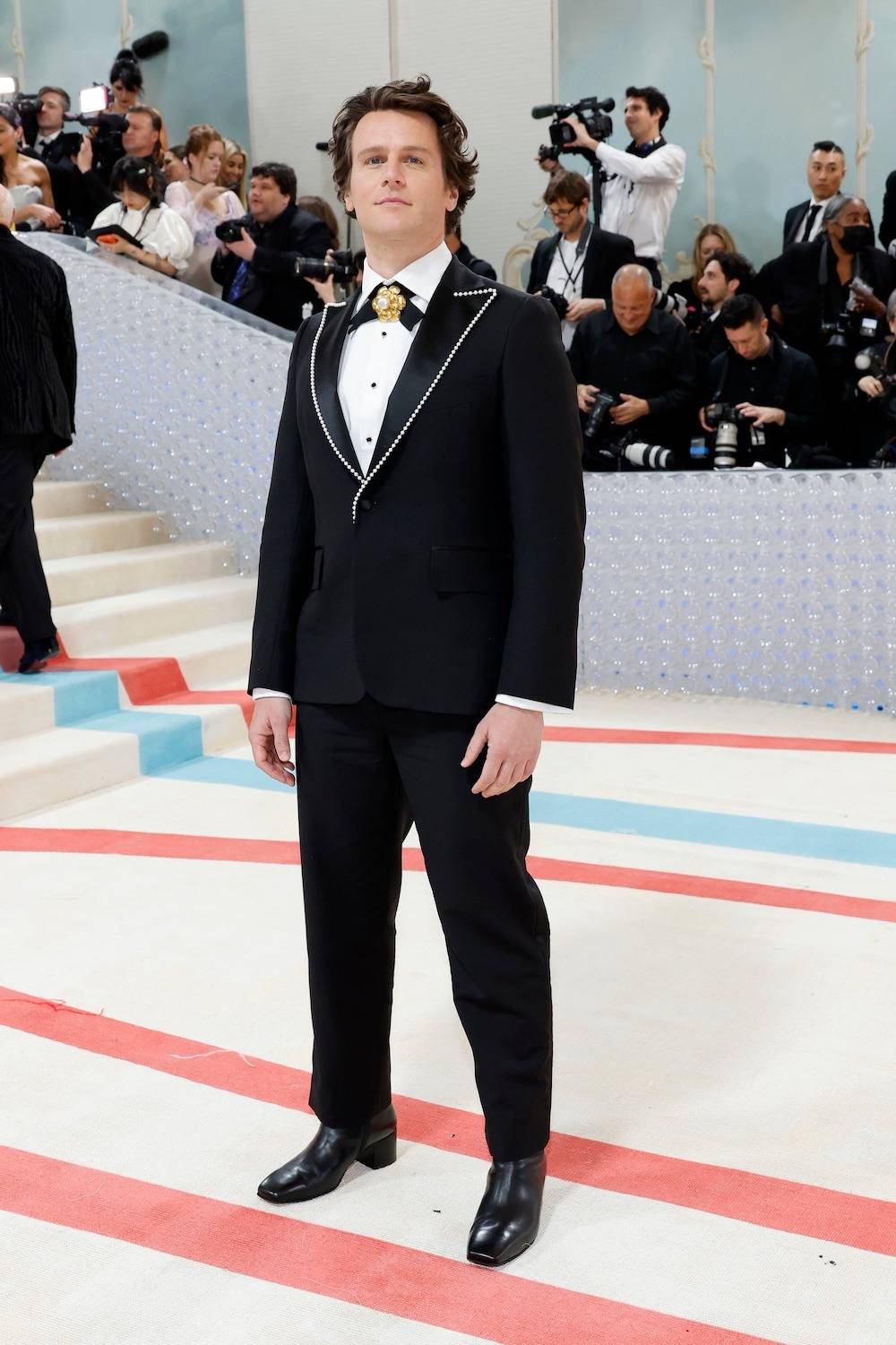 135/204

Diane von Fürstenberg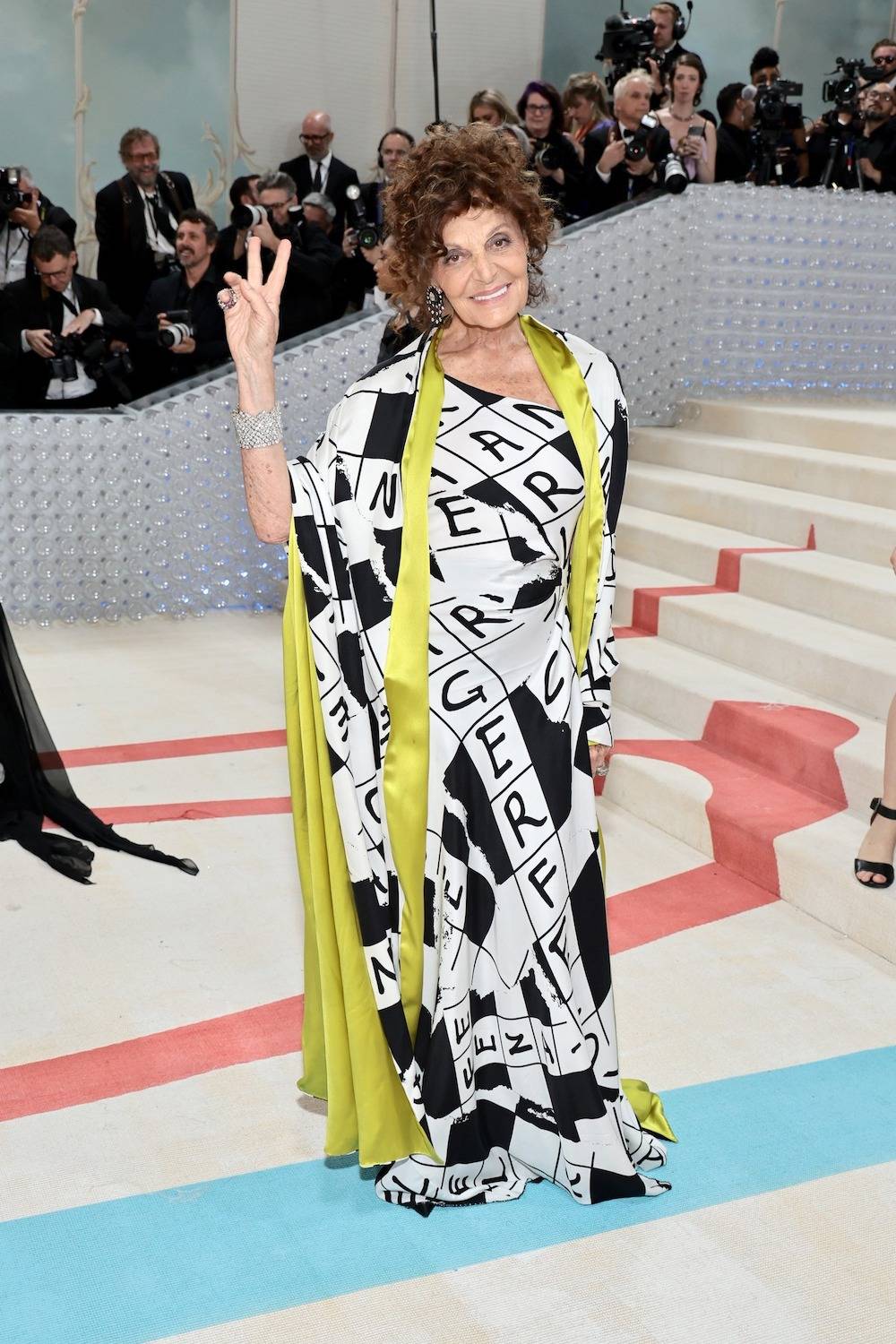 136/204

Usher i Bianca Saunders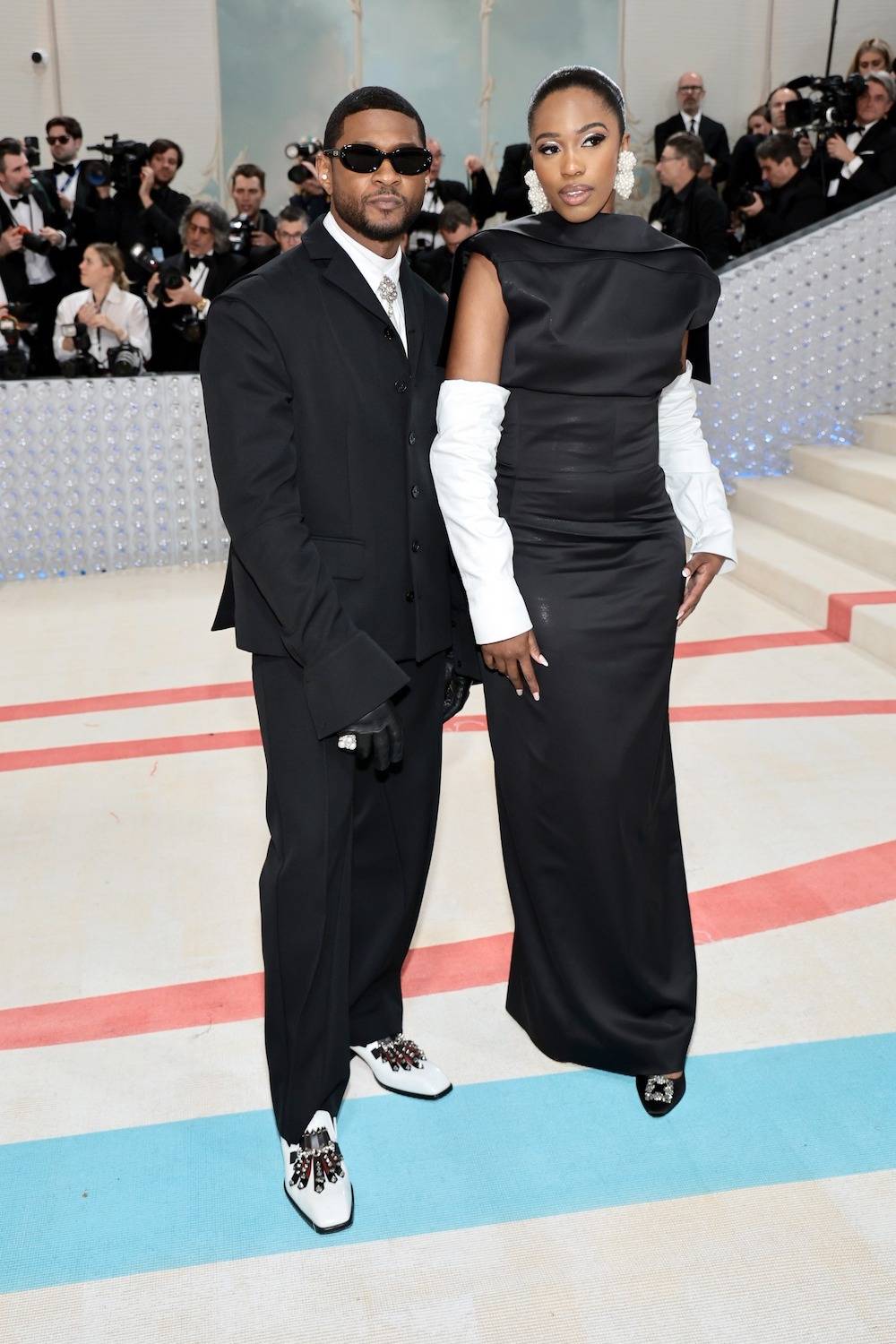 137/204

Amy Fine Collins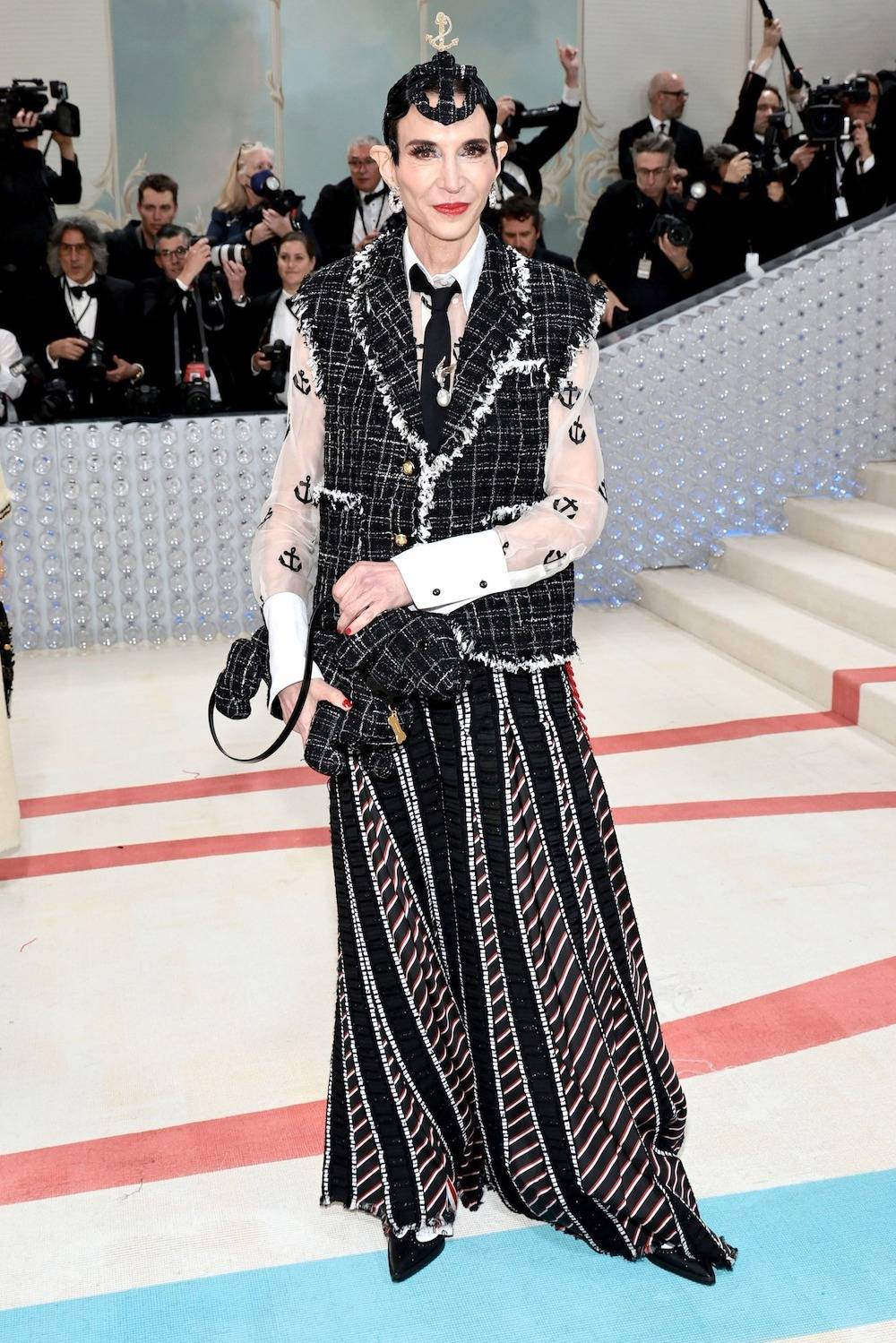 138/204

Precious Lee
139/204

Ashley Graham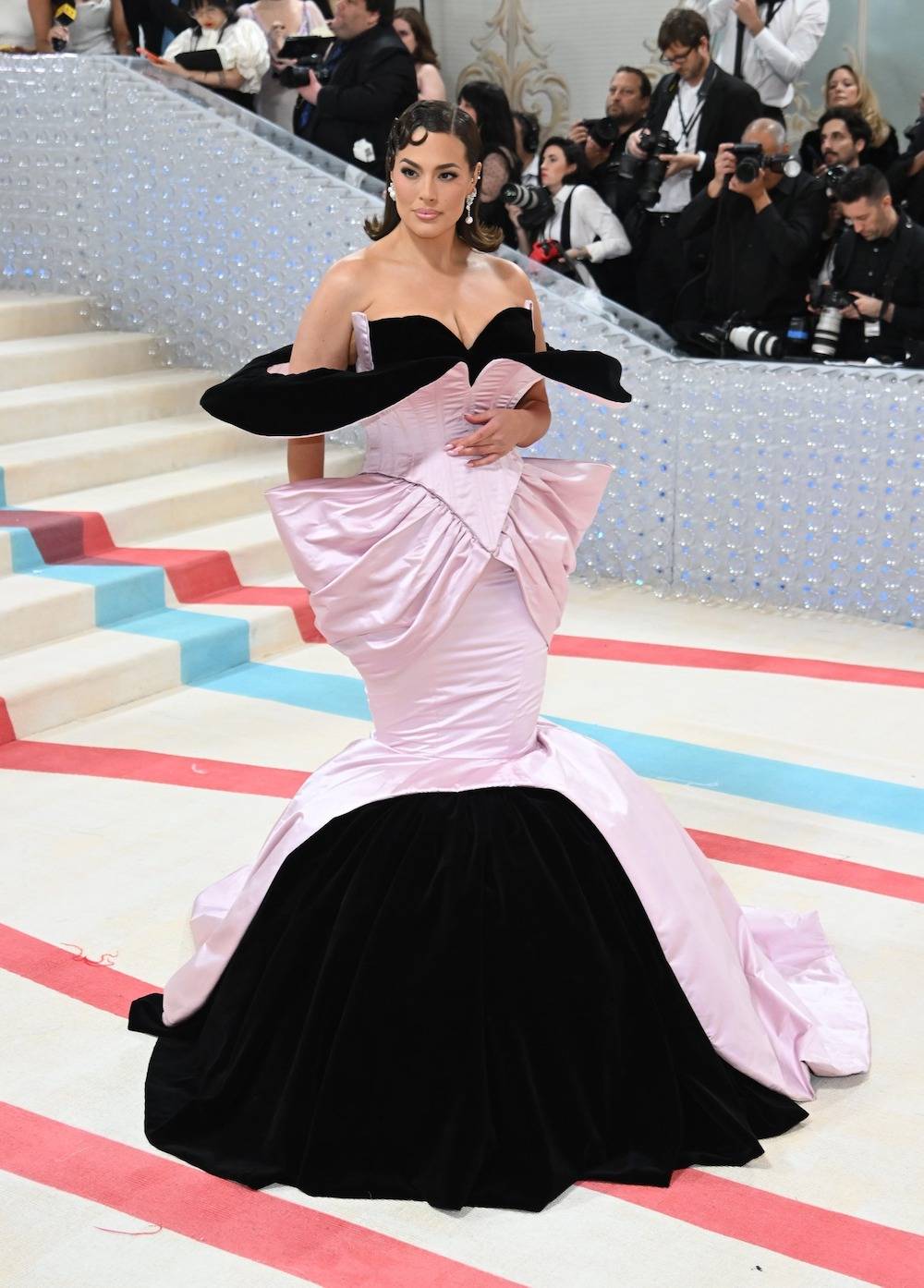 140/204

Tyler Mitchell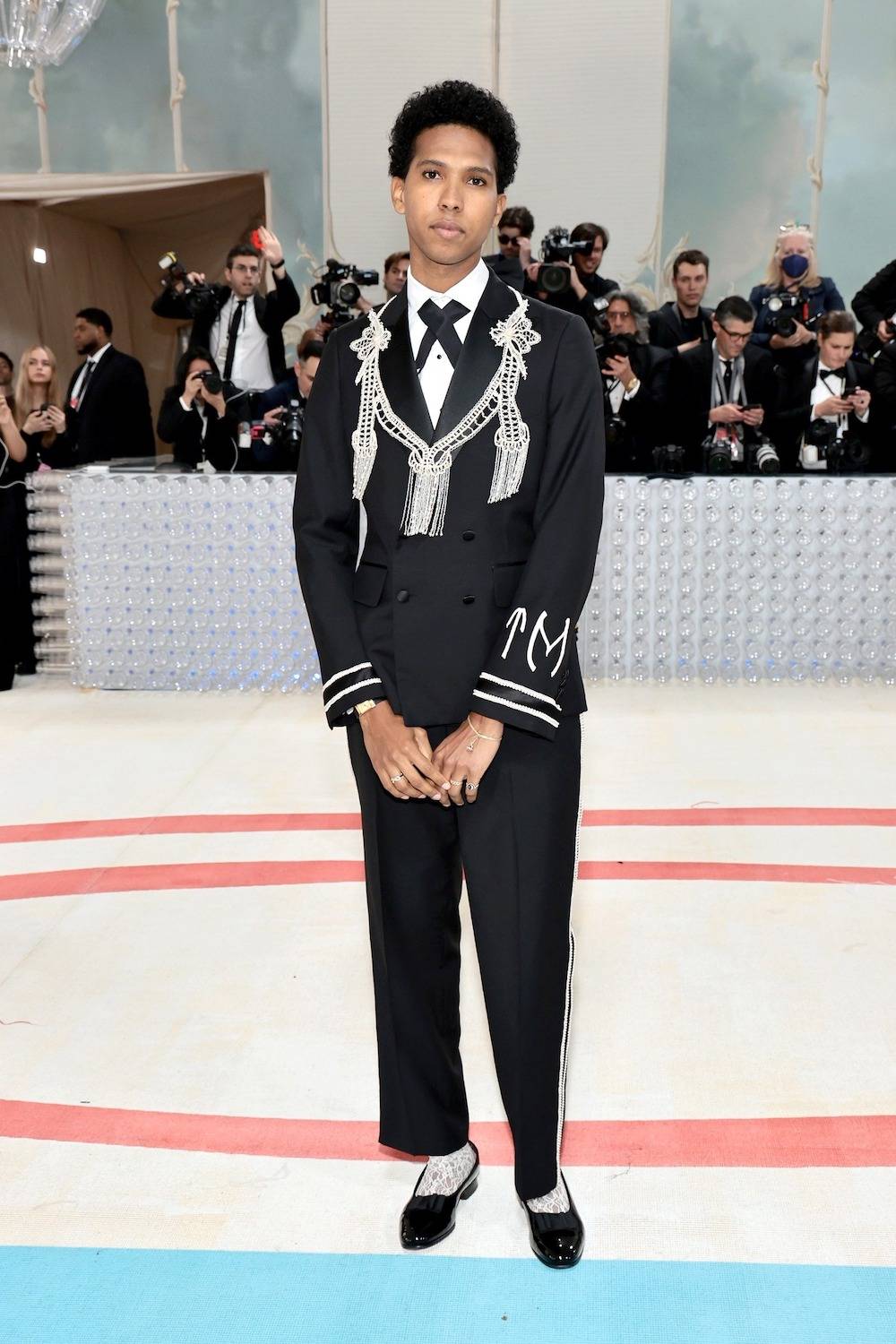 141/204

Gwendoline Christie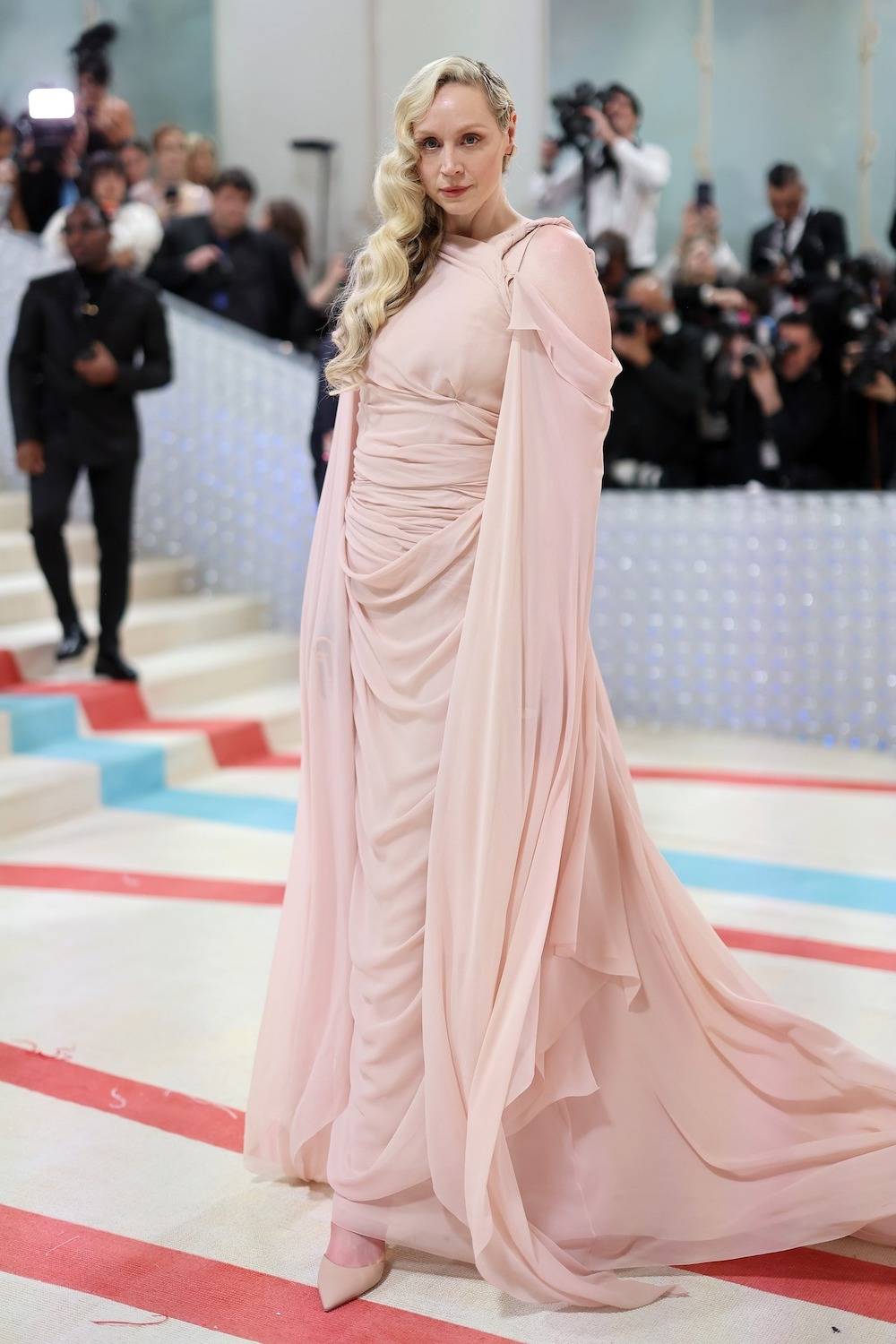 142/204

Karlie Kloss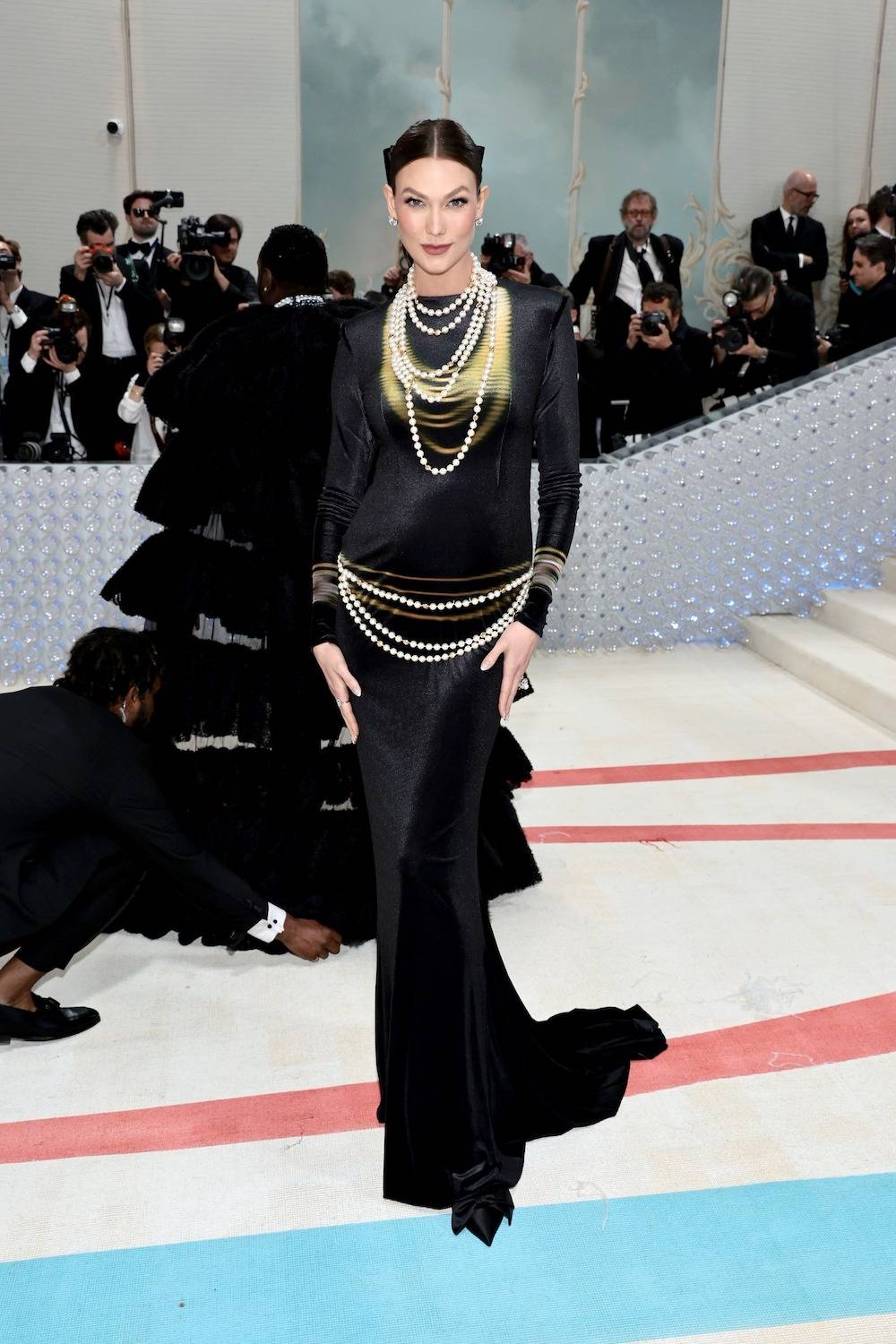 143/204

Amanda Seyfried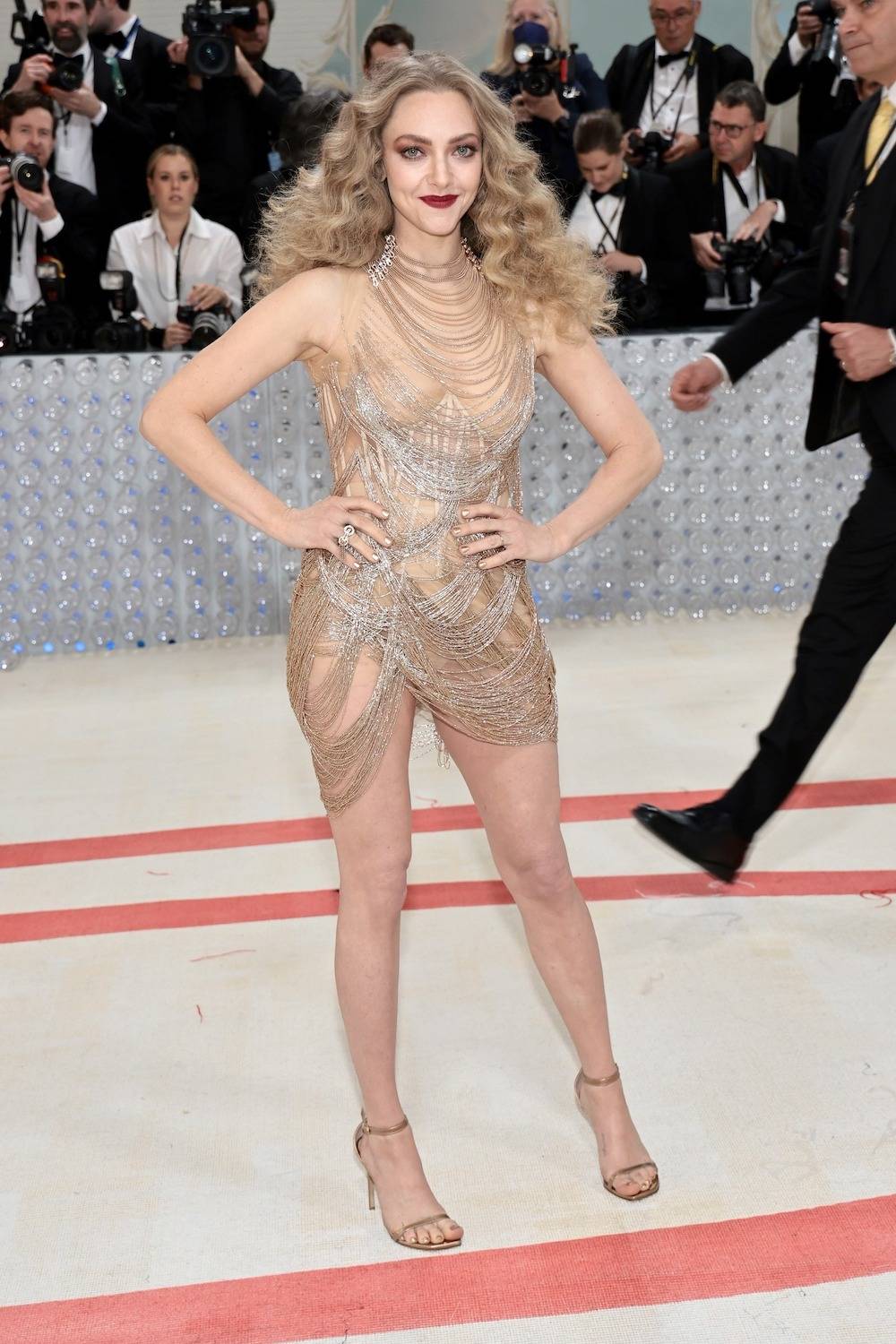 144/204

Quinta Brunson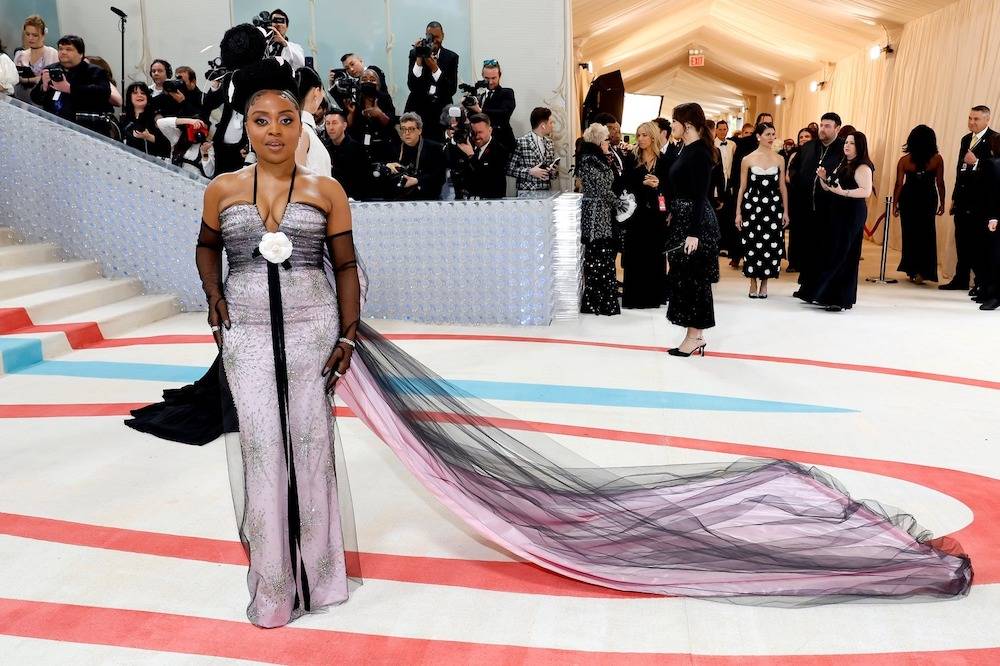 145/204

Rami Malek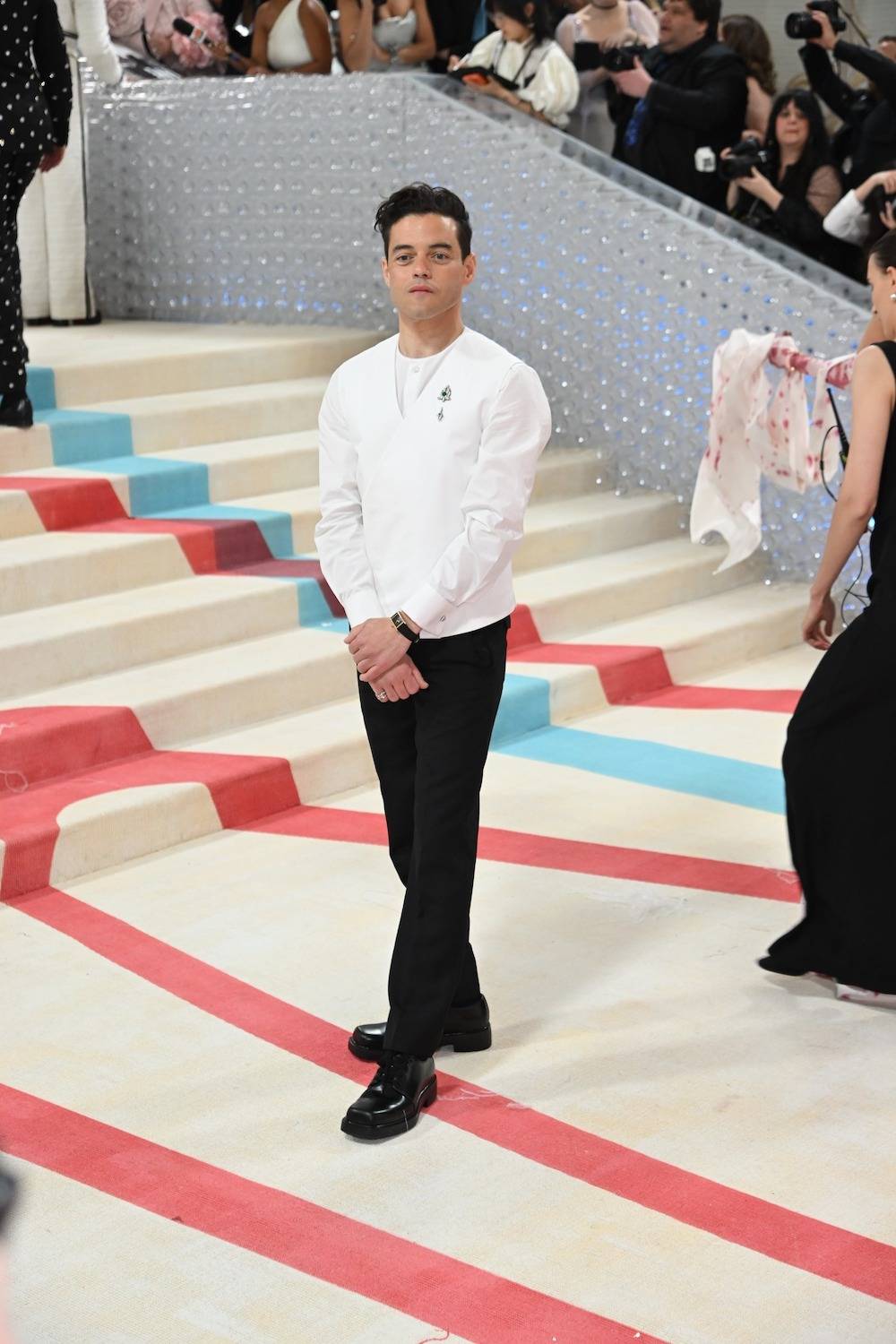 146/204

Adrienne Adams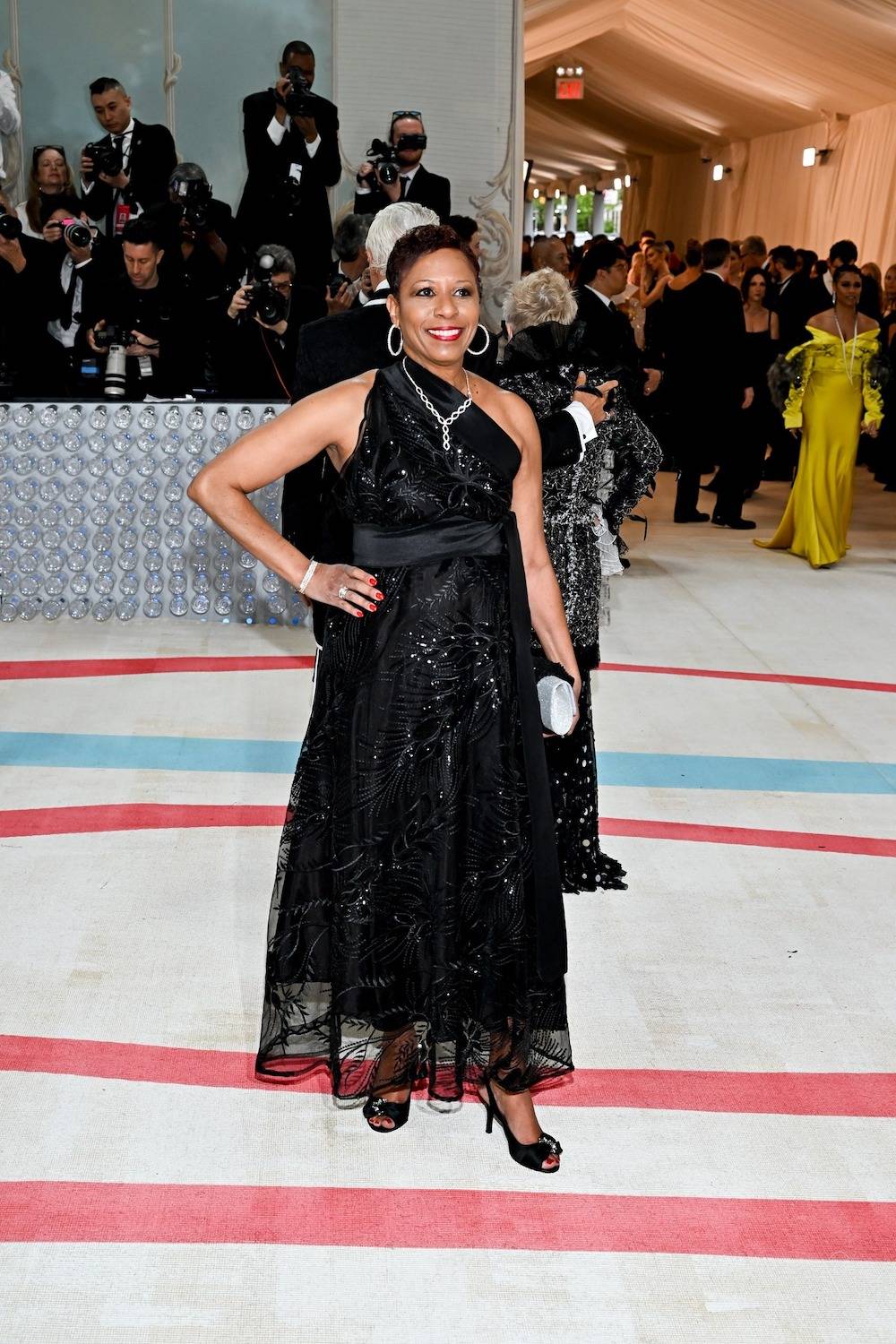 147/204

Adrienne Adams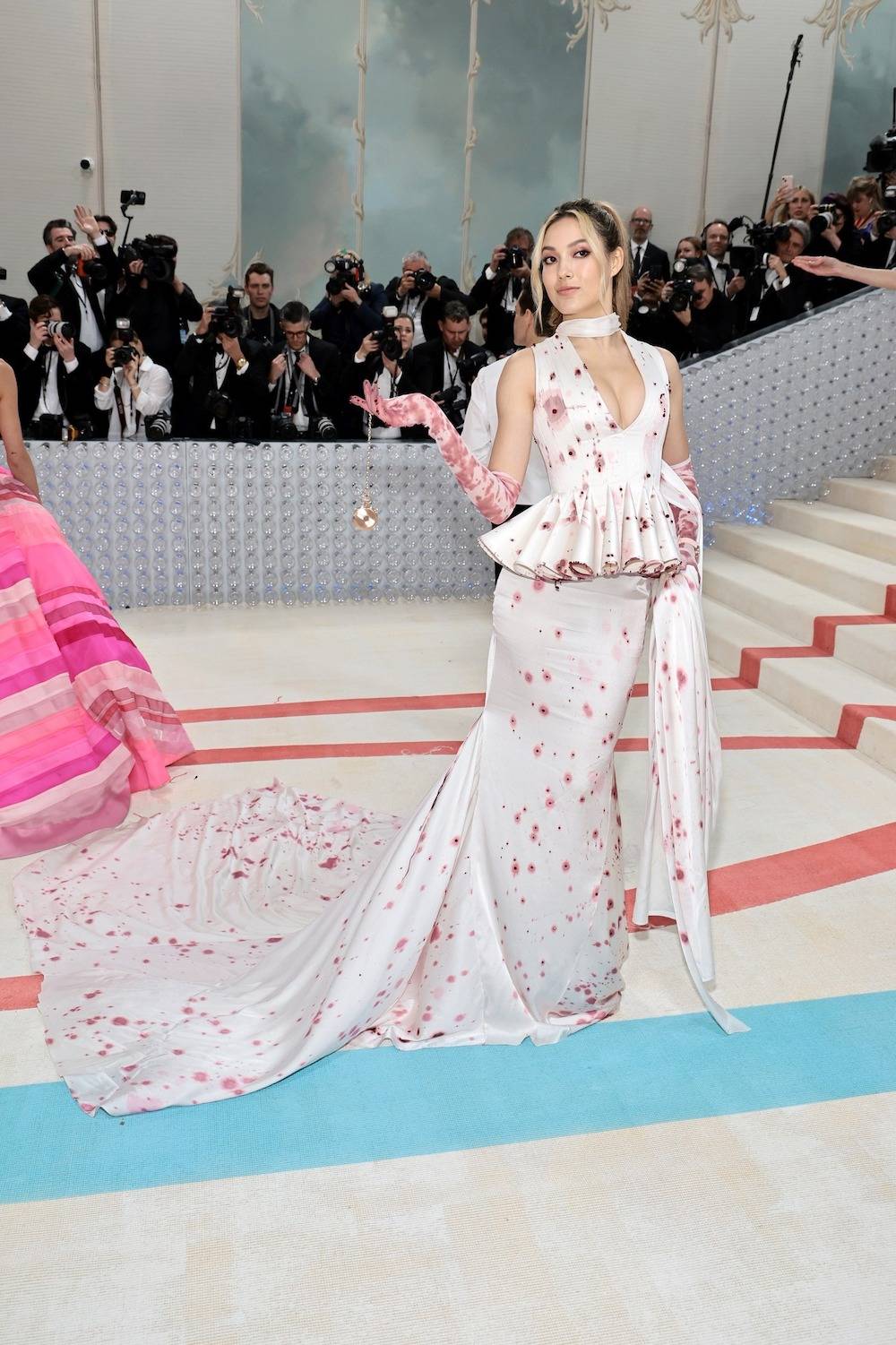 148/204

Wendi Murdoch
149/204

Ben Platt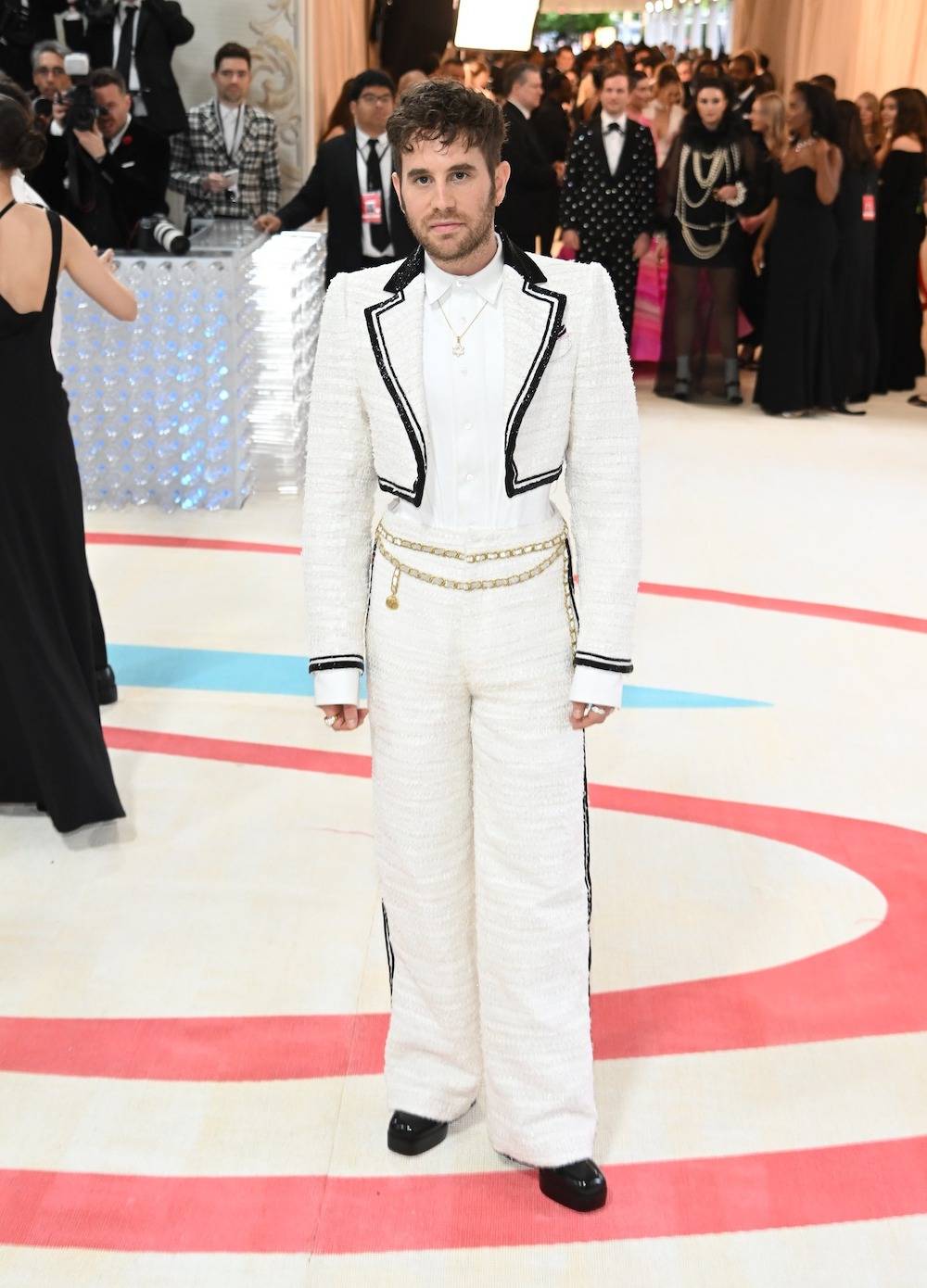 150/204

Kodi Smit-McPhee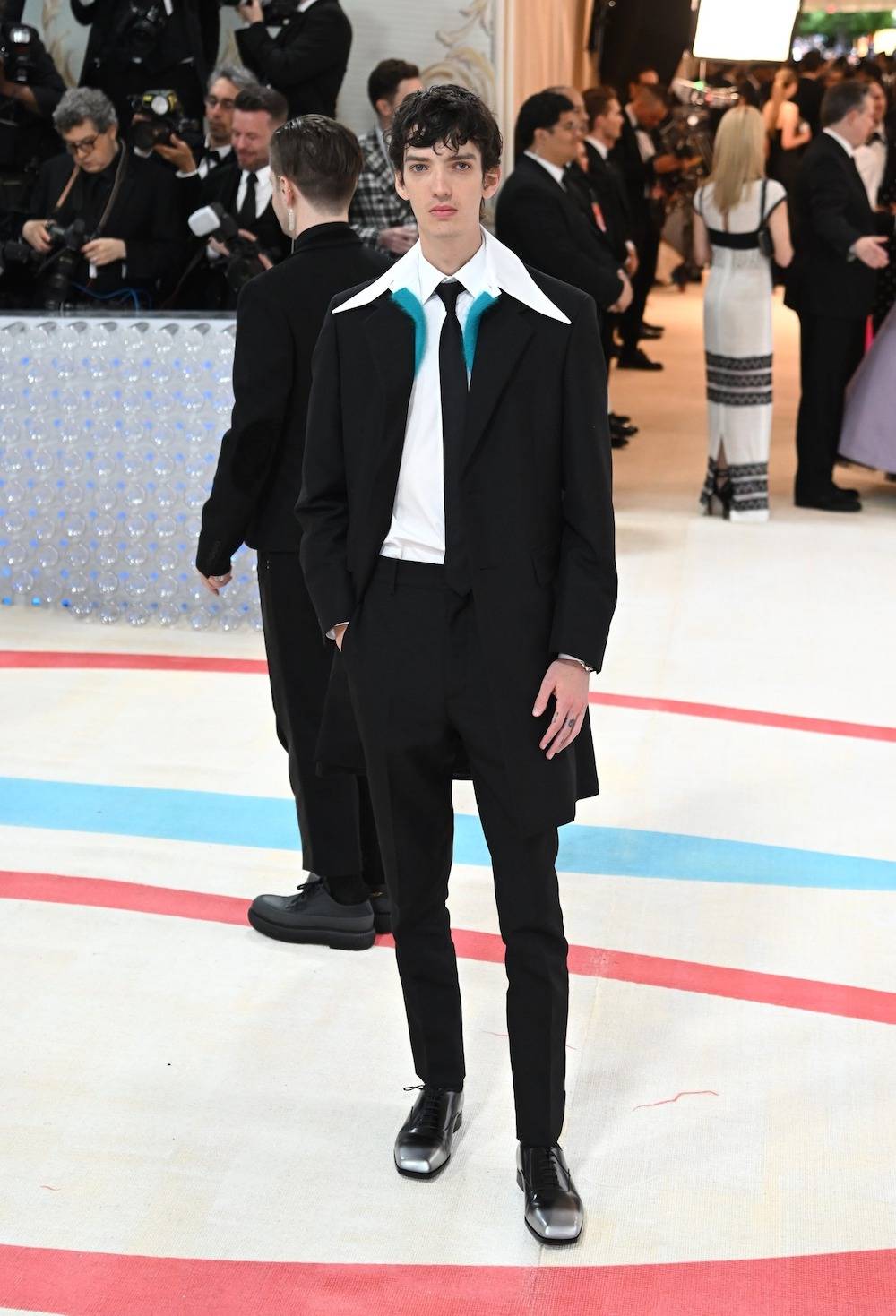 151/204

Lila Moss i Kate Moss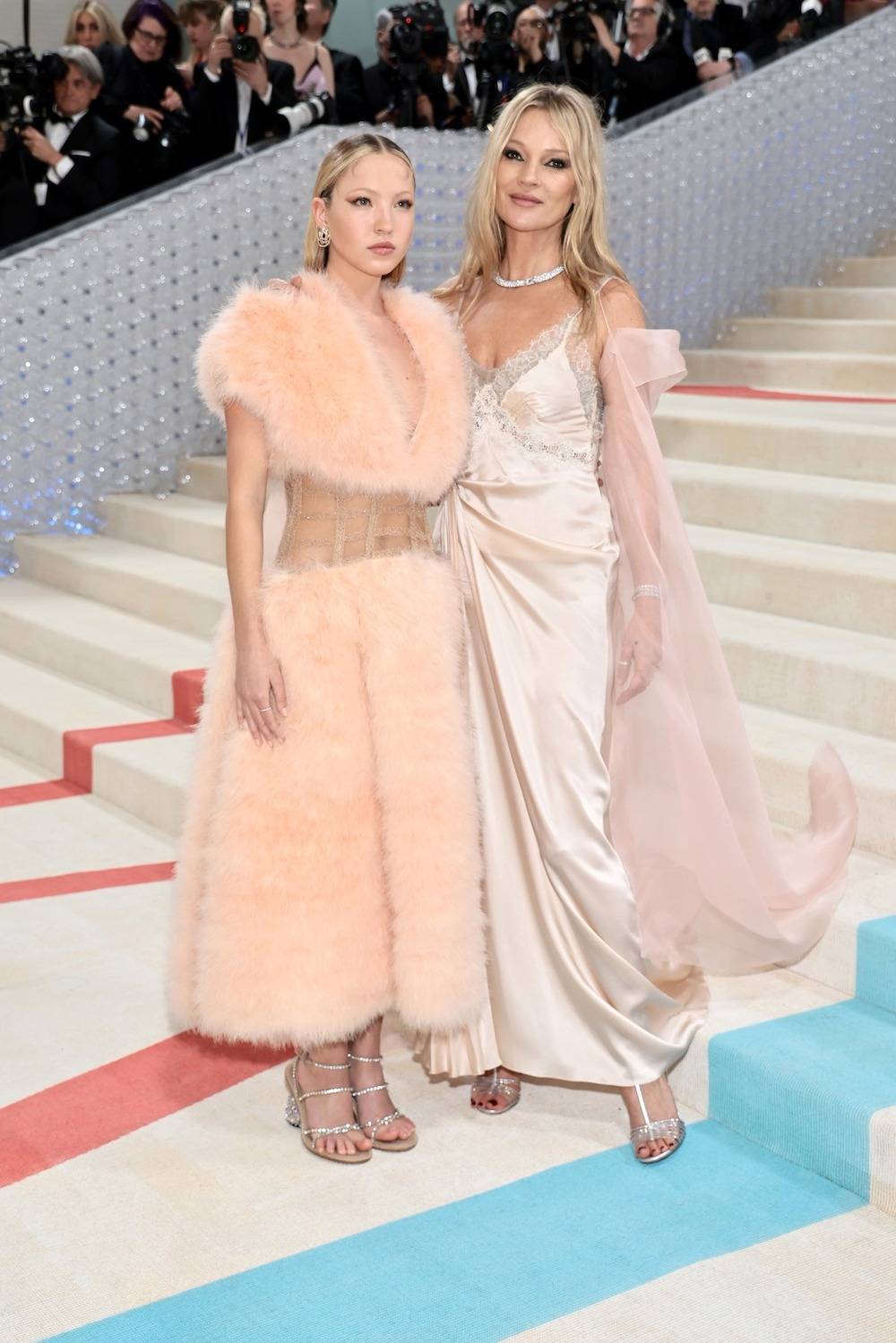 152/204

Gisele Bündchen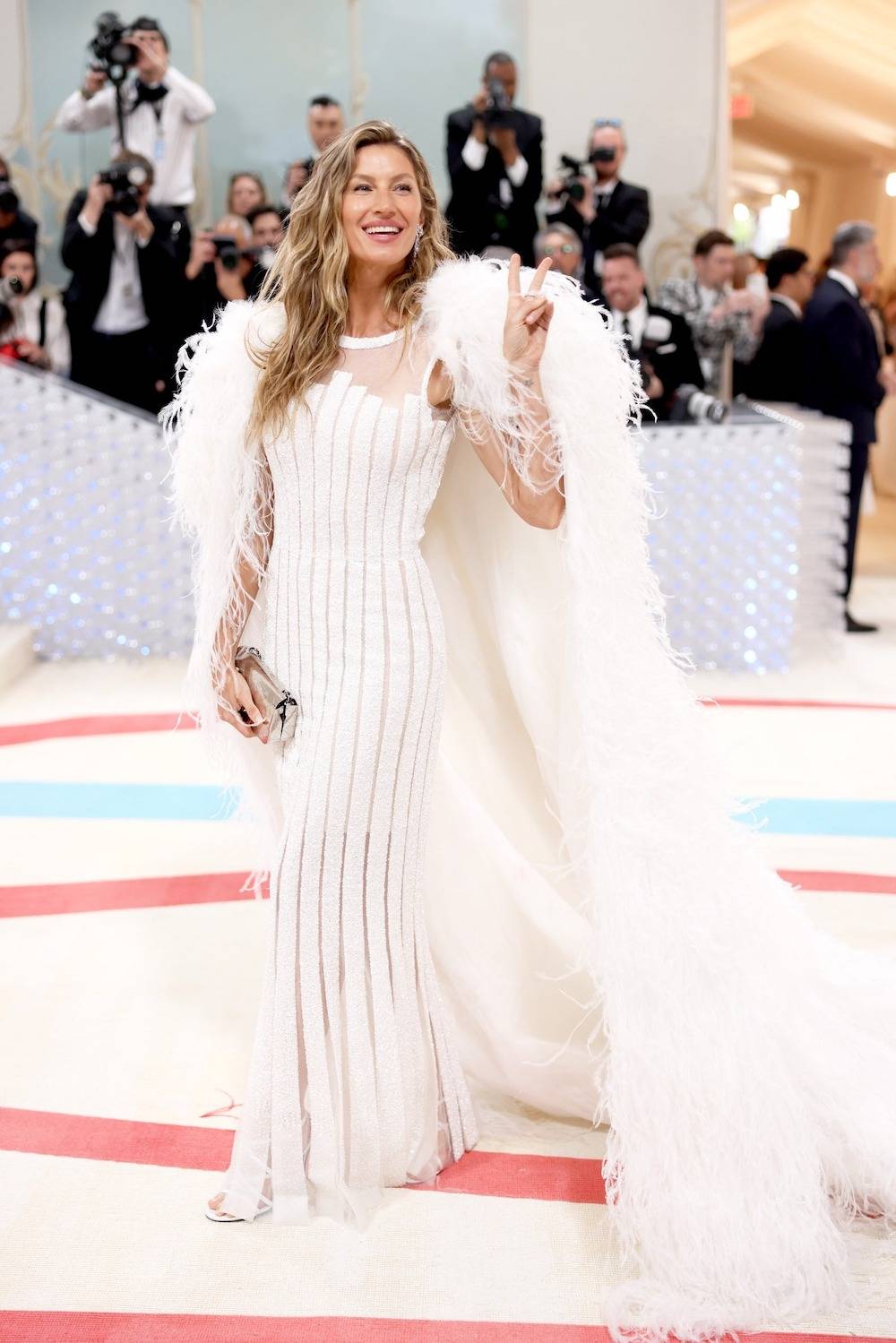 153/204

Silvia Venturini Fendi i Delfina Delettrez Fendi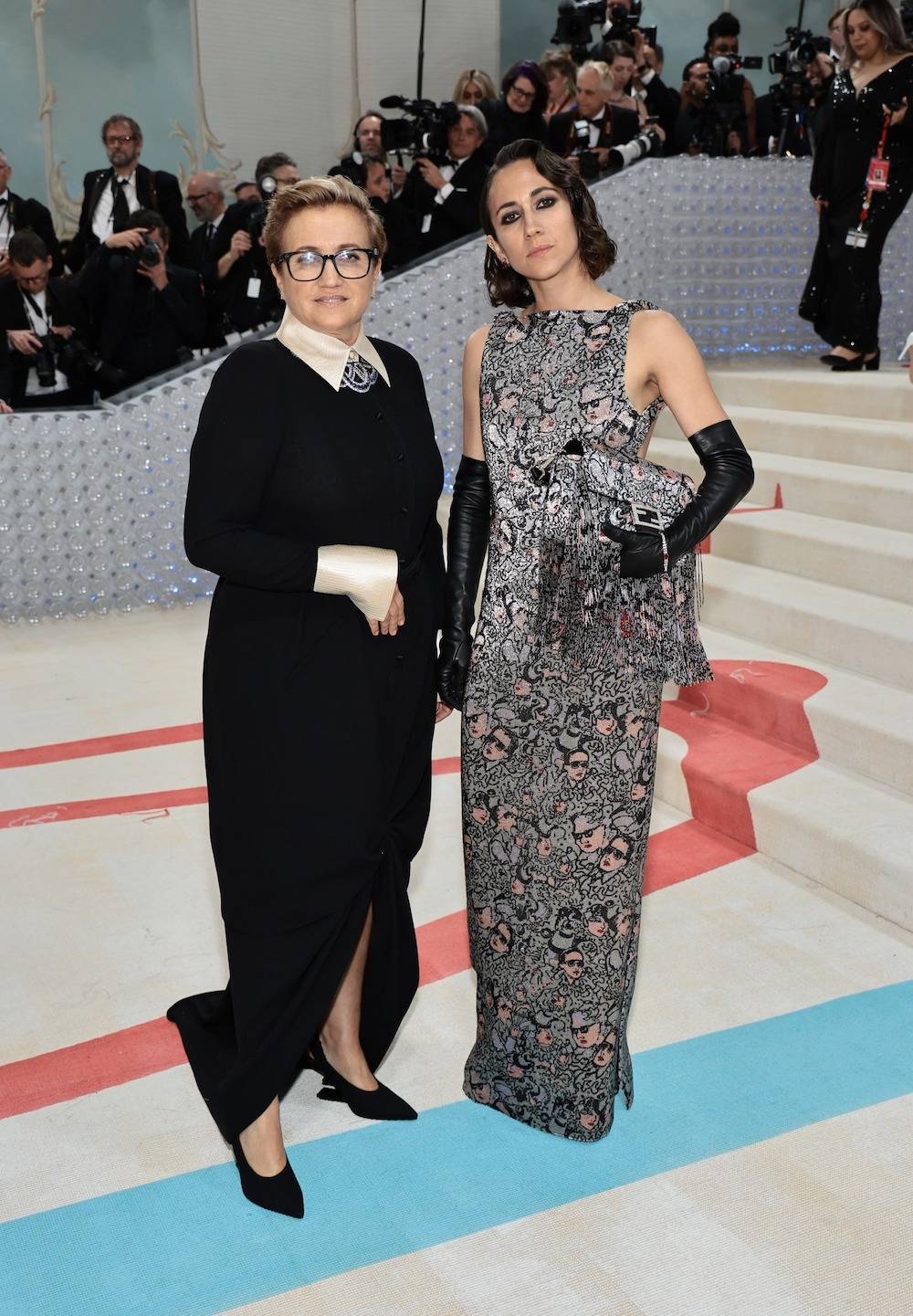 154/204

Maya Hawke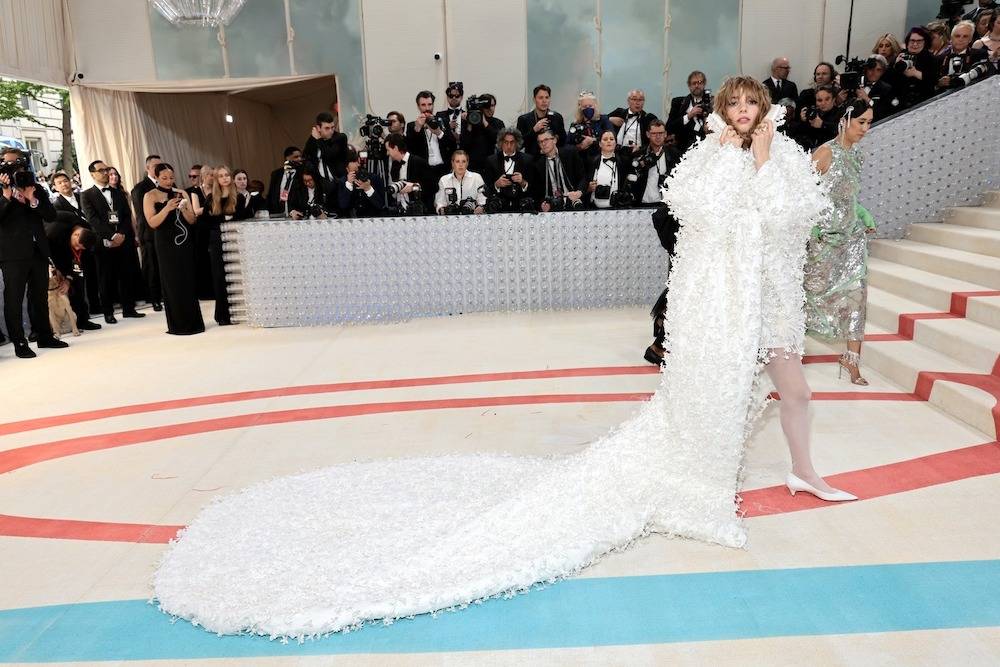 155/204

Karen Elson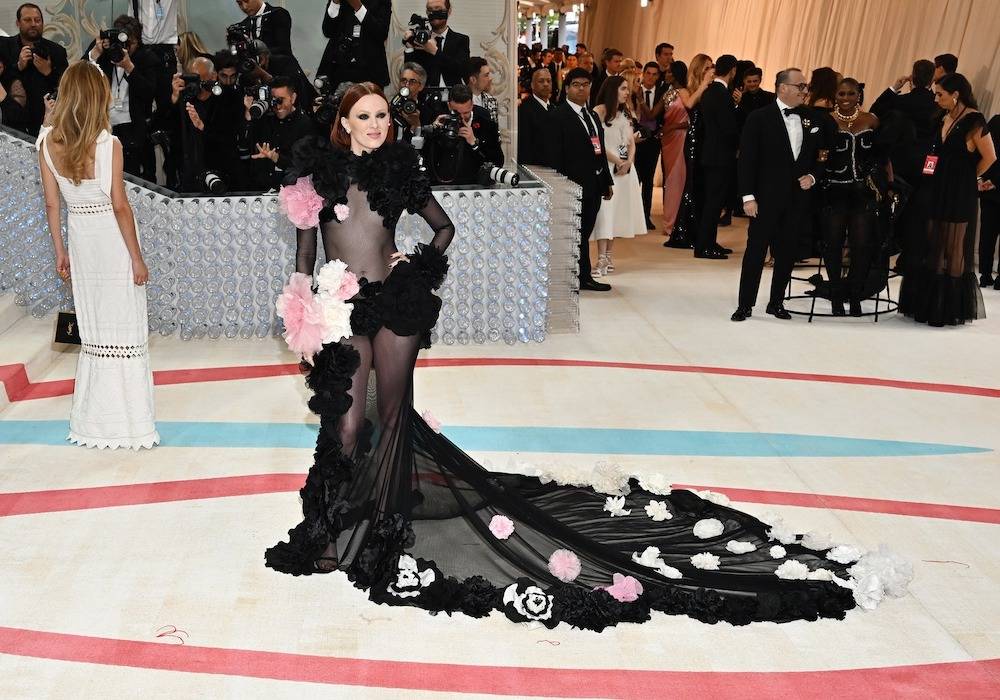 156/204

Maude Apatow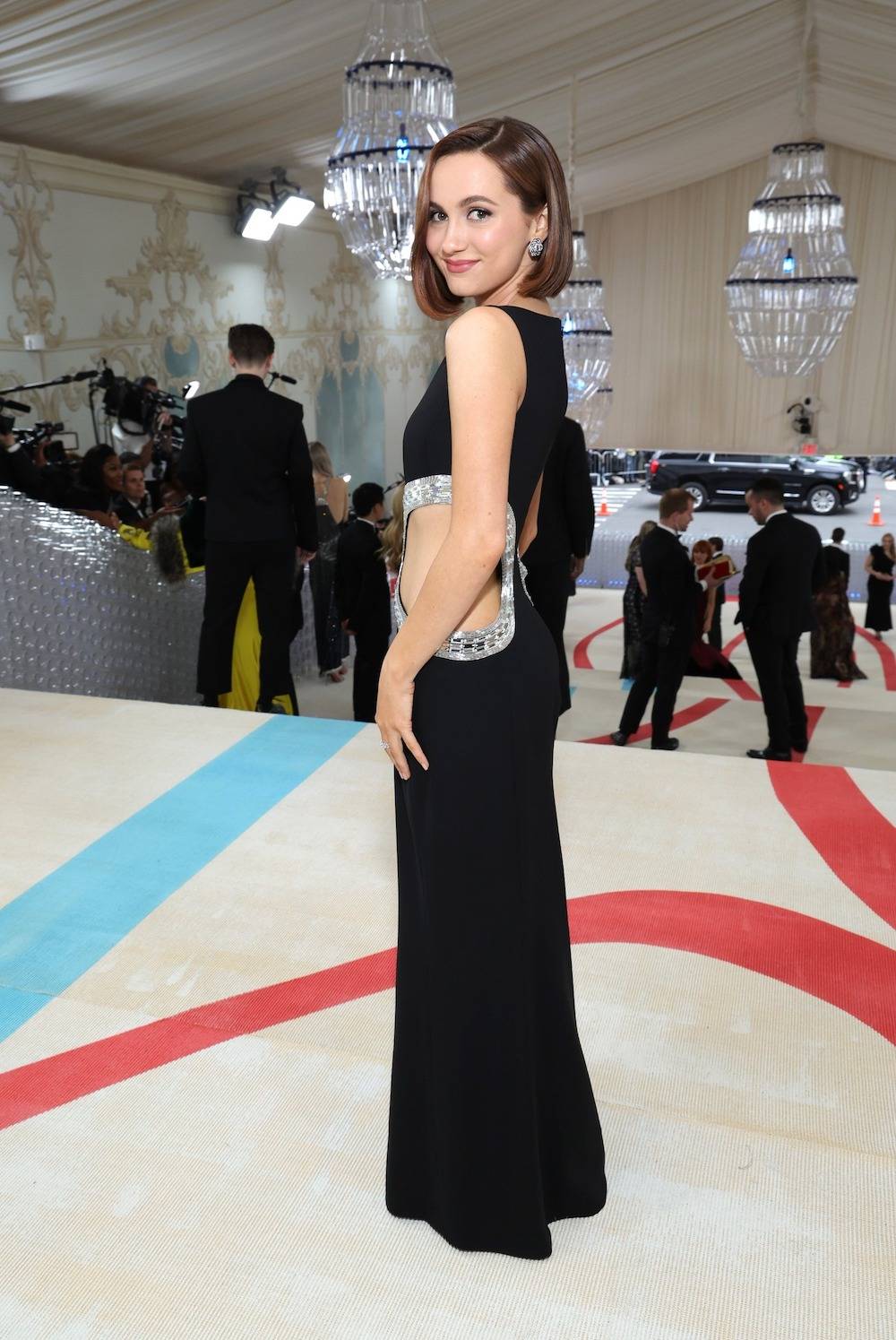 157/204

Eva Chen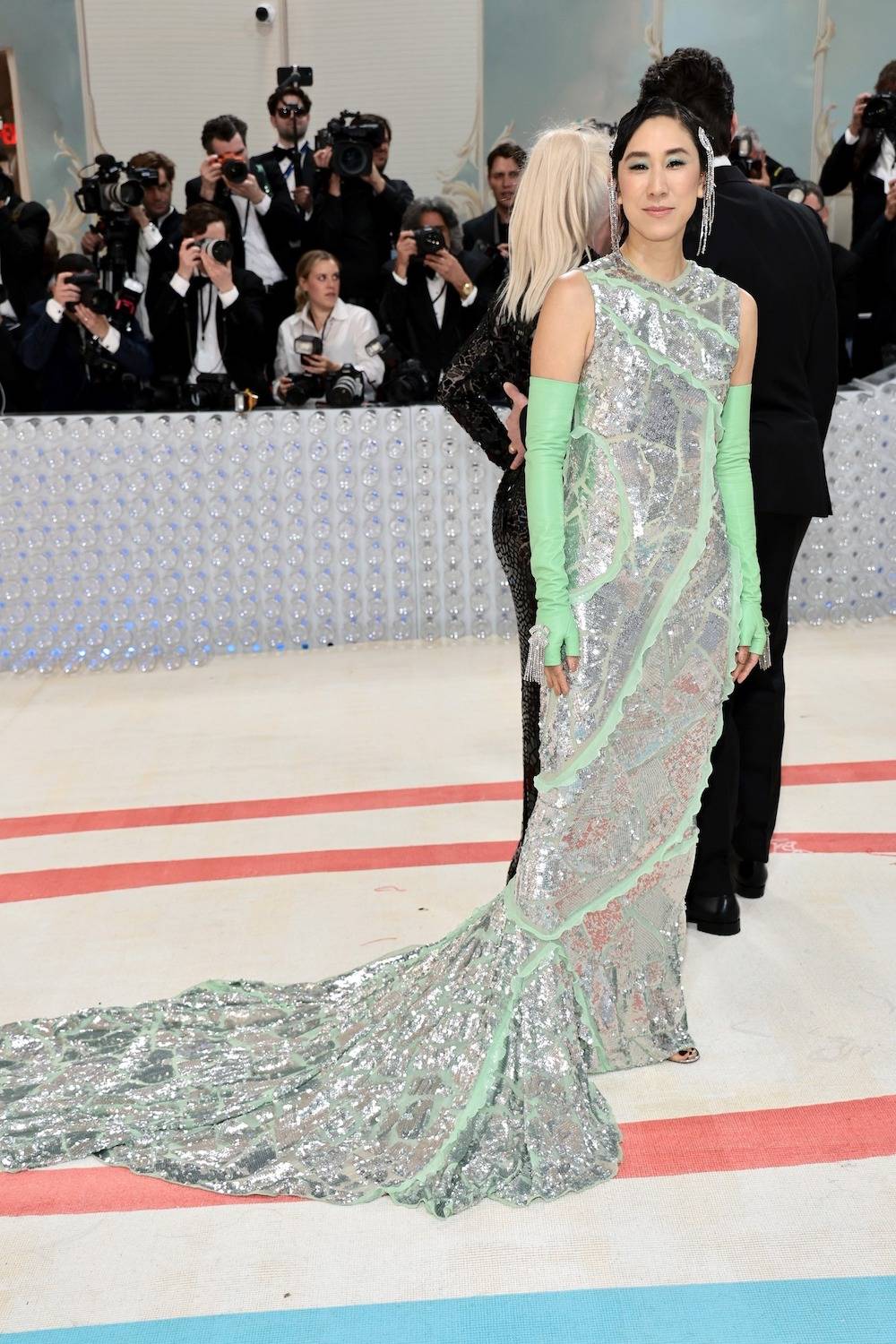 158/204

Hugh Jackman i Deborra-Lee Furness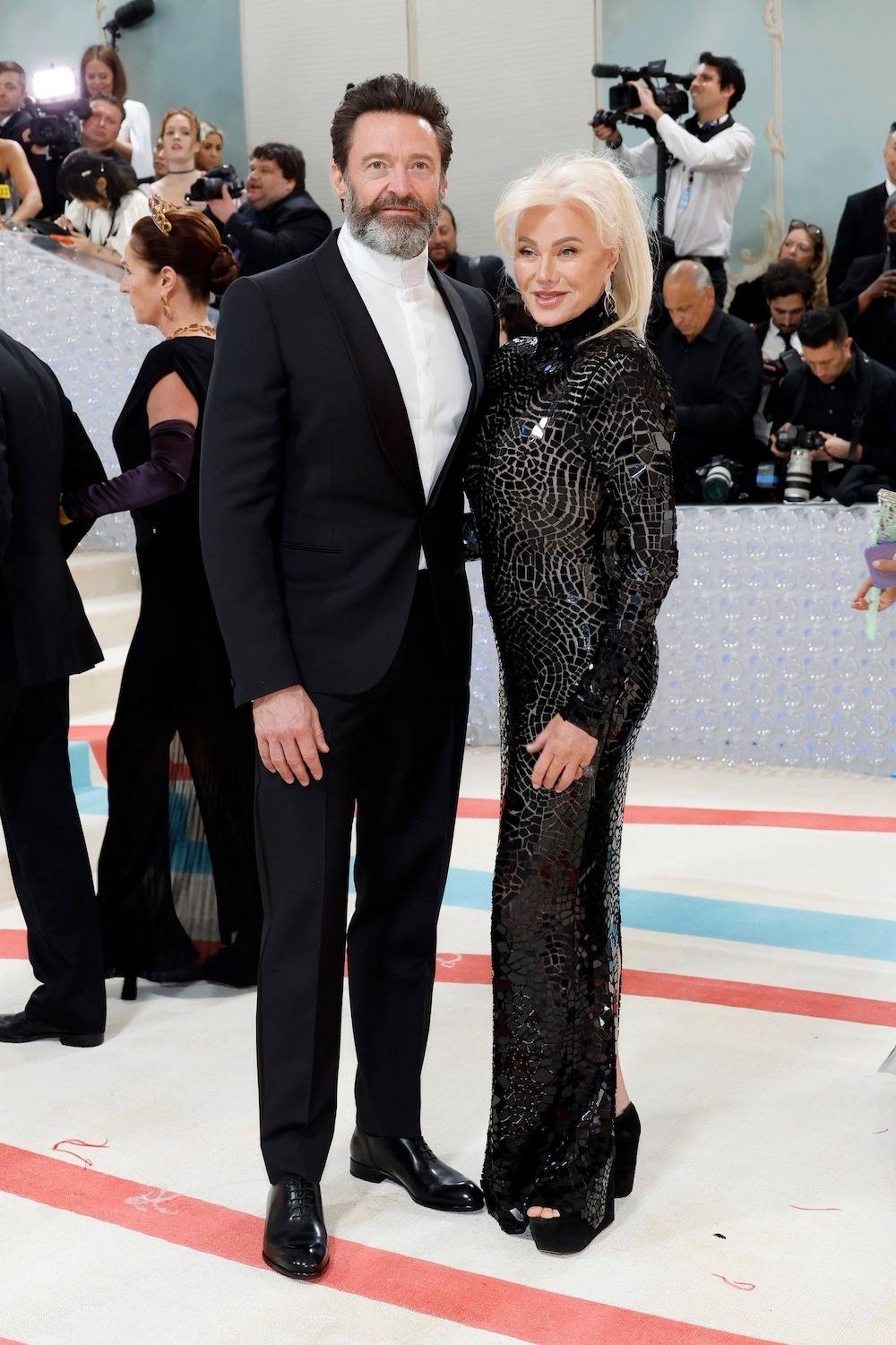 159/204

Gabrielle Union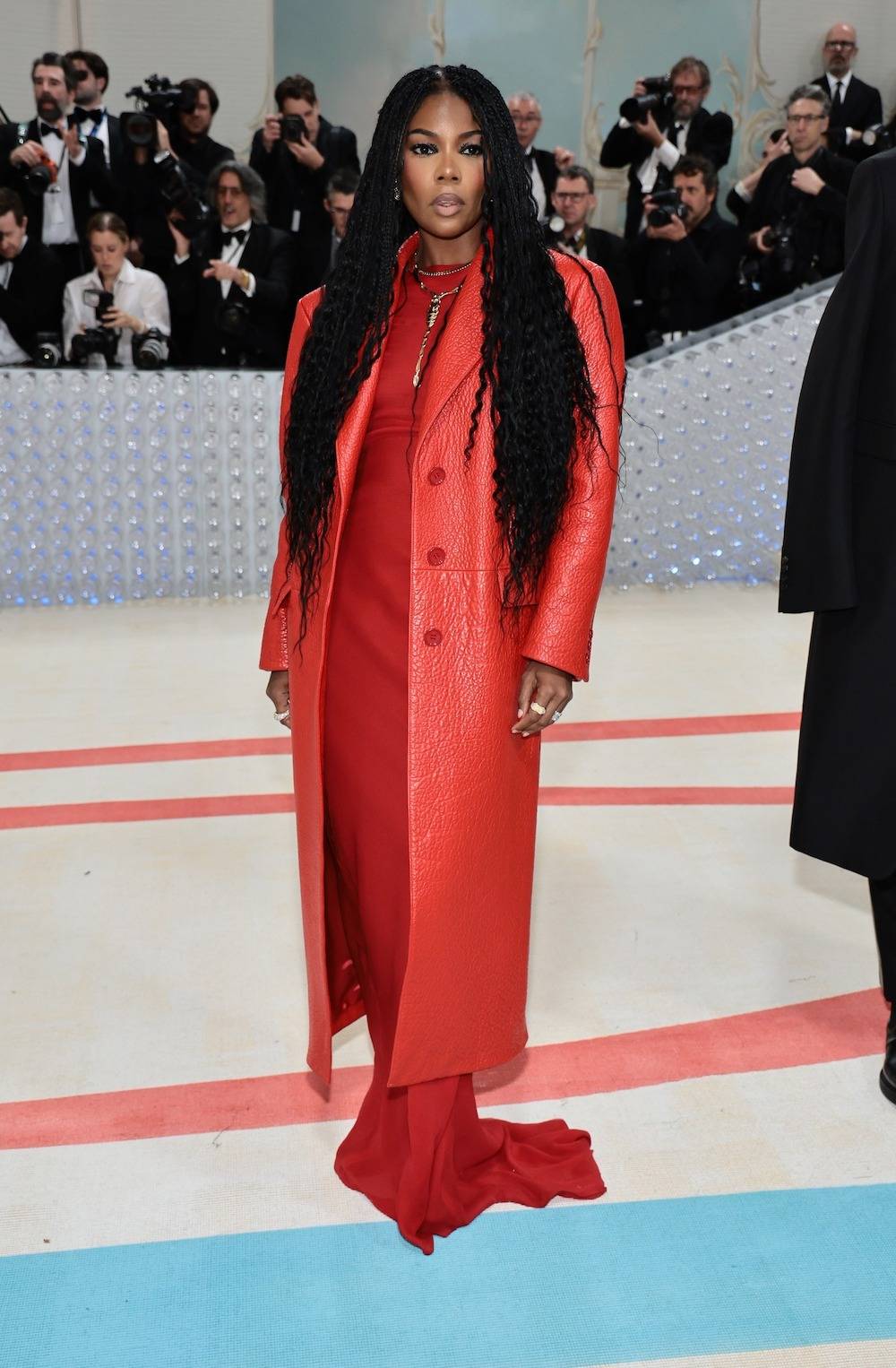 160/204

Dwyane Wade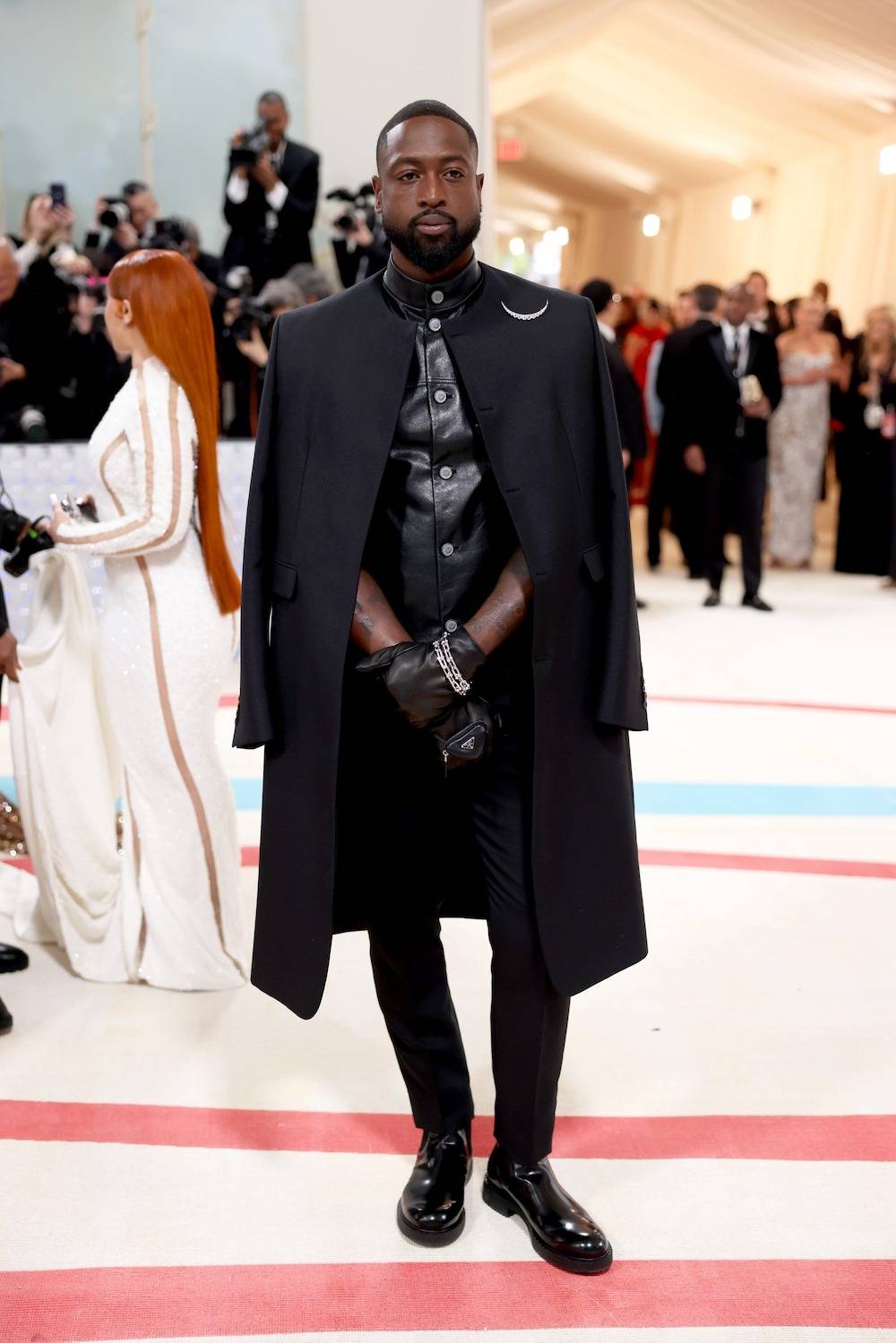 161/204

Christine Chiu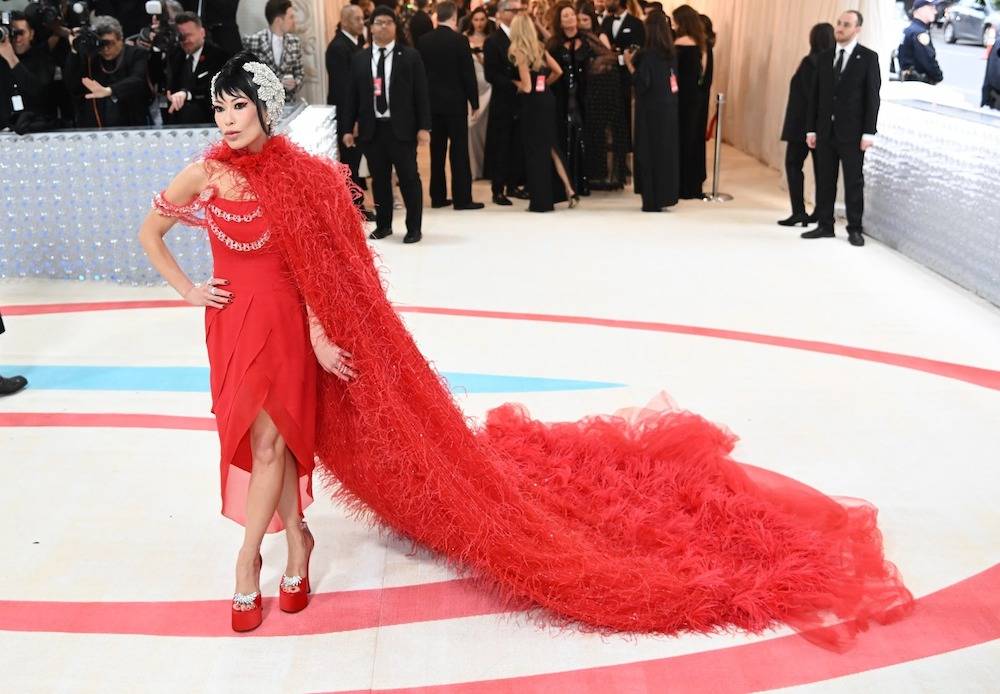 162/204

Irina Shayk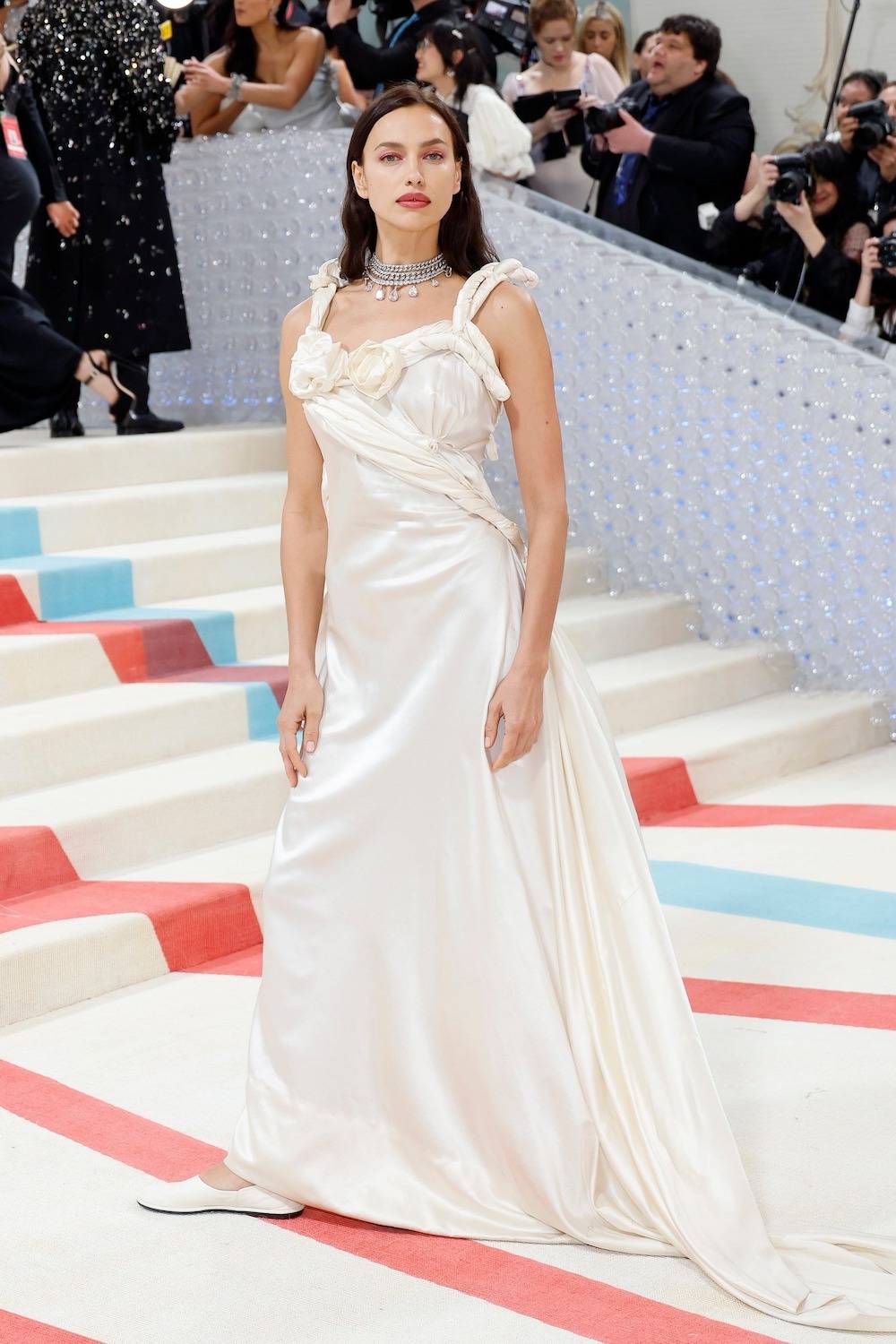 163/204

Ice Spice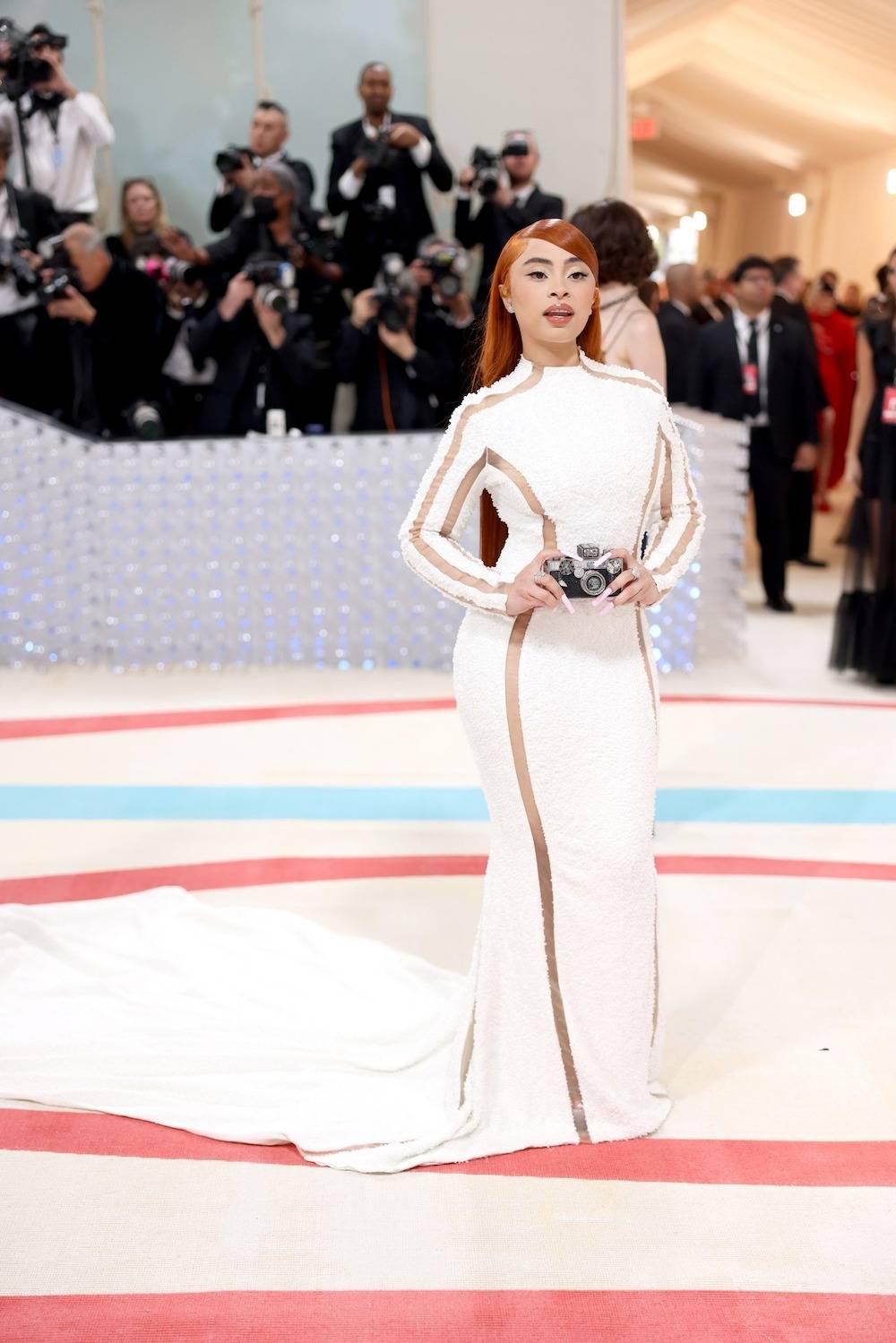 164/204

James Corden i Julia Carey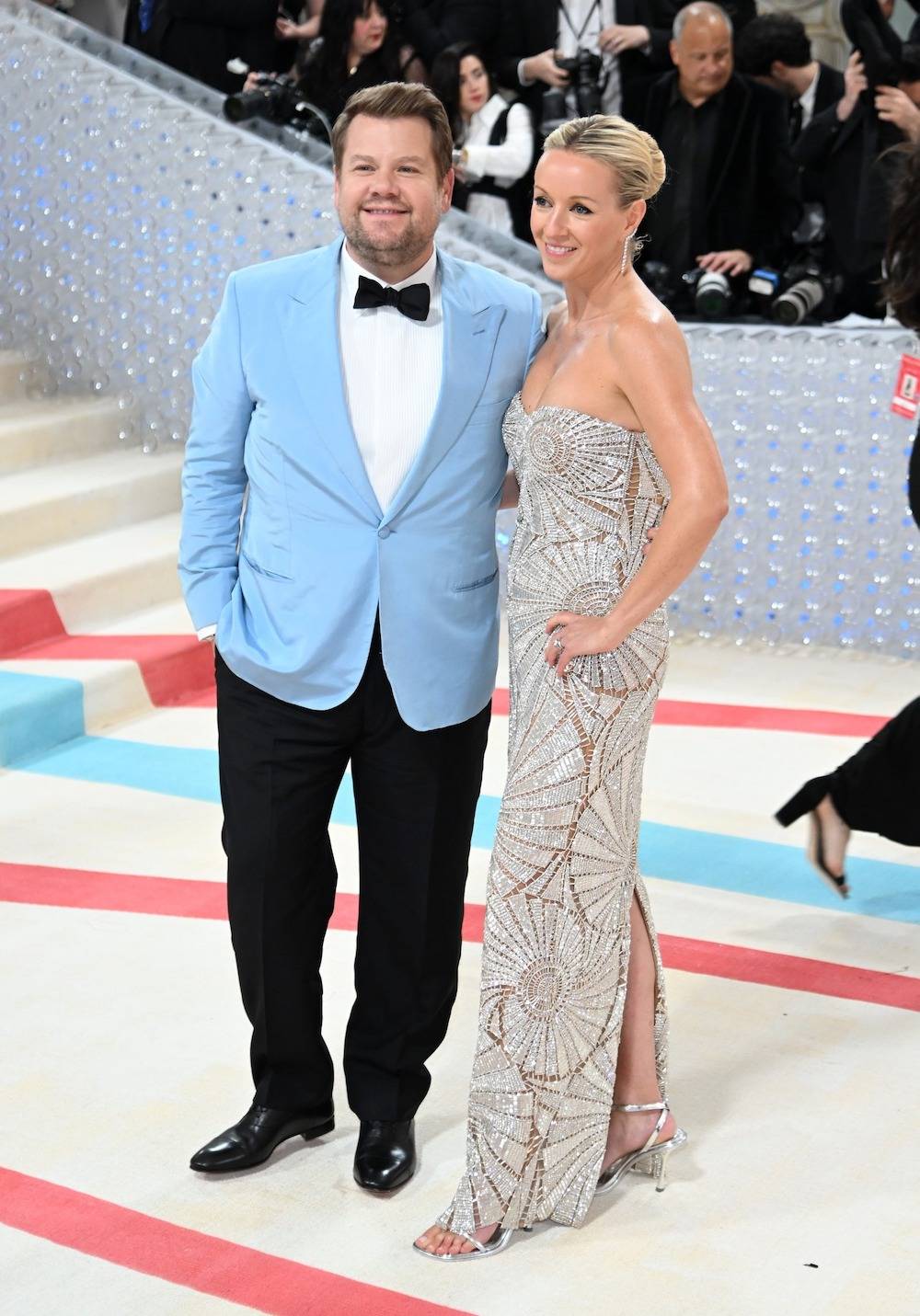 165/204

Cai Xukun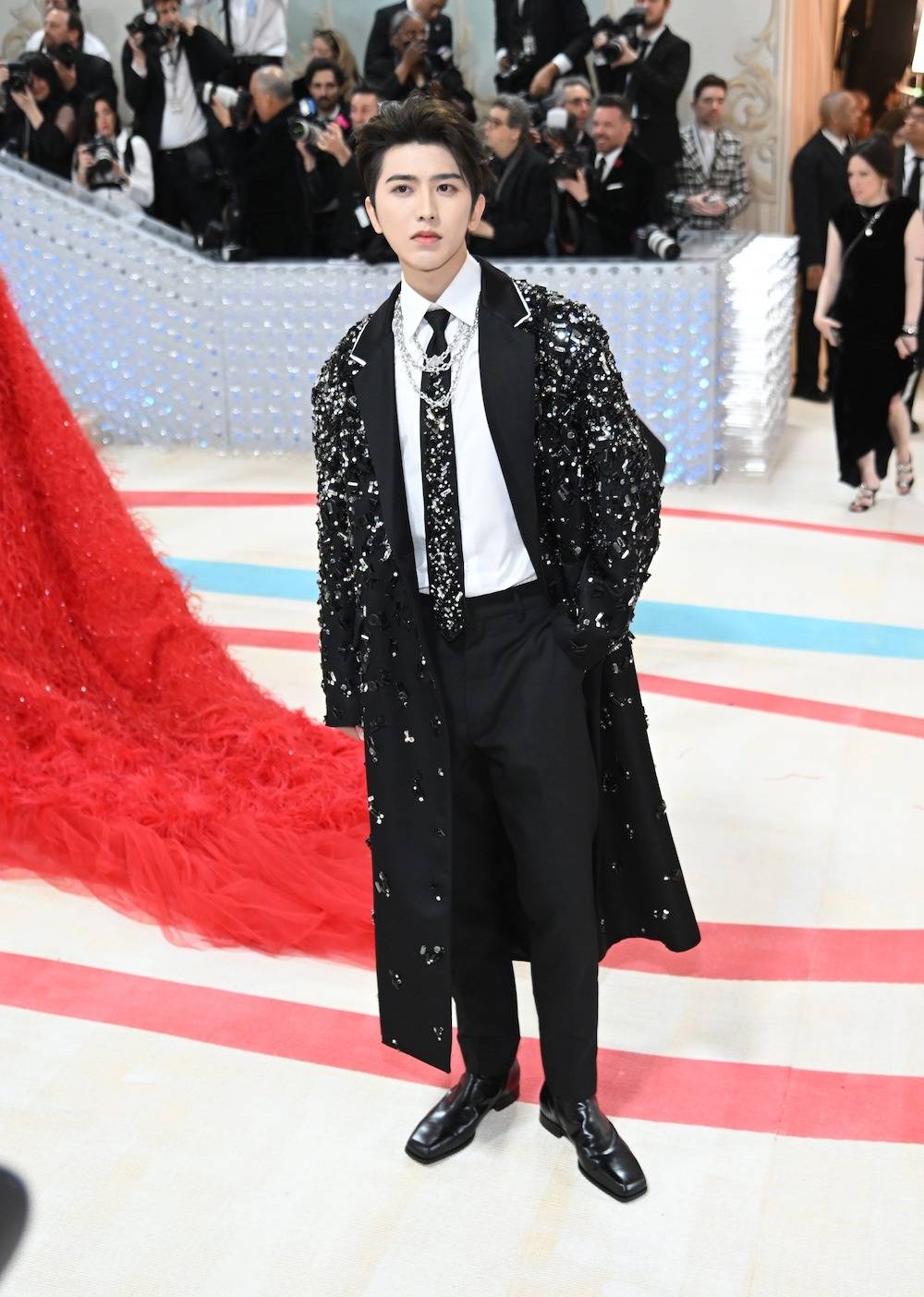 166/204

Pierce Brosnan i Keely Shaye Smith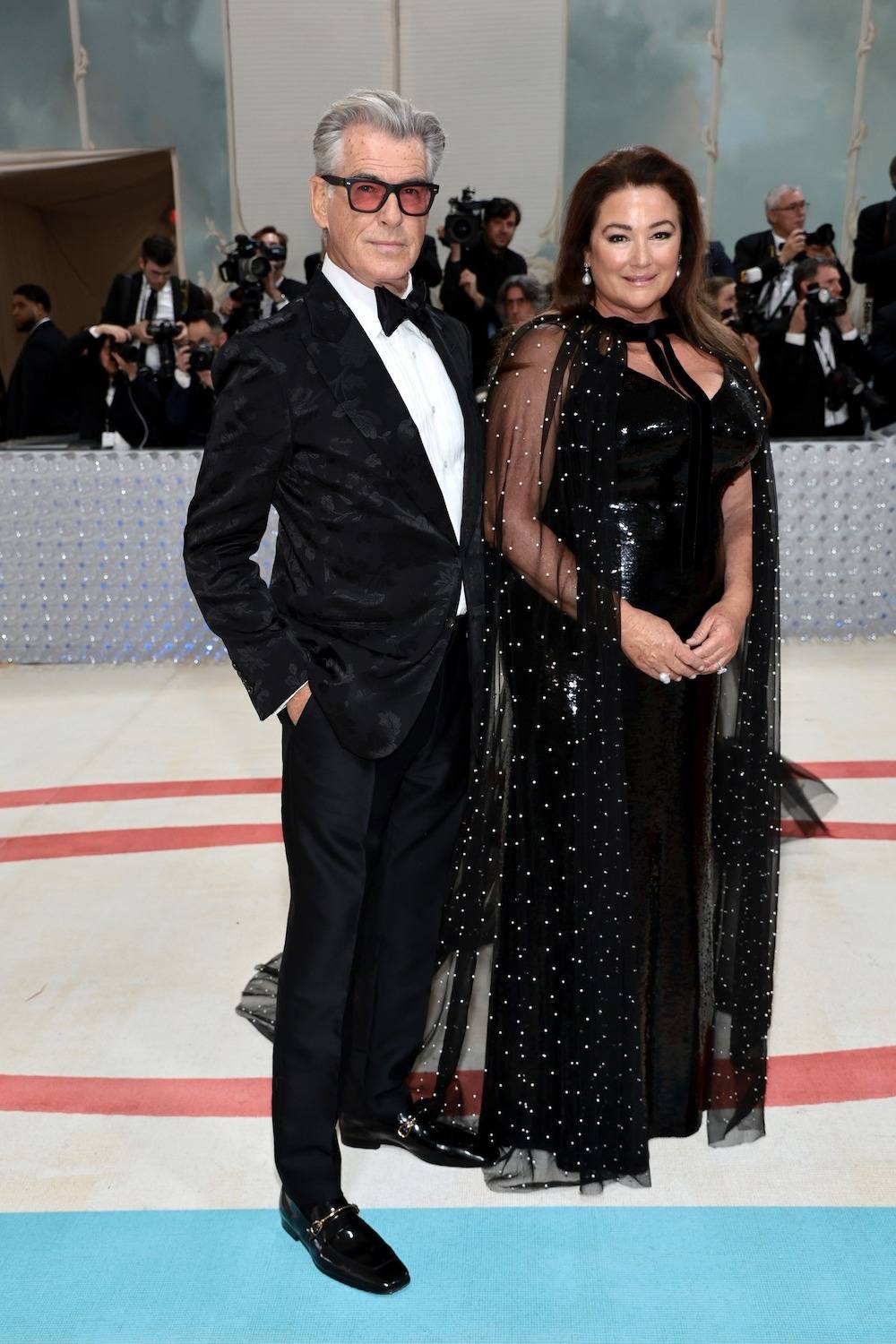 167/204

Anna Wintour i Bill Nighy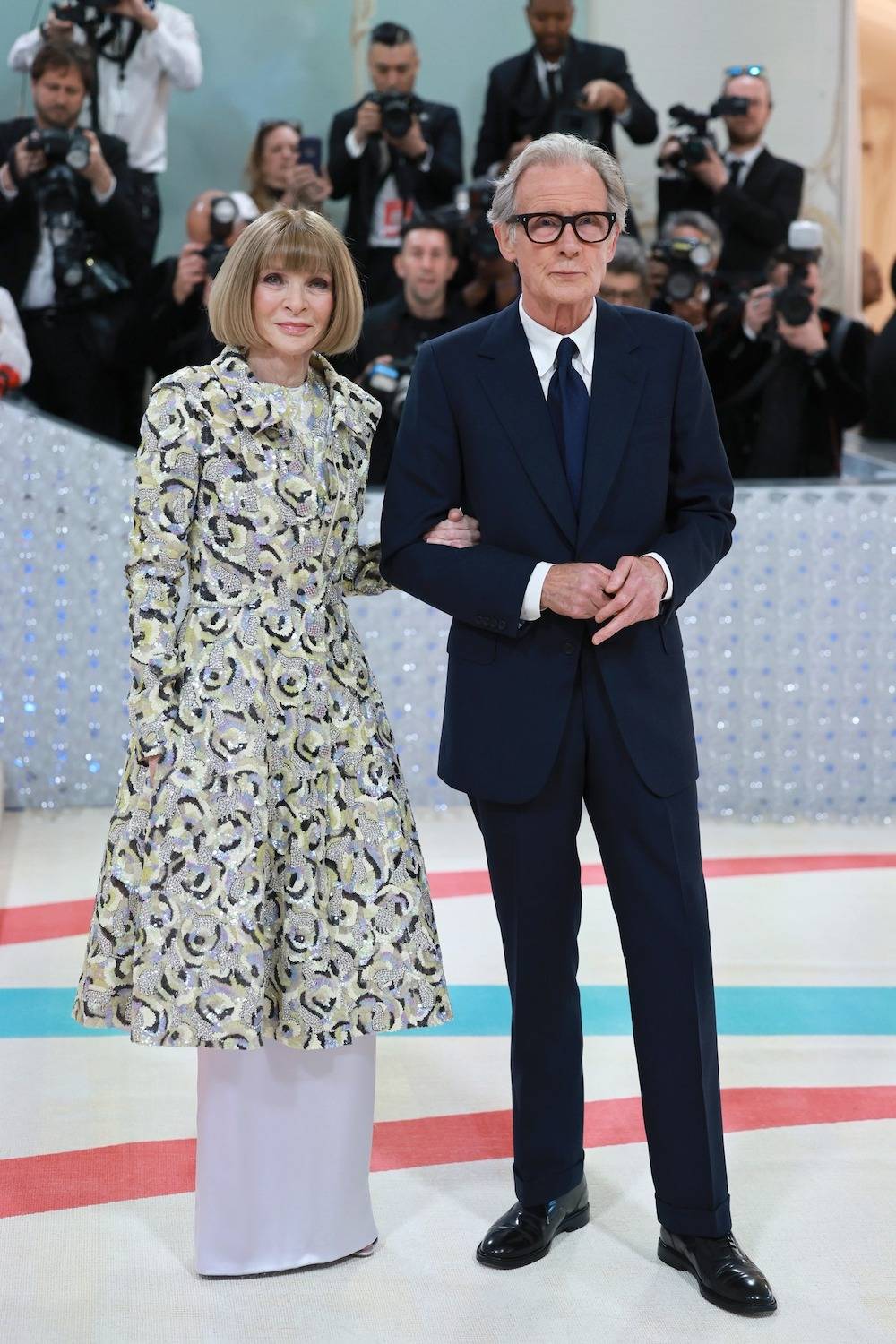 168/204

Bee Carrozzini i Francesco Carrozzini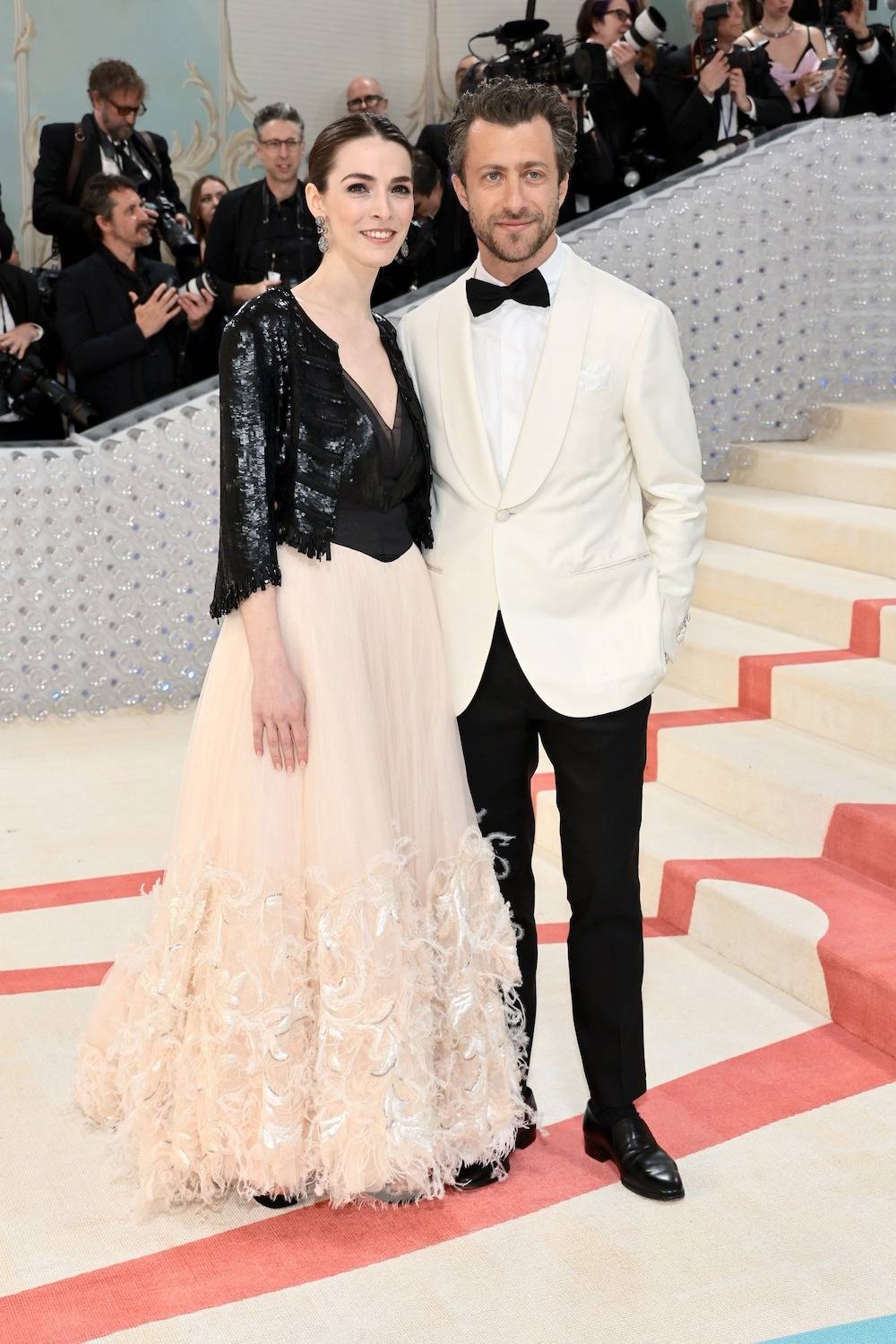 169/204

Baz Luhrmann and Catherine Martin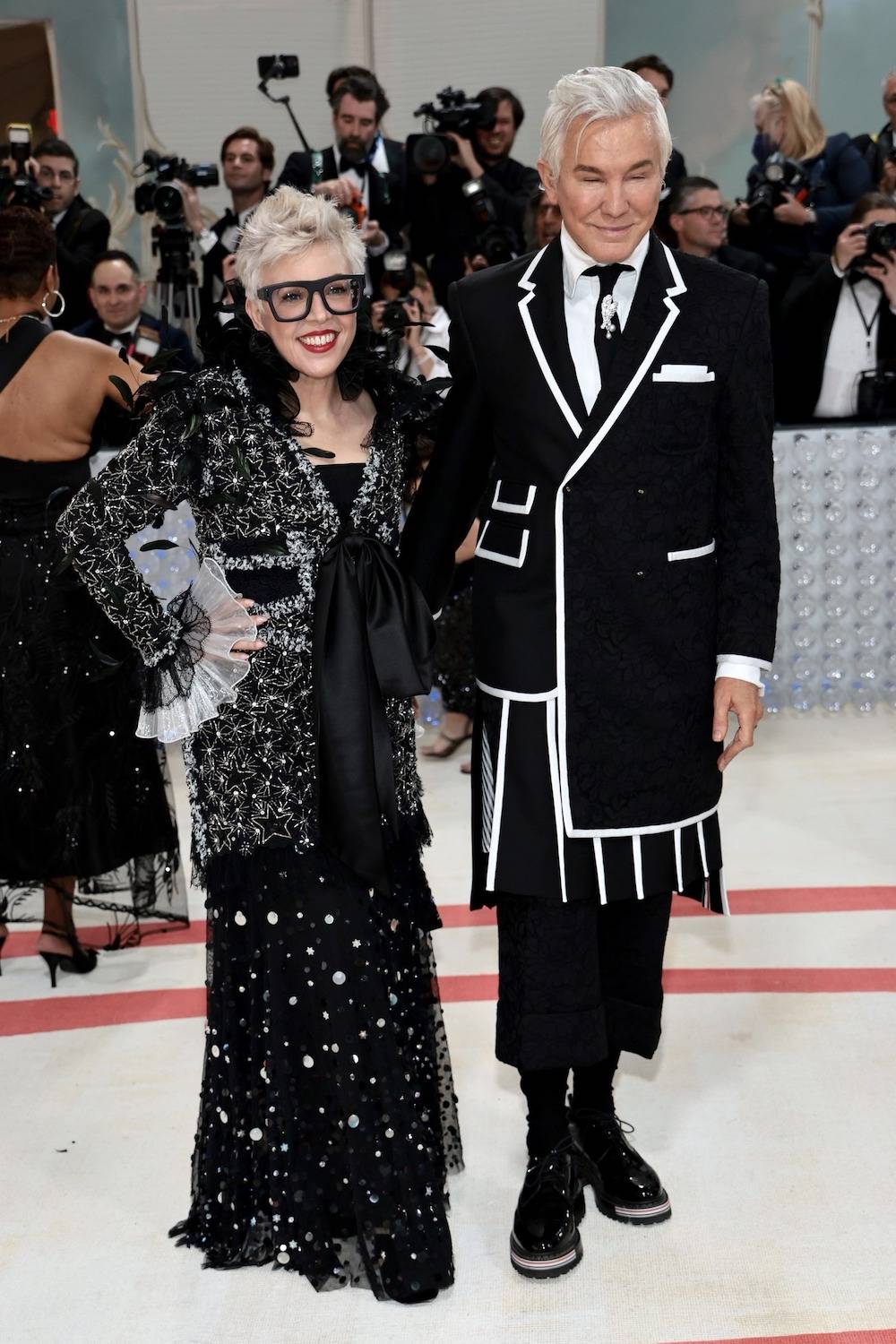 170/204

Anok Yai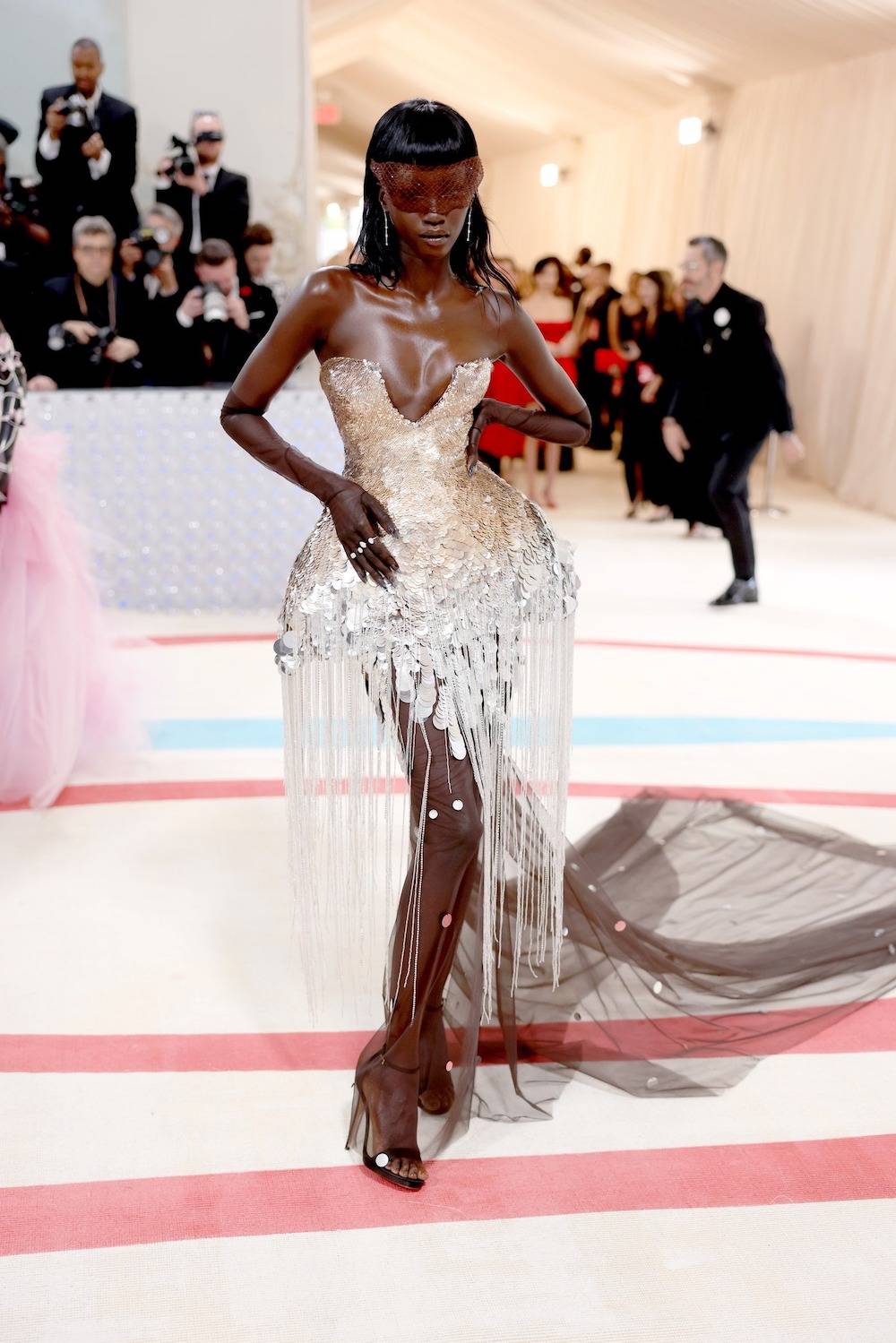 171/204

Ariana DeBose and Joseph Altuzarra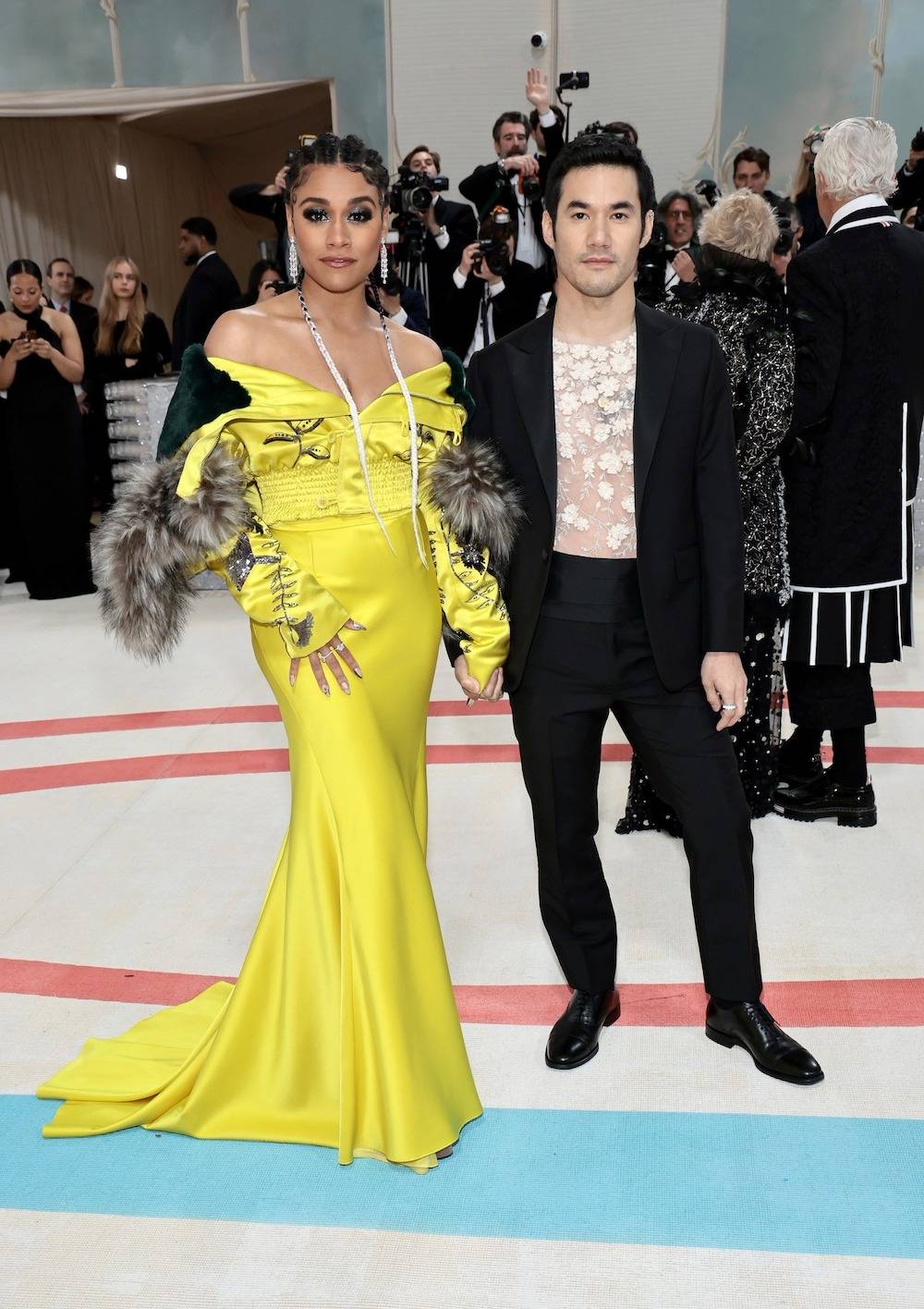 172/204

Monica Mosseri and Adam Mosseri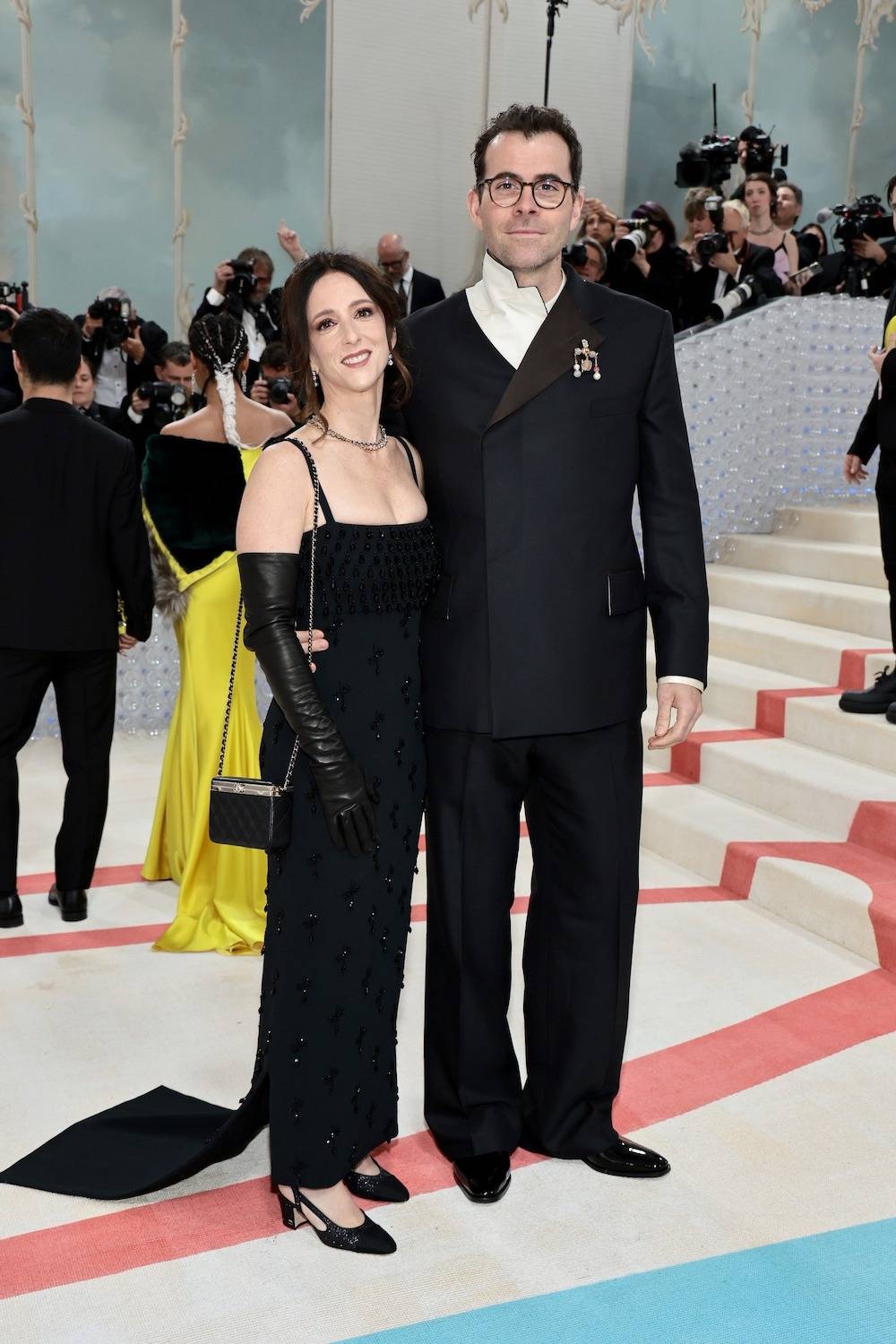 173/204

Wendi Murdoch and Grace Murdoch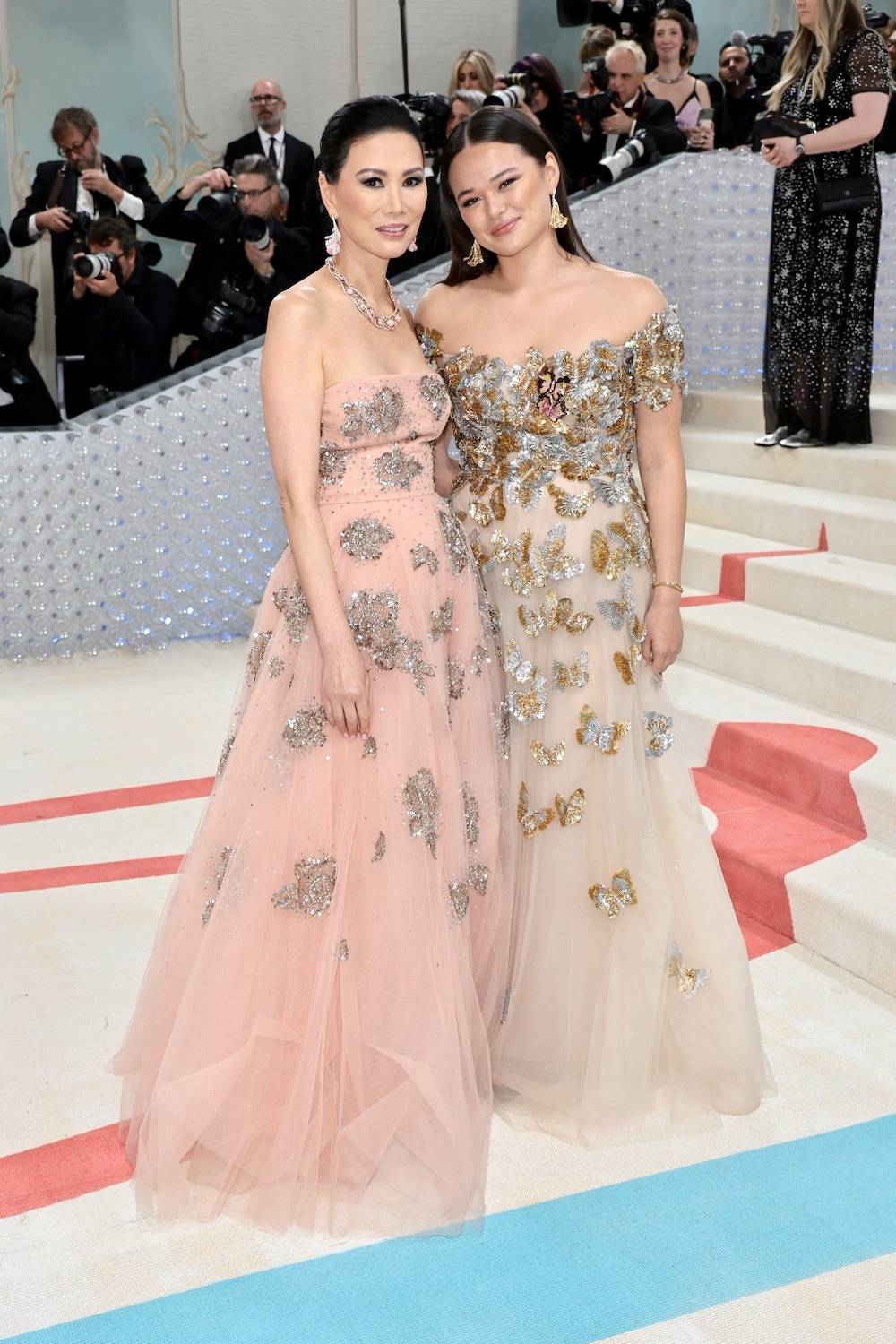 174/204

Agnes Chu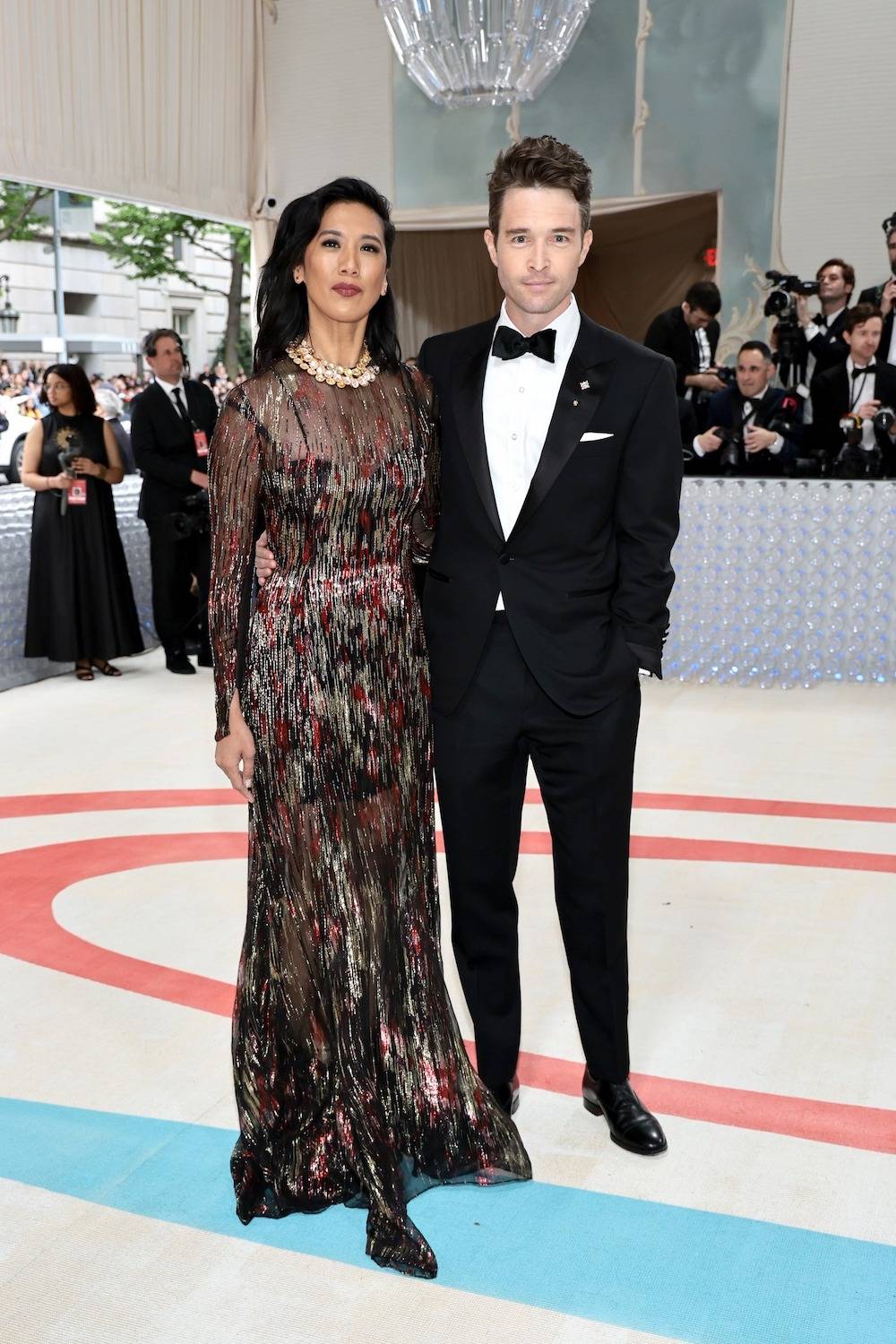 175/204

Olivia Wilde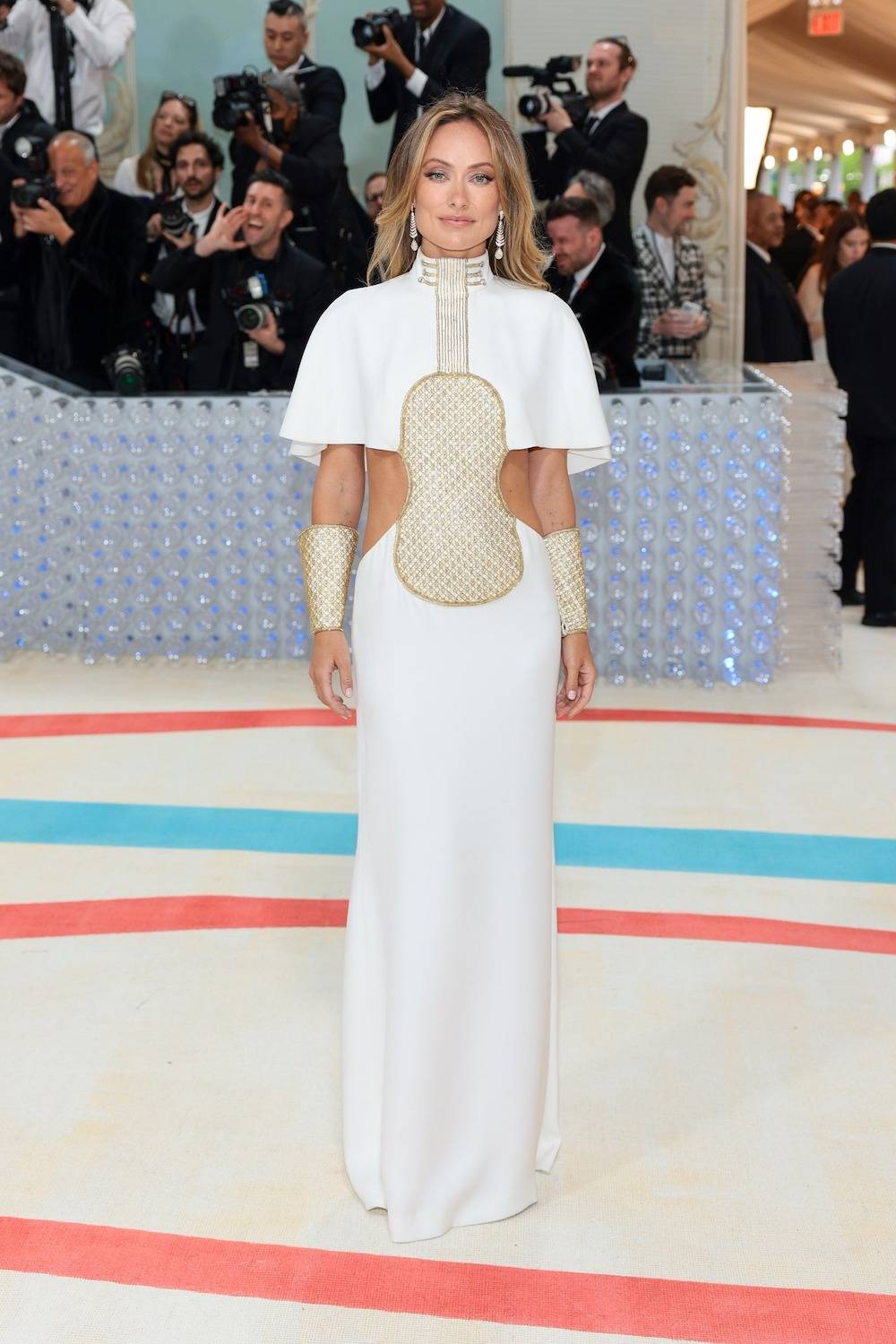 176/204

Olivia Wilde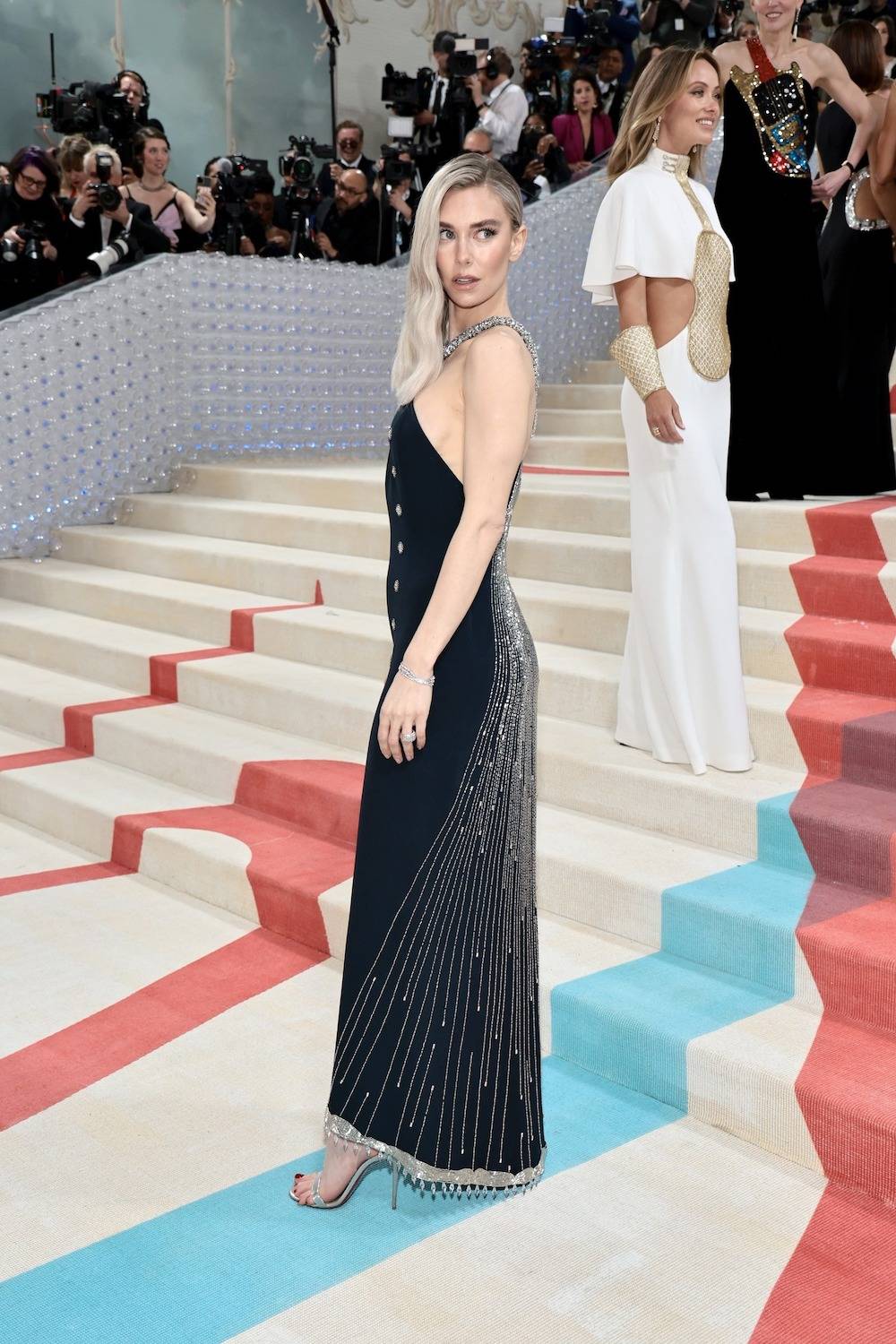 177/204

David Byrne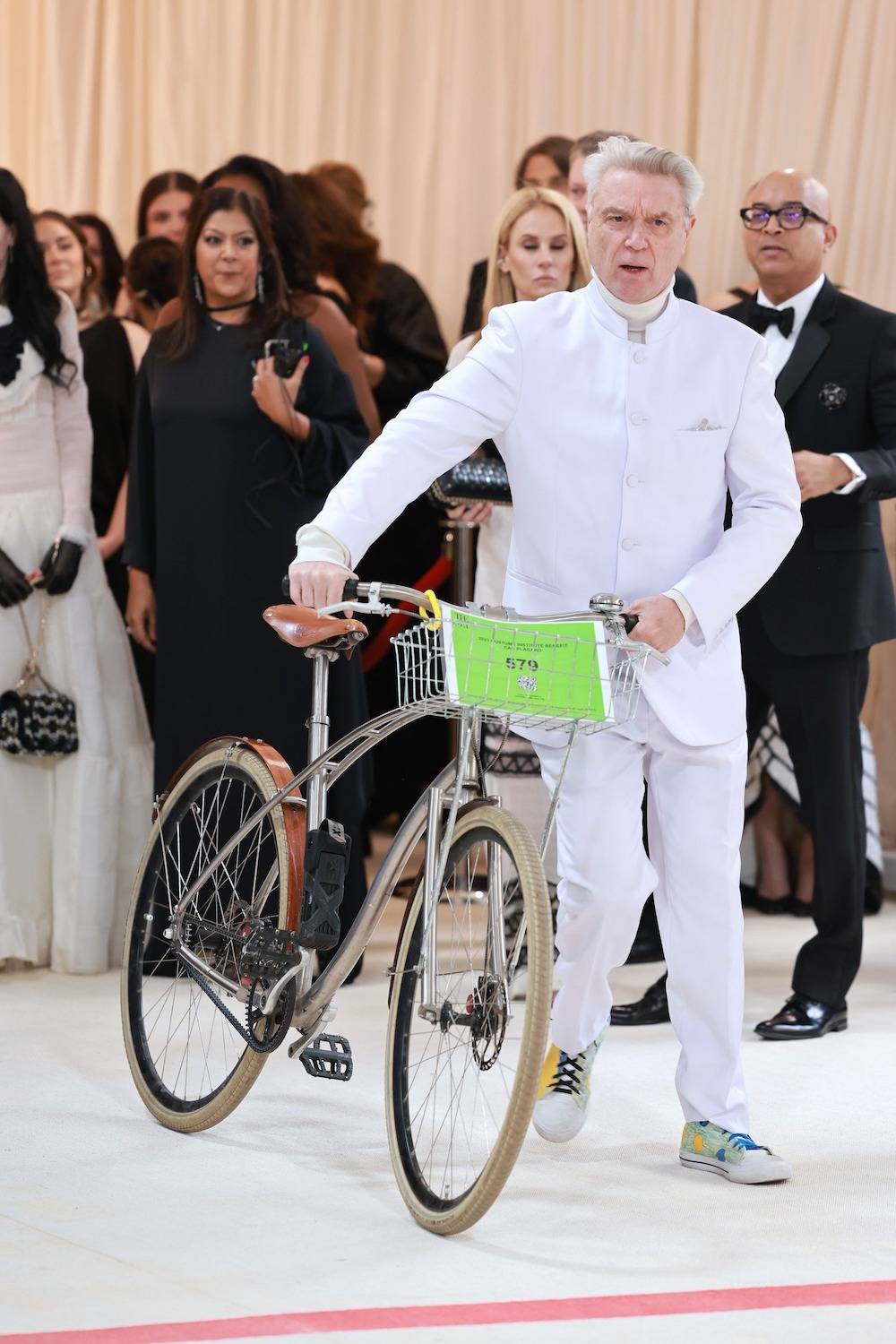 178/204

Harry Kargman i Jill Kargman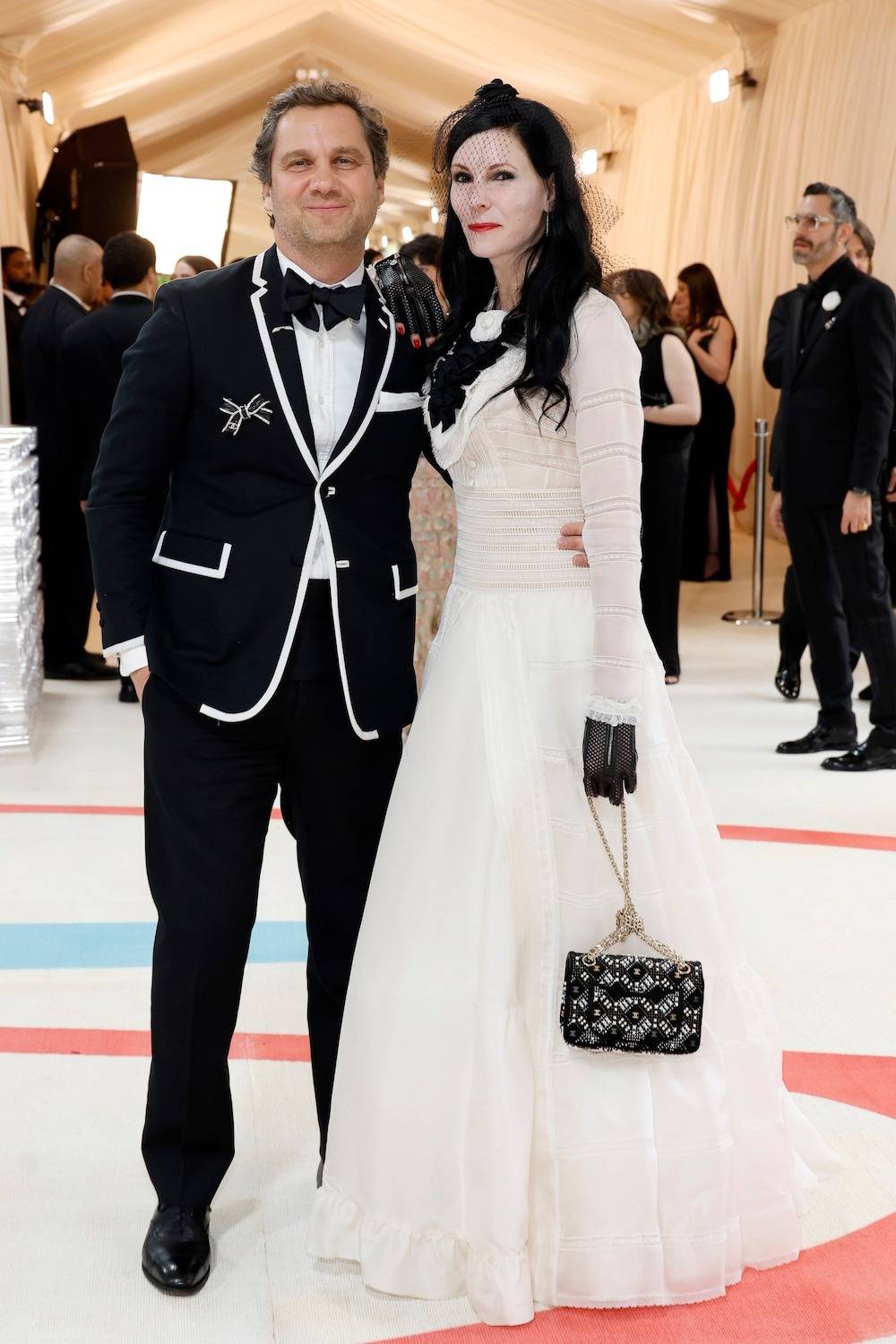 179/204

Quannah Chasinghorse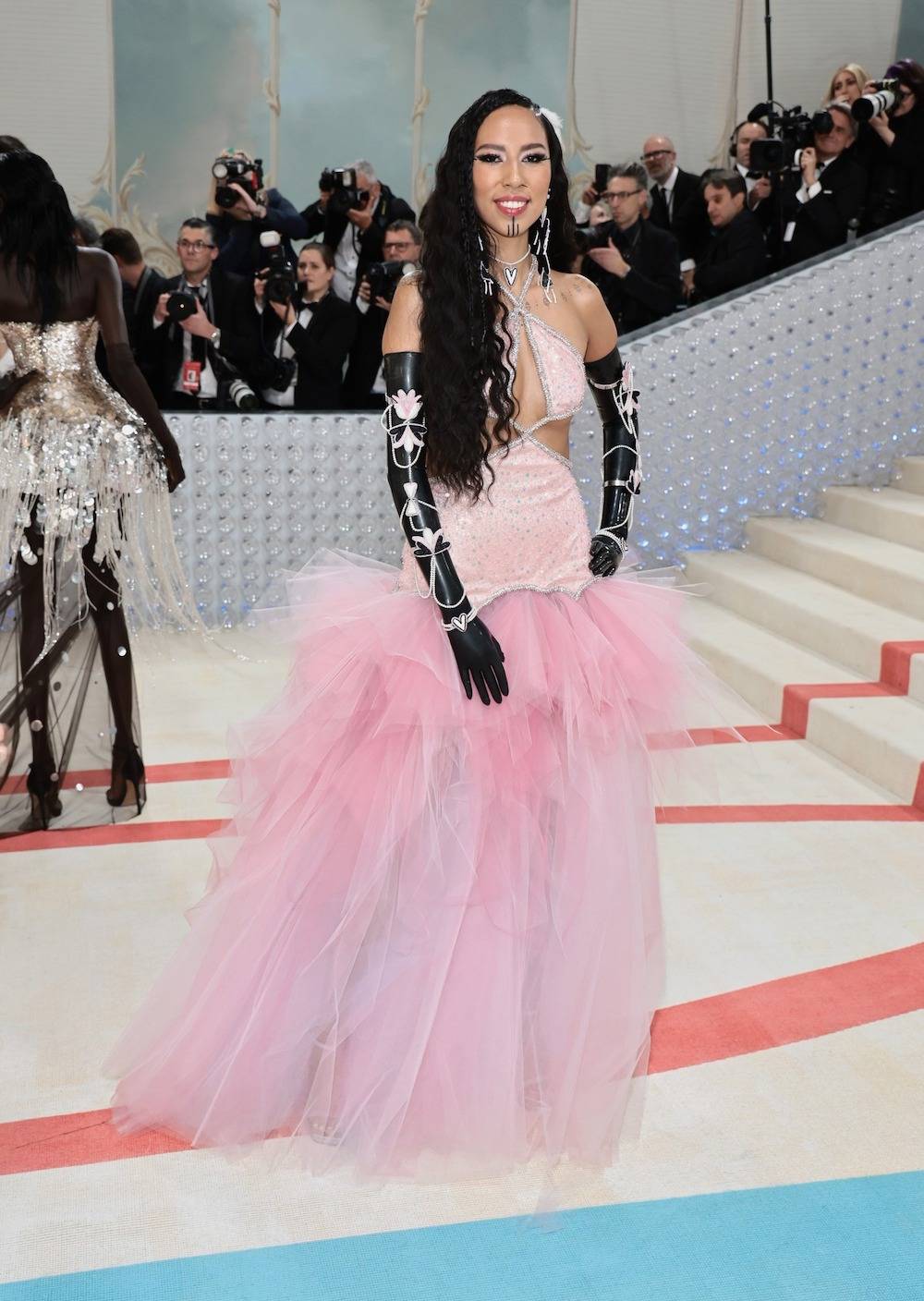 180/204

Alexi Ashe i Seth Meyers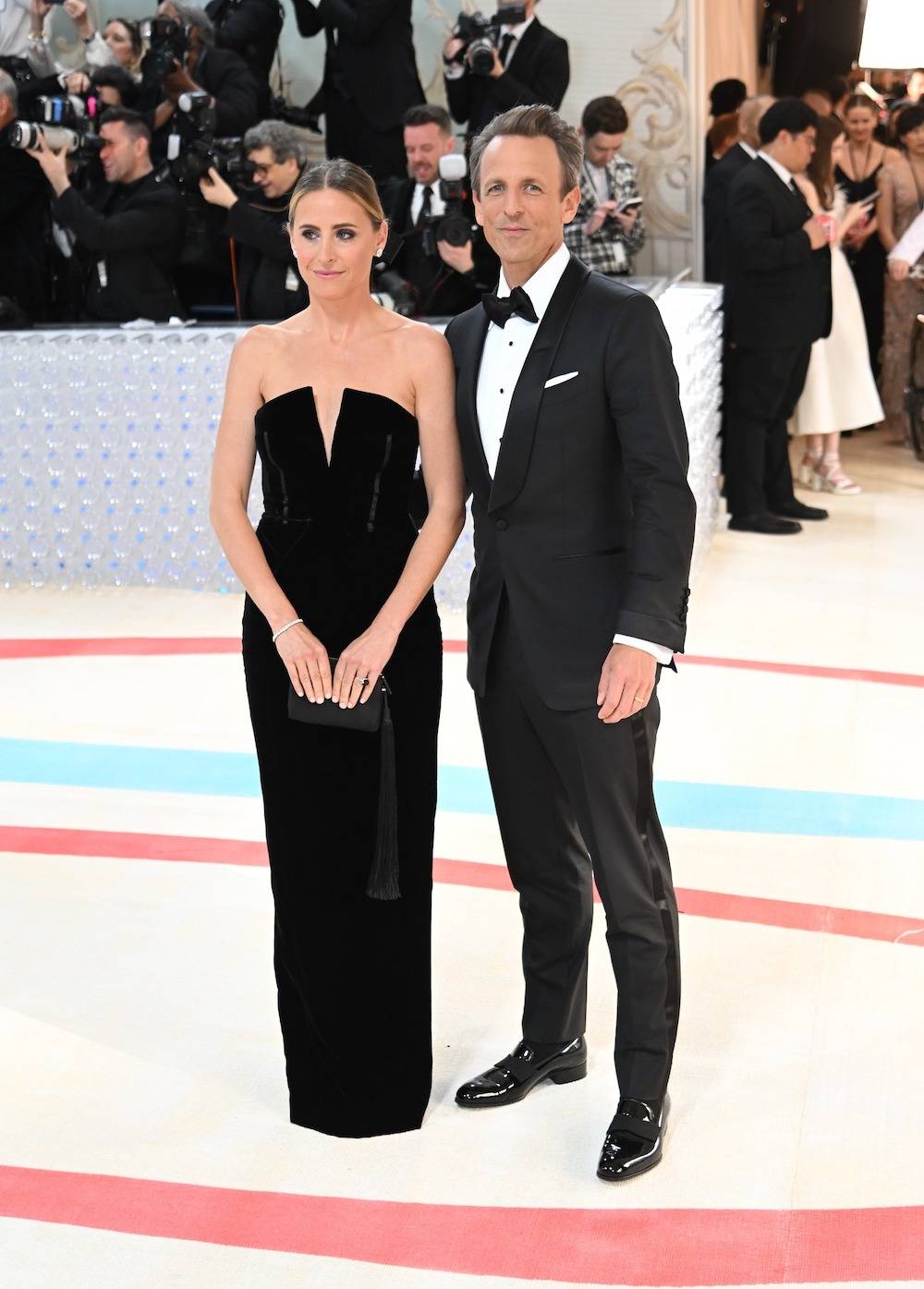 181/204

Nicole Kidman i Keith Urban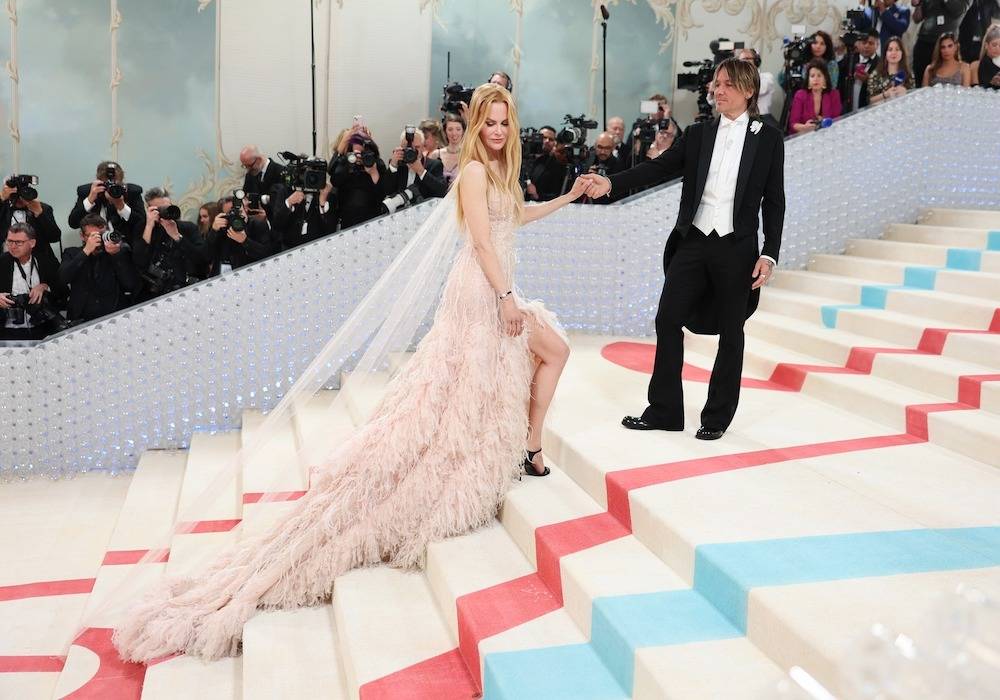 182/204

James McAvoy i Lisa Liberati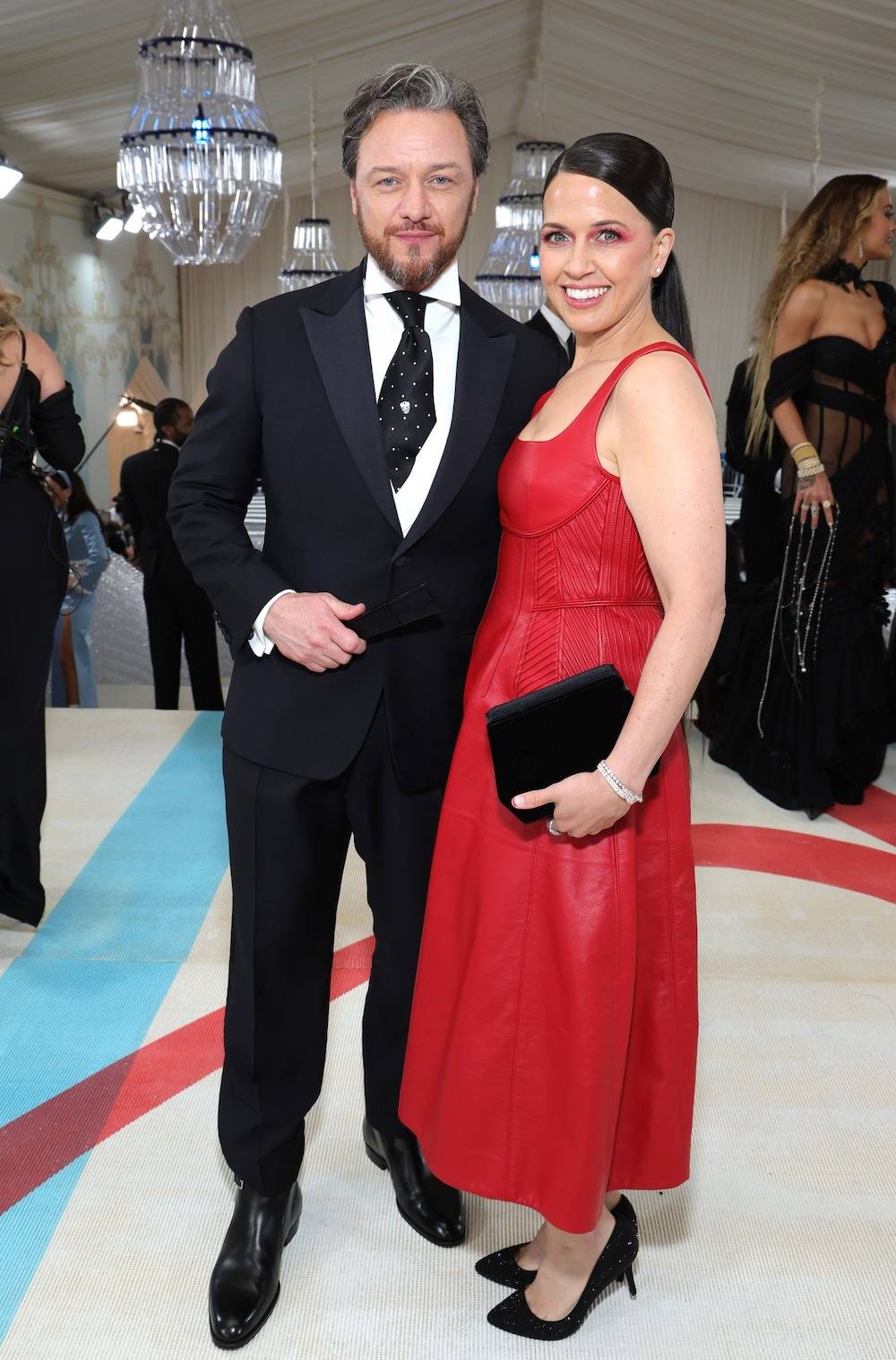 183/204

Phoebe Bridgers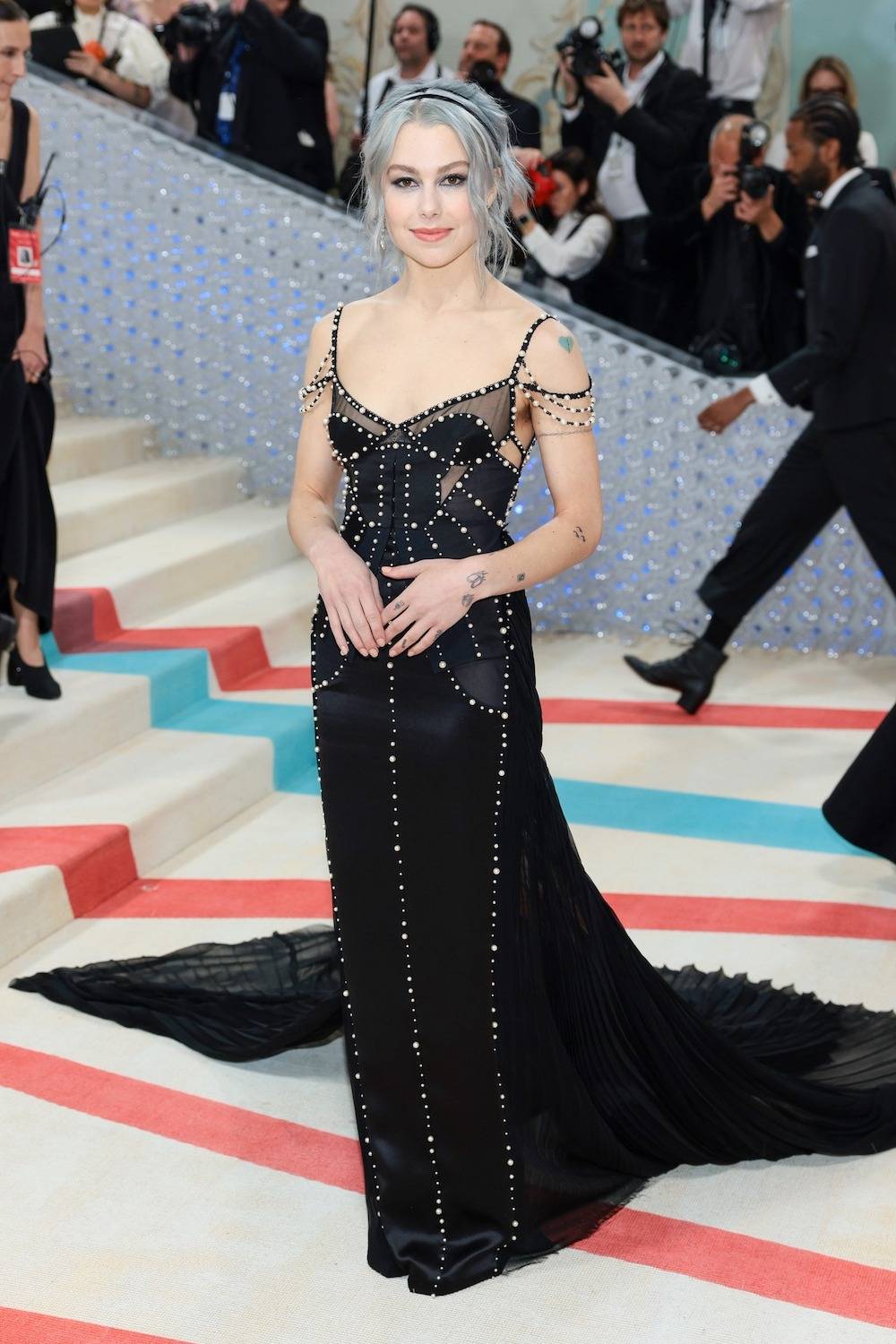 184/204

Josh Groban i Natalie McQueen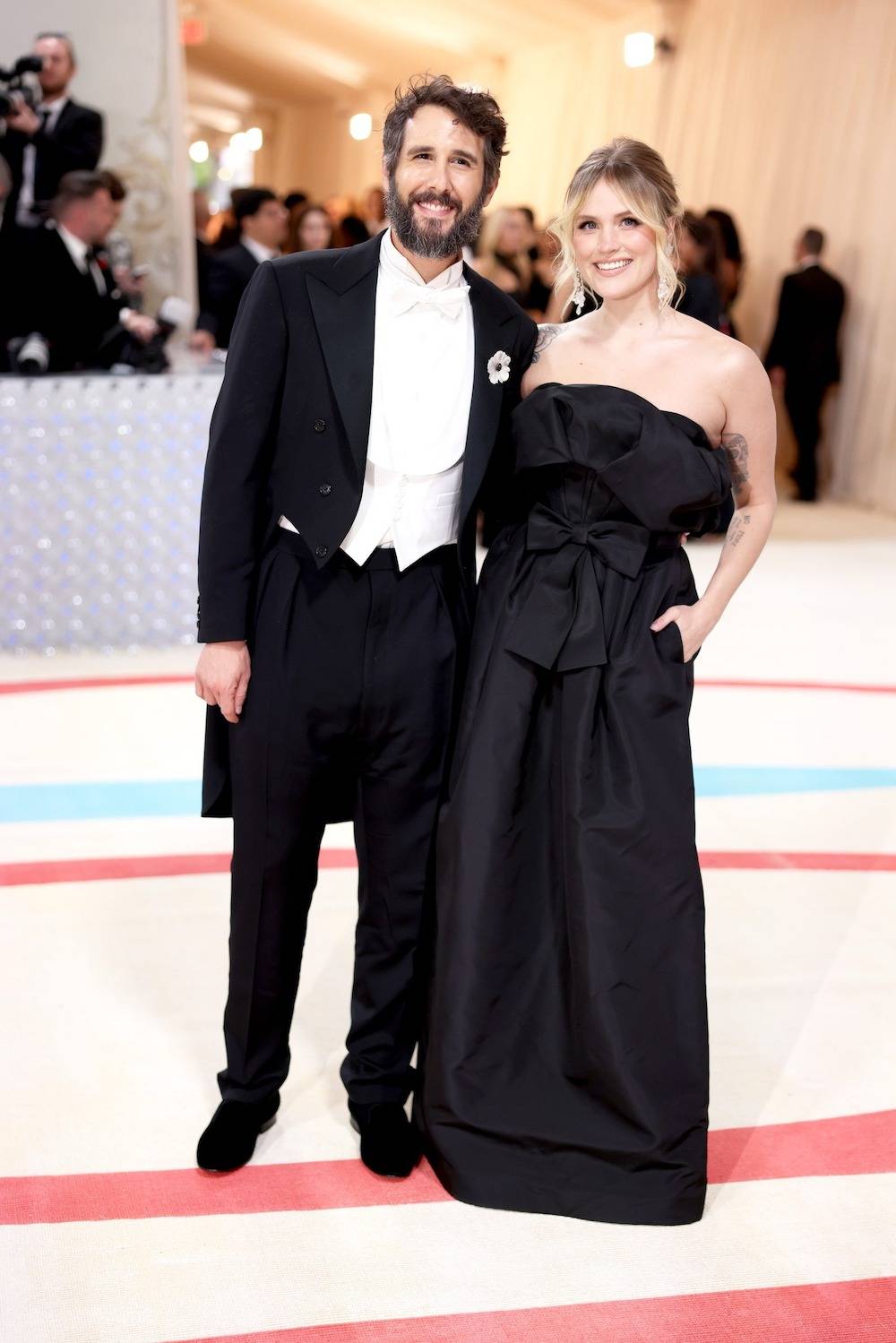 185/204

Tory Burch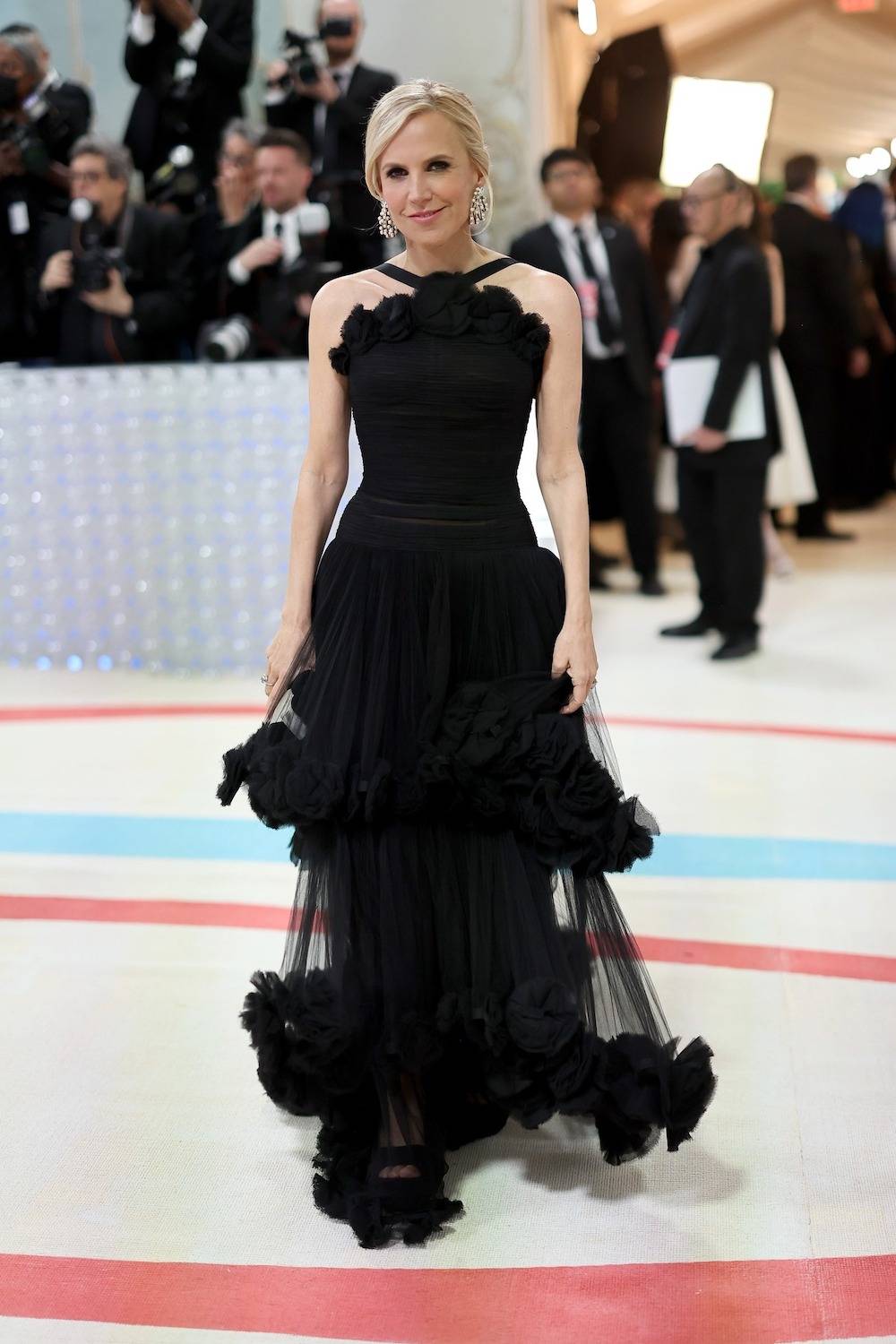 186/204

Cathleen Lynch i Roger Lynch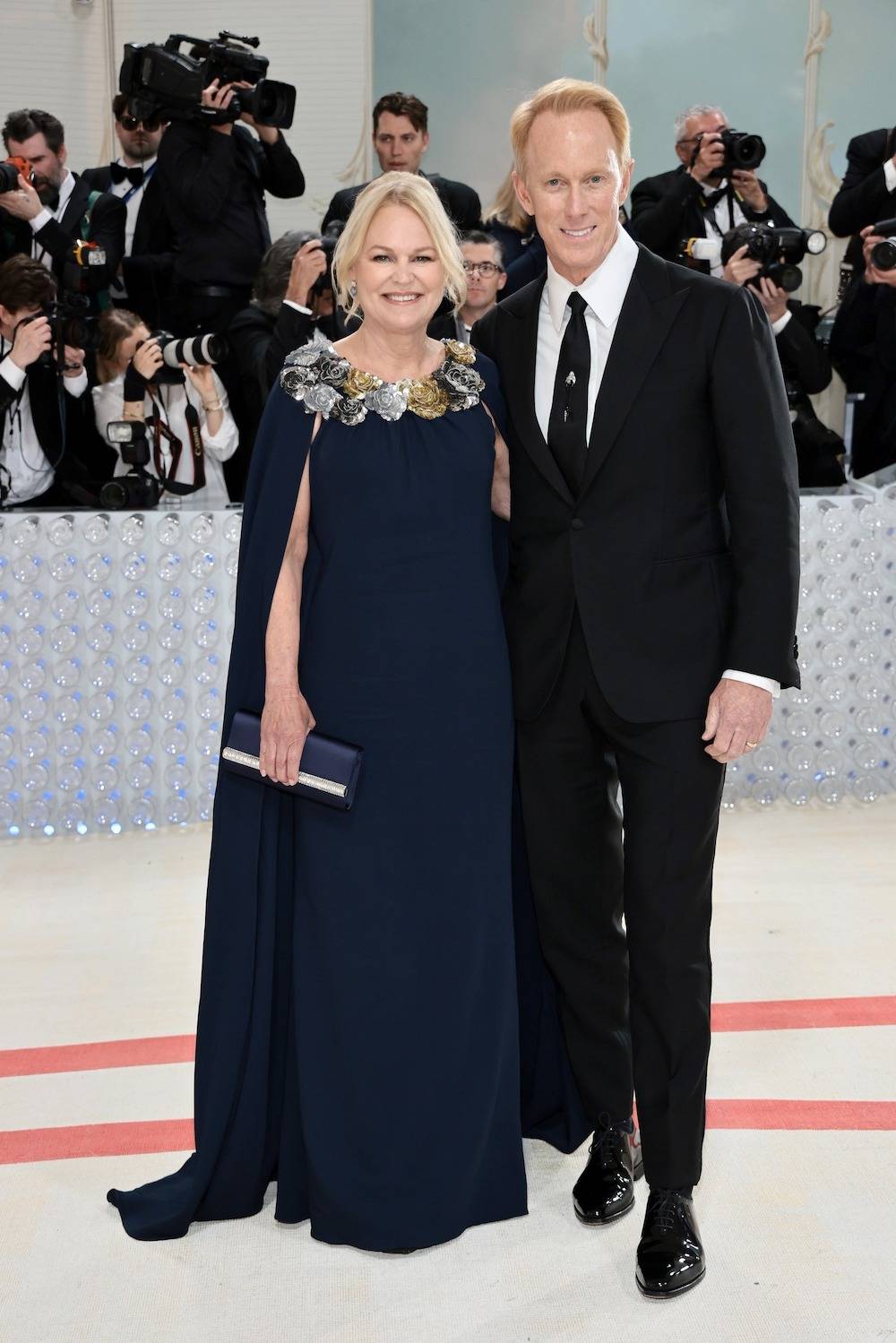 187/204

Liu Wen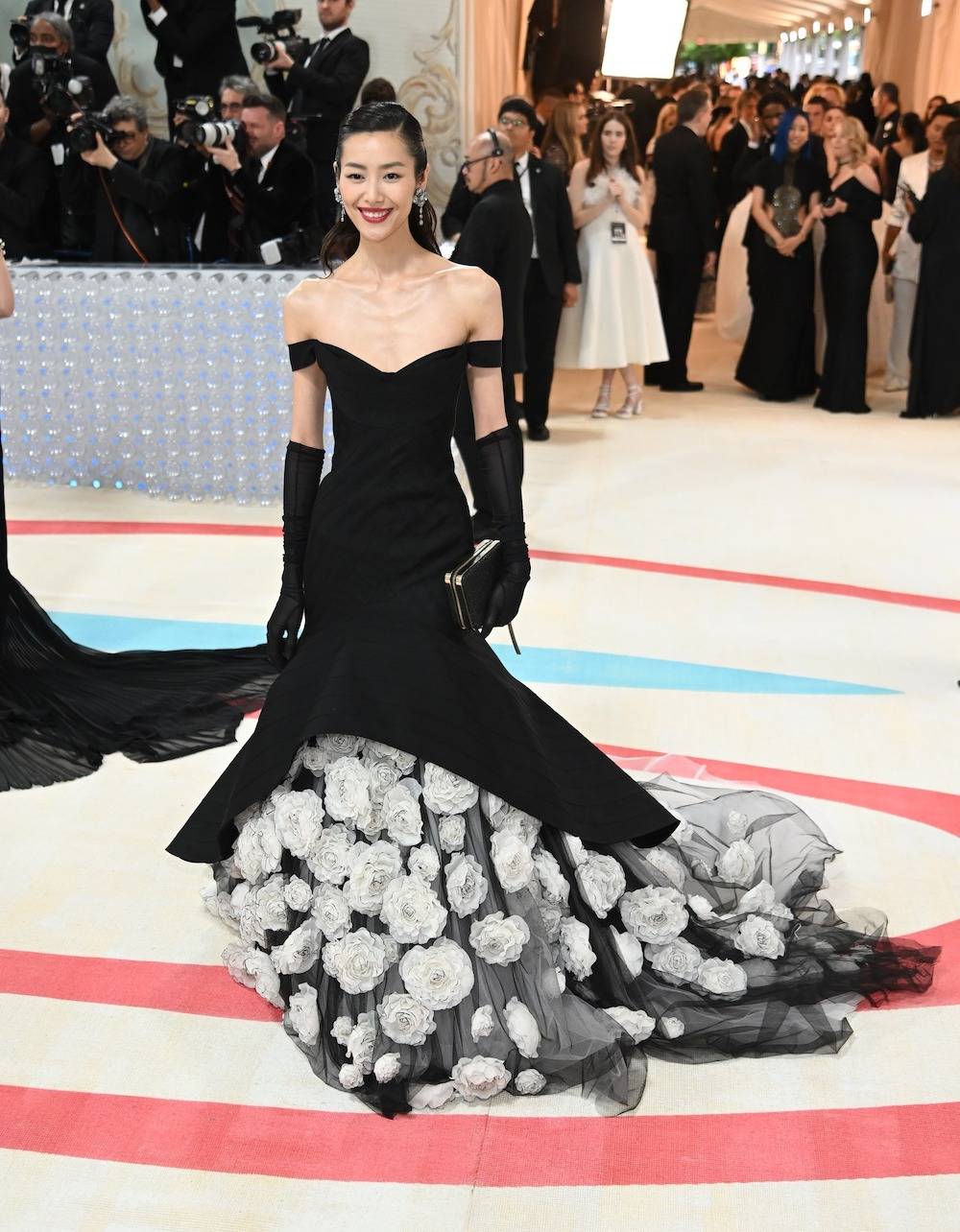 188/204

Emily Ratajkowski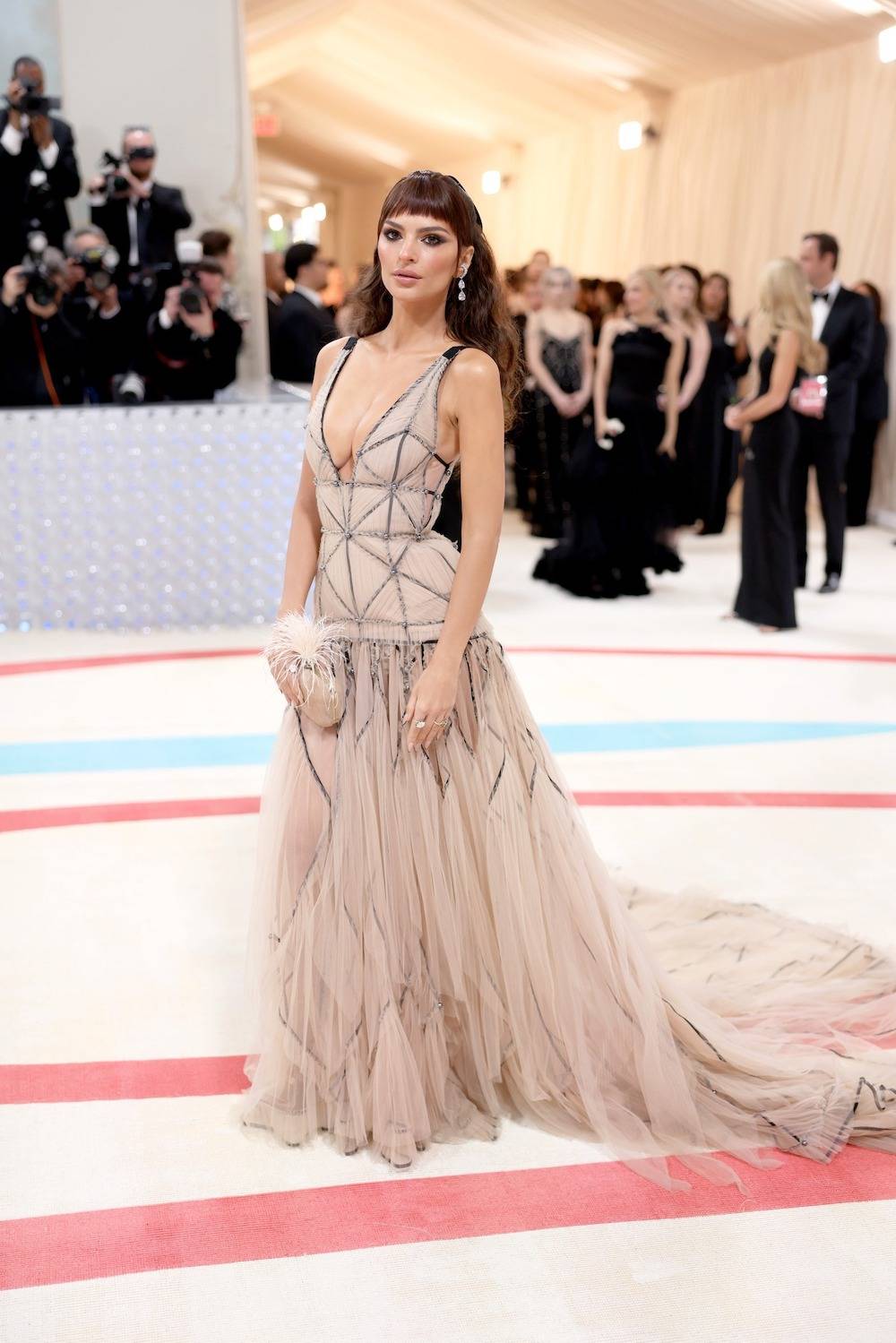 189/204

Andrew Saffir i Daniel Benedict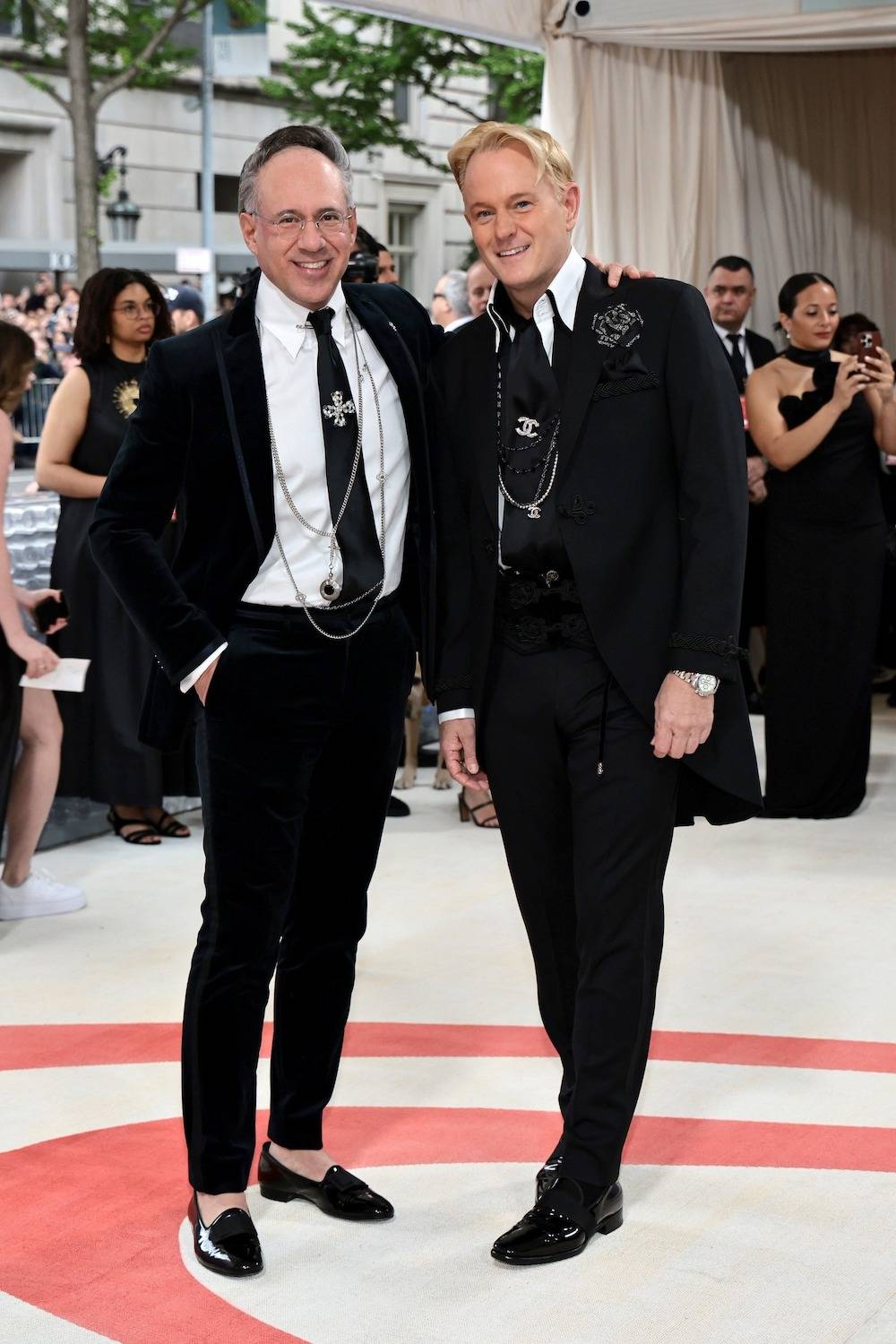 190/204

Taika Waititi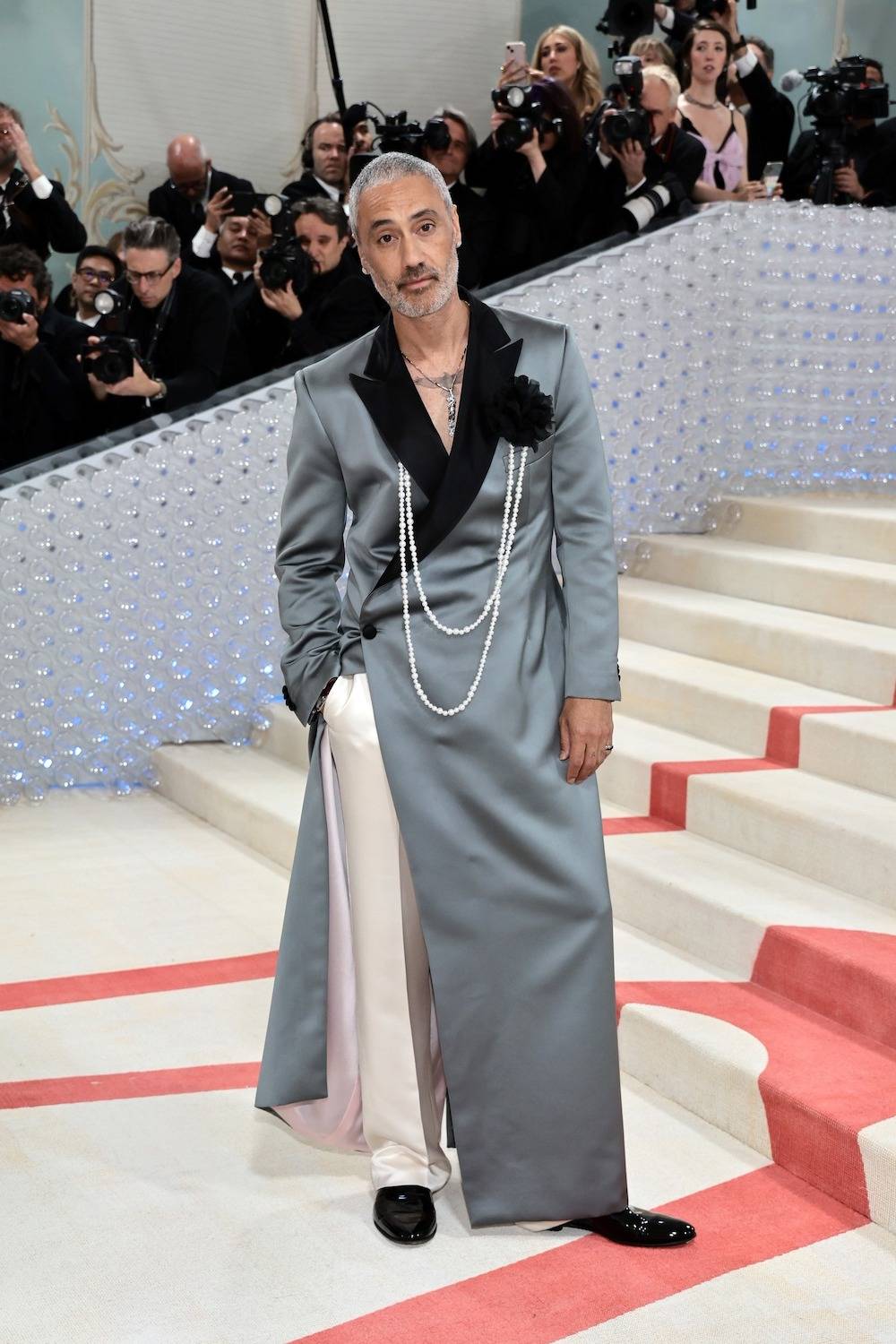 191/204

Rita Ora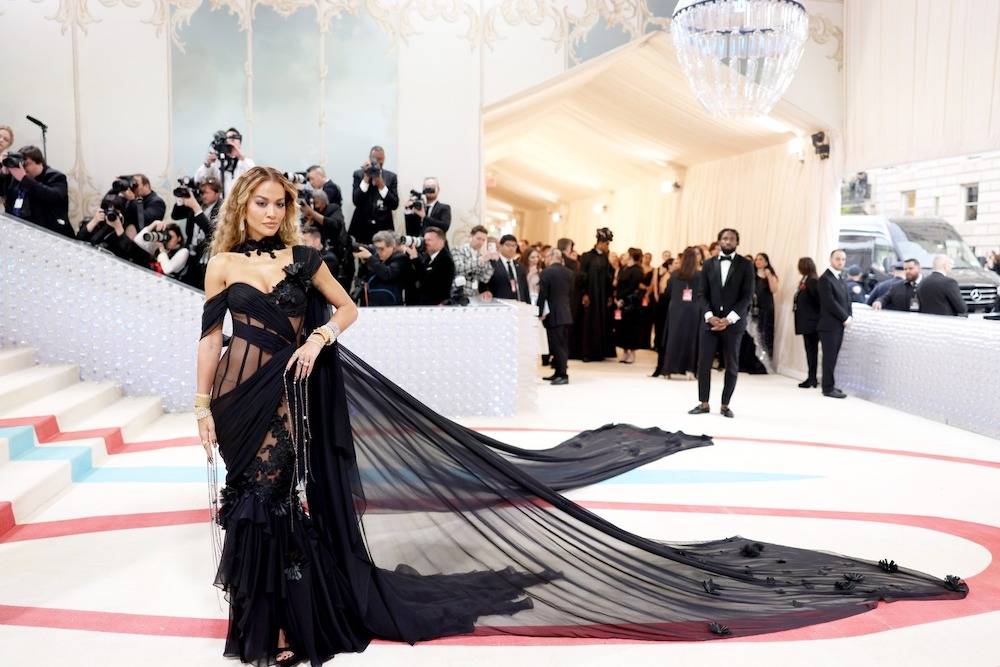 192/204

Roger Federer i Mirka Federer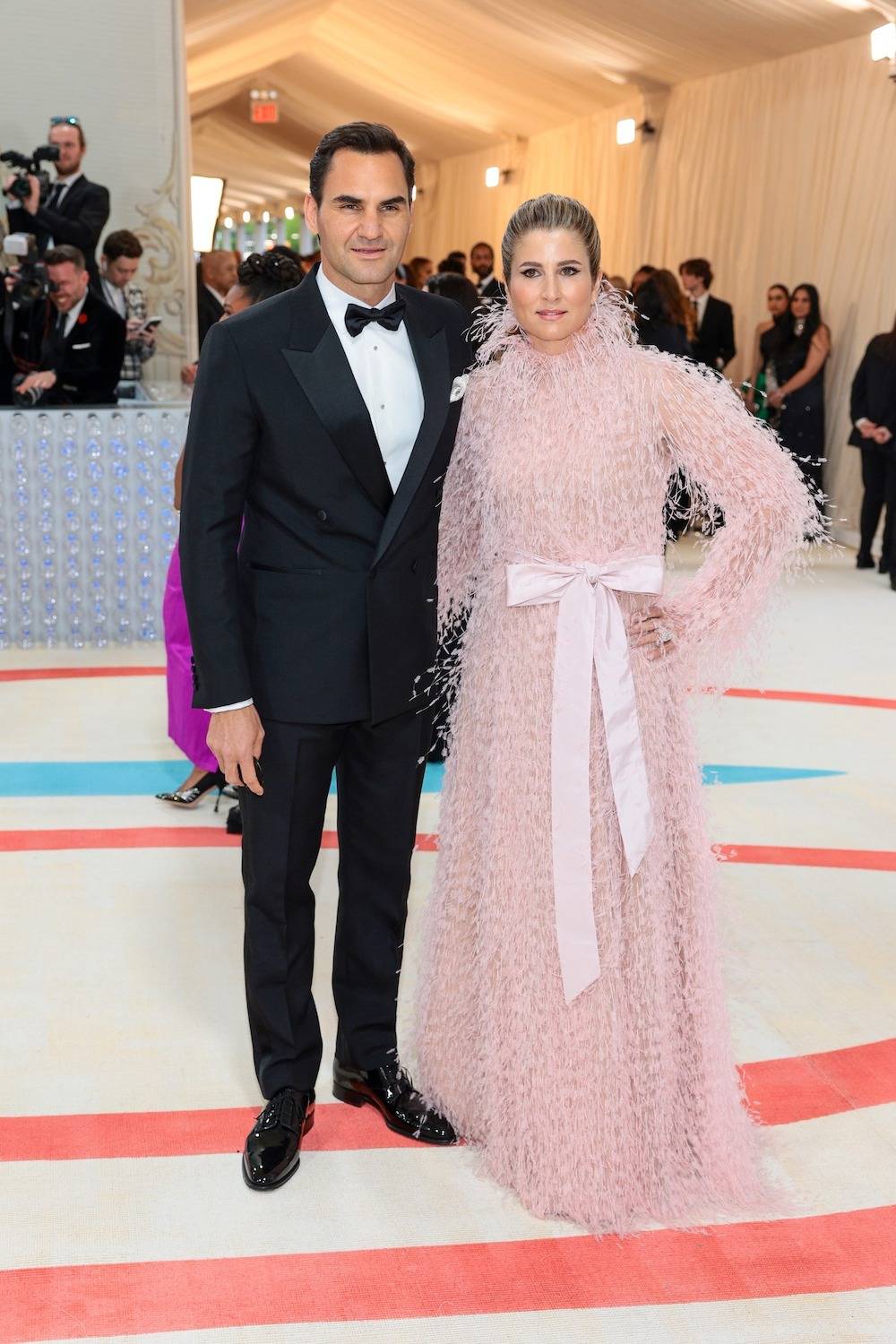 193/204

Emma Chamberlain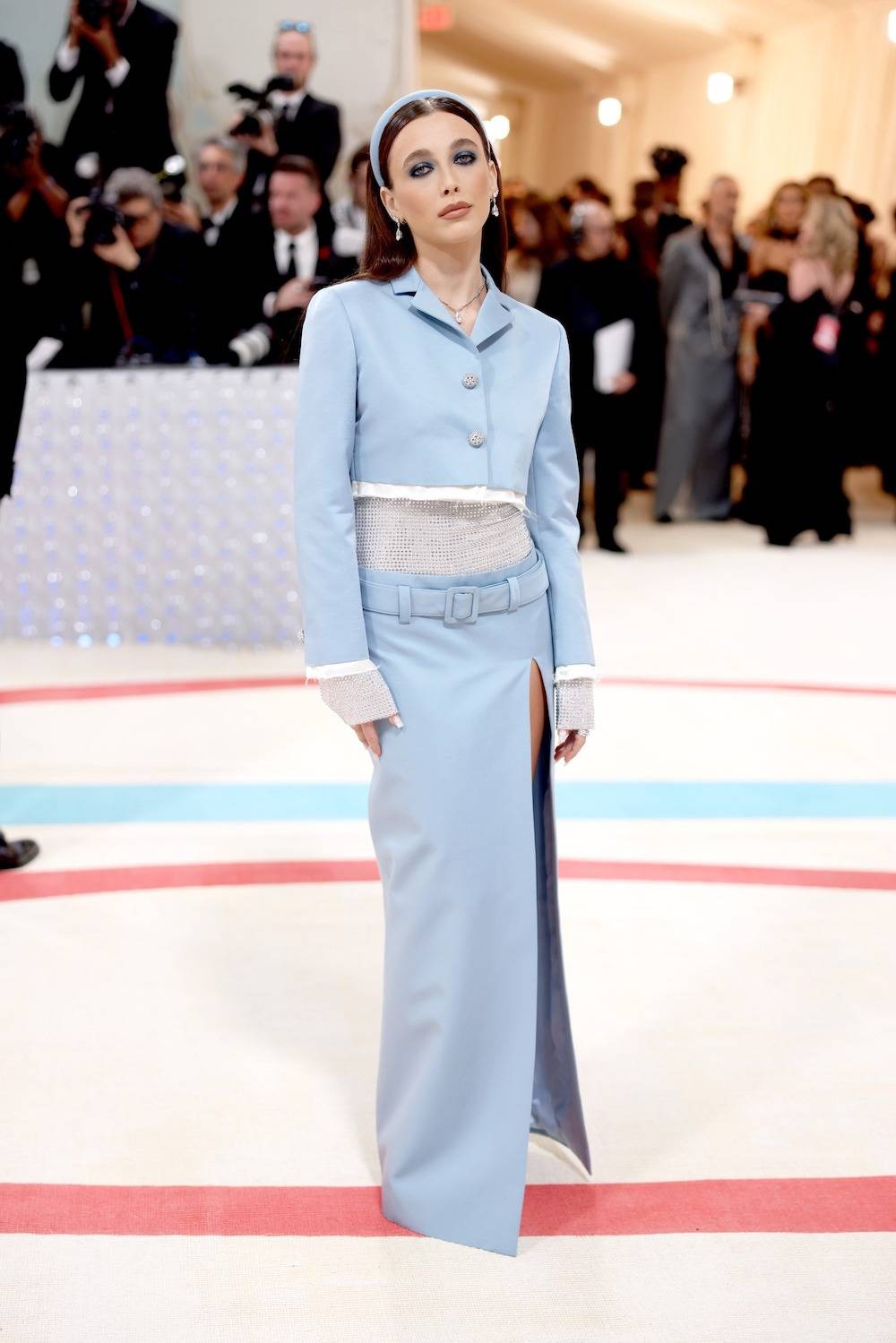 194/204

Vittoria Ceretti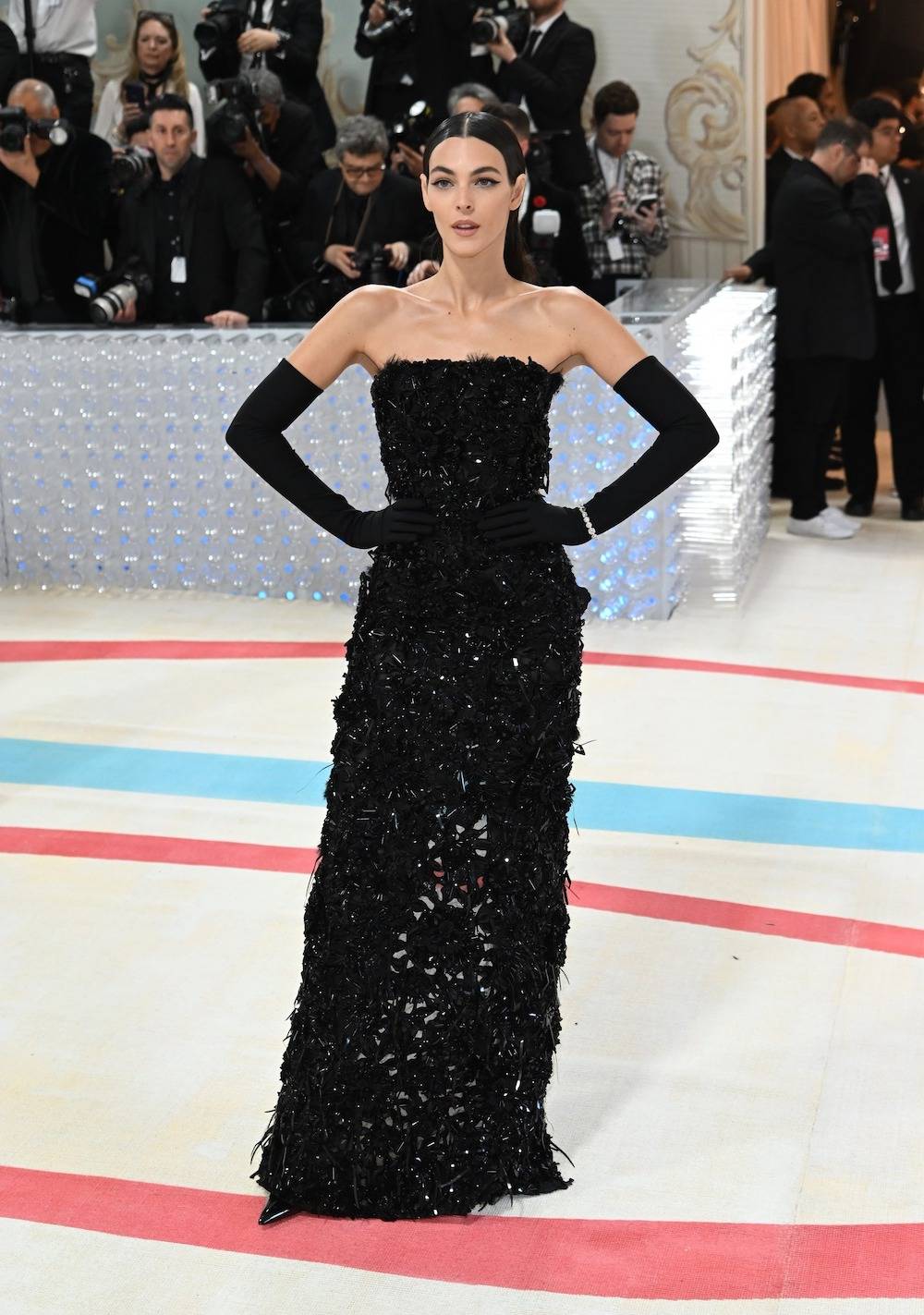 195/204

Fabiola Beracasa Beckman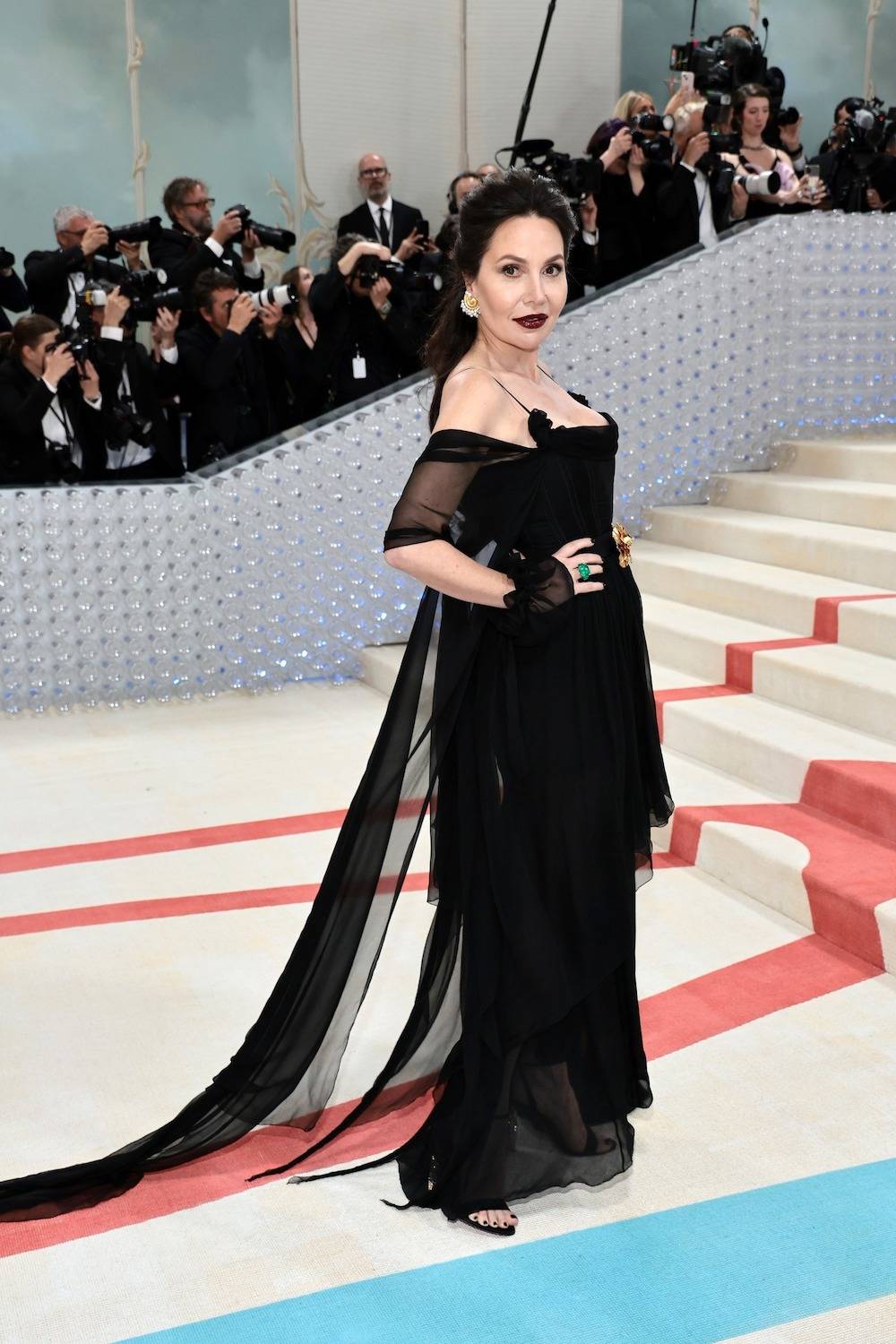 196/204

Wendell Pierce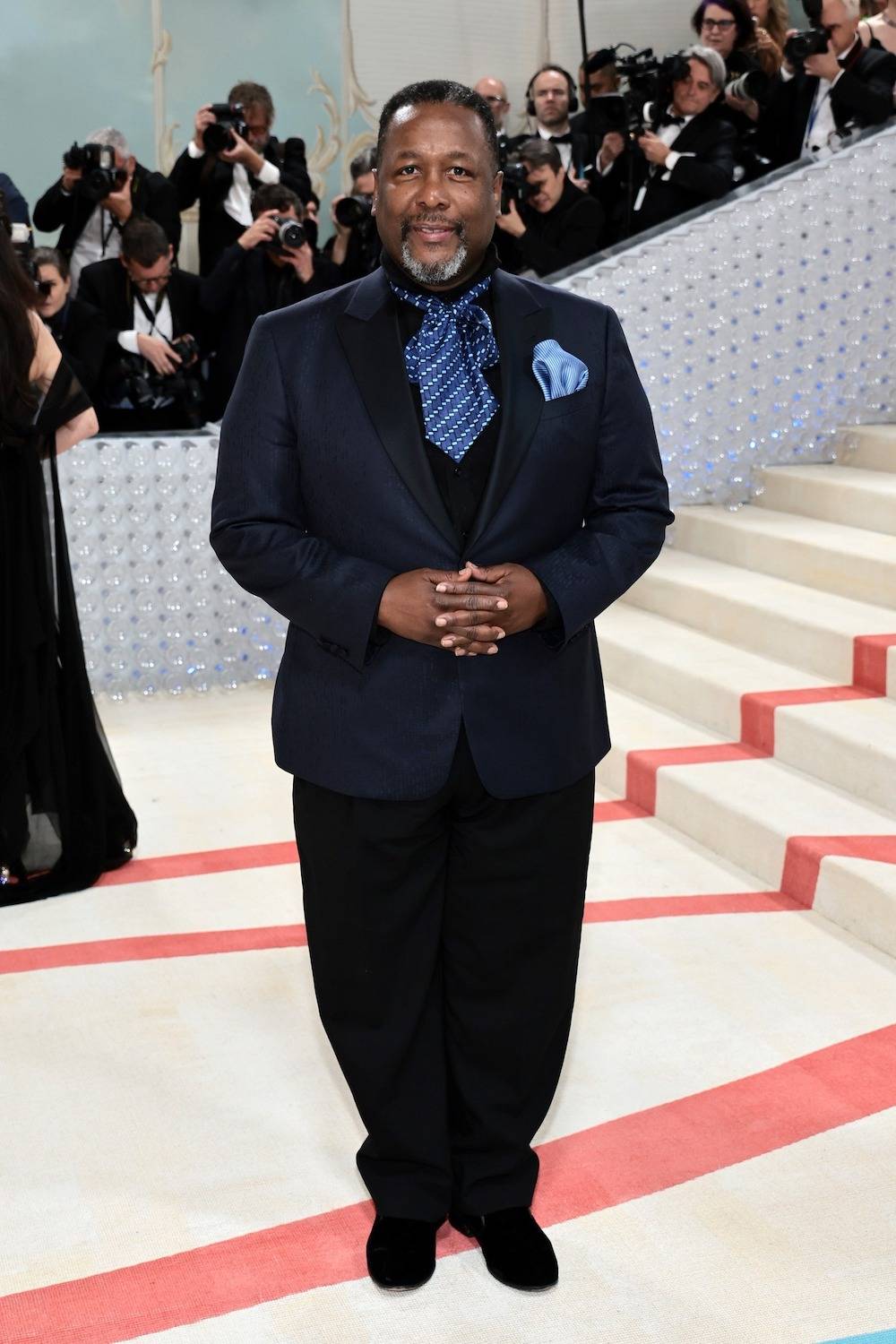 197/204

Nichapat Suphap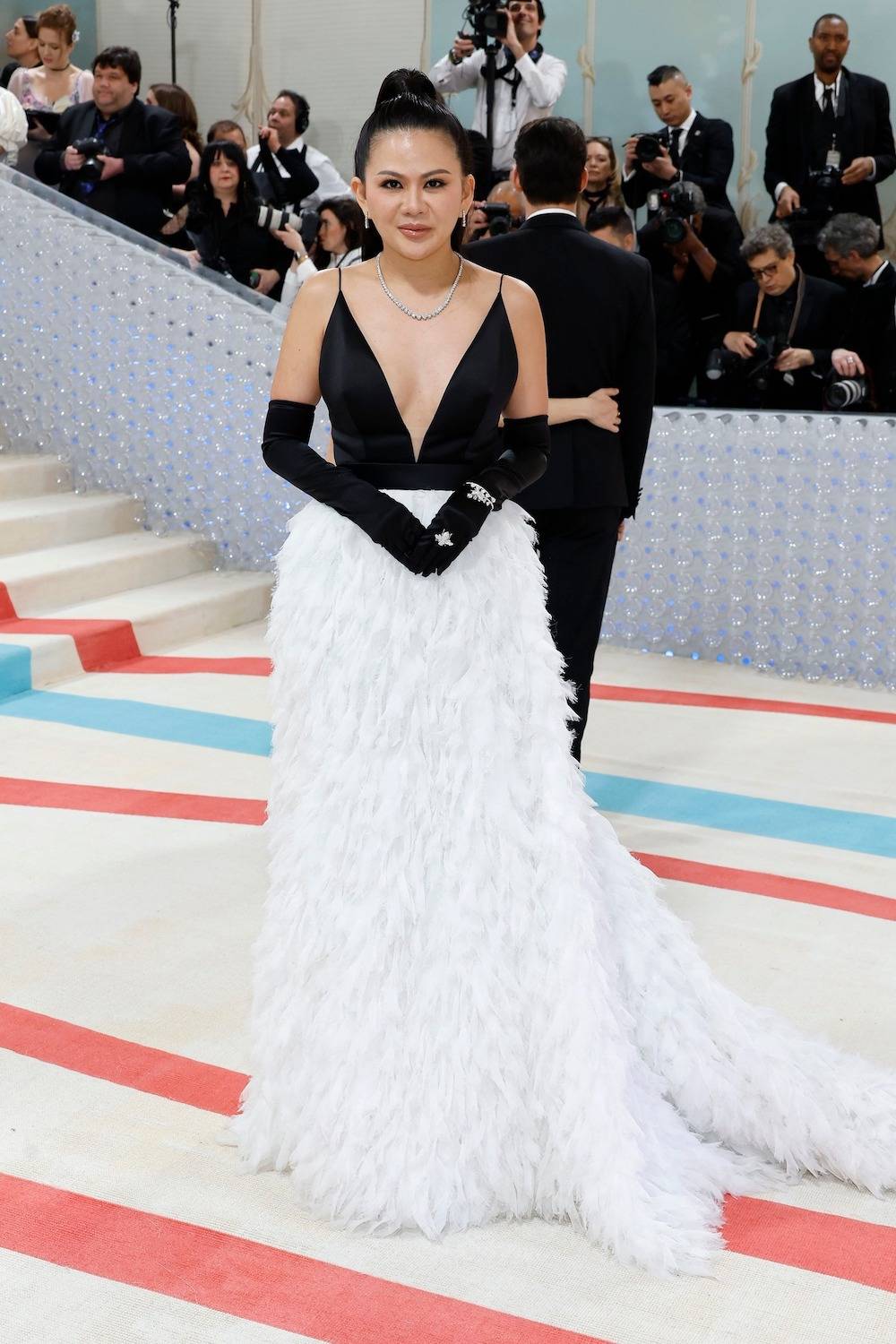 198/204

Dua Lipa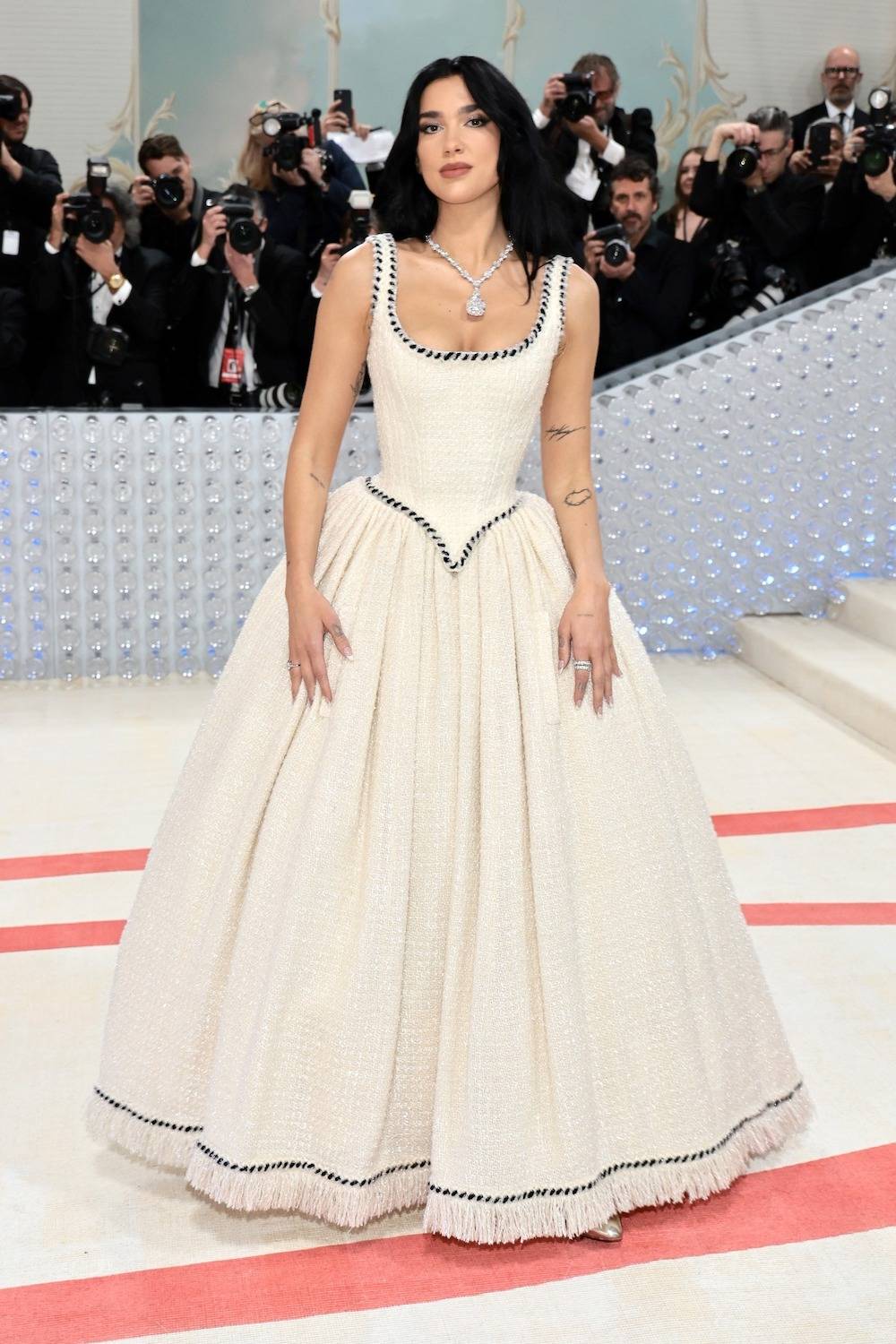 199/204

Charles Shaffer i Elizabeth Cordry Shaffer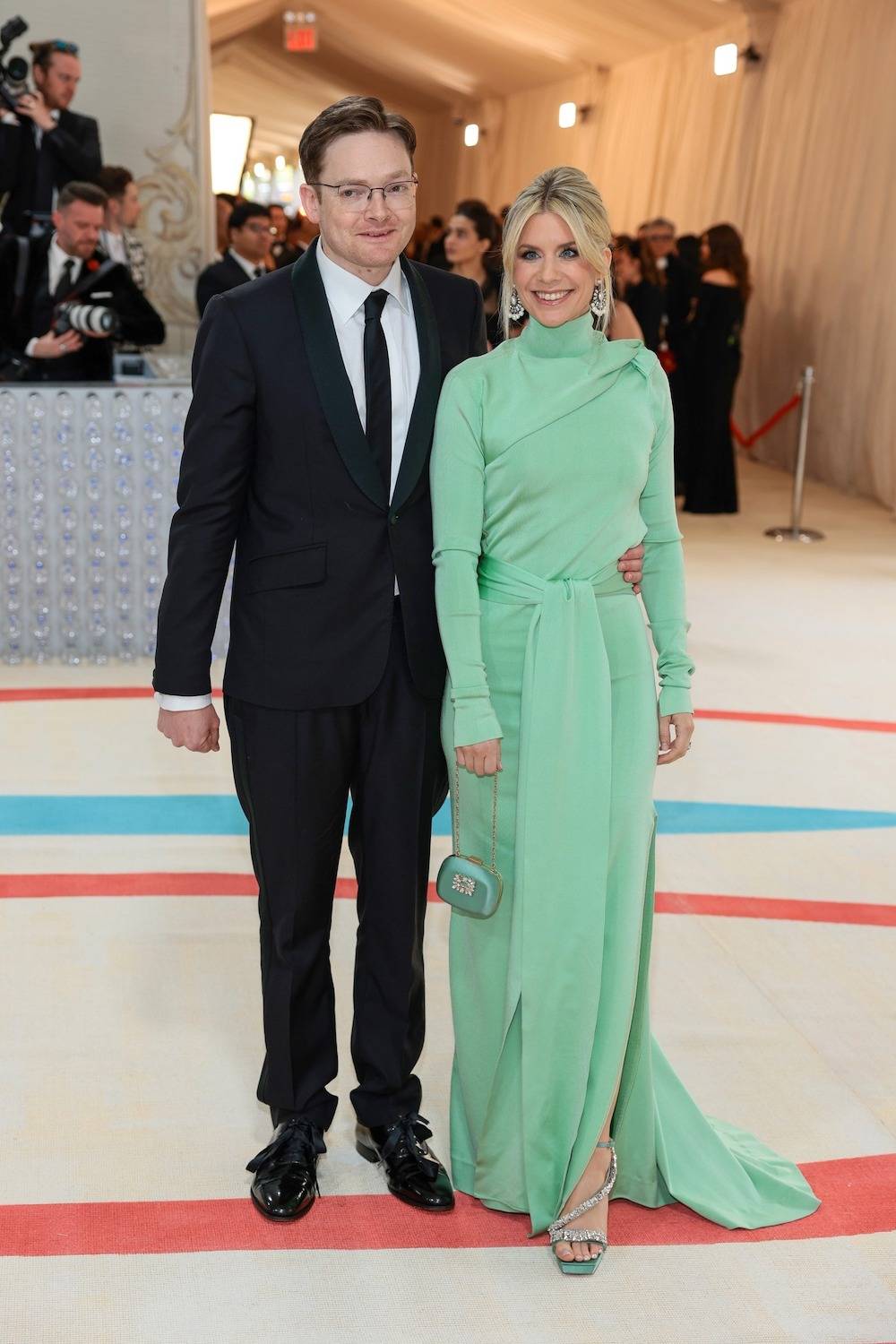 200/204

Penélope Cruz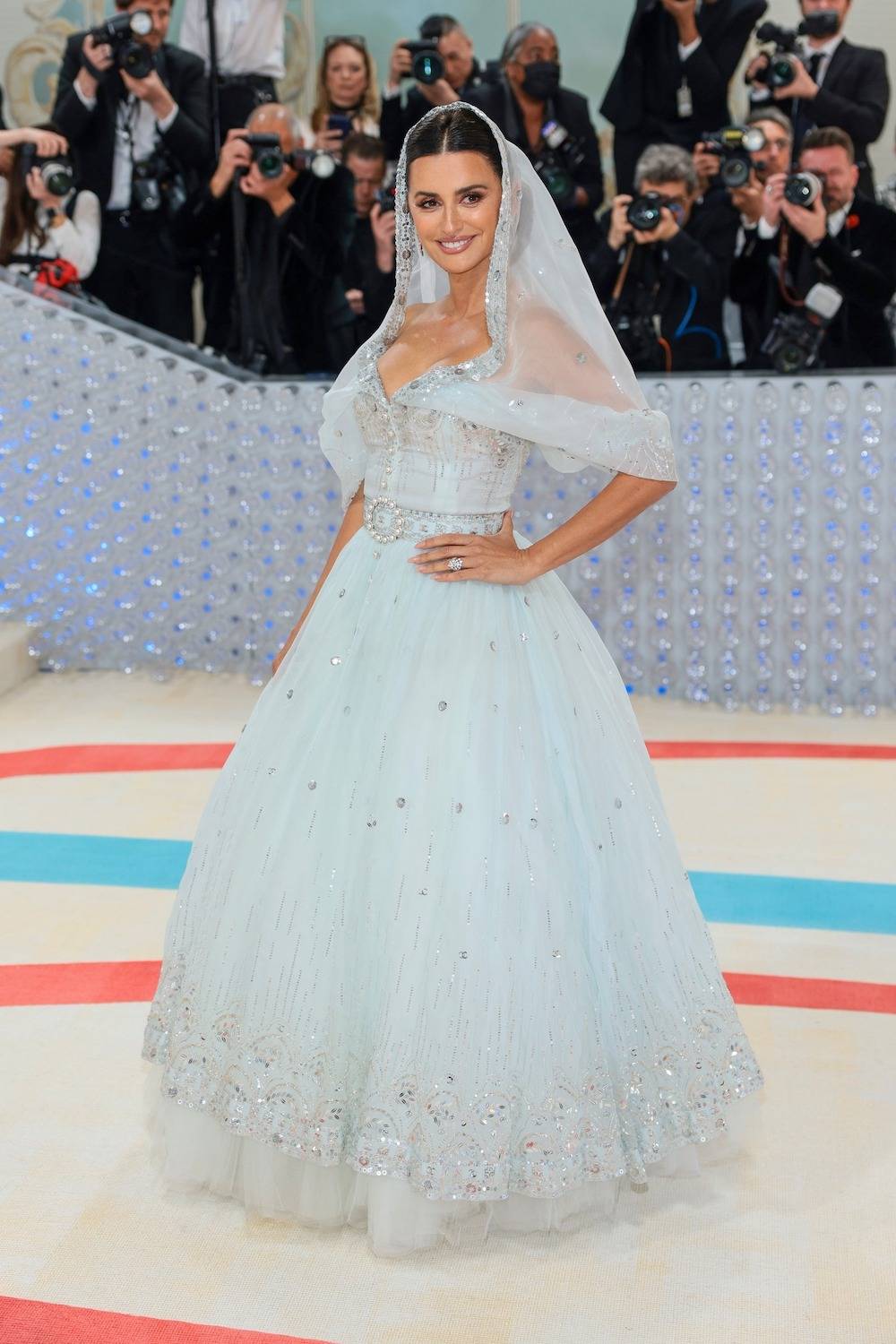 201/204

Derek Blasberg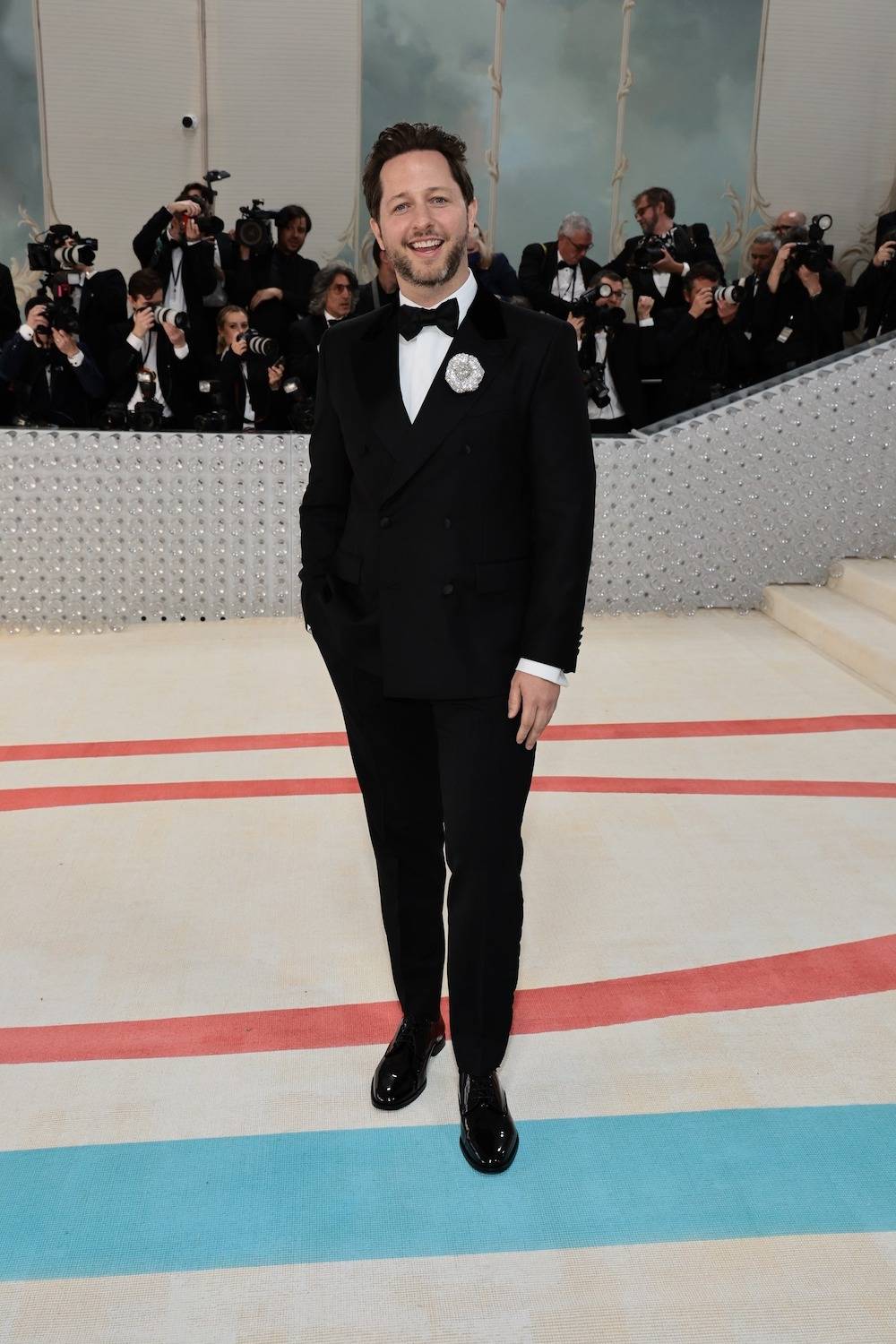 202/204

Chloe Fineman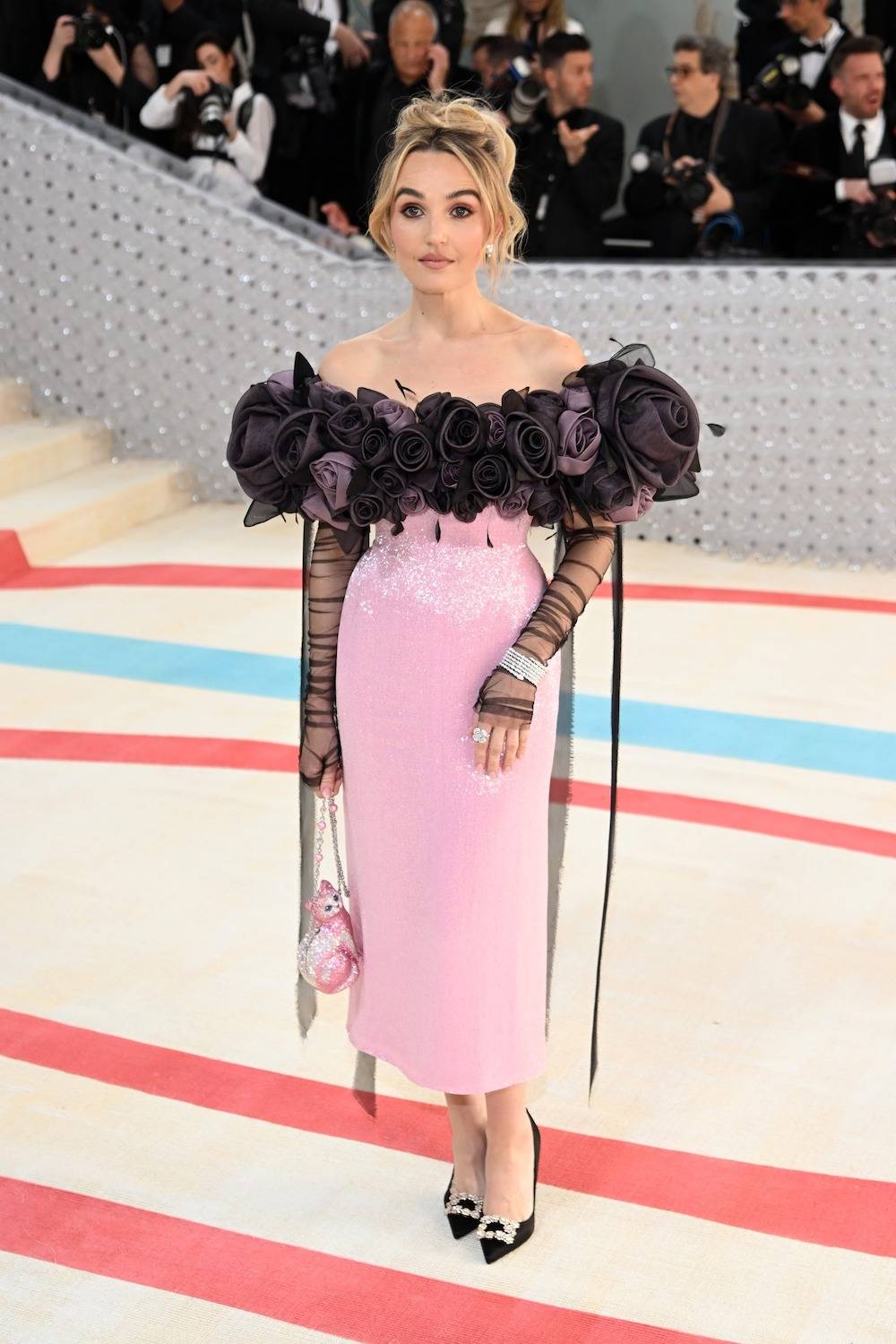 203/204

La La Anthony
204/204

Lisa Love