From the slums to the concert hall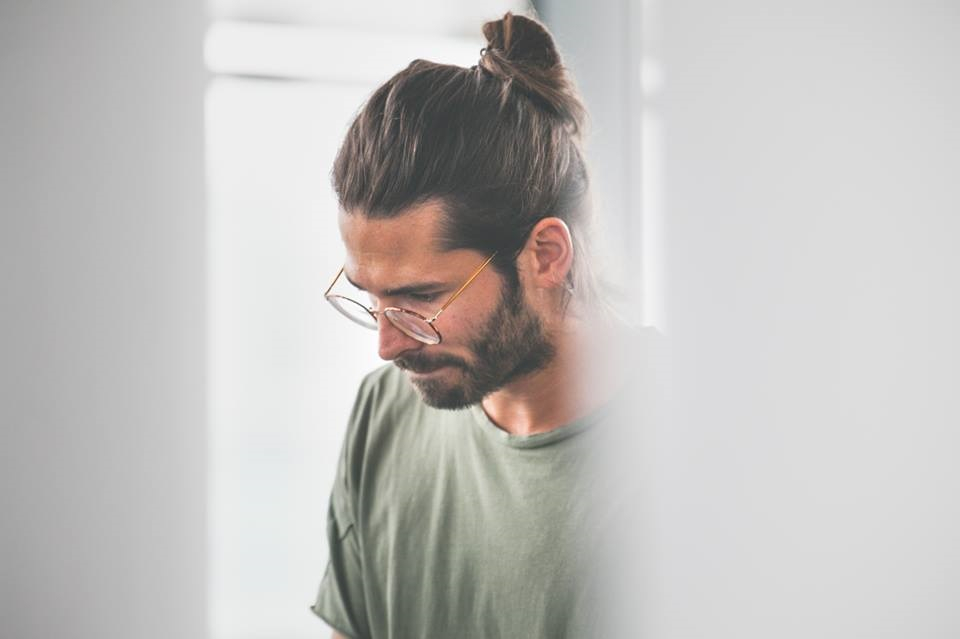 At the closing concert of the Wrocław Brave Festivalthe Polish composer Radzimir "JIMEK" Dębski performed with the African Ghetto Classics orchestra. Radzimir met the orchestra's members, teenagers from Korogocho, a giant slum district in Nairobi, a year ago when teaching them music. – While playing with these kids, I remembered why I became a musician – Jimek says.
It all began with a woman who was trying to escape her destiny. Nairobi-born Elisabeth Njoroge, who learned to play the piano as a child, fell in love with western classical music. However, she didn't have the courage to follow a musical path, because a child of a decent Kenyan family is expected to become a doctor or a lawyer, rather than to lead an artist's life. So, Njoroge left Kenya to study biochemistry and pharmacy in Canada and the UK. Upon her return to Kenya at the beginning of the century, the dream of a life filled with music returned – now more powerful than ever – though in a surprising incarnation. In 2008 Elisabeth founded the Ghetto Classicsorchestra in Korogocho, the third largest slum district of Nairobi, offering free music and instrument playing lessons to children from the slums. Initially, its members practiced on borrowed violins and keyboards; today, it is an orchestra of 80 people performing a classical repertoire from Bach to Brahms, as well as traditional African compositions (such as by the legendary African diva Miriam Makeby).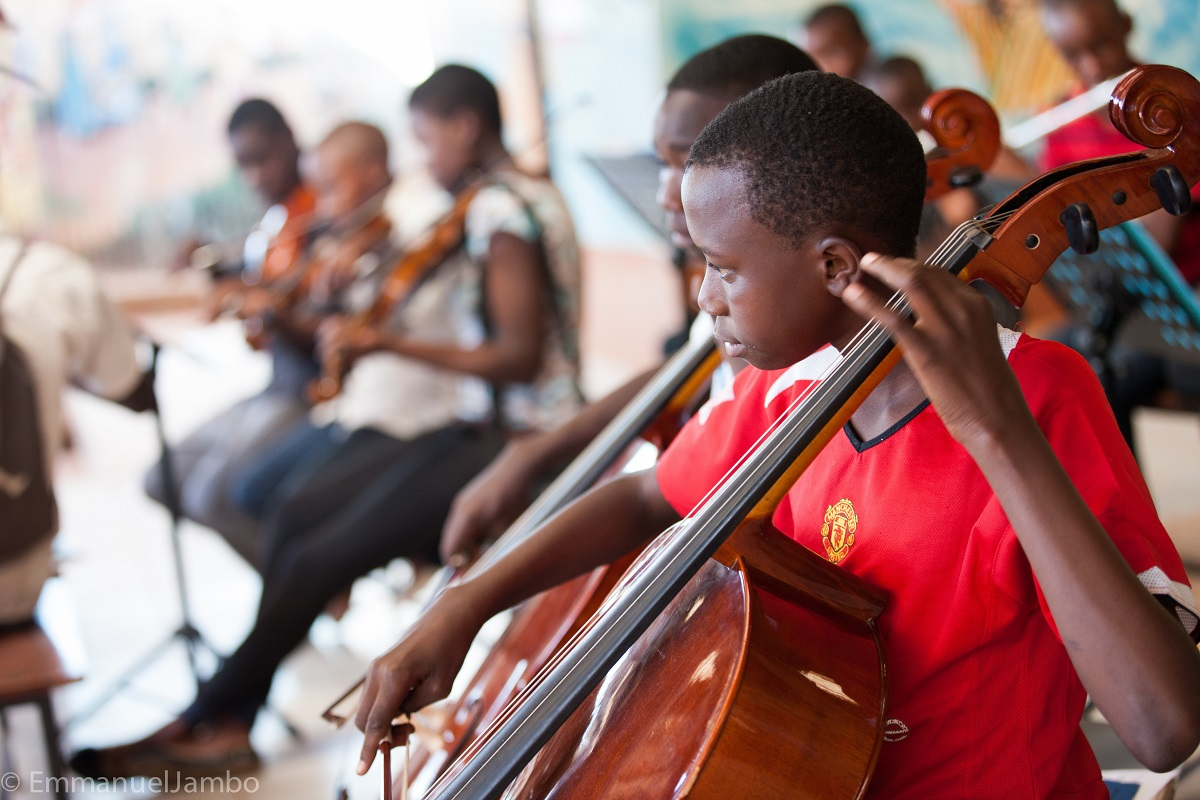 Everyday life in Korogocho, including the life of children, is marked by violence and poverty. Music has proven to be a surprisingly effective tool for social change. It builds a community, teaches new skills and strengthens self-confidence. The children take part in workshops with internationally renowned musicians (Salif Keïta, Branford Marsalis), who come to Nairobi thanks to Elizabeth Njoroge's persistence. Polish composer Radzimir JIMEK Dębski went there twice. The founder of Ghetto Classics says about him: – Jimek has helped us to realise our value. He was the first one to spend a week with us, he opened his heart to the kids. He and his team travelled in my van every day, squeezed in between the instruments, without any objection. It was thanks to them that we were invited to the Brave Festival in Wrocław. For the majority of the children it was their first trip abroad. When we were taken to the dressing room, we had tears in our eyes. Wow! They truly respect us – one of our kids said. Do you understand what it means? We have never had our own dressing room before!
I caught Jimek at the Capitol Theatre in Wrocław, during a break between rehearsals. The day before, the musician had received the award for best Polish composer at the Transatlantyk festival in Łódź. Now, he is already trying to figure out which of the most needed instruments for the Ghetto Classics orchestra he should spend the award on. I wanted to find out why he decided to go to Korogocho a year ago.
This is probably not a typical situation in your life as a musician, composer, conductor...
or for anybody, really... Most of the time I focus on myself, like everyone else. In Africa, where I happened to be by chance, I found out that there were beings called "children". Seriously! I don't have any children of my own, I didn't have younger siblings or any contact with youngsters, so this was completely new territory for me! The idea came from a friend of mine, Krzysiek Szymczak, who works for UNICEF in New York and travels all over the world. It was he who sent me a video from the Nairobi slums and said: you must go and see these kids!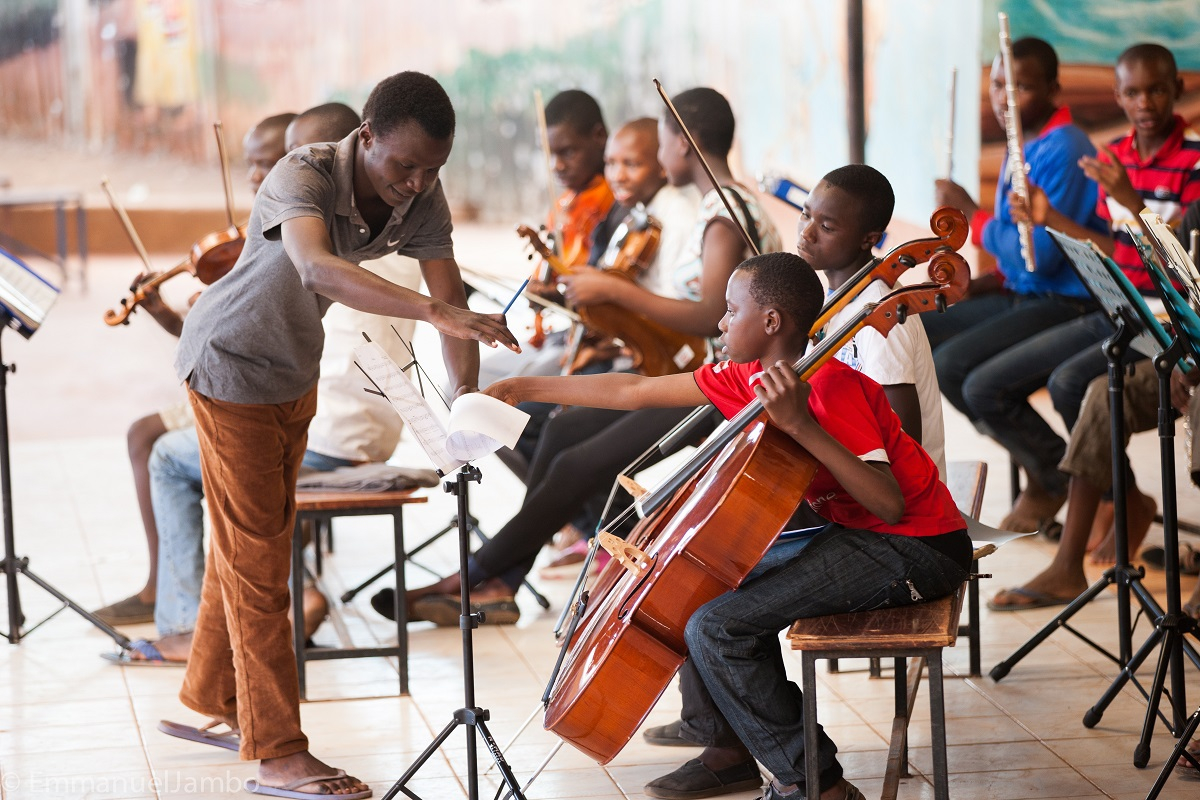 Korogocho is not a savannah-type place, as some people imagine it to be, but a huge metropolis. In fact, it is a garbage dump controlled by the mafia, which profits from it. Every day, 150 trucks bring in waste which is then burned. Almost 200 000 people dwell crowded together on a few square kilometres of garbage dump, accompanied by smoke from landfills burning nearby. It is such a dangerous place that nobody in Nairobi could believe that we wanted to enter it.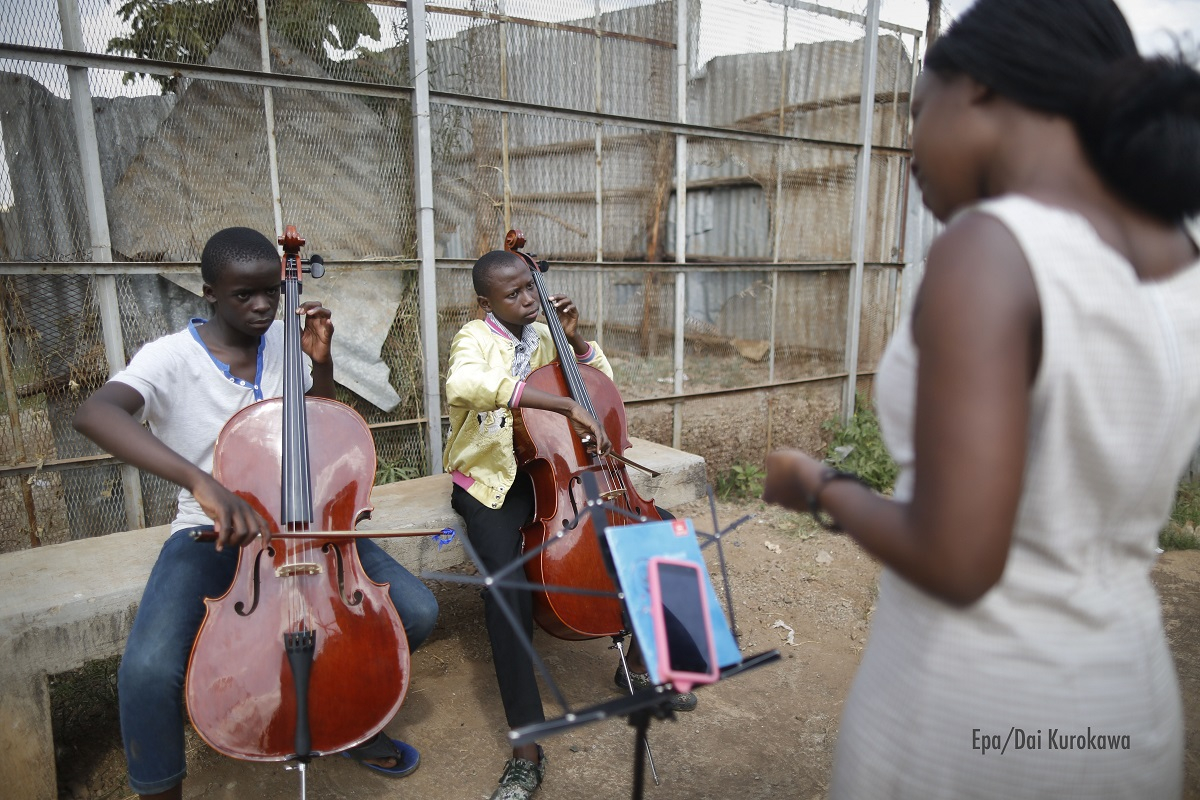 Did Elisabeth Njoroge take you there?
Yes. Me, our drummer Manolo (José Manuel Albán Juárez – author's note), our manager Emalka Ziąbska and Marcin Polar, who captured our stay there in a short film. Elisabeth has been working there long enough to know the guys in the gangs, and had occasionally taken care of them or their siblings. She is inviolable, everyone understands what she is doing there and that it has nothing to do with their business. Nevertheless, we had to be accompanied by someone at all times.
What surprised you there?
As it happened, before my first visit to Nairobi, I had just recorded an album in Germany for Deutsche Grammophon, with the Konzerthausorchester Berlin. They are musical craftsmen and can technically perform anything, but it was very difficult to involve them emotionally. In addition, they follow a system of breaks typical for an office job and have detailed guidelines for what kind of leather their scores should be put in and how many millimetres high the stave should be. Otherwise, they will not perform. I felt shocked in Kenya, because the kids didn't want to have any breaks at all! We worked day in day out in Korogocho. We would come to the kids in the morning and leave at dusk. At the beginning nothing seemed to be in harmony as far as music is concerned. So we started with rudiments in order to see what could be done with them.
The idea of playing your "Hip-hop History"came up, something that poses difficulties even for a professional orchestra.
This is what my hip-hop compositions are about – they involve a completely different way of thinking than classical compositions and are peculiar in a way, but that's exactly what I wanted to show them – music which was my rebellion when I was as old as they are now. At that time my aversion to classical music – and not seeing why I should actually practice – made me give up music school for a while. It was hip-hop that made me become a musician – it was something that I was excited and enthusiastic about.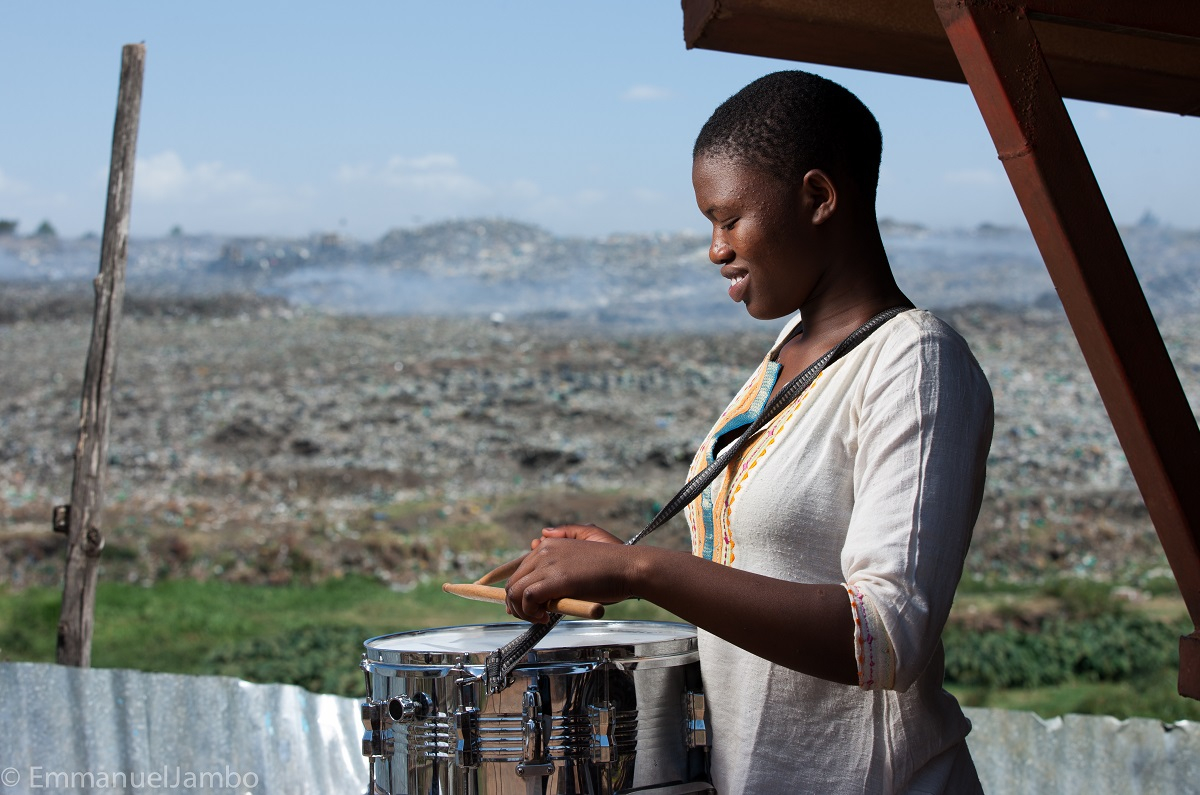 Classical music, being difficult, can bring you to the end of your tether if you don't understand what you are looking for in it. My teachers used to tell me that I played badly, but they never demonstrated what it meant to play "well". I started by playing an original hip-hop piece to those kids to get them excited, telling them what I liked about it and why. They were puzzled to hear music that had nothing to do with their instruments. I would then play to them the same songs orchestrated by me and performed by the Polish National Radio Symphony Orchestra. All of a sudden they would hear the same, yet a different piece of music, and the most difficult hieroglyphs, the notes they see in front of them, would turn into emotions. My jaw literally dropped! Even though it was a difficult piece, they wanted to practice it immediately. So we started off with the dull learning of technique.
Why should you play classical music in the slums?
It has been proven that the system of musical education in the so-called disadvantaged environments is more effective than sport in transforming people's lives. It teaches cooperation and creates a sense of empowerment. Classical music is not as profitable as football, but the careers of musicians like the Venezuelan conductor Gustavo Dudamela, who as a child also benefited from a similar programme and then became head of the Los Angeles Philharmonic, are proof that the situation is improving. Sometimes it is enough to learn a few sounds and play them at the right moment to evoke the listener's smile. It also gives you the feeling that you have done something well. Energy and joy are worth it all! Someone who does not believe in himself does not know that you can feel like a rock star just by doing some work – it's boring and repetitive, but not actually that much. This is a universal emotion. It doesn't matter where we are, how old we are or what instrument we play.
When I came to Korogocho, I discovered that children learn fast – six times faster than professional orchestras. At first I felt dispirited and thought it would not work. But they made tremendous progress, having practiced in ten days what I expected to be practiced in a couple of years. Ossio, who plays the xylophone in our video, got his hands tangled up at first. He didn't know where to find the sounds. All he needed was to be shown how to make playing easier by using both hands. And instantly he was playing without even having to look at the instrument. He is such a sly dog. He used to be the smallest kid in the orchestra, and now, after a year, he is a real hulk of a man and playing the drums.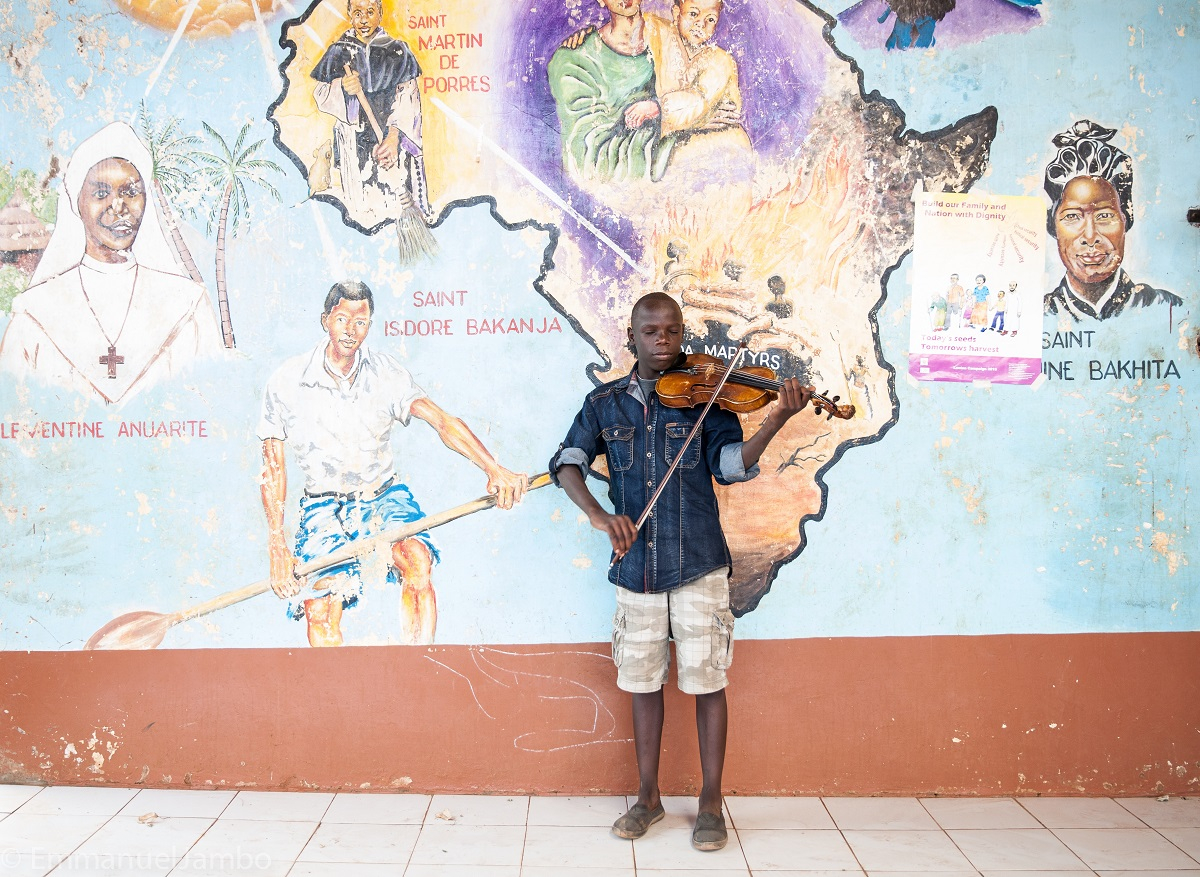 And what did it all give to you?
It reminded me of what it was like to be a teenager. I remembered why I wanted to be a musician. In a place like Korogocho, all the things we take for granted suddenly gain importance. Getting someone enthusiastic about the rehearsal can be as satisfying as a performing at a concert hall. Everyone is trying to achieve inner peace and fulfilment by travelling, going on holidays, meditating, trying out various diets and seeking pleasure. Perhaps it is easier than it seems. I used to work a bit too much at that time. I've started to become... awkward. I thought I had made my dreams come true, but I was feeling neurotic. Then, suddenly, Krzysiek said to me in this video: "Just come here", which I did without thinking. I thought I would be doing something for them, and all of a sudden it turned out that it was the best thing I could have done for myself at that time. Pure energy! Whatever I might say, it will sound banal.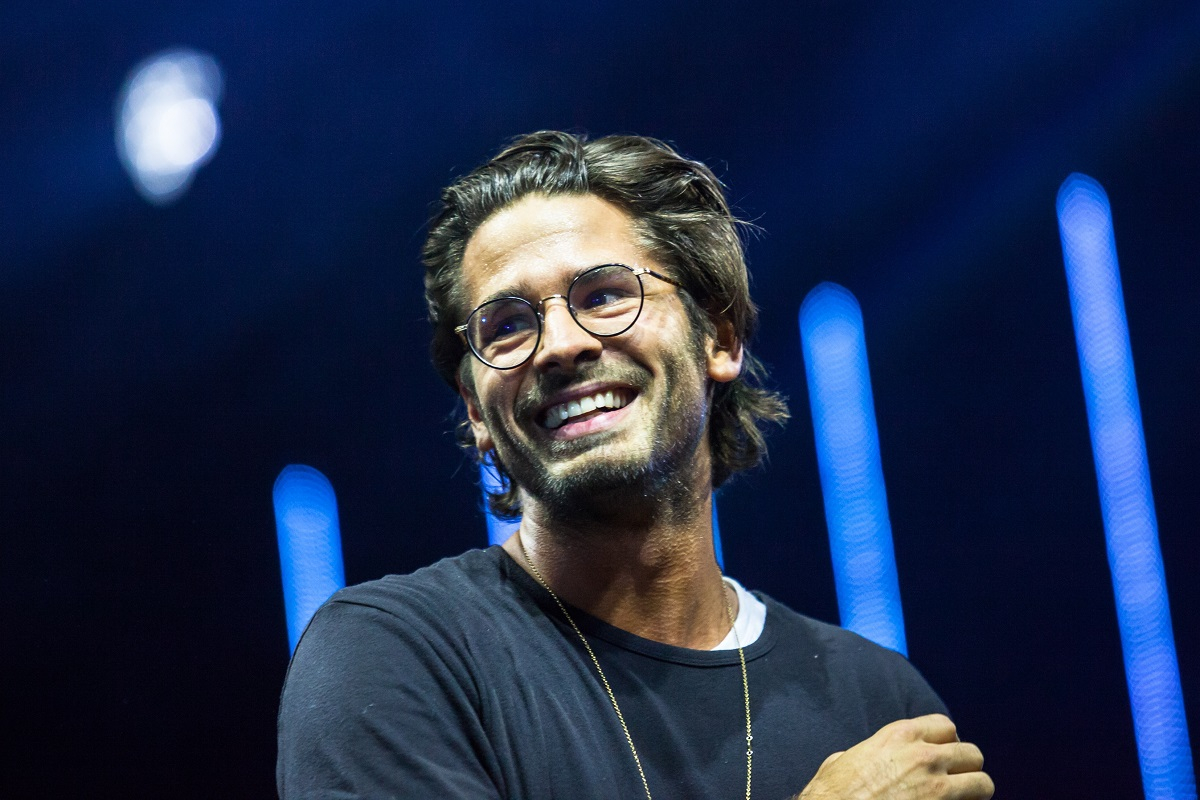 What was the most difficult thing?
I am not an extreme globetrotter travelling halfway around the world with his backpack and not afraid of anything. Once we took a bad turn and got lost. I was completely scared. I am not ashamed to say that. I had never been to the middle of Africa before. Korogocho is a shocking place. When you get there, at the beginning you're all tense, trying to tone down your emotions, but after five minutes of playing you suddenly forget where you are. You lift your head, unable to believe what surrounds you. It is a bit better on the second day, and your third day is almost stress-free. So there is no need to fall into psychosis. It wasn't until the second expedition that I fully realised this.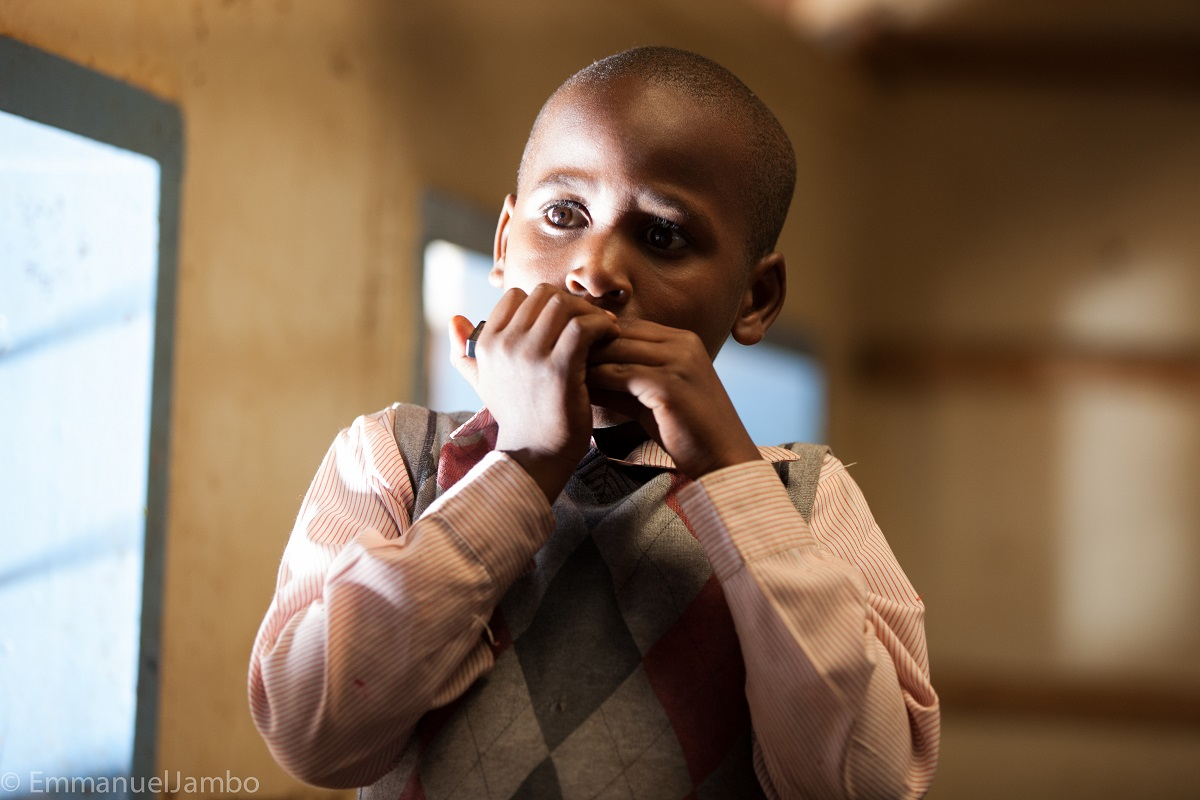 It is probably easier if you have a specific role to play in this environment, isn't it? You did not come to the slums of Nairobi on a trip.
Excursions that come to the slums like on a safari are plain evil. There is a sense of superiority and some kind of contempt to this. Kibera is such a "boutique" ghetto. It is visited by idiots who bring sweets, thinking they are Jesus. They never ask themselves what they could do to give other people something really valuable. For me this is time, ideas, ways of thinking or doing things, techniques, and knowing that simple, patient exercises lead to immediate results. It doesn't matter whether any of these children will become professional musicians. What is important is that we spend time together, doing something together. I want to show them that it is worth having a passion. You get deeply involved with it, you want to explore every nuance and get excited about things that nobody else can see.
But others want to listen to you! When you returned to Africa, you performed with your pupils at the Safaricom Jazz Festival in Kenya. How did this happen?
Elisabeth had invited people from Safaricom, the largest mobile operator in the country, to attend our performances. They got totally excited. They said that they felt for the first time that they had not come to a charity event, but to a concert and they invited us to their festival. It is an event for a few thousand people, the most famous American jazzmen played alongside us. We have expanded Ghetto Classics to include two more orchestras of music school students in Nairobi. Our orchestra consisted of 105 people. A real giant!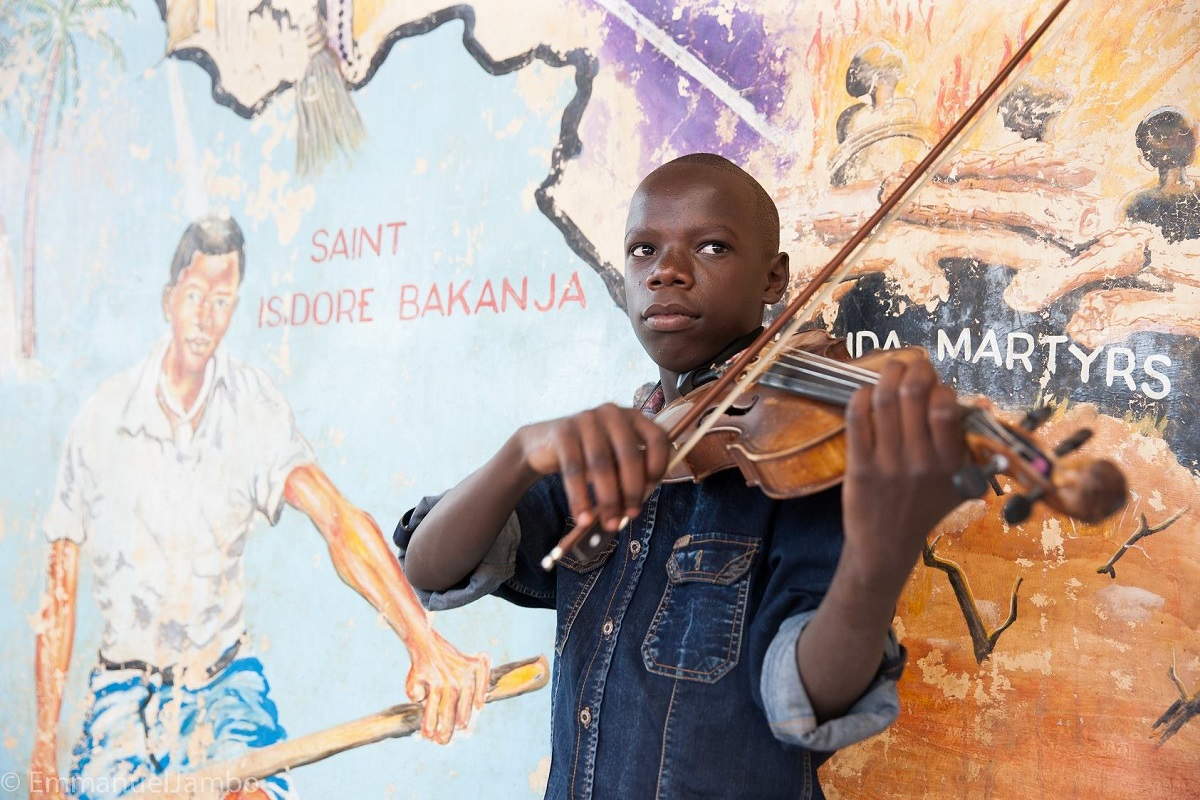 Now you are here in Wrocław performing at the Brave Festival [the only Polish review of cultures, traditions and rites from all over the world that are on the border of becoming extinct – editorial note].
We couldn't bring the youngest children without their parents, so we brought twenty older teenagers to Poland. We had terrible problems with passports, because many of them did not even have birth certificates. For most of them, this was the first time they had travelled by plane and stayed outside Kenya. It is also the first time they have performed in real concert halls and with the best virtuosos collaborating with the National Forum of Music.
How is this cooperation going? It's not easy to get amateurs perform alongside super professionals.
But this is that precious gift that the musicians from the National Forum of Music are giving! I asked everyone to work in teams. This is a method that we started to develop in Africa. During my first stay I realized the difference between their teaching system and ours. In Africa, when someone can play a scale, they teach it to someone else. Teenagers sit with the youngest, and a beginner is put with someone well versed so he can pick their brains – that's beautiful! I picked it up from them, so we mixed Ghetto Classics with a better orchestra. In Poland, they are performing with renowned professionals who take them seriously and practice with them during breaks. They have just gone to the store to buy tuning forks for the kids' saxophones! I have been deeply moved by their commitment. I'd like to buy instruments for the kids and finance them with the awards I received at the Transatlantyk festival; as soon as Radek, our concert master, learned about it, he started helping to get them at better prices. This scope of support is constantly being extended.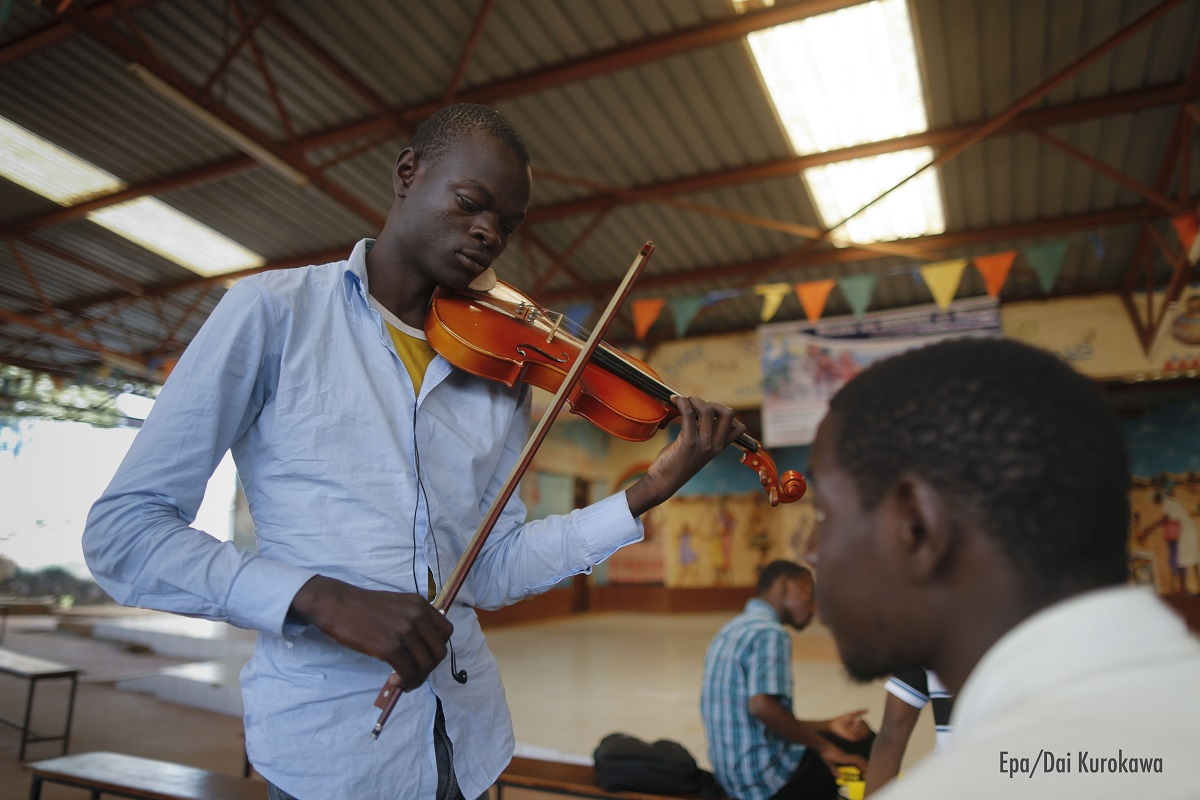 I know that you are working on further joint projects with Elisabeth Njoroge, but do you also have any daily contact with the Ghetto Classics kids?
You bet! For example, Charity, who plays drums, sends me a message when she gets bored at school: "Hey Jimek, how are you doing?" I reply by sending her a photo of the place where I'm currently working, to which she answers: "And what do you do when you get stressed out in front of the orchestra?" She is a cutie! And that's how we talk to each other. I do hope that the kids will feel that there is a world awaiting them. That you can get wherever you want, even when you start from a difficult position.
Radzimir Dębski (born 1987 in Szczecin), also known as JIMEK. Polish film music composer (e. g. "Atak Paniki", "Sztuka Kochania"), pop and symphonic music, music producer. Graduate of the Fryderyk Chopin University of Music in Warsaw, he also studied at the University of California in Los Angeles. Winner of music awards (including "Orły 2018", Polish Film Academy Award, for music accompanying the film "Sztuka Kochania. Historia Michaliny Wisłockiej" (The Art of Loving. The Story of Michalina Wisłocka). Grand Prix at Krzysztof Komeda Film Festival for the music accompanying the film "Atak Paniki"). Author of, among others, the famous Hip-hop History Orchestrated by JIMEK, performed during the concerts with the Polish rapper Miuosh and the Polish National Radio Symphony Orchestra in Katowice ("2015" album) and the award-winning remix of the Beyoncé song "End of Time", which was included on the artist's album. In 2016, he recorded "Mosaic" for the prestigious Deutsche Grammophon record company.
Translation Anna von Kleist/Solid Information Solutions